The Last Chance Qualifier this past Friday accomplished its two primary objectives: usher 12 more athletes into the Olympic Trials; and reset the tone for what Greco-Roman wrestling at the Senior level in the United States is supposed to look like — all the time, and at every tournament.
With the exception of two upper-weights, those who managed to earn Trials berths had to fight like mad in order to do so throughout the tournament. There were also quite a few wrestlers who put together remarkable runs on the backsides of their respective brackets only to come up just short. That's how this goes. Disappointment at any tournament is always far more prevalent than celebration, particularly when athletes are battling for coveted spots in Olympic Trials brackets.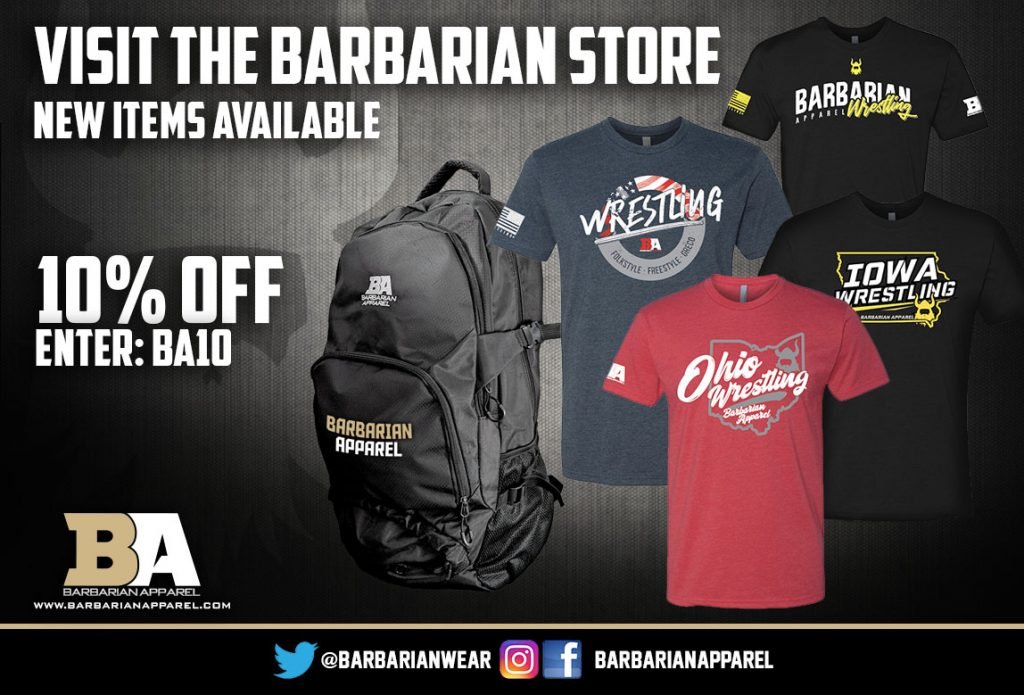 The 12 Greco-Roman athletes who placed in the top-2 have already, to varying degrees, received due recognition. But for the sake of generating more pre-Trials noise, they are listed below with snippets of appreciation for their efforts.
60 kg
Travis Rice (NYAC/IRTC, 5PM #9) — 1st
The cleanest technician in the weight class all day long, and never lost his composure or deviated from his approach. It wasn't Rice's best performance because he won and qualified. It was his best performance because he looked better than ever. 
Randon Miranda (NYAC/CYC, 5PM #10) — 2nd
All Miranda did was deal with a lineup of killers each and every round of the tournament. Was able to get on a run against Chayse La Joie quickly, which saved some of his steam. But after falling to Rice in the final, he still had to get through Dylan Gregerson to qualify. Survived quite a gauntlet, did Miranda. 
67 kg
Lenny Merkin (NYAC/NJRTC, 5PM #12) — 1st
The win against Hayden Tuma was the one. That is not to discount Jessy Williams or Benji Peak, but Tuma — who was the top seed — was rightfully pegged as the biggest hurdle in this bracket. In domestic terms, that was a "signature win" for Merkin, but he didn't let it go to his head. Rather, he simply continued his old-school onslaught.
Benji Peak (Sunkist/NTS, 5PM #10) — 2nd
Peak had four matches and was fitfully challenged by Robert Perez in the semis before he ever met up with Merkin. That is a lot of work. Now, the ending was weird and, certainly for a few minutes, concerning. You hope he will be okay for Friday. That aside, Peak did what he had set out to do, and it was the furthest thing from a walk in the park considering the stakes. 
77 kg
Austin Morrow (NYAC/NTS, 5PM #13) — 1st
He had stepped into a new weight class as well as a bracket overloaded with talent. Morrow got off to a hot start, which helped his cause. But to close out against Alec Ortiz and Jesse Porter? Back-to-back? With zero experience in this weight, or against either of his final two opponents? To do what Morrow did, and how he did it, was jaw-dropping. 
Jesse Porter (NYAC/NTS, 5PM #11 — 2nd
One of the best overall wrestlers in the tournament. It's that easy. Porter's reputation deserves, if not demands, that distinction. So it was odd for some people. They didn't even know he needed to be there on Friday. But, he did. And he had to persevere through hardcore moments against both Ryan Epps and Britton Holmes to complete the mission. Toughness. Talent. 
87 kg
Alan Vera (NYAC, 5PM #1) — 1st
The expected result is what Vera provided. From Day 1, it was this tournament that had a circle around it on his calendar. Most may have seen Vera at Last Chance as a formality. Not totally unfair. Thing is, these events aren't won on paper, and there is no doubt that Vera at least felt just a little pressure on occasion. Yet, each win was still lopsided. 
Christian DuLaney (Minnesota Storm) — 2nd
DuLaney back as a full-force, full-time "Greco guy" is important for too many reasons to bother with at the moment. His presence is important to this weight. But, and not that he was alone in this regard, this was not a normal "comeback for the Olympic Year" situation, mostly because there was only one open tournament prior this season. On Friday, he was sharp with blinders on. Sure, he has logged plenty of relevant experience, but this wasn't an easy task. 
97 kg
Braxton Amos (Wisconsin RTC, 5PM #9) — 1st
The only wrestler on the day to survive Jake Clark and that dreaded front headlock. Amos also scored from the feet against Clark, which you'd suppose was an equally-important bright spot for him. Stoicism, conviction, and aggression. Great attributes. Amos qualified for freestyle, as well, so the mainstreamers are having a field day with that. Only 19 and he has options all over the place — but we'd love to keep him. 
Jake Clark (Minnesota Storm) — 2nd
In his first Senior Greco-Roman match in five years, Clark cranked JD Souza around the mat for a front-headlocking tech. It wasn't the same exact ending for Kyle Kunz, but close enough. Then Clark downed '20 National runner-up/two-time age-group World Teamer Chad Porter via close decision. You figure Amos knew who Clark was. Maybe. Nevertheless, Clark gave the wunderkind all he could handle. Age is age, but Clark is no punchline. Mostly because he's still throwing effective punches. 
130 kg
Tanner Farmer (NYAC/IRTC, 5PM #10) — 1st
One of the aforementioned two upper-weights who was expected to dominate. His day in Fort Worth doesn't require an overview. Right now, everything having to do with Farmer centers around his candidacy in the Trials. Like Vera, who was just given the top seed in the mini tournament. Two tournaments in. That's it. And Farmer is the real deal, and a real problem. 
Tommy Helton (Southern Illinois RTC, 5PM #12) — 2nd
Whatever else Helton achieves in his career going forward, this tournament is one he will always remember. Plenty of wrestlers had to scratch and claw on Friday. Helton had to from the very beginning. His second match of the day, against Malcolm Allen, was a thriller that involved a late rally punctuated by a clutch four-spot. He then edged Lee Herrington 1-1. The only no-doubt'er win for Helton was his Trials-clinching win at the expense of newcomer Courtney Freeman. Helton, he's a lifer, and the big man had himself an even bigger day. 
Last Chance Qualifier Undercover Stars
A collection of athletes who will be missing out on the Olympic Trials but deserve to be appropriately acknowledged.
60 kg: Dylan Gregerson (UVRTC, 5PM #14) — 3rd
Came in with high hopes only to fall to David Stepanian (NMU/NTS) in the round-of-32 thanks in large part to the new third passive. What he did after that said more about him than if he had won the thing. Gregerson had eight matches on Friday, running the table on the backside along with running over everyone in his path. He was defeated by Miranda in heartbreak fashion for "true second", but a loss like that was going to be heartbreak no matter what. As for a few here, just the beginning of a promising career. 
60 kg: Alex Thomsen (Nebraska Wrestling TC, 5PM #13) — 4th
What more did anyone want from Thomsen? He won the Nationals in October, but even with a victory over Taylor LaMont, that performance was seen as a symptom of weird circumstances. Thomsen then wore the #1 seed on Friday, target squarely on his back, and lost to two guys. By whom was he vanquished? Rice and Gregerson. Thomsen is as legit as it gets if he commits to this discipline. 
67 kg: Robert Perez III (Sunkist) — 3rd
Only a 17-year-old and hung in there with the best the bracket had to offer. Perez frustrated Peak and shocked Tuma, and this was his first Senior tournament. That's all nice. Even more telling was his maturity in fight-to-win positions that have a tendency to factor mightily into outcomes. A gem of a showing, one of the most encouraging of the year so far. 
67 kg: Farrokh Safeinejad (SWAT) — 4th
A lot of wrestlers start Senior Greco at 18 or 19. Some, a little older, around their early to mid-20's. Safeinejad, who was born in Iran but moved to the US as a youth, is 39. He competed at the last US Open, too. This tournament, he strung together four victories. Safeinejad helps out at legend Shawn Sheldon's club in Florida. Sheldon said that Safeinejad is "just doing this for fun." Super. Sure seemed like he was having fun on Friday. 
77 kg: Britton Holmes (All-Army) — 3rd
His first tournament since December of '19 and enjoyed decent leads against Alec Ortiz and Jesse Porter until both of those matches went downhill. He brought the viciousness in spaces. Even Ryan Epps, one of the meanest competitors in the country, couldn't help but appreciate Holmes' methodology following their bout. Good to see Holmes back in the game. 
87 kg: Andrew Berreyesa (NYAC/Spartan RTC) — 3rd
Yet one more in a long line of top-shelf young wrestlers who has had to wade through an ocean of issues regarding training and competition. '18 Junior World silver Berreyesa took out Vaughn Monreal-Berner, Cam Caffey, lost to DuLaney, and won two more, including another tactical slugfest against Tommy Brackett. Though he won't be in the Trials, you get the feeling that Berreyesa just gathered some serious momentum for U23's and beyond.
2020 Olympic Trials
The US Olympic Trials begin on Friday morning beginning at 11:00am (CT) from Dickies Arena in Fort Worth, Texas and can be viewed live on NBC's new streaming property, Peacock.
5PM's Trials coverage began earlier today with an interview featuring Eric Twohey (97 kg, 5PM #4) of the Minnesota Storm. A short video series revolving around Spencer Woods's (87 kg, Army/WCAP, 5PM #9) spending quarantine in Alaska will follow, as well as an all-new Coach Lindland's Report and other pre-Trials material.
Monday evening, USA Wrestling released the seeds for all three divisions to be contested in Fort Worth. Below are graphics for each weight category displaying all of the qualified athletes categorized according to where they appear in 5PM's rankings, and where they are seeded for the Olympic Trials.
Of the 60 athletes ranked by Five Point Move, 32 will not be appearing in the Olympic Trials, including eight wrestlers who are qualified. 




Listen to "5PM47: Nate Engel and Xavier Johnson" on Spreaker.
Listen to "5PM46: Taylor LaMont and Jessy Williams" on Spreaker.
Listen to "5PM45: Chatting with Dennis Hall and Max Nowry" on Spreaker.