This week on the campus of Northern Michigan University in Marquette is a camp for the U23 World Team. US National Team head coach Matt Lindland is in attendance along with two-time Cadet World Team coach Lucas Steldt.
With nearly 50 athletes in the room (plus an influx of age-groupers), the U23 World Teamers are not the only beneficiaries of the experience. As NMU head coach Andy Bisek pointed out last week in the first-ever Marquette Matters, the timing works out well for plenty of others due to the impending trip to Sweden that will take place around the same time as the U23 tournament. Incidentally, Steldt will (once again) be present in Sweden as a coach.
This year, NMU has two athletes on the U23 squad — Dalton Roberts (63 kg) and Jesse Porter (77 kg). Both Roberts and Porter were on the inaugural under-23 Team in 2017, with the latter now set to embark on his third consecutive appearance in the tournament.
There will be a Coach Lindland's Report coming up this week addressing the US performance in Kazakhstan as well as his time at the current training camp in Marquette.
Evloev Was Unaware of Aleksanyan's Injury
According to Russian outlet WrestRus, now-two-time World Champion Musa Evloev (97 kg) was greatly disappointed that Artur Aleksanyan (ARM) would be unable to face him in the World final due to injury. Aleksanyan, the three-time World/2016 Olympic Champion, had reportedly suffered severe-enough damage to his rib cage during his semifinal win over Giorgi Melia (GEO) to prevent him from making the walk a day later.
Aleksanyan defeated Evloev in the semifinals of the '17 Paris Worlds en-route to his third title, and the Russian returned the favor last year in Budapest semis. A potential third meeting in Nur-Sultan carried with it a lot of excitement, including for Evloev, who asserted that he was ready for one more shot at his immensely-decorated counterpart.
"For a long time, I was preparing for a meeting with Artur Aleksanyan, I was waiting for him, despite the fact that a year ago at the World Cup I had the victory," said Evloev. "I wish Artur a speedy recovery, until the last (second) I did not know that he would withdraw from the finals. The season turned out to be successful and fruitful for me, but the only thing that upset me this season was Artur's injury. I really really wanted to fight. Especially him."
With qualifying 97 kilos for Tokyo out of the way, Evloev will now focus on winning the Russian Nationals in January, that program's primary mechanism for team selection.
Turkey Loaded for Military Worlds
The past two days on 5PM have seen the release of Q&A's with Toby Erickson (130 kg, Army/WCAP) and Daniel Miller (97 kg, Marines), respectively. The duo represents one half of the 2019 US Greco-Roman Military World Team, with Ildar Hafizov (60 kg, Army/WCAP) and Ellis Coleman (67 kg, Army/WCAP) locked in as the lightweights.
On the other side of the globe is Turkey, who unlike the US, is going to send a (very) full squad to China. Below is not Turkey's confirmed roster, but rather a sampling of who is present at the nation's CISM Military Worlds preparation camp. *Note: Only Olympic weight classes will be contested at the Military World Games. 
Rahman Bilici (63 kg) — 2018 World bronze
Enes Basar (67 kg) — 2016 University World Champion, '13 Junior World silver, '12 Junior World bronze
Aslan Atem (82 kg) — 2016 World silver, '14 University World Champion, '11 Junior World bronze
Emrah Kus (82 kg) — 2018 World silver, '13 World bronze
Metehan Basar (87 kg) — Two-time World Champion
Osman Yildirim (130 kg) — 2018 U23 World silver, '18 University World Champion, '16 Junior World silver, '15 Junior World bronze, '14 Junior World bronze
The 2019 CISM World Military Games take place October 20-24 from Wuhan City, China.
Questions? Concerns? Feel like reaching out? Do so on Twitter, Facebook, and Instagram!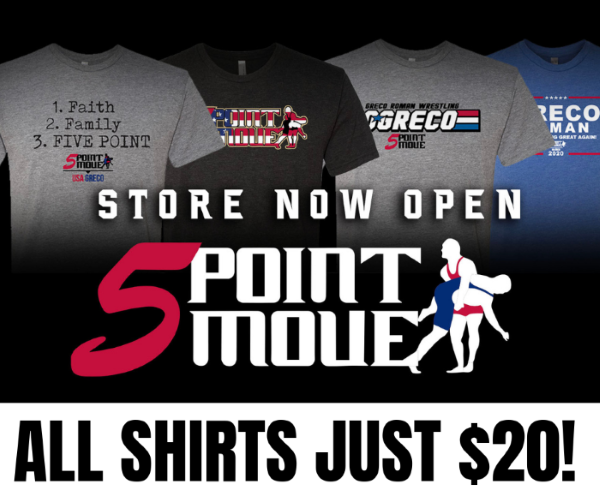 Listen to "5PM28: G'Angelo Hancock, Joe Rau and Max Nowry" on Spreaker.
SUBSCRIBE TO THE FIVE POINT MOVE PODCAST
iTunes | Stitcher | Spreaker | Google Play Music | RSS
Notice
: Trying to get property 'term_id' of non-object in
/home/fivepointwp/webapps/fivepointwp/wp-content/themes/flex-mag/functions.php
on line
999