Several members of the All-Marine Team just returned home after spending last week in Serbia for a training camp.
Xavier Johnson (63 kg), Ray Bunker (72 kg), Peyton Walsh (77 kg), and John Stefanowicz (82 kg) — each of whom is on the US National Team, with Bunker and Stefanowicz appearing in the Senior World Championships last month — flew out to Belgrade just over a week ago before participating in a series of joint training sessions with members of Serbia's own national squad. Despite the season's newness, it is a busy time of year for most US athletes. Many are preparing to settle into new weight classes and/or gear up for the fall's slate of activity.


For Stefanowicz, who is moving down to the Olympic category of 77 kilograms this season, a camp without a competition on the back-end served as an opportunity to get back to basics in a friendly environment that allowed for an enjoyable learning process.
"It was good to get back into being a student," Stefanowicz said on Monday. "We get caught up a lot of times this close after Worlds or this close to the Olympics where we get so focused on certain things and you lose track on pulling the roots of being a student. My goal of going out there was being able to fix the mechanics and work on the small things, which lead to big things, and just enjoy it again. After the World Championships and all of the pressure that leads up to it, then everything goes silent and you don't have anything to really do or think about. Getting back into it with a camp in a country we are friendly with helps out a ton."
As for the new weight class, Stefanowicz isn't stressing the adjustment. As he famously relayed back in 2017, "There are wrestlers who cut weight and there are weight-cutters who wrestle." With that in mind, the 28-year-old, along with his coach Jason Loukides, is putting together a plan of action that all but guarantees a smooth transition.
"I'm pretty excited about it, and I'm saying that with a big ole smile on my face hearing that quote," said Stefanowicz. "I'm looking forward to it because it's one of those things where I'm not really cutting down, but you could say I'm 'trimming down.' I could always cut a little bit off and maintain my stamina. People always worry about losing the muscle mass or stamina, or getting down to weight and mentally breaking. To be honest, it's 77. I competed at 74 for the first few years on the circuit. Me going 80 was a good fit for me but it was a better fit for the (All-Marine) Team. Now with the Olympics, it's kind of all or nothing.
"The plan I have is pretty solid. It's long-term. And once the ball gets rolling, let's just say that I'm pretty excited to be representing next year."
RUS & TUR CISM Rosters Confirmed
Greco-Roman at the 2019 CISM Military World Games begins on Wednesday morning at 10:0am in Wuhan City, China (10:00pm ET Tuesday night). The US starting off with Ildar Hafizov (60 kg, Army/WCAP) and Ellis Coleman (67 kg, Army/WCAP); then the next pairing this week will be Daniel Miller (97 kg, Marines) and Toby Erickson (130 kg, Army/WCAP). Just don't make plans on watching any of the action — in a reply back to 5PM, the International Military Sports Council intimated that the only avenue to view the event will be via China Central Television. (UPDATE: 2019 World Team member Max Nowry earned bronze in freestyle on Monday at 60 kilograms.)
Last month in this space, a rendering of Turkey's Greco-Roman roster for the CISM Military World Games was published and can now be confirmed.
TUR
67 kg: Enes Basar (2016 University World Champion, '13 Junior World silver, '12 Junior World bronze)
77 kg: Aslan Atem (2016 World silver, '14 University World Champion '16 University World silver)
87 kg: Metehan Basar (Two-time World Champion, 2014 University World Champion)
130 kg: Riza Kayaalp (Four-time World Champion, 2016 Olympic silver, two-time World silver, two-time World bronze)
Russia only recently announced its roster for CISM Greco, and the group of athletes they have sent to China is every bit as impressive as Turkey's.
RUS
60 kg: Sergey Emelin (2018 World Champion, '19 World silver, '17 U23 World silver)
67 kg: Artem Surkov (2018 World Champion, '19 World silver, two-time World bronze)
87 kg: Evgeny Saleev (2014 World silver, '16 Military World Champion, '15 Military World Games silver, '17 Military World silver)
97 kg: Musa Evloev (Two-time World Champion, 2017 World silver, '13 Junior World Champion)
Angelov
2013 World Champion Ivo Angelov (60 kg, BUL, world no. 17) celebrated his 35th birthday on October 15, and just a few days before that, presided over the fourth annual Bulgarian kids tournament bearing his name. The event attracted over 100 competitors ranging from 10 years-old up to UWW (United World Wrestling) Cadet.
Angelov has remained a viable presence in the sport despite advancing in age. Following the 2016 Olympic Year that saw him fall short of qualifying for Rio, he returned the next season to place second at the European Championships for a third time (he won the event back in '13). This past season, he triumphed at the Ion Corneanu & Ladislau Simon Memorial in Bucharest, a popular pre-World warm-up tournament. Then at the World Championships itself, Angelov snared three victories and advanced to the quarterfinals, where he was defeated by Iranian Ali Reza Ollah Nejati. Nejati was folded up in the semis by eventual champ Kenichiro Fumita (JPN).
Questions? Concerns? Feel like reaching out? Do so on Twitter, Facebook, and Instagram!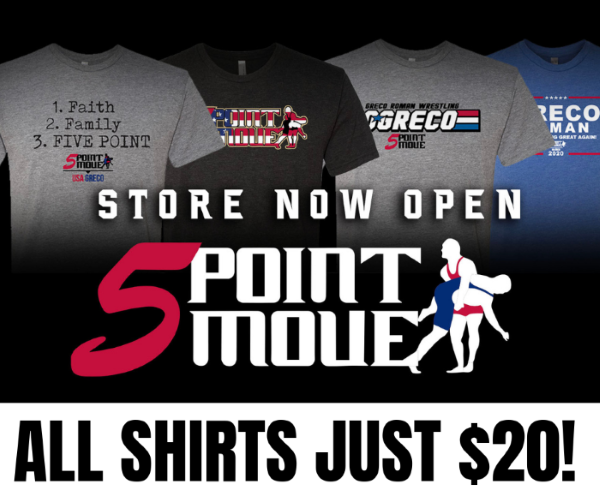 Listen to "5PM28: G'Angelo Hancock, Joe Rau and Max Nowry" on Spreaker.
SUBSCRIBE TO THE FIVE POINT MOVE PODCAST
iTunes | Stitcher | Spreaker | Google Play Music | RSS
Notice
: Trying to get property 'term_id' of non-object in
/home/fivepointwp/webapps/fivepointwp/wp-content/themes/flex-mag/functions.php
on line
999