The dry spell is almost over. Competition becomes the focus coming up, something we're all looking forward to. Over two dozen USA Greco Roman wrestlers will be competing in events as part of the Sweden tour, which takes off this very week. Right after that will be the Bill Farrell, where the non-Olympic Trials are also taking place. Then it's the Grand Prix, the Clubs Cup, the Worlds, and the Nationals. It'll all start happening very quickly. 
But in the meantime, there has been plenty for Greco fans to stay busy with. Just this weekend, some legends were recognized…
Hall of Famers
The 7th Annual Alan & Gloria Rice Greco Roman Hall of Champions ceremony was held on Saturday evening in Minneapolis and this year's honorees couldn't have been more deserving.
The famous Hazewinkel twins, Dave and Jim, represented the United States at two Olympics (1968 and 1972) and six World Championships. In fact, Dave was the first American to snare two World medals in the style, a bronze in 1969 and a silver the next year. He is also the father of 2008 University Greco Roman World Champion, 2012 Olympian (in freestyle) and four-time NCAA All-American Sam Hazewinkel. The Hazewinkels received the Alan & Gloria Rice "Legacy Award" in 2012, so this year's induction into the Hall of Champions further underscores what the brothers have meant to the program not only throughout their careers, but even after. Nice bloodlines.
The "Leadership Award" this year went to Joe DeMeo, one of the godfathers of Greco Roman wrestling in this country. DeMeo, who is also the founder of the influential Adirondack Three-Style Wrestling Association, boasts a coaching resume that is nearly unrivaled. He is responsible for 11 Olympians, two Olympic champs, countless US Open champions, was named a USA Wrestling National Coach of the Year three times, was named the World Team head coach four times, and was on four Olympic coaching staffs. Incredible.
Along with the Hazewinkels, the late Lindsey Durlacher was also added to the Hall of Champions. Durlacher earned a bronze medal at the 2006 World Championships in Guangzhou, China in what was a positively stacked bracket. During his career, he was a ferocious competitor known throughout for his physical strength and uncanny mat sense. Few could match the Illinois native's intensity, which made so many of his matches enjoyable to watch. Another one of his career highlights was an important fifth-place finish at the 2007 World Championships,  an event that culminated in the US winning its first World title in history. Durlacher tragically passed away in 2011 at the age of 36.
This year's "Legacy Award" went to the Minnesota Wrestling Club, or better known as the Minnesota Storm. There is no denying the success and longevity of the program, which dates back decades. The Storm has produced over 70 international medals and has put at least one athlete on each Olympic Team since the '60's. The club's rich history in the US is so prolific, there isn't a reasonable comparison for what it has accomplished. And thanks to its current crop of athletes, it is indeed a legacy that is still expanding.
Congratulations to all!
Bisek goes to college
Andy Bisek (Minnesota Storm — see? There you go.) is returning to the place that helped launch him into a future World medalist. The current Olympic Training Center resident athlete will be taking over for Northern Michigan-Olympic Training Site head coach Rob Hermann beginning this week while he is in Sweden. Joining Bisek for part of the excursion is fellow former NMU athlete and 2012 Olympian Chas Betts, whose younger brother Parker competes for the school. Betts, as you are very likely aware, has become a rising star in the WWE under the name "Chad Gable", showing off some of the power and athleticism he oft displayed during his competitive career.
For Bisek, the opportunity to fill in for coach Hermann means using that time to evaluate his former program and putting his own stamp on the athletes. "I have this idea of how it was when I was training there and how I believe it should be," Bisek says. "So I'd like to try and implement that in the short time I'm there and let these athletes know what they should be doing."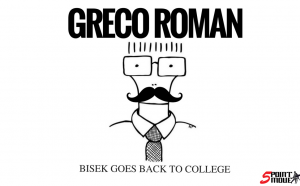 Bisek will be up at Northern until November 9th, the same week athletes are sure to be prepping for the Bill Farrell/NYAC. The two-time World medalist is going to be doing all he can to make sure there is plenty of him to go around while he's patrolling the Superior Dome. "There are some guys up there who have started to establish themselves, but just because someone has done that doesn't mean they are getting any more of my time, or any less."
Williams Baptist joins the fight
Perhaps the biggest story of last week was the addition of a competitive collegiate Greco Roman wrestling team to Williams Baptist College. The school, located in Walnut Ridge, Arkansas, is the home of an emerging NAIA program helmed by Kerry Regner, a graduate of Northern Michigan and former Greco Roman competitor. "We're looking for people who want to complete their education and then also, want to compete in Greco Roman full-time," Regner told Mat Talk Online's Short Time podcast. "I'm excited by the possibilities of what we have. It truly is groundbreaking and it's going to change the game."
There is any number of things which make the Williams Baptist situation such an exciting new option for those looking to take the Greco path. For starters, travel to domestic tournaments will be covered by the college, meaning athletes won't have to reach into their own pockets to wrestle in big tournaments on US soil – a huge advantage. Another is the climate. Marquette, Michigan, where NMU is located, is fairly notorious for its especially brutal winters. Arkansas doesn't have that problem. Even during the winter, the average low stays quite reasonable. Weather might not be why someone chooses Williams Baptist, but it has been a reason why some have been reluctant to attend Northern, believe it or not.
The coaching situation is going to be the most interesting element. There are plenty of notable names out there who would seem to make great candidates, some still competitive, some not. Whoever gets the head coaching gig at Williams Baptist is going to receive a lot of perks. There will be a respectable salary, health benefits, and more. If you're into the job opportunity and want to apply, you might want to jump at this immediately.
What's coming up here
A profile on US National Team member and Northern Michigan athlete Alex Sancho. A strong, talented wrestler, Sancho has become one of the major names coaches and fans alike pay attention to and you should, too.
An interview with two-time Olympian and current Wheaton College head coach Jim Gruenwald. Gruenwald was a driven competitor and is a man of impressive faith. He's also carved out a reputation as someone athletes can learn from. His perspectives are earnest and valuable, which should make for an engrossing read.
A new "Coach Lindland's Report" covering the recent news we've had here and your write-in questions.
Questions? Concerns? Feel like reaching out? Do so on Twitter, Facebook, and Instagram!
Notice
: Trying to get property 'term_id' of non-object in
/home/fivepointwp/webapps/fivepointwp/wp-content/themes/flex-mag/functions.php
on line
999