An unusual year means an unusual calendar, and it doesn't get any more unusual than a Senior National tournament taking place after the Olympic Trials, and in the same month. Alas, everyone had been forewarned well in advance.
And it is not just the Seniors, either, as the Juniors will also be taking the mat starting Friday morning in Coralville, Iowa. Team selection implications are involved for both divisions, but for the Juniors it is much more pressing. Their version of the goings-on at the Xtream Arena is the Trials, while the Senior event serves as a qualifying opportunity for their big tournament in September.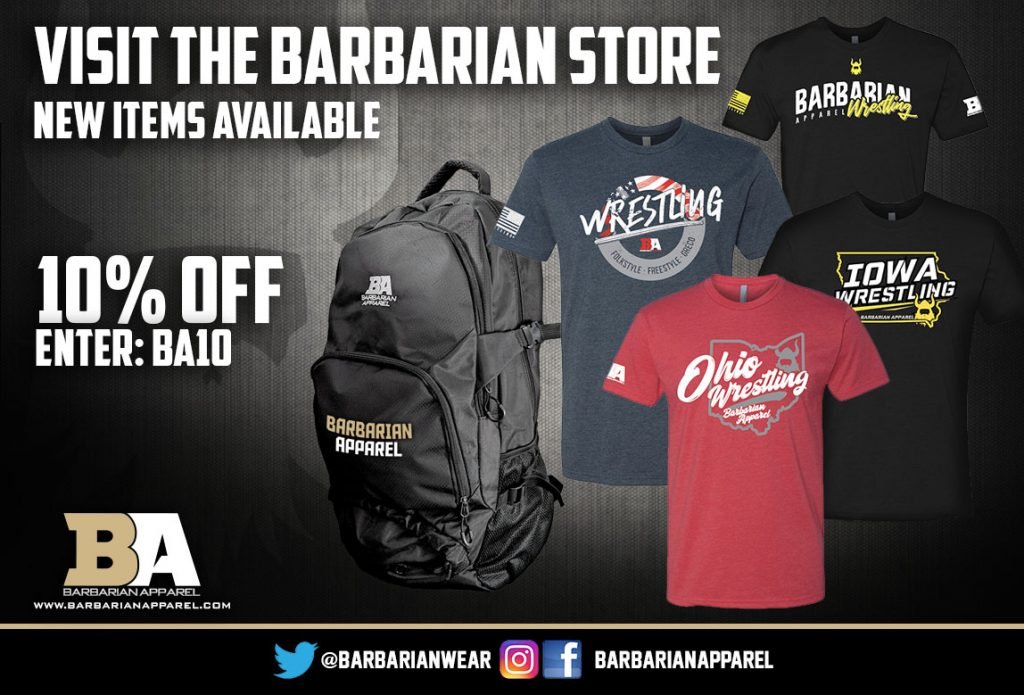 FLOWrestling will have the broadcast beginning on Friday at 10:00am local time (11:00am ET). The UWW Junior and US Senior Nationals are set to observe the one-day format, with rounds unfolding concurrently until the afternoon/evening.
2021 UWW Junior & US Senior Nationals
FULL SCHEDULE
*All times ET
Friday, April 30
11:00am-3:30pm
Prelims through semifinals and consolations
5:00pm-6:00pm
Junior best-of-three finals
8:00pm-9:00pm
Senior National finals
Our Coverage
Nationals preview on FLO (Thursday).
Updated results on here during the tournament with and a recap to follow.
Full overviewing recap on FLO next weekend.
European Championship Results
The best non-World-level tournament in the sport transpired over the weekend in Warsaw with Russia stringing together yet another team title, and several Olympic medal candidates grabbing some important mat time.
Thanks to United World Wrestling's diligent social media prowess, everyone caught a look at Selcuk Can's (72 kg, TUR) lightshow of a headlock that was largely responsible for ending three-time World champ Frank Staebler's (GER) bid for a third title. But that chain got cut quickly. After Can downed Staebler, he fell in the proceeding round via tech to Roman Pacurkowski (POL); and then Pacurkowski was defeated by '20 Individual World Cup gold (and multi-time age-group medalist) Malkhas Amoyan (ARM) — who in the end was decisioned by '16 Rio bronze Shmagi Bolkvadze (GEO). Bolkvadze, still only 26, and Ramaz Zoidze are thought to be in a race for Georgia's 67-kilogram spot in Tokyo — which Zoidze guaranteed by qualifying the weight class last month in Budapest.
At 97 kilograms, two-time World Champion Musa Evloev (RUS) picked up his second-straight Euro gold by overwhelming stately Balazs Kiss (HUN). A lot to unpack here: Evloev started off his tournament with a decision against Markus Ragginger (AUT); next, he superior'ed Yevehenii Saveta (UKR); and in the semis, edged Nikholoz Kakhelashvili (ITA) 3-1. Kakhelashvili, to his credit, competed quite well. He had blanked '19 World silver Kirl Milov (BUL) prior to his meeting with Evloev, and closed out by shutting out Ragginger for bronze. Meanwhile, also in the bracket? Arvi Savolainen (FIN), who was stunned by Nikolai Stadub (BLR) via fall in the qualification round. Savolainen and Kahelashvil were both featured in a recent piece on this platform stemming from their memorable battle at the Euro Qualifier, which saw Savolainen prevail.
60 kilos provided a finals match-up that, depending on draws and/or "bracket separation", could reappear in Tokyo with Sergey Emelin (RUS) narrowly defeating former Junior World-beater Kerem Kamal (TUR) 4-1. Elsewhere, '19 World champ/multi-time medalist Tamas Lorincz (77 kg, HUN) earned his fourth European title by running over Yunus Basar (TUR) 8-0. Lorincz, who later told the Hungarian Federation that he is in " even better shape" than during his triumph in Nur-Sultan, only saw one serious challenge throughout the Euros, courtesy of Croatian Antonio Kamenjasevic in the round-of-16. Other than that one match, Lorincz was as close to dominant as is reasonable. Counting his finals steamrolling of Basar, Lorincz outscored the opposition in Warsaw 35-4.
2021 European Championships
April 24-25 — Warsaw, POL
55 kg
GOLD: Emin Sefershaev (RUS)
SILVER: Ekrem Ozturk (TUR)
BRONZE: Rudik Mkrtchyan (ARM)
BRONZE: Eldaniz Azizli (AZE)
60 kg
GOLD: Sergey Emelin (RUS)
SILVER: Kerem Kamal (TUR)
BRONZE: Viktor Petryk (UKR)
BRONZE: Ravzan Arnaut (ROU)
63 kg
GOLD: Zhambolat Lokyaev (RUS)
SILVER: Taleh Mammadov (AZE)
BRONZE: Aleksandrs Jurkians (LAT)
BRONZE: Leri Abuladze (GEO)
67 kg
GOLD: Mate Nemes (SRB)
SILVER: Mateusz Bernatek (POL)
BRONZE: Slavik Galstyan (ARM)
BRONZE: Murat Firat (TUR)
72 kg
GOLD: Shmagi Bolkvadze (GEO)
SILVER: Malkhas Amoyan (ARM)
BRONZE: Maksym Yevtushenko (UKR)
BRONZE: Robert Fritsch (HUN)
77 kg
GOLD: Tamas Lorincz (HUN)
SILVER: Yunus Emre (TUR)
BRONZE: Sanan Suleymanov (AZE)
BRONZE: Antonio Kamenjasevic (CRO)
82 kg
GOLD: Adlan Akiev (RUS)
SILVER: Radzik Kuliev (BLR)
BRONZE: Hannes Wagner (GER)
BRONZE: Aivengo Rikadze (GEO)
87 kg
GOLD: Zurabi Datunashvili (SRB)
SILVER: Kiryl Maskevich (BLR)
BRONZE: Zhan Belenyuk (UKR)
BRONZE: Milad Alirzaev (RUS)
97 kg
GOLD: Musa Evloev (RUS)
SILVER: Balazs Kiss (HUN)
BRONZE: Nikolai Stadub (BLR)
BRONZE: Nikoloz Kakhelashvili (ITA)
130 kg
GOLD: Riza Kayaalp (TUR)
SILVER: Iakobi Kajaia (GEO)
BRONZE: Zurabi Gedekhauri (RUS)
BRONZE: Eduard Popp (GER)
United States U15 & Cadet World Teams
This past Friday in the Wisconsin Dells, two age-group World Teams were selected. For the U15 squad, they have a long break before the World School Combat Games (September 11-18 in Belgrade, SRB). The Cadets, as is custom, are set for the summer (July 19-25 in Budapest, HUN). Our Cadet recap can be viewed here; a more pronounced overview that includes the U15'ers will be available on FLO this week.
USA U15 Greco-Roman World Team
38 kg: Domenic Munaretto (IL)
41 kg: Haakon Peterson (Sebolt Wrestling Academy)
44 kg: Cooper Hilton (TN)
48 kg: Matthew Martino (ID)
52 kg: Jackson Heslin (Poway Elite)
57 kg: Vince Bouzakis (PA)
62 kg: Ladarion Lockett (Cowboy WC)
68 kg: Hudson Rogers (ID)
75 kg: Aeoden Sinclair (WI)
85 kg: Garett Kawczynski (Ringers)
USA Cadet Greco-Roman World Team
45 kg: Bo Bassett (Young Guns)
48 kg: Aden Valencia (Greco-Roman Development)
51 kg: Kaedyn Williams (LAW)
55 kg: Corey Land (Ironclad)
60 kg: Brock Bobzien (Poway HS)
65 kg: Jadon Skellenger (Suples)
72 kg: Braden Stauffenberger (Izzy Style)
80 kg: Ryder Rogotzke (PINnacle)
92 kg: Nathan Wemstron (Izzy Style)
110 kg: Jim Mullen (NJ)




Listen to "5PM47: Nate Engel and Xavier Johnson" on Spreaker.
Listen to "5PM46: Taylor LaMont and Jessy Williams" on Spreaker.
Listen to "5PM45: Chatting with Dennis Hall and Max Nowry" on Spreaker.
SUBSCRIBE TO THE FIVE POINT MOVE PODCAST
iTunes | Stitcher | Spreaker | Google Play Music
Notice
: Trying to get property 'term_id' of non-object in
/home/fivepointwp/webapps/fivepointwp/wp-content/themes/flex-mag/functions.php
on line
999