Two days, two tournaments in two countries, and ten US athletes told the story of a weekend that hit like a freight train and sped off into the darkness just as quickly. No medals were earned by an American either in either location. Several came close. But hardware wasn't the objective. Sometimes that is said and it's not entirely true of in-season events. This past weekend was different, for obvious reasons.
Most of Europe has enjoyed a head start on the US program when it comes to international competition. Not by much, but by enough to where it hasn't gone unnoticed. Meanwhile in the States, only a fraction of full-time Seniors were able to participate in the US Nationals, and not one of them was a member of a military installation. The Marines, what with their pair of 2019 World Teamers and six overall National Team representatives, hadn't appeared at an event (of any kind) dating back to last winter. Winter. Army? By the time Army/WCAP wrestlers compete in an event, of any kind, it will likely mean the end of a full 12-month hiatus.
Mind you, this is an Olympic Year. Again.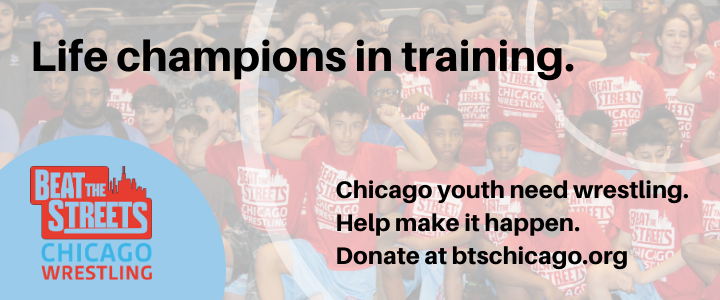 Needless to say, that is why Zagreb for Josef Rau (87 kg, TMWC/IRTC, world #7, 5PM #2) and Sunday in Nice for the Marines were critical. These tournaments had little to do with performative expectations. The sheer fact that American Greco-Roman athletes, the one segment of wrestlers in the country who require foreign competition for their own skill development, had the opportunity to mix it up overseas — after so much frustration, confusion, fear, and nonsense — brought forth the first legitimate sign that maybe, just maybe, wrestling is actually back. No longer just a catchphrase on a t-shirt. Hope is a precious commodity. So much so that even a lack of hardware-earners overseas doesn't obscure its value at the moment.
More with Stefanowicz
It was 11:41pm in Nice, France and '19 World Team member John Stefanowicz (Marines, world #3 at 82 kg, 5PM #5 at 77 kg) was back at his hotel after a three-match day that saw him come up a criteria shy of bringing home a bronze medal. If he was tired, which he must have been, there was no mention of it. Compounding matters for Stefanowicz, the Marines weren't staying much longer. A flight back to the US in the morning meant this mission of theirs had been a short one. So instead of having some downtime to shower, kick back, and sleep in a little later prior to a multi-national training camp, he had to make sure he arose in the morning early enough to hit the airport.
But because Stefanowicz feels a responsibility to both our audience and his fellow Marines, he wanted to answer the follow-up questions with the same honesty everyone has come to expect. He doesn't suffer short cuts. Only a couple of his quotes made it into the recap, so we're including the full transcript down below (context included).
On his first match against Poland and how it felt to have that kind of bout right out of the gate up a weight class
"The extra weight in the tournament is a huge factor. I felt pretty good getting a blowout in. Honestly, I needed it. I was sluggish on the feet and my judgment on moves I could anticipate hitting was clouded. So, after giving my opponent all of his six points in the first, I pulled my head out my ass and made the match adjustments that were needed. Getting the mind again in a battle mode was much-needed."
On which match bothered him more, the semifinal against Islam Abbasov or the bronze round against Gurami Khetsuriani
"The bronze medal match pissed me off in an extremely bad way. I don't lose those matches, but if I do, I can usually point to something that I did wrong in the beginning, which is what I did. I lowered my pace to anticipate the big throw and my gamble didn't pay off.
"But… he match against Abbasov or whoever, the dude in the semis, that got me heated more than anything because of two things — 1) I could exhaustively work my way into scoring positions after pushing him around and then it seemed like blocking was now included as an acceptable tactic to the refs; 2) that was a push-out (in the first period), which was a four-point swing counting the challenge."
On how it felt to be back across the Atlantic for the first time in an entire year
"It was great to get the anxious feeling out, but what showed more than anything is that there is nothing that can simulate the way environment of an international tournament when it comes to weight management, competition, environment, mats, lights, the gym, the anxiousness, and that foreign-out of place feeling. That stuff came out heavily here, which is something our guys are never exposed to. Getting that sense of calmness back is key, which was great. Couldn't be happier to be over here. Only wish I could've represented a little better with more hardware."
Weekend Notes
A few basic stats surrounding the US performances in both tournaments along with scattered details regarding athletes from other nations.
The overall combined record for US athletes between Rau in Zagreb and the Marines plus Patrick Smith (77 kg, Minnesota Storm, 5PM #1) in France was 8-20.
Two USA athletes records wins via technical fall — Rau and Jamel Johnson (67 kg, Marines, 5PM #4).
Rau is the only American to have won a match this past weekend via fall (over Filip Smetko of CRO).
Of the 20 US losses, nine were via tech fall.
National Team member Peyton Walsh (77 kg, Marines, 5PM #9) was a true anomaly. In two matches he was credited with a combined 14 points but lost both bouts.
'19 World Team member Ray Bunker (67 kg, Marines, world #6 at 72 kg, 5PM #3) did not compete on Sunday, citing an injury. No further details have been disclosed.
Turkey won both the Grand Prix Zagreb Open and the Henri Deglane Grand Prix.
Of the 72 medals awarded between both tournaments, 12 went to prior Senior World/Olympic medalists.
Zagreb's Featured Final Match-Ups
— In the 67 final, '18 World bronze at 63 Gevorg Sahakyan (POL) laid a surprisingly pronounced beatdown on '20 European Championships gold Morten Thoeresen (NOR). Sahakyan got on top and bombed a reverse lift; he then transitioned to a front headlock and rolled Thoeresen twice to end the match. The pair could meet again at the European Olympic Qualifier in March.
—  At 63 kilos, young Niklas Oehlen of Sweden gave '18 World silver Victor Ciobanu (MDA) more than a run for his money. Oehlen's points were all collected in the first period. He had nailed a correct throw, received the passive, and went big on a straight lift for four = 7 points. But Ciobanu roared back in the second period to the tune of eight unanswered points to come away with the win. Ohelen is just a second-year Junior while Ciobanu is 28-years-old.
Deglane's Featured Final Match-Ups
— Not technically a final, because three-time Junior World champ Kerem Kamal (60 kg, TUR) had already down sporadic rival and '18 U23 World gold Murad Mammadov (AZE) earlier in the pool, but he still had one match to go against Mammadov's countryman Murad Bazarov. This was an uncharacteristically testy affair for Kamal, who is normally a very businesslike competitor. Not on Sunday, but Bazarov owns part of the blame.
Bazarov was a little loose with his hands to the face and had inadvertently clawed Kamal's right eye. Kamal screamed in agony upon the initial blow and required some time to recover. He would eventually go out in front 5-0 after par terre, and then he received two more from another Bazarov foul. Things became rather chippy in the second period, with both wrestlers being warned and separated. To compel the conclusion, Kamal pushed Bazarov off the edge to gain the eighth and final point. Although it was a push and not a step-out, the refs upheld the action. After Kamal raised his hand as the victor, he shouldered Bazarov and then immediately apologized both to his opponent and the officials. What a sight.
— Islam Abbasov (AZE), who cut short Stefanowicz's run, defeated two-time World Champion Metehan Basar (TUR) 8-4 in what was one of the most entertaining bouts of the weekend. Abbasov used the passive/PT to crank a front headlock — but as he did, Basar held his position over the top and received exposure points. The very next sequence on the feet saw Abbasov explode with an arm throw for four, and Basar answer back with another exposure-reversal. Scoring was held in check through the second period but those two actions alone are worth a watch.
FLOWrestling has not yet parsed individual matches from the replays for Greco-Roman of the Henri Deglane Challenge. You can find Kamal/Bazarov on the Mat B replay at 4:57:58 into the stream; Abbasov/Basar can be viewed at 6:52:24 into the stream for the Mat A replay. 
Rankings Update
The two tournaments contested over the weekend are categorized as "Tier 1" events according to Five Point Move's official rankings, with Henri Deglane added for this season due to the compressed nature of the brackets featuring elite-level talent. Fifth-place at a "Tier 1" tournament translates to six points (point increases rendered in brackets). Only one athlete saw their ranking change, Zaleski, who now takes over the #9 spot from Rich Carlson (Minnesota Storm).
Rau (5th at Grand Prix Zagreb Open) — currently ranked #2 at 87 kilograms [248.06 to 254.06]
Johnson (5th at Deglane) — currently ranked #3 at 67 kilograms [171.94 to 177.94]
Stefanowicz (5th at Deglane) currently ranked #5 at 77 kilograms [215.26 to 221.26]
Zaleski (5th at Deglane) — was ranked #10 at 87 kilograms, rises to #9 [21.68 to 27.68]
Daniel Miller (5th at Deglane) — currently ranked #3 at 97 kilograms [189.12 to 195.12]
Style Guide Change
To describe multiple honors for an athlete from a tournament/event/team distinction, the number will no longer be spelled out (e.g., "two-time National Champion", "three-time World Team member") in list formats. Instead, the numerical value plus "X" will be used. This change has already made its way into content. However, the former method remains inside of article bodies.


Listen to "5PM43: Christmas Time with Millersville's Kerry Regner" on Spreaker.
SUBSCRIBE TO THE FIVE POINT MOVE PODCAST
iTunes | Stitcher | Spreaker | Google Play Music
Notice
: Trying to get property 'term_id' of non-object in
/home/fivepointwp/webapps/fivepointwp/wp-content/themes/flex-mag/functions.php
on line
999