United World Wrestling's Eric Olanowski reported on Tuesday that Shinobu Ota (JPN), World Champion at 63 kilos this year and Olympic silver in 2016, has apparently decided to bump up to 67 for the 2020 Games — which, of course, take place in Ota's home country.
Ota was forced into this position because Japan's 60 kilogram representative, Kenichiro Fumita, first knocked him off in their national tournament last year; and then the Japanese federation eventually introduced a stipulation this past summer that rewarded all of its Nur-Sultan World medalists (in the Olympic weight categories) with an automatic spot on their team for Tokyo. Fumita did his part by racing to his second Senior title in three years. Ota won, too, but since his gold was earned at a non-Olympic weight, he was still going to be on the outside looking in for next year.
Until…
Now there is still qualifying to be accomplished, which in Ota's case, the first chance will be the Asian tournament next March. He will not have an easy time of it, and that's assuming his "walking around" weight and overall size increase appropriately by then (should that even be necessary).


2020 Asian OG Qualifier — 67 kg
Ryu Han-Soo (KOR) — Two-time World Champion, '15 World silver
Still a beast who shows up when it matters most, Ryu had such a rough Worlds bracket that, if he had somehow managed to win (or even place), it would have been one of the most remarkable performances this generation. He started off by edging Rio bronze/'15 World champ (at 71 kg) Rasul Chunayev (AZE); next, he decisioned '17 World bronze Atakan Yuksel (TUR); lost to eventual champ Ismael Borrero Molina (CUB) 3-1 and fought his heart out; and was then felled in a close battle with German star Frank Staebler in the repechage. It doesn't get any more difficult than that. But there is no consolation prize for having a crazy draw and coming up short in a qualifying tournament. Now Ryu will try to get it done in China come March. That's his consolation prize.
Meirzan Shermakhanbet (KAZ) — 2018 World bronze
Shermakhanbet had to have liked his chances last month. He walked in as the #4 seed at a World Championships hosted by his home country. But however fortuitous those circumstances originally appeared, they were all for naught because Ellis Coleman (Army/WCAP) threw Shermakhanbet a definitive beating that the Kazakhstan faithful likely didn't see coming. Coleman was on the wrong end of a questionably-officated bout in the proceeding round, which of course, ended Shermakhanbet's tournament. But, Coleman match aside, Shermakhanbet is a legitimate killer with loads of explosiveness and a dynamic top game. If he is the one repping Kazakhstan at the Asian Qualifier, he'll be a contender to make the final. If. 
Almat Kebispayev (KAZ) — 2011 World silver, three-time World bronze
It's hard to believe that Kebispayev is now a man in his 30's (he will turn 32 in December), but his age doesn't matter even the slightest bit. He is still a force to be reckoned with, though there were two matches of note from the Worlds (where he earned bronze at 63 kilos): the first was a sludging passive tussle with Erbatu Tuo (CHN); the second was a downright thumping at the hands of Ota in the semis. Now, Kebispayev did get his points against '18 bronze Rahman Bilici (TUR) before that — but the struggle against Tuo and the way Ota ran him over are hard to ignore for a guy who has been the ultimate "tweener". Kebispayev knows what 66/67 feels like and perhaps committing to the weight class once and for all will yield a net positive.
Hamed Mousa Tab (IRI) — 2019 Tbilisi Grand Prix gold
Who knows if Tab will even be in the mix for Iran over the course of the season? They may go with Mohammad Elyasi, but that could depend on what happens in Budapest (at the U23 Worlds). Maybe it will be Mohammad Rezaei, or Mohammad Geraei, the hyperkinetic combatant they shuttled out on occasion last year at 67 before Geraei went up to 72 this season and won the Asian Championships. Iran has depth, and depth means options. As for Tab — and in a limited sample size gleaned mostly from watching Tbilisi — he looks the part and will likely improve in a hurry if given the chance. Hard to take anything away from Nur-Sultan, however. He was cleaned out by Borrero in the first round — although he did put '18 U23 World bronze Mihai Mihut (ROU) in a pair of dicey situations in the repechage, as well. All that aside, whoever it is Iran sends out there in March won't go quietly.
It bears mentioning that Ota is not an absolute lock to make it to March. First, he has to win the Emperor's Cup in December, Japan's primary selection process event. He is expected to do so, as his closest challenger, Shogo Takahashi, does not currently sport as vast of a skill-set or the same overwhelming ability.
The Rest
A glimpse of what 67 kilograms could look like worldwide once the summer of 2020 arrives becomes clearer by understanding the landscape at any of the other three continental qualifiers.
As discussed in the Monday Roundup, Hungarian stud and '16 World Champion/multi-time medalist Balint Korpasi is entertaining a descent from 72 kilos to 67. Since he has yet to commit to the weight class, Korpasi's candidacy is merely speculative. But if it winds up occuring, the European continental qualifier will feature a suitably long list of elite-caliber competitors.
Europe
Count 'em up: 12 Senior medals combined among the competitors projected to vy for two spots at the European Qualifier. 
Rasul Chunayev (AZE) — 2015 World Champion, '16 Rio Olympic bronze, two-time World bronze
Cut down by Ryu in the round-of-16 at the Worlds, his first appearance under 71/72 kilos since his Rio bronze.
Shmagi Bolkvadze (GEO) — 2016 Olympic bronze, '17 U23 World Champion
Another casualty of the same loaded bracket in Kazakhstan, Bolkvadze — who looked really good earlier in the summer — was turned back by hyper-talented Mohamed Ibrahim Elsayed (EGY) to end his bid.
*Balint Korpasi (HUN) — 2016 World Champion, '17 World bronze, '18 World silver, '19 World bronze
If he can make the cut and feel good doing it, who knows?
Edgaras Venckaitis (LTU) — 2014 World bronze
Tougher than he is skilled. Likely not a threat to qualify in March.
Gevorg Sahakyan (POL) — 2018 World bronze
A hard-nosed, consistent competitor, the native Armenian does not carry the glitzy name recognition as some of the others, but also should not be taken lightly.
Mihai Mihut — (ROU) 2018 U23 World bronze
Was Borrero'ed in the second round at Worlds. Athletic as all get-out and still young. People have expected more, however.
Atakan Yuksel (TUR) — 2017 World bronze
Turkey may swap out 34-year-old Yuksel for someone else, but he is the kind of proven commodity you want heading into an Olympic Year.
Africa
2018 U23 World Champion/'16 Junior World bronze Elsayed qualified in Nur-Sultan, and no other athletes from this continental qualifier will be considered dangerous in Tokyo. Elsayed is different. He is young, explosive, fearless, and special. 
Pan American
Borrero got the job done (and then some) in Kazakhstan, leaving only a few legitimate contenders in his wake. Coleman is one of them; so is Joilson de Brito Ramos of Brazil, who defeated the American in a messy match at the '18 Pan Am Championships and actually gave Borrero a tough time back in April. 
Joilson de Brito Ramos (BRA) — 2018 Pan Am Championships silver, '19 Pan Am Championships bronze
Only 21 years of age, de Brito Ramos offers legitimate skills and a sneaky knack for scrambles. Could be a future star but is already a very solid competitor.
Manuel Lopez Salcero (MEX) — Lopez has been around for more than a minute and is a tough out.
Ellis Coleman (USA) — Two-time Junior World bronze, 2012 Olympian
US fans are witnessing the prime of Coleman's career. As always, health is the key. If Coleman is the go-to guy in Ottawa, everyone stateside will feel confident.
Who Is Already Locked In?
Just because an athlete qualifies a weight class, it does not necessarily mean he/she will actually compete at the Olympics. Selection processes, by and large, differ from country to country. However, the six wrestlers who stamped down 67 kilograms in Kazakhstan are all expected to be present in Tokyo.
World Champion — Ismael Borrero Molina (CUB)
Silver — Artem Surkov (RUS)
Bronze — Mate Nemes (SRB)
Bronze — Frank Staebler (GER)
5th — Fredrik Bjerrehuus (DEN)
5th — Mohamed Elsayed (EGY)
Only ten more spots in the bracket remain with upwards of 12 World-credentialed athletes still in need of qualifying. This number does not take into account the litany of decorated "tweeners" who may move up (or down) from non-Olympic weight classes. Plus, nations/athletes who fall short at the continental qualifiers will have one more opportunity in the form of the World OG Qualifier set for the tip-end of April. This "last chance" event may very well offer the toughest road to Tokyo of them all, depending on who is still out there in each weight category.
As for 67 kilograms, star power looms large. Borrero is off the board, as are '18 World champ Artem Surkov (RUS) and three-time World gold Staebler. But hovering in the ether is a collection of top-level monsters who now have their backs against the proverbial wall, and for some, at the crossroads of their respective careers.
Ota doesn't change the way this weight class is perceived. He's just a cog in what is a very large machine. And he might not even qualify. It's hardly a given. Then again, that's the whole point. However you feel about 16-man Olympic brackets and if a lower number of athletes diminishes the most coveted title in all of sports, this realignment is already responsible for creating more conversation in the lead-up than at any other time period in recent history. The drama will only build throughout the next five months.
It's not about who gets in. The dialogue, for right now, centers around who might get left out. That makes watching what happens before the Olympics more exciting. There are too many question marks, too many storylines, and too many hypotheticals to ignore. International Greco-Roman could always benefit from some extra chatter. If the recent developments taking shape at 67 kilograms are proof of anything, it is that we're willing to invest in the chase as much as the finish line. That, make no mistake, is how you build a sport. It is also how you keep a sport alive.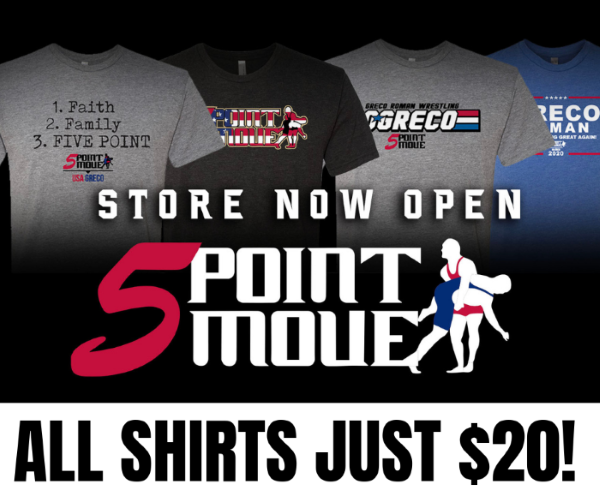 Listen to "5PM28: G'Angelo Hancock, Joe Rau and Max Nowry" on Spreaker.
SUBSCRIBE TO THE FIVE POINT MOVE PODCAST
iTunes | Stitcher | Spreaker | Google Play Music | RSS
Notice
: Trying to get property 'term_id' of non-object in
/home/fivepointwp/webapps/fivepointwp/wp-content/themes/flex-mag/functions.php
on line
999