The Pan American Championships begin this Friday in Ottawa, Canada. As most know by now — and has been covered on here practically ad nauseum since the World Championships ended in September — there is an emphasis attached to the outcome that is outside the norm.
Last year, the Pan Am Championships carried qualifying objectives for the United States Greco program with regards to the Pan Am Games (in five weight categories, which was accomplished easily). This year, there are rather indirect yet-potentially-very-important implications related to the Pan Am Olympic Qualifier, which takes place on March 13 (also in Ottawa).


Because the Pan Am Championships is one of United World Wrestling's "Ranking Series" events, athletes have the chance to earn ranking points. For the first time, these points will play a role in (top-2) seeding for the Pan Am Qualifier (and all other continental qualifiers). With the US still in need of securing all six Olympic weight categories, the National program is hoping that the wrestlers who compete in the Championships will carry over enough points to gain a top-2 seed at the Qualifier, thereby increasing the perceived likelihood of accomplishing what is an extraordinarily important mission.
As of now, there are four (Olympic weight) athletes set to compete in both tournaments.
77 kg: Patrick Smith (Minnesota Storm); current ranking points — N/A
87 kg: Joe Rau (TMWC/Chicago RTC); current ranking points — 10
97 kg: G'Angelo Hancock (Sunkist, world #18); current ranking points — 14
130 kg: Adam Coon (NYAC/Cliff Keen); current ranking points — 10
Army/WCAP teammates Ildar Hafizov (60 kg) and Ellis Coleman (67 kg) are the two holdovers from the '19 World Team tasked with qualifying who are not competing in the Championships this week. Neither is holding pre-earned ranking points of any consequence at this time.
Athletes who do not qualify at their respective continental event (in this case for the US, the Pan Am Championships) will have one more opportunity in the form of the "Last Chance Olympic Games Qualifier" at the end of next month in Sofia, Bulgaria.
First comes the Championships on Friday. There are only three athletes competing who were not on the '19 World Team –two-time National champ Mike Fuenffinger (60 kg, Army/WCAP), Xavier Johnson (63 kg, Marines), and '19 National champ Alex Sancho (67 kg, Army/WCAP).
2020 USA Greco Pan Am Championships Roster
55 kg: Max Nowry (Army/WCAP, world #5)
60 kg: Mike Fuenffinger (Army/WCAP)
63 kg: Xavier Johnson (Marines)
67 kg: Alex Sancho (Army/WCAP)
72 kg: Ray Bunker (Marines)
77 kg: Patrick Smith (Minnesota Storm)
82 kg: John Stefanowicz (Marines)
87 kg: Joe Rau (TMWC/Chicago RTC)
97 kg: G'Angelo Hancock (Sunkist, world #18)
130 kg: Adam Coon (NYAC/Cliff Keen)
We will have an all-new Coach Lindland's Report as well as a light preview available prior to the event. The Pan Am Championships will stream live in the US on Trackwrestling (subscription required).
Austria Notes
On Saturday, three US Juniors placed first at the Austrian Open — Payton Jacobson (60 kg, Topper WC), Jakob Murillo (67 kg, NMU), and Benji Peak (63 kg, Sunkist/NMU). Jacobson and Murillo were first-time winners while Peak earned his second title, along with being named the tournament's Outstanding Wrestler. The US delegation finished second to Turkey in the team race.
What Jacobson, Peak, and Murillo also did was continue a streak of successful appearances for American athletes in Austria. For the fourth consecutive year, the US had at least one champ and three medalists.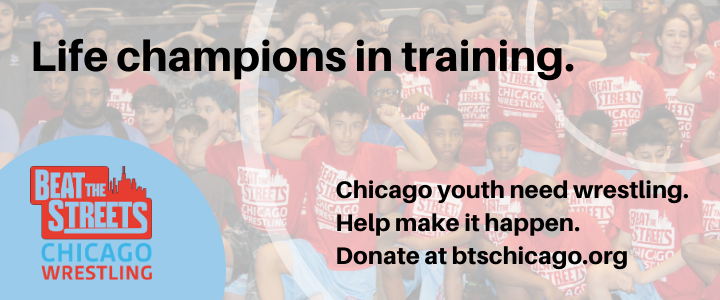 Although when glancing at the list below it might appear the US has been trending downwards at Junior, bear in mind the example is one annual tournament (Austrian Open). The United States has also had at least two medalists at the Junior World Championships each year since '16.
Saturday's delegation in Austria was smaller compared to recent years. In '17, the US sent 12 athletes; '18, 20; and last season, there were 22 American wrestlers entered in the tournament. On Saturday, only seven US athletes suited up for competition.
2017 — Six golds; two silvers; four bronze = 12 medals
GOLD: Randon Miranda (55 kg), Taylor LaMont (60 kg), Logan Kass (66 kg), Kamal Bey (84 kg), G'Angelo Hancock (96 kg), Nick Boykin (120 kg)
SILVER: Cohlton Schultz (96 kg), Drew Fenton (120 kg)
BRONZE: Jordan Auen (60 kg), Alston Nutter (66 kg), Jesse Porter (74 kg), Wyatt Koelling (84 kg)
2018 — Four golds; two silvers; two bronze = 8 medals
GOLD: Camden Russell (55 kg), Benji Peak (60 kg), Riley Briggs (67 kg), Cohlton Schultz (130 kg)
SILVER: Mason Hartshorn (60 kg), Alston Nutter (63 kg)
BRONZE: John Massey (55 kg), Luis Hernandez (63 kg)
2019 — one gold; one silver; five bronze = 7 medals
GOLD: David Stepanian (55 kg)
SILVER: Delon Kanari (60 kg)
BRONZE: Haiden Drury (55 kg), Mason Hartshorn (60 kg), Erik Spence (63 kg, Noah Wachsmuth (67 kg), Keaton Fanning (87 kg)
2020 — three golds = 3 medals
GOLD: Payton Jacobson (60 kg), Benji Peak (63 kg), Jakob Murillo (67 kg)
Right now, the Juniors in Austria are participating in a joint training camp that will take them through the end of the week. We hope to bring you some news and perspectives from those on the ground sooner rather than later.
Justin Ruiz
This week, look forward to a special feature detailing Justin Ruiz's run to World bronze in 2005 — in his own words. Formatted as an oral history, Ruiz, who appeared in four World events throughout his career, provides engrossing insights on each match as he marched through the opposition en-route to the podium.
Questions? Concerns? Feel like reaching out? Do so on Twitter, Facebook, and Instagram!


Listen to "5PM33: The Marine Corps' Jamel Johnson" on Spreaker.
SUBSCRIBE TO THE FIVE POINT MOVE PODCAST
iTunes | Stitcher | Spreaker | Google Play Music | RSS
Notice
: Trying to get property 'term_id' of non-object in
/home/fivepointwp/webapps/fivepointwp/wp-content/themes/flex-mag/functions.php
on line
999