The response might be, Really? The best? And should the inner dialogue in the minds of readers posit such questions, then it is only fair that they receive an answer:
Yes — Savolainen over Kakhelashvili is the best international Greco-Roman match of the year as we sit here less than 100 days away from the Olympics.
Thus, the correct course of action isn't to debate, deflect, or offer other possible replacements. Are there other bouts worthy of entering the argument? Of course. But the problem is that, unanimously, they fail to meet all of the standards necessary to cut the line in front of this one.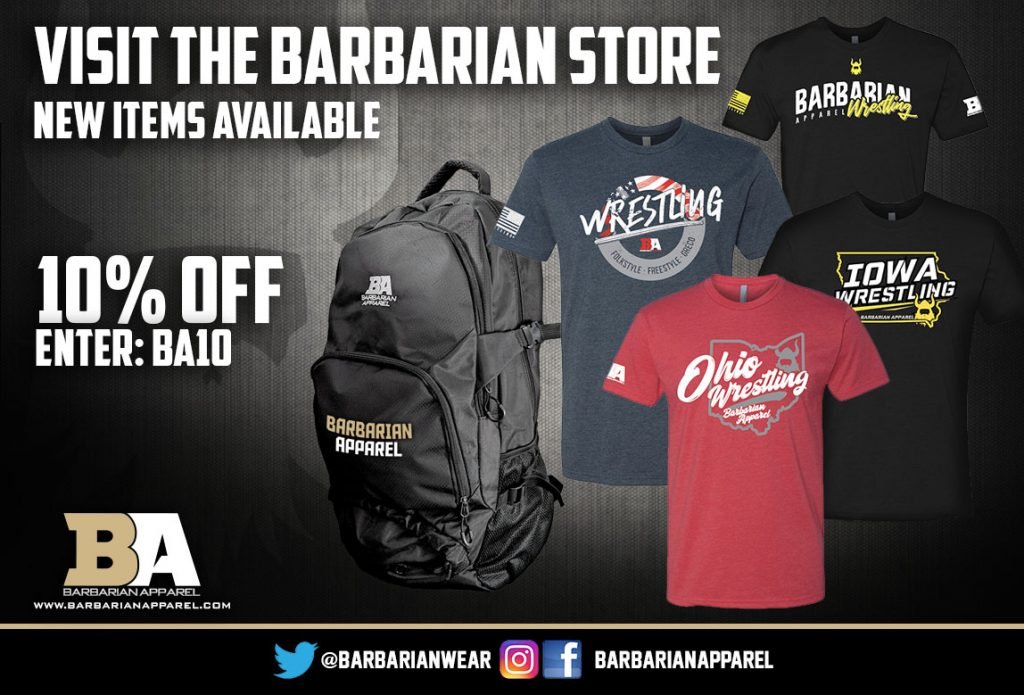 The match between Arvi Savolainen (FIN) and Nikoloz Kakhelashvili (ITA), which occurred last month in the 97-kilogram semifinal of the European Olympic Games Qualifier, checked every relevant box. Let's go through the list.
— Elite level of competition (both are age-group World medalists and considered top Seniors).
— Pressure situation (winner qualified their weight category for Tokyo).
— Actionable intensity and/or violence (underrated pre-requisite).
— One of the participants demonstrated uncommon resolve in the face of severe circumstances.
— Dramatic apex.
— Timely, well-executed technique.
Understanding their respective styles is imperative from a contextual standpoint. It is not enough to merely suggest that both are "physical" athletes. This is Greco-Roman wrestling. Injecting "physical" as an adjective would present a redundancy. It is more that both could be construed as "brawlers", though Kakhelashvili is painted with that brush a touch more often. Originally from Georgia — a nation well-known for producing gritty competitors who mesh hard-nosed hand-fighting with innovative, slick entries and attempts — Kakelashvili is rather basic, observing the former but not the latter. He is a busy, head-first pummeler who prefers to avoid taking risk by playing for passives and rolling the dice on par terre turns. This is not a knock; 97 kilos worldwide is a plodder's paradise, for the most part, rendering Kakhelashvili's methodology anything but rare.
On the flipside is Savolainen, equally tenacious — and if anything, perhaps even more volatile. Back home in Finland, Savolainen is forced to reckon with Matti Kuosmanen, another top-caliber 97 beholden to a feverish penchant for bullying tactics. What helps also is that they are a back-and-forth proposition, trading various series wins and losses domestically. Savolainen has benefited from tangling with Kuosmanen on a somewhat-regular basis, for doing so has predictably raised his game to new heights. What that looks like is a discernible intent to score on the feet; and more importantly, dependable par terre mechanics which feature a go-to lift.
Savolainen vs. Kakhelashvili
2020 European Olympic Qualifier – 97 kg Semifinal
Savolainen had starched his first two adversaries on the day, Germany's Ramsin Azizsir and Pontus Lund of Sweden, respectively. Both matches were one-sided expressions of domination. Elsewhere in the bracket, Kakelashvili started off hot with an 8-0 drubbing at the expense of Oleksander Shyshman (UKR) before Belarusian journeyman Aliaksandr Hrabovik provided a fitful test in the quarters. The European Qualifier was a quick-moving tournament; but since it utilized the two-day format, there was a substantial break prior to the semifinal round.
In other words, Savolainen and Kakhelashvili had an opportunity to rest.
They would need it.
Period 1
The on-the-mat referee for the contest was perhaps familiar to those American hardcores who watched the event: highly-reputable US official Sammy Julian. All of the semifinal bouts offered the same reward, though a different energy could be detected as Kakhelashvili and Savolainen stepped onto the tarp. The scene had a "big fight" feel, due in part to the manner in which United World Wrestling's production values have improved. They have learned how to set the stage appropriately, particularly when it comes to events of consequence.
Only :35 had elapsed when Savolainen was warned by Julian for leading with the head. This was the first message courtesy of Savolainen in the bout. It would not be the last. The head mash was what you might call "accidentally on purpose". Savolainen's height according to Foeldeak is 6'1, while Kakhelashvili is listed at 6'0. Their height discrepancy is likely wider than an inch, but what matters decidedly more are stance and mechanics. Kakhelashvli burrows and bulls, and is recognized throughout for constant head contact. That, at least usually, is not Savolainen's modus operandi. He plays taller and is, by comparison to his counterpart on this day, a fairly open wrestler stylistically.
But, he knew. Savolainen understood Kakhelashvili's approach, which is stick to hand checks and brief pummel exchanges until par terre arrived. And one of the ways Kakhelashvili gets that job done is by not being shy about coming in with his head. All Savolainen did was beat him to the proverbial punch, as if to intimate, I'm going to be right in front of you the entire time.
He did not abandon protocol. The pair chipped inside of fleeting tie-ups, the type which bear almost zero promise of a potential score. Kakhelashvili received the first passivity/par terre opportunity. From bottom, Savolainen's movement was subtle. Kakhelashvili locked high, then mid-range, then low, and as a last-ditch effort circled around for a front headlock. Savolainen Spiderman'ed on the mat and hardly budged.
That all changed once they returned standing. A succession of snaps and pops to Kakhelashvili's dome gave way to the bout's first caution. Savolainen protested ever briefly, but shook it off as if bitten by a fly. He was now behind 3-0 — often a perilous deficit in this weight category, not to mention with such a grand incentive hanging in the balance.
Period 2
The head-clashing mishegoss took a backseat to the many slaps and smacks Savolainen dished out. These strikes were not "clubs"; there were no purposeful, balled-palms to the crest where the neck meets the cranium. Savolainen was practically stinging Kakelashvili with open-handed lefts and rights whenever the distance demanded a conduit.
:23 into the second frame, Kakhelashvili required blood time following a legitimately accidental face scrape. The Italian by-way-of Georgia had snapped at Savolainen's arms, which had inadvertently resulted in Savolainen's head bumping into Kakhelashvili's face. He cried foul and immediately touched his mouth to confirm ketchup.
After Kakhelashvili was treated by training personnel, Savolainen acquired passive/PT. And…Kakhelashvili escaped from bottom in an eyeblink. Maybe they saw something on video, some tell that indicated Savolainen starts slow whilst adjusting for his lock. Nevertheless, it was a surprise, and Savolainen quickly became compelled to resume asserting himself brutishly. A particularly pointed exchange unfolded shortly upon standing. Savolainen whisked a left and followed with a stiff right. The ref, Julian, wasted no time hanging another caution on Savolainen, whose 3-1 margin ballooned to 5-1. The call was correct: Savolainen had been properly warned and cautioned previously for his antics. The call itself was not the odd part.
The odd part was that Savolainen — now in a four-point hole in the biggest Senior bout of his career thus far — barely betrayed a hint of exasperation. Just one shrug of the shoulders along with a glance at his coach, and he was back to business. As for Kakhelashvili, he had to stroll over to his corner because more red stuff was pooling in his mouth.
This might be what broke Kakhelashvili. Savolainen appeared in superior condition, anyway. But bullying without a sound tactical strategy just wasn't going to win this match for Italy. It couldn't. To be sure, Savolainen's own behavior had dug himself an unnecessarily deep ditch. But it came down to a single item: one wrestler was clearly willing to fight for his spot and never lost his composure, while the other guy was losing blood and wishing for a speedier clock.
More time for blood. Yet again, Kakhelashvili began suffering seepage, putting the bout on pause for a third time. At the reset, Savolainen kept pouring inside to disrupt his counterpart's position, even if no one seriously believed an actual offensive score was looming. There was no question about the aggressor's identity. It was Savolainen, and had been since the match's first moments. But scoring on the feet against Kakhelashvili is a massively arduous task. He will not, does not open. His ability to wedge into a shell makes his defensive posture all too difficult to penetrate. That's okay. What isn't, is visibly clinging to a lead and fading away.
Which is why UWW instituted a third par terre this past February, to deter Greco-Roman athletes from scurrying into survival mode once they have a lead late in second periods. No passivity point is attached to the call. The whole idea is to ensure both wrestlers have a say in exactly how the match comes to a resolution, so long as the scenario warrants such an interruption.
Here, it was warranted. For all of his antics, Savolainen's foot not once abandoned the gas pedal. The officials agreed that he at least deserved the chance to have one last crack at scoring. UWW does not implement real-time polls during live events. If they did, fans might have unanimously voted for Savolainen getting another shot from top.
The whistle blew with Savolainen achieving his clasp and seemingly favoring a left gut. 'Twas only a setup to stiffen his lock and pop for a lift. In one motion, the Finnish competitor hawked to his right and lifted Kakelashvili, who bounded to his feet upon impact (for the grip was lost on the part of the offensive wrestler). Four points were logged in Savolainen's direction as voices in the arena roared in approval. The adrenalizing turnaround brought forth with it a satisfying ending for all — not because of who triumphed, but how his victory was earned.
"It was certainly an intense match to be part of," Julian admitted recently. "I look forward to high-level matches on the world's biggest stages and with a berth to the Olympic Games on the line, what could be better? I truly appreciate the art of Greco-Roman wrestling and consider myself lucky to have many opportunities both nationally and internationally to serve the athletes in a fair and consistent manner as per the rules. The athletes work hard their whole lives and deserve a properly officiated bout."
Accurate are his words. And it was a well-officiated match. It was an unforgettable match, as well. Every rough and tumble positional change… Every hard slap, every penalty, every point accumulated was justified. Both principles involved are marvelous athletes. Except, matches at or near the pinnacle of the sport are not decided by athletic measures alone. When the walls start closing in, tenacity, composure, opportunism, and a stubborn refusal to lay down one's shield matter a whole lot more.
That's why Savolainen will be in Tokyo. And why Kakhelashvili has a flight booked for Bulgaria.




Listen to "5PM47: Nate Engel and Xavier Johnson" on Spreaker.
Listen to "5PM46: Taylor LaMont and Jessy Williams" on Spreaker.
Listen to "5PM45: Chatting with Dennis Hall and Max Nowry" on Spreaker.
SUBSCRIBE TO THE FIVE POINT MOVE PODCAST
iTunes | Stitcher | Spreaker | Google Play Music
Notice
: Trying to get property 'term_id' of non-object in
/home/fivepointwp/webapps/fivepointwp/wp-content/themes/flex-mag/functions.php
on line
999