Sunday saw the conclusion of the 2019 Oleg Karavaev Memorial in Minsk, Belarus, United World Wrestling's fourth and final "Ranking Series" event of the season.
With the tournament now a memory and all of its accompanying points tabulated, the top-4 seeds in each weight class at the '19 Worlds are cemented in place. However — that does not mean the seeds will hold up. In fact, there is a high likelihood that they won't, if only because both early projections and recent history dictate that not all seeded athletes will compete at the Worlds in their respective weight classes, if at all.


As a refresher, athletes who enter the World Championships at a weight other than the one in which they are seeded do not carry their points to another weight class. Similarly, nations do not inherit these points and get to apply them towards another athlete in the previous athlete's weight class. It should be noted that if a wrestler seeded in the top-4 does not enter the Worlds at that weight (or altogether), then lower-ranked wrestlers will move up (i.e., #4 is bounced, #5 moves up to #4, and so on).
For a detailed recap of how the Oleg Karavaev Memorial affected the 2019 points race (which was present in over half of the weight classes contested this weekend), just jump over to here.
2019 UWW Ranking Series
Top 4 Seeds
**Returning World Champion
*Returning World medalist
55 kg
1. **Eldaniz Azizli (AZE) 76 points
2. Ilkhom Bakhromov (UZB) 46 points
3. *Zholaman Sharshenbekov (KGZ) 40 points
4. *Ekrem Ozturk (TUR) 37 points
60 kg
1. **Sergey Emelin (RUS) 78 points
2. Kim Seung-Hak (KOR) 62 points
3. *Victor Ciobanu (ROU) 60 points
4. Ivan Lizatovic (CRO) 42 points
63 kg
1. **Stepan Maryanyan (RUS) 80 points
2. *Elmurat Tasmuradov (UZB) 56 points
3. Erbatu Tuo (CHN) 50 points
4. Shinobu Ota (JPN) 32 points
67 kg
1. **Artem Surkov (RUS) 78 points
2. Ryu Han-Soo (KOR) 62 points
3. *Gevorg Sahakyan (POL) 40 points
4. *Meirzhan Shermakhanbet (KAZ) 43 points
72 kg
1. **Frank Staebler (GER) 60 points
2.* Aik Mnatsakanian (BUL) 55 points
3. *Balint Korpasi (HUN) 52 points
4. Abuiazid Mantsigov (RUS) 40 points
77 kg
1. *Kim Hyeon-Woo (KOR) 87 points
2. *Viktor Nemes (SRB) 61 points
3. **Aleksandr Chekhirkin (RUS) 60 points
4. *Tamas Lorincz (HUN) 52 points
82 kg
1. *Emrah Kus (TUR) 84 points
2. **Peter Bacsi (HUN) 60 points
3. *Viktar Sasunouski (BLR) 53 points
4. Saeid Abdevali (IRI) 38 points
87 kg
1. *Zhan Belenyuk (UKR) 82 points
2. **Metehan Basar (TUR) 60 points
3. Erik Szvilvassy (HUN) 56 points
4. Viktor Lorincz (HUN) 52 points
97 kg
1. **Musa Evloev (RUS) 82 points
2. *Kiril Milov (BUL) 74 points
3. G'Angelo Hancock (USA) 60 points
4. *Mahdi Aliyarifeizabadi (IRI) 39 points
130 kg
1. **Sergey Semenov (RUS) 76 points
2. *Adam Coon (USA) 60 points
3. *Kim Min-Seok (KOR) 59 points
4. Heiki Nabi (EST) 52 points
Greco-Roman at the 2019 World Championships begins on Saturday, September 14.
Now it's time for the Cadets
The Team USA Greco Cadets, led into action this year by 1991 World silver Shawn Sheldon, are scheduled to hit the mats at the World Championships for the first time on Friday morning live from Sofia, Bulgaria (available to stream on Trackwrestling).
The Cadet Worlds have seen a smattering of impressive US showings of late. In 2013, Cade Olivas and Jon Jay Chavez (NYAC/FLWC) won bronze at 42 and 69 kilograms, respectively. Cohlton Schultz (130 kg, Sunkist) won it all in '17. And last year, Jacob Kaminski (92 kg, IL) became the 62nd Cadet World medalist in US history by earning bronze.
2019 Cadet World Championships
August 2-4 — Sofia, Bulgaria
All times local (+7 hours ET)
Available to watch in the US on Trackwrestling. 
Friday, August 2 (Day 1)
10:30am-2:30pm — Qualification rounds: 48 kg, 55 kg, 65 kg, 80 kg, & 110 kg
5:30pm-6:00pm — Semifinals
Saturday, August 3 (Day 2)
10:30am-2:30pm — Qualification rounds: 45 kg, 51 kg, 60 kg, 71 kg, & 92 kg
10:30am-2:30pm — Repechage: (Day 1 weights)
5:30pm-6:00pm — Semifinals (Day 2 weights)
6:00pm-8:30pm — Finals/medal matches (Day 1 weights)
Sunday, August 4 (Day 3)
4:00pm-5:45pm — Repechage (Day 2 weights)
6:00pm-8:30pm — Finals/medal matches (Day 2 weights)
Questions? Concerns? Feel like reaching out? Do so on Twitter, Facebook, and Instagram!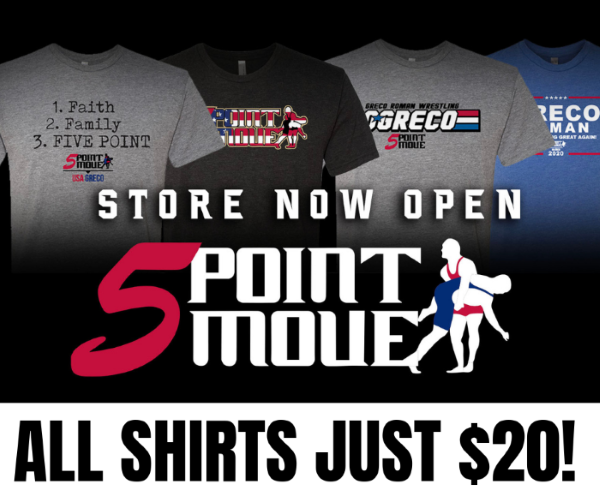 Listen to "5PM26: Princeton's Lenny Merkin and new USOTPC Greco-Roman athlete Nolan Baker" on Spreaker.
SUBSCRIBE TO THE FIVE POINT MOVE PODCAST
iTunes | Stitcher | Spreaker | Google Play Music | RSS
Notice
: Trying to get property 'term_id' of non-object in
/home/fivepointwp/webapps/fivepointwp/wp-content/themes/flex-mag/functions.php
on line
999