The bell has sounded, and thus, we have begun firing up the hype train for this coming weekend's Thor Masters Invitational in Nykøbing Falster, Denmark.
The scheduling for Thor Masters is a little different compared to most other events. Wrestling commences on Friday at 4:00pm (11:00 ET). Things go back to normal Saturday, with the last set of preliminary rounds rolling out at 10:30am in Nykøbing Falster. Medal rounds scheduled to begin at 3:30pm.
We have already released the US roster for the 2019 Thor Masters, but there is more preview material on the way. Q&A's with several of the American Greco athletes will be coming, and we are working on highlighting a couple of Danish athletes, as well. In addition, you can also expect:
Friday — post-round recap.
Saturday — live results & post-round recap(s).
Sunday — analysis and athlete follow-ups.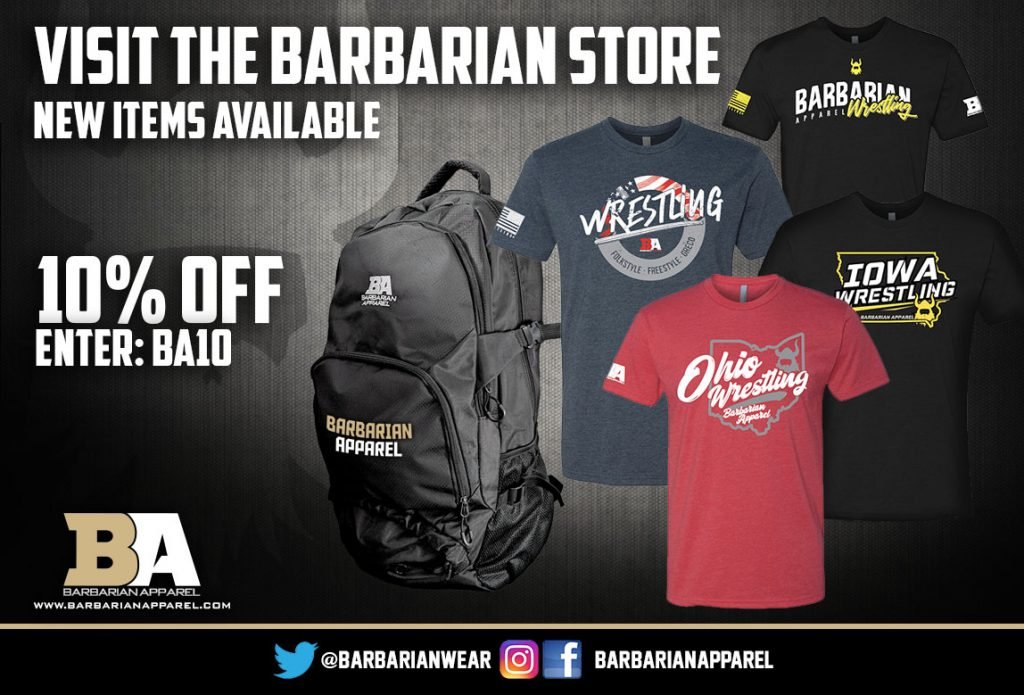 2019 THOR MASTERS
March 15th-16th — Nykøbing Falster, Denmark
Schedule 
All times local (+5 hours ET)
Friday, March 15th
4:00pm-8:00pm — Preliminary rounds
Saturday, March 16th
10:30am-3:30pm — Preliminary rounds
3:30pm-6:00pm — Medal matches/finals
2019 Thor Masters Entry List
Please note that there will be a two-kilogram allowance. 
55 kg
Fabian Schmitt (GER)
Nikolaj Mohammadi (DEN)
Anders Rønningen (NOR)
60 kg
Mikkel Lassen (DEN)
Helary Maegisalu (EST)
Lauri Karjalainen (FIN)
Lauri Mähonen (FIN)
Christopher Kraemer (GER)
Etienne Kinsinger (GER) — 2013 Cadet World Champion, 2016 Junior World silver
Ihor Kurochkin (UKR)
Viktor Petryk (UKR)
63 kg
Kasper Ravn (DEN)
Bence Kovács (HUN)
Justas Petravicius (LTU)
Stig-Andre Berge (NOR) — 2014 World bronze, 2016 Olympic bronze
Nasrullakh Nasibov (UKR)
Lenur Temirov (UKR) 2018 World bronze, 2010 Junior World bronze
Dmytro Tsymbaliuk (UKR)
67 kg
Fredrik Bjerrehuus (DEN)
Denis Bolunov (EST)
Akseli Yli-Hannuksela (FIN)
Erik Weiss (GER)
Manrikos Theodoridis (GRE)
Ottó Losconzi (HUN)
Aleksandrs Jurkjans (LAT)
Andreas Vetsch (SUI)
Danielo Di Feola (SWE)
Daniel Soini (SWE)
Didrik Silverin (SWE)
Denys Demyankov (UKR)
Parviz Nasibov (UKR) — 2014 Cadet World silver
Edem Saliyev (UKR)
Ruslan Kudrynets (UKR)
72 kg
Artjom Shapovalov (FIN)
Michael Widmayer (GER)
Petros Manouilidis (GRE)
Dmytro Pynkov (UKR)
Sebastian Aak (NOR)
Vegard Jørgensen (NOR)
Narek Oganian (RUS)
Flavio Freuler (SUI)
Emil Svensson (SWE)
Simon Erlandsson (SWE)
77 kg
Oldrich Varga (CZE)
Lukas Jensen (DEN)
Oliver Krüger (DEN)
Mathias Lipasti (FIN) — 2014 Cadet World Champion
Niko Erkkola (FIN)
Tero Halmesmäki (FIN)
Pascal Eisele (GER)
Florian Neumaier (GER)
Roland Schwarz (GER)
Georgios Pervolarakis (GRE)
Marcel Sterkenburg (HOL)
Per Anders Kure (NOR)
Leos Drmola (SVK)
Denis Horvath (SVK)
Alex Kessidis (SWE)
Andre Isberg (SWE)
Albin Olofsson (SWE)
Mykola Daragan (UKR)
Volodymyr Yakovlev (UKR)
82 kg
Michael Wagner (AUT)
Petr Novak (CZE)
Rajbek Bisultanov (DEN) — 2018 U23 World silver
Jarno Ålander (FIN)
Wili Ropponen (FIN)
Markus Sihtola (FIN)
Hannes Wagner (GER)
Marius Braun (GER)
Dimitrios Papadopoulos (GRE)
Tyrone Sterkenburg (HOL)
Péter Nagy (HUN) — 2016 University World Champion
Daniel Tollar (HUN)
Marc Weber (SUI)
Bogdan Kourinnoi (SWE)
Oskar Johansson (SWE)
Anton Olsson (SWE)
87 kg
Amer Hrustanovic (AUT)
Turpal Bisultanov (DEN)
Erik Int (EST)
Rami Hietaniemi (FIN)
Toni Metsomäki (FIN)
Iurii Shkriuba (FIN)
Denis Kudla (GER) — 2016 Olympic bronze, 2017 World silver, 2014 Junior World silver, 2011 Cadet World Champion
ILja Klasner (GER)
Dimitrios Tsekeridis (GRE)
Julius Matuzevicius (LTU)
Eividas Stankevicius (LTU)
Ramon Betschart (SUI)
Zakarias Berg (SWE)
Albin Frid (SWE)
Emil Sandahl (SWE)
97 kg
Daniel Gastl (AUT)
Artur Omarov (CZE)
Elias Kuosmanen (FIN)
Arvi Savolainen (FIN)
Ramsin Azizsir (GER)
Leon Kesidis (GRE)
Lester Calderon (GUA)
Zsolt Toeroek (HUN) — 2018 U23 World silver, 2014 Junior World bronze, 2011 Cadet World silver, 2012 Cadet World bronze
Ádám Varga (HUN)
Vilius Laurinaitis (LTU)
Felix Baldauf (NOR)
Ilia Borisov (RUS) – 2016 University World bronze
Damian von Euw (SUI)
Tamas Soos (SVK)
Pontus Lund (SWE)
Billy Rääf (SWE)
Yevhenii Saveta (UKR)
Mykola Krysov (UKR)
Oleksandr Shyshman (UKR) — 2008 Junior World bronze
130 kg
Stepan David (CZE)
Konsta Mäenpää (FIN)
Toumas Lahti (FIN)
Eduard Popp (GER) — 2010 Junior World bronze
Jello Krahmer (GER) — 2017 U23 World bronze
Christian John (GER)
Majoros Ármin Mózes (HUN)
Romas Fridrikas (LTU)
Oskar Marvik (NOR)
Mykola Kuchmiy (UKR)
Vladyslav Voronyi (UKR)
NCAA Greco Workshop Back for '19
United States Greco-Roman age-group athletes and coaches who plan on attending the 2019 NCAA Division I National Championships in Pittsburgh next week will be able to get some upper-body reps in if they should so choose.
For the second year in a row, US Greco-Roman Operations Manager Gary Mayabb is holding the NCAA Greco Workshop, a two-day clinic aimed at speeding the re-acclimation process athletes are looking for leading up to their respective World Team Trials events and Fargo Nationals.
"We're looking at multiple pathways trying to bring more athletes into Greco and the NCAA Championships tend to be a magnet across our country," Mayabb explained last year. "It's a great time because wrestlers are coming out of folkstyle and moving into the international styles as the spring and summer come into view."
A degree of experience is expected — the NCAA Greco Workshop environment is targeted more towards wrestlers who have competed in the classical style and are familiar with the various rules and positions.
Interested parties are required to fill out this application and send it in by March 17th (this Sunday).
2019 NCAA Greco-Roman Workshop
COST
$25
WHERE
PPG Paints Arena
Pittsburgh, PA
WHEN
Thursday, March 21st (7:00am check-in; 7:20am meeting for athletes/coaches)
Workshop ends at 9:30am
Friday, March 22nd (7:00am check-in; 7:20am meeting for athletes/coaches)
Workshop ends at 9:30am
CLICK HERE TO DONATE TO THE USA GRECO-ROMAN PROGRAM
Listen to "5PM21: Paul Tellgren, Ellis Coleman and Alec Ortiz stop by the Five Point Move Podcast" on Spreaker.
SUBSCRIBE TO THE FIVE POINT MOVE PODCAST
iTunes | Stitcher | Spreaker | Google Play Music | RSS
Notice
: Trying to get property 'term_id' of non-object in
/home/fivepointwp/webapps/fivepointwp/wp-content/themes/flex-mag/functions.php
on line
999