Another year, another Thor Masters, and a few different angles from which to view the US team's performance this past weekend.
Brady Koontz (TMWC/Ohio RTC) earned silver at 55 kilograms, his first Senior overseas medal. Koontz — a Junior World Team member in 2018 before winning the Senior Trials Challenge Tournament last May along with appearing at the U23 Worlds in the fall — only wrestled two matches in Nykobing Falster since 55 was a three-man round-robin bracket. Still, in his lone win he was extremely effective, and fought well in his loss to champ Koryun Sahradyan (UKR).
One question prior to the tournament centered around why Koontz chose to go 55 kilos instead of 60, the Olympic weight. On the latest episode of the Five Point Move Podcast, co-host Dennis Hall, a longtime coach of Koontz's, said, "He's just going over getting matches and hopefully does well, gets the experience. He's got to get more mat time with the foreigners because it's a different style." Two matches probably doesn't qualify as viable "mat time", but then again, there will be plenty of that for Koontz and everyone else throughout the week during Thor Masters' enormous accompanying training camp.


After Koontz, the next highest US placewinners both took 5th, Carter Nielsen (Minnesota Storm/NMU) and multi-time age-group World medalist Cohlton Schultz (130 kg, Sunkist). Nielsen went 2-2 with his second loss to decorated Swede Zakarias Berg (SWE, and who actually fell in a fun final to Lithuania's Eividas Stankevicius).
Though it ended without a medal, Nielsen continued to demonstrate why he could be a threat in the top-heavy 87-kilo bracket at the Olympic Trials. His position is constantly solid and he is almost always using tie-ups to create scoring-friendly angles that are not commonplace in this weight category. Nielsen isn't waiting for par terre; his goal is to secure points, primarily via takedowns, and that approach has stood out thus far as we enter the middle stretch of the season.
Schultz might not have medaled, but that is not nearly as important as how he performed against a pair of excellent competitors on Saturday. After nearly clearing out Nikola Milatovic (NOR), Schultz duked it out with similarly-profiled Muhammad Hamza Bakir of Turkey in a close loss. Bakir's resume practically mirrors Schultz's. In '18, Bakir won the Cadet Worlds and last year earned bronze at Junior, the same bracket in which Schultz took second. Their match at Thor was going his way in the second period. Up 3-0, Schultz came out of an odd exchange where he was off-balanced briefly, allowing Bakir to get behind for little throw that netted four. It was a game-changing sequence.
In his last bout, Schultz went up against an athlete who has been seen as a Senior World medal candidate the past few years, Alin Alexuc-Ciurariu (ROU). Again, Schultz had a lead that wound up evaporating. He had defended an Alexuc-Ciurariu arm spin attempt and covered for two; later in the first period, Alexuc-Ciurariu was dinged for passive, giving Schultz a 3-0 advantage at the break. But in the second, the Romanian got his passive and used it to get a gutwrench. Schultz made a go of it in the bout's waning stages and Alexuc-Ciurariu expertly tied him up and went on his skates till the final whistle.
As alluded to above, the training camp this week is an equally-important attraction for the US athletes. Nearly the same number of wrestlers from the tournament are participating in the camp, which means there will be a lot of opportunities for different partners and looks from par terre (top and bottom). We should have updates from Denmark with some perspectives later in the week.
Julfalakyan; Etlinger
2014 World Champion/multi-time medalist Arsen Julfalakyan (77 kg, ARM) has been pretty active this season. In late November, he ventured over to Russia for a meeting with Roman Vlasov (RUS) at the Alrosa Cup, and then there he was at Thor Masters, adding another gold to his pile of international medals. Julfalakyan had a busy weekend. He had seven matches, only giving up three total points; four of those wins came via tech; and in several of his bouts, appeared to give officials tips on how to do their jobs. It was…terrific.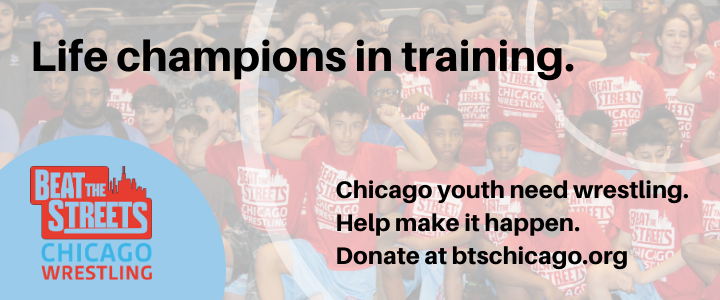 One of the more startling showings for any athlete at Thor Masters 2020 belonged to Croatia's Dominik Etlinger, who not only took first, but did so at 67 kilograms. That is important to note because Etlinger, who turns 28 next month, hadn't wrestled below non-Olympic 71/72 dating back to '16. Even more impressive, Etlinger pounded out '17 World silver Mateusz Bernatek as well as Bernatek's countryman (sort of) and '18 World bronze Gevorg Sahakyan — both via tech. We plan on honing in on Etlinger's performance at Thor soon enough.
Thor Masters 2020 Final Results
55 kg
GOLD: Koryun Sahradyan (UKR)
SILVER: Brady Koontz (USA)
BRONZE: Sergis Gevorgizyan (AUT)
60 kg
GOLD: Viktor Petryk (UKR)
SILVER: Zhora Abovian (UKR)
BRONZE: Dawid Ersetic (POL)
63 kg
GOLD: Deniz Meneske (GER)
SILVER: Ivan Lizatovic (CRO)
BRONZE: Mikkel Lassen (DEN)
67 kg
GOLD: Dominik Etlinger (CRO)
SILVER: Kadir Kamal (TUR)
BRONZE: Gevorg Sahakyan (POL)
72 kg
GOLD: Idris Ibaev (GER)
SILVER: Erik Persson (SWE)
BRONZE: Sebastian Aak (NOR)
77 kg
GOLD: Arsen Julfalakyan (ARM)
SILVER: Mateusz Wolny (POL)
BRONZE: Edgar Babayan (POL)
82 kg
GOLD: Rajbek Bisultanov (DEN)
SILVER: Alex Kessidis (SWE)
BRONZE: Hannes Wagner (GER)
87 kg
GOLD: Eividas Stankevicius (LTU)
SILVER: Zakarias Berg (SWE)
BRONZE: Arkadiusz Kulynycz (POL)
97 kg
GOLD: Vladlen Kozliuk (UKR)
SILVER: Tadeusz Michalik (POL)
BRONZE: Daniel Gastl (AUT)
130 kg
GOLD: Jello Krahmer (GER)
SILVER: Muhammad Hamza Bakir (TUR)
BRONZE: Christian John (GER)
Grand Prix of France Results
The (Greco-Roman) event in Nice, France was originally on the radar for the US program until the "Ranking Series" schedule was cemented in place. It was not a crowded field, but the level of competition was suitably high.
Three-time World/'16 Olympic champ Artur Aleksanyan (97 kg, ARM) picked up gold, as did Rio bronze Sabah Shariati (AZE). If fact, Azerbaijan was well-represented in the tournament with four medalists, though that wouldn't be enough to pass Kazakhstan, who won the team race behind two golds and four overall medals.
Interestingly, two-time World bronze Viktor Sasunovski (BLR) competed at 77 kilograms for the first time in his career and placed third. Another byproduct of the Olympic Year.
55 kg
GOLD: Amangali Bekbolatov (KAZ)
SILVER: Rudik Mkrchtyan (ARM)
BRONZE: Zhanserik Sarsenbaev (KAZ)
77 kg
GOLD: Demeu Zhadraev (KAZ)
SILVER: Karapet Chalyan (ARM)
BRONZE: Viktor Sasunovski (BLR)
BRONZE: Gela Bolkvadze (GEO)
82 kg
GOLD: Rafik Huysenov (AZE)
SILVER: Aviengo Rikadze (GEO)
BRONZE: Ruben Gharibyan (ARM)
87 kg
GOLD: Kiril Maskevich (BLR)
SILVER: Nikolai Stadub (BLR)
BRONZE: Tornike Dzamashvili (GEO)
BRONZE: Radik Kuliyev (BLR)
97 kg
GOLD: Artur Aleksanyan (ARM)
SILVER: Orkhan Nuriev (AZE)
BRONZE: Aleksander Hrabovik (BLR)
BRONZE: Kevin Mejia Castillo (HON)
130 kg
GOLD: Sabah Shariati (AZE)
SILVER: Nurmakhan Tinaliev (KAZ)
BRONZE: Giorgi Barbakadze (GEO)


Listen to "5PM33: The Marine Corps' Jamel Johnson" on Spreaker.
SUBSCRIBE TO THE FIVE POINT MOVE PODCAST
iTunes | Stitcher | Spreaker | Google Play Music | RSS
Notice
: Trying to get property 'term_id' of non-object in
/home/fivepointwp/webapps/fivepointwp/wp-content/themes/flex-mag/functions.php
on line
999