As reported yesterday, the field for all six weight classes at the 2020 Olympic Trials in April is mostly set thanks to the results from this past weekend's US Nationals.
In total, 22 Greco-Roman athletes qualified in Fort Worth, with 97 kilograms welcoming in the highest number of new arrivals (five).
Out of the six weight categories, 77 kilos — unsurprisingly — lived up to its billing as the deepest bracket.
There were 33 wrestlers present, and Kamal Bey (Sunkist), the eventual champ, and RaVaughn Perkins (NYAC, bronze) were the only two pre-qualified competitors who entered. Since both placed, that left room for only three more to get in — Jake Fisher (Curby 3-Style, silver), Peyton Walsh (Marines, 4th), and Corey Hope (NYAC, 5th). The names left behind are significant and include the likes of three-time U23 World Teamer Jesse Porter (NYAC/OTS), two-time US Open champ Kendrick Sanders (NYAC/OTS), 2018 Junior World silver Andrew Berreyesa (NYAC/FLWC), and '19 Final X runner-up Alex Mossing (Air Force), among others.


Most athletes who came up short in Fort Worth have one more opportunity, the "Last Chance Qualifier" March 26-28 in Millersville, PA. Military Greco wrestlers have two more. The Armed Forces Championships in February will fill one spot for each weight class.
That means three more athletes will be added to each bracket. At most, the Olympic Trials will have 70 Greco-Roman competitors spread across six weight categories, although the number will likely be even less due to injury, or in Sam Hazewinkel's case, retirement (though you never know).
2019 US Nationals Undercover Stars
They might not have stood on the top step of the podium, or maybe they didn't even place. Either way, there were several Greco-Roman athletes who demanded some attention despite perhaps flying under the radar.
Joey Palmer (60 kg, Cyclone RTC, 4th) — In a weight class where Tyler Graff (TMWC) also showed up, Palmer was the one who carried the flag for the freestyle/folk crowd and couldn't have been more outstanding. He looked like he belonged in this discipline. The only matches he lost were to '18 World Team member Dalton Roberts (NYAC/OTS) and '16 Junior World silver Taylor LaMont (Sunkist). Some might argue Palmer would have had his work cut out for him had Matt Schmitt (WV) and Ryan Mango (Army/WCAP, world no. 6) not been injured for that run through the backside of the bracket, and maybe that's true. But you can only wrestle who's in front you and Palmer did exactly that extremely well.
David Stepanian (60 kg, NMU/OTS) — Two tournaments in a row he's on this list. Stepanian made his definitive mark on the Senior level last month in New York and whatever good vibes he found during that tournament he took with him to Texas. It is not a hypothetical any longer — Stepanian is the real deal. He only won a couple of matches, but one of them was a gritty effort against Brady Koontz (TMWC/Ohio RTC) and his losses were to Mango (not close) and to LaMont (very close). There are plenty of others still not qualified who will be around in March, and they're very tough. But if Stepanian can keep progressing, he is going to become more than just a guy in the mix.
Jason Chamberlain (67 kg, TMWC) — Along with Graff, Chamberlain received recognition for merely registering. Now, like Palmer, he is receiving recognition for the work he put in. Chamberlain's run saw him vanquish full-time athletes Morgan Flaharty (NYAC), Colton Rache (Marines), and '18 US Open runner-up Jessy Williams (NYAC/FLWC). Two of those wins (Flaharty and Williams) were via tech. To whom did Chamberlain lose? Marine studs Xavier Johnson and Jamel Johnson, the latter by a point. After what happened in Texas, and with three months to go until "Last Chance", Chamberlain could offer a very threatening proposition for those still on the outside of the bubble.
RaVaughn Perkins (77 kg, NYAC, bronze) — There isn't a lot about Perkins that could be dubbed "undercover" considering the scope of his career, plus, he was already qualified. But in his first tournament back since recovering from another summer/fall spent rehabbing, he couldn't have looked much better. Perkins was smooth and decisive in every exchange. If he didn't score, he worked opponents around the mat until he did. Outside of his semifinal loss to Fisher, he was also practically untouchable. All of his wins were tech falls and came against names like Tommy Brackett (NMU/OTS), Sanders, Berreyesa, and Walsh. Bey stole the spotlight and Fisher was the story, but Perkins' performance in Texas was more than just a sidebar.
Brandon Mueller (77 kg, Air Force) –Mueller did not qualify for the Trials in Fort Worth, but he did rediscover some of the conviction that helped him find a place in this sport to begin with. Mueller is at his best when he's willing to fight it out from station to station. Though his technique has improved significantly, he is a pressure brawler at heart.  Mueller can wear on opponents, and that's what opens up his offensive chances — even if that means getting a passivity chance. There is still work to do. He lost to two guys who aren't so dissimilar (Hope and Berreyesa). But Mueller is back on the right track at the right time of year.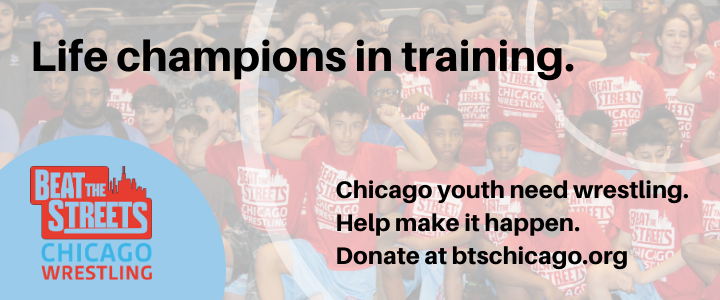 Burke Paddock (77 kg, NYAC/FLWC, 7th) — Here is an athlete who should scare some people. Paddock has yet to have a breakthrough finish at a Senior tournament but it's going to come eventually. At 77, it really pays to be a guy who wants to score. Paddock wants to, and does, and against excellent opposition. He did not have a lot of matches at the Nationals — but his win over Fritz Schierl (TMWC, and whom Paddock defeated in May at the mini tournament) and close loss to Hope demonstrated his tenacity and willingness to adapt to opponents and adjust mid-match. It's going to be a steep climb in March, especially at this weight. But even if it doesn't go well for Paddock in Pennsylvania, Greco has another athlete in its arsenal for the next quad.
Rich Carlson (87 kg, Minnesota Storm, 4th) — Talk about a guy flying under the radar. Carlson, a U23 Trials finalist in '17, sat out both the Open and the Trials last year, so you didn't know exactly how he was going to look in Texas — even if you knew he was good enough to somehow at least figure out a way to qualify. Carlson got the job done with three wins, two of those coming on the backside of the bracket. When locked in and devoted to the cause, he's even better than that. 87 is a very competitive weight and will present more obstacles to overcome in April. Should Carlson focus his efforts on that tournament the way everyone else is surely going to, he could wind up having a say in how it all shakes out.
The Remaining Candidates
The list of Trials Qualifiers thus far is set. That leaves an enormous number of athletes, mostly full-timers, who are eligible to compete at "Last Chance" in March.
60 KG
LilShawn Coleman (Army/WCAP)
Dalton Duffield (NYAC/OTS) — 2018 U23 World Team
Tyler Graff (TMWC)
Dylan Gregerson (UA) — 2019 U23 Trials runner-up
Mason Hartshorn (NMU/OTS) — 2019 Junior World Team
Brady Koontz (TMWC/Ohio RTC) — 2019 U23 World Team, '19 Final X runner-up, '18 Junior World Team
Jon Massey (NMU/OTS)
Randon Miranda (NYAC) — Two-time Junior World Team, '18 U23 World Team
Corbin Nirschl (WBU)
Skyler Petry (Minnesota Storm)
Travis Rice (IRTC) — 2018 U23 World Team, '15 Junior World Team
Matt Schmitt (WVRTC)
David Stepanian (NMU/OTS)
67 KG
Chris Anderson (Rise)
Jordan Auen (NMU/OTS)
Colby Baker (NMU/OTS)
Jason Chamberlain (TMWC)
Andrew Collins (Marines)
Reese Dalton (NMU/OTS)
Dominic Damon (NMU/OTS) — 2018 Cadet World Team
Tyler Eischens (California RTC) — 2019 Junior World Team
Morgan Flaharty (NYAC)
Blaine Hays (Marines)
Michael Hooker (Army/WCAP)
Andrew Ibarra (Unattached)
Youssef Khalil (USOPTC)
Lenny Merkin (NJRTC) — 2019 U23 World Team
Austin Morrow (NYAC/OTS)
Benji Peak (Sunkist/OTS) — 2018 Junior Trials Champion
Colton Rasche (Marines)
Chris Rodgers (USOPTC)
Eric Spence (NMU/OTS)
Raun Smith (Marines)
Nick Tarpley (NYAC)
Hayden Tuma (Army/WCAP) — 2016 US National Champion, '17 Trials runner-up
Noah Wachsmuth (EAP/USOPTC)
Joe Warren (NYAC) 2006 World Champion, '07 World Cup gold
Jessy Williams (NYAC/FLWC) — 2018 US Open runner-up, '15 University National Champion
Taylor Zippe (Marines)
77 KG
Andrew Berreyesa (NYAC/FLWC) — 2018 Junior World silver
Tommy Brackett (NMU/OTS)
Zach Braunagel (IRTC) — 2019 Junior World Team
Riley Briggs (NMU/OTS)
Logan Brunick (Curby 3-Style)
Michael Donato (NMU/OTS)
Vlad Dombrovskiy (Army/WCAP)
Austin Farabaugh (Army/WCAP)
Zach Grimes (NMU/OTS)
Britton Holmes (NMU/OTS)
Aaron Kliamovich (NMU/OTS)
Alex Mossing (Air Force) — 2019 Final X runner-up, '17 U23 World Team
Brandon Mueller (Air Force) — 2017 Military World Team
Connor Myers (Army/WCAP)
Alec Ortiz (Minnesota Storm) — 2010 Junior World Team
Burke Paddock (NYAC/FLWC)
Jesse Porter (NYAC/OTS) — Three-time U23 World Team
Kendrick Sanders (NYAC/OTS) — Two-time US National Champion
Fritz Schierl (TMWC/Ohio RTC) — Two-time U23 Trials finalist
Colin Schubert (NYAC/OTS)
Zach Tolver (NMU/OTS)
Ryan Whittle (Rise)
87 KG
Zack Bickford (Unattached)
Jake Clark (Minnesota Storm) — Two-time World Team
Dillon Cowan (Army/WCAP) — 2015 World Team Trials runner-up
Austin Craig (Navy)
Christian Dulaney (Minnesota Storm)
Marcus Finau (NYAC/FLWC)
Matt Finesilver (Blue Blood WC) — 2019 U23 World Team
Dane Harter (Unattached)
Brennan Griffin (Air Force RTC)
Barrett Hughes (CRTC) — 2018 Junior World Team
Jordan Lara (505 WC)
Vaughn Monreal-Berner (Marines)
Joel Nivar (Marines)
Dan Olsen (Unattached)
Kevin Radford (Sunkist) — 2016 US National Champion
Isaiah Sellers (WBU)
Terrence Zaleski (Marines)
97 KG
Diante Cooper (Air Force RTC)
Orry Elor (NYAC) — 2014 University World Team
Tim Eubanks (NMU/OTS)
Kaleb Gaede (NMU/OTS)
Trey Hardy (NMU/OTS)
Erick Hinckley (Army/WCAP)
Keaton Fanning (NMU/OTS)
John Kent (Unattached)
Jaime Miranda (Marines)
Roy Nash (NMU/OTS) — 2013 Junior World Team
Karl Oeser (505 WC)
Chad Porter (Sunkist) — 2018 Junior World Team, '19 U23 World Team
Arthur Walthour (Marines)
130 KG
Anthony Cassioppi (Hawkeye WC) — Two-time Junior Trials runner-up
Greg Conn (Unattached)
Ron Dombkowski (BK)
Tommy Helton (UA)
Gage Johnson (Unattached)
Bryson McGowan (Unattached)
Conor Karwath (Rise)
Haydn Maley (CARTC)
Sanford Meeks (Unattached) — 2017 U23 Trials runner-up
Donald Neuffer (Marines)
David Tate Orndorff (NYAC) — 2019 U23 World Team, '19 US Open runner-up
Matt Paeth (Empire)
Kaleb Reeves (Unattached)
Derrick Waldroup (Rise)
No Olympics for Ota
As per both United World Wrestling in a terrific article by Ken Marantz and Japan's own official federation website, 2019 World Champion/'16 Rio silver Shinobu Ota failed in his bid to make Japan's 2020 Olympic Team at 67 kilograms after he was trounced in the second round of the Emperor's Cup by Takayuki Inoguchi. Shogo Takahashi, who made appearances at the Senior Worlds for Japan in '17 and '19 (and was defeated by Perkins in the finals of the '17 Schultz), defeated Mori Shimoyamada to clinch his spot in Tokyo next summer.
Although coming up in weight from 60 kilos, Ota was still thought to be Japan's strongest entrant at 67 and the front-runner leading up to this past weekend's tournament. If successful, he would have also added even more star power to a weight category that will still offer a vast collection of formidable, decorated athletes in Tokyo. But due to the exciting offensive style Ota is known for, the fact he will now occupy a place on the sidelines in August is likely not the ideal scenario for hardcore fans of the sport.
Kenichiro Fumita (world no. 1) is already assured a spot at the Olympics after winning the Worlds in September. The rest of Japan's Emperor's Cup champions will now head to the Asian Olympic Games Qualifier in March.
67 kg: Shogo Takahashi
77 kg: Shohei Yabiku
87 kg: Masado Kado
97 kg: Yuta Nara
130 kg: Arata Sonoda
Year-End Awards
Five Point Move will announce its Athlete of the Year for 2019 next week, and with that will also be two other awards — Impact Performer, which recognizes the Greco wrestler who put together the most impressive string of tournaments overseas; and Outstanding Individual Performance, which covers an athlete's showing at one specific event. Our list of "Top 10 Matches of the Year" will become available next week, as well.
Before that, a full article detailing the procedures as well as those who comprise the 5PM AOTY Voting Committee is scheduled to be released. Until then, Merry Christmas!
Questions? Concerns? Feel like reaching out? Do so on Twitter, Facebook, and Instagram!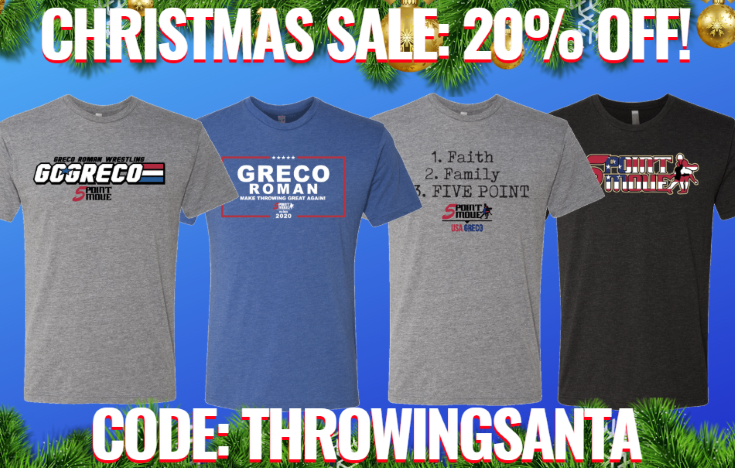 Listen to "5PM32: Previewing Senior Nationals with Dennis Hall" on Spreaker.
SUBSCRIBE TO THE FIVE POINT MOVE PODCAST
iTunes | Stitcher | Spreaker | Google Play Music | RSS
Notice
: Trying to get property 'term_id' of non-object in
/home/fivepointwp/webapps/fivepointwp/wp-content/themes/flex-mag/functions.php
on line
999