"Anticlimactic" might be a word that comes to mind pertaining to the just-wrapped 2019 Pan American Championships.
Throughout the entire lead-up to the tournament, it was bandied about here and elsewhere (though mostly here, if we're all being honest) how the US program had placed an emphasis on a competition, that by and large, was expected to turn out just how it did. There were a few champs and every athlete but one managed to make the podium en-route to yet another team title.
While winning the thing was certainly important for Team USA (which occurred thanks to an 185-110 runaway over Cuba), that wasn't even the top priority, not really. No, it had much more to do with locking down the five remaining Olympic weight classes for the Pan American Games scheduled for later on this summer.


At the 2018 Pan Am Championships in Peru, multi-time World Teamer/2016 Olympian Robby Smith (NYAC/Chicago RTC) earned a Pan Am Championships silver, so 130 kilograms was secured for the US long before this past week. Two-time Olympian Ben Provisor (87 kg, NYAC/NLWC) had a shot a to qualify his weight at the same tournament. "Big Ben" earned a bronze but fell in surprisingly short order wrestling for "true third".
The qualifying procedures for the Pan Am Games were shrouded in somewhat confusing red tape (and even we managed to kind of screw them up), but one part was clear: the US flew into Argentina not only needing to cement those five weights, it had also prioritized this endeavor to the extent that each Olympic weight on the roster featured a member of last year's World Team — and they all participated in a two-week training camp in Colorado Springs beforehand to prepare.
It's hard to argue with the result. Dalton Roberts (60 kg, NYAC/OTS), Ellis Coleman (67 kg, Army/WCAP), Kamal Bey (77 kg, Sunkist), Patrick Martinez (87 kg, NYAC), and G'Angelo Hancock (97 kg, Sunkist, world no. 3) all got the job done.
Is there any downside at all to what took place in Buenos Aires?
Not in terms of United States Greco-Roman's stated goal of qualifying those aforementioned weights. That mission was lifted up and accomplished with relative ease.
But what was bothersome is that the US took an o-fer against Cuba in five head-to-head matchups.
Roberts was defeated by eventual champ Luis Orta Sanchez; Coleman hung in there with World/Olympic champ Ismael Borrero Molina but wound up getting tech'ed in the second; Bey was hosed against Yosvanys Pena Flores, and Hancock, who also had a dopey non-call to deal with, was ousted by Gabriel Rosillo. It is also worth pointing out that aside from Roberts' bout, all of those losses unfolded in the finals — and three of the five total defeats arrived via tech.
So as great as the Pan Am Championships were — and they were — there is still plenty of work to do.
World Rankings Impacted
On Saturday, we released an article outlining how the "Ranking Series" points attached to the Pan Am Championships affected the US athletes. Until United World Wrestling updates the rankings on its homepage, we should note that aside from Adam Coon (130 kg, Cliff Keen, world no. 2), Bey, and Hancock, the rankings are unconfirmed, hence why the term used in the piece is "projected".
The reason why the rankings listed for the Americans are "projected", and therefore unconfirmed, has to do with point totals and criteria. Most of the US guys now have the same number of points as others in their respective weight classes. In such cases, criteria needs to be applied. To do so, UWW provided us with these parameters for which to identify tie-breakers.
– Rank in the last Senior World Championships or Olympic Games.
– Highest number of participation in the ranking events.
– Highest number of Gold Medals in the ranking events.
– Highest number of Silver Medals in the ranking events.
– Highest number of Bronze Medals in the ranking events.
– The most classification points in the ranking events.
– The most matches  won by superiority in the ranking events.
– The most technical points scored in the ranking events.
– Continental Championship and UWW Select Ranking Events of the concerned year.
The exercise is not as fun or easy as it may look, but we think we've got it right. With the Oceania and Asian Championships both set to be decided (Oceania's results aren't in as of press time), the current rankings for the majority of the USA Greco athletes presented on Saturday will likely change, anyway. But that's not the point (no pun intended).
Both because of gradual but consistent improvement within the United States program and the nature in which UWW's "Ranking Series" is structured, at the current moment there are 10 Americans ranked in the world. Documenting the sport means capturing snapshots in time and referring back to them on occasion. This is one worth getting excited about, even if it's all just bookkeeping.
Vegas Week
The US UWW Junior World Team Trials and Senior Open take place this week from the South Point Hotel in Las Vegas. For the Juniors, the road to the World Championships is one tier shorter than it was last year, giving the squad just short of four full months to key in on the main event scheduled for mid-August in Estonia.
As for the Seniors, the format is sort of similar to 2018 in that the US Open winners from 55 to 97 kilograms will earn a berth in the Trials best-of-three hosted by the Final X Series. Coon's place in the 130-kilogram finals was sealed when he advanced to the World final last October. From second on down to seventh place will fight it out at the World Team Trials next month in North Carolina.
Our Coverage
As has and will be the case for UWW's "Ranking Series" this season, 5PM will be supplementing FLOWrestling's coverage of the 2019 US Open. This is an important era for United States Greco-Roman wrestling, and in particular, its athletes. The best way to ensure that awareness is raised to the maximum level possible is by joining forces with the largest and most successful wrestling media outlet in history. FLO is stepping up their game, we will step up ours, and hopefully, provide an even fuller spectrum of coverage so that support for our nation's athletes who participate in the greatest style of wrestling on the planet continues to reach new heights.
FLO will host original content produced by 5PM for the US Open this week — and there of course will also be unique US Open content found here, as well. Below is what it will all look like.
5PM:
NEW Coach Lindland's Report discussing the Pan Ams and the Nationals.
Weight-class breakdowns for the Senior Open.
An athlete Q&A.
Post-round coverage/analysis.
5PM on FLO:
Weight-class previews featuring perceived biggest contenders.
Post-Open overview highlighting noteworthy performances and implications for the Trials/Final X Series.
Questions? Concerns? Feel like reaching out? Do so on Twitter, Facebook, and Instagram!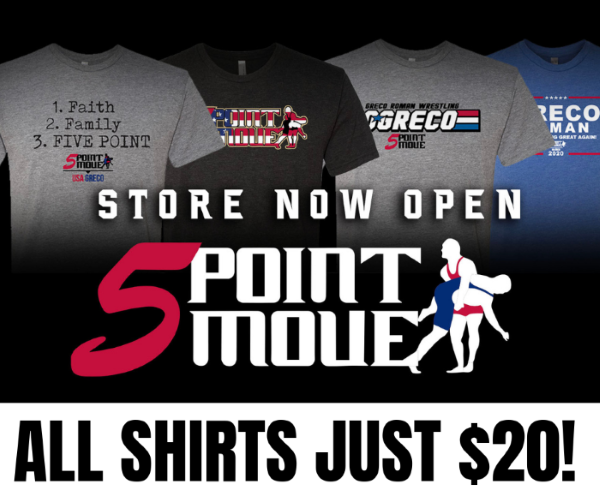 Listen to "5PM22: Sammy Jones guest co-hosts as Five Point Move visits with Lucas Sheridan and Sam Hazewinkel" on Spreaker.
SUBSCRIBE TO THE FIVE POINT MOVE PODCAST
iTunes | Stitcher | Spreaker | Google Play Music | RSS
Notice
: Trying to get property 'term_id' of non-object in
/home/fivepointwp/webapps/fivepointwp/wp-content/themes/flex-mag/functions.php
on line
999