As reported last week, a group of US Seniors participated in a training camp hosted by Eric Guerrero at the Oklahoma Regional Training Center in Broken Arrow. Bryan Medlin played the role of Greco shepherd in this case, as three of his Illinois RTC athletes were originally on-board — Travis Rice (60 kg), Joe Rau (87 kg, TMWC, world #7), and West Cathcart (130 kg). '19 Junior World bronze Alston Nutter (67 kg, Sunkist/NTS) was also involved, and then so were Marcus Finau (87 kg, NYAC) and three-time World Teamer G'Angelo Hancock (97 kg, Sunkist, world #8).
All of our social verticals (minus Twitter) feature full video interviews with athletes and coaches from the camp. Rau, who serves as the primary Athlete Contributor for this platform, handled the interviews and did an exemplary job.


The camp in Broken Arrow was also apparently just the beginning. Reportedly, a large group of US Greco athletes will be converging on Boise, Idaho for a camp early next month at the Suples Headquarters, with some stopping in Nebraska either before or after. Herb House, New York Athletic coach and member of the 2020ne Olympic staff, will provide details for release imminently.
We keep using the word "slowly" when talking about the resumption of training in the wake of (or amid) the pandemic, but it is starting to seem like things are happening much quicker than that.
Reminder
This coming Sunday is Rumble on the Rooftop live from downtown Chicago, which will be broadcast on streaming service FITE TV. Rau will be facing off against '19 freestyle World Teamer Pat Downey with the first period of their bout abiding by Greco-Roman rules. Rau and Downey went 1-1 against each other in the '18 freestyle World Team Trials.
Downey deserves a lot of credit for immediately stepping up for a good cause — and then enthusiastically calling for the match to be split in terms of rule-sets out of respect for his opponent.
Of course, there are plenty of other bouts on the card headlined by Jordan Oliver versus Jason Nolf. It should be noted that all of the proceeds go towards regional training centers in the US as well as Beat the Streets-Chicago.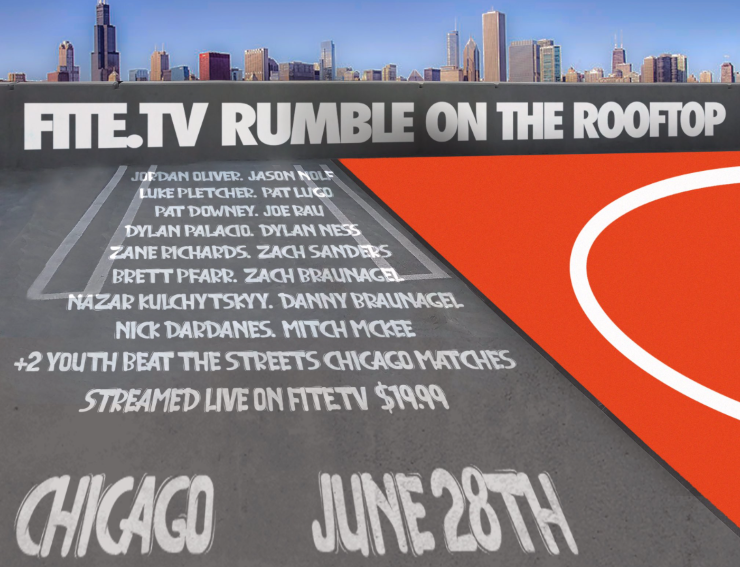 One Day: Jamel Johnson
Normally, new article categories and series are introduced as isolated pieces of content, but not this time. Instead, the premier of what will be a regular series on 5PM, One Day, is being rolled out right here as a sort of special event featuring multi-time US National Team member Jamel Johnson (67 kg, Marines).
Johnson, 29, is a logistics officer in the Marine Corps — along with holding a status as one of the best lightweights in the US program and very legitimate contender for the Olympic Team next year. He is also a devoted married father of three young children. Needless to say, his schedule is usually packed and requires switching from one role to the next depending on what time of day it is.
Morning
WAKE UP: 6:30am — "This is everyday, unless the kids sleep in on the weekend if we keep them up late. But you know how that goes. They can wake up early even if they go to bed at 11:00pm (laughs)."
"I go into the bathroom and weigh myself. Brush my teeth, shave my face, and by then my wife (Elizabeth) is starting to make breakfast. After I eat breakfast I start getting my clothes together."
MEAL: "I usually eat the exact same thing every morning: three eggs, two pieces of turkey bacon, and an avocado. It's not very exciting or different, but it's usually a protein breakfast."
GET OUT: 8:00am — "I drive to the office (on Camp Lejuene), chit chat with Coach (Jason Loukides), pull up emails, and see what the company commander has. Then I head up to battalion, take a drug test, and see if anyone needs anything for medical purposes, or find out who needs their dental (records) and who is up-to-date on their shots. Just going through normal operational stuff. And then at 9:00am, you have practice."
PRACTICE: 9:00am-11:00am — "When we're in heavy competition I will usually do a run after practice for 20-30 minutes. Not hard running, but I'll just do a jog after practice. Nothing crazy."
MEAL: "It depends on how hard the practice was. If it was really intense, a hard, hard practice — which you'll know whether or not it's going to be one because you just look at the profile beforehand — I will bring carbs, like pasta or bread, something like that. But if it's not that bad, I usually don't eat much. I'll probably have a protein shake, a banana or other piece of fruit. And a water and a Gatorade."
Afternoon
WORK: 12:00PM — "I go back to the office. The normal tempo is planning the next trip. Who is the point of contact? What hotels will we stay at? What are the flights? We're looking at how we are going to get there once we're in the country, depending on where it is. We do this every single trip. When one trip is down, or even when we're on the same trip, we're already thinking about we are going to go next. We brainstorm about how we are going to accomplish all of that between flights, hotels, transportation, and food. I am the logistics officer, so my main job is planning the trips and talking to battalion about vehicles we may need. If we have a big group of people going to the airport, I will talk to battalion about getting a van."
MEAL: "Other than the lunch I had, I don't eat again before the next practice."
PRACTICE: 2:00PM-4:00PM — "If the first practice was super-hard, then obviously the second practice is not going to be very hard. It might be technique-focused, drills, or a lift, depending on what program we're on. Or it might be vice-versa. If the first one was kind of light or moderate, the second one may be a lot of live wrestling and/or heavy weights. Right now (with restrictions) we are running an absurd amount. He (Loukides) is killing us because we don't have anything (laughs)."
Evening
EXIT: 4:30PM — "The drive is the most important part of coming home. For me, as a dad and as a husband. Because when you get home, you have to turn on 'Dad' and you have to turn on 'husband'. Most of the time, my drive home — which is typically 20 minutes from base to home — has no music, no anything. I might call my wife and see if she wants anything, because you don't want to get home and have to go back out. As soon as I pull off base I'll call her.
"But after that, I am literally just driving in silence and relaxing before I walk into the house. Once I get into the house, it's 'Daddy mode'. I can sneak in the house while the kids are sitting down quietly. I am looking at them and they are enjoying their shows, and as soon as they see me it is, Daddy, Daddy! Can I have some Cheerios? Can I have some juice? Can I have this or that? (Laughs) It is 0-100 (laughs). My mother-in-law is very helpful with all that. She lets me come in, sit down, eat, relax. And after that, it's game-on with the kids. We go play, do stuff.
"Later, we will all sit down to watch a movie. Sometimes, it is the same exact movie that you've watched a thousand times but you have to spend time with your family. We watch a movie starting around 7:00, 7:30 with the kids, if they can sit still long enough. And then after that, we get them to bed.
"For me, right now I'm working on a presentation that I have to do. So I will go up to the office before bed and knock that out."
BED: 9:00PM — "I might watch a funny show or an episode of Rick & Morty with my wife. That's it. Then I start the day all over again."
You can follow Jamel Johnson on Instagram for updates on his career and competitive schedule. 


Listen to "5PM37: The wildman Sammy Jones" on Spreaker.
SUBSCRIBE TO THE FIVE POINT MOVE PODCAST
iTunes | Stitcher | Spreaker | Google Play Music
Notice
: Trying to get property 'term_id' of non-object in
/home/fivepointwp/webapps/fivepointwp/wp-content/themes/flex-mag/functions.php
on line
999