The news regarding Jonathan Drendel stepping down as head coach of the Williams Baptist University Greco-Roman team has been met with a substantial amount of concern. Fellow coaches as well as athletes from other programs have expressed their desire to see WBU continue to field a team, and thankfully, it appears that will be the case.
However, the manner in which WBU has chosen to move forward is unconventional. Rather than hire a new Greco-Roman head coach, the school is handing the reigns over to Todd Allen, who currently serves as the coach for Williams' NAIA folkstyle squad.


Allen is not a stop-gap. In an email sent to 5PM earlier today, WBU assistant athletic director Shane Stolz said, "Todd Allen is the head coach of the WBU greco roman (sic) program, he is not an interim coach." To his credit, Stolz went on to add that "the importance of the program remains the same with him as it did with Coach Drendel."
In effort to learn more about the situation at WBU along with Allen's plans for the Greco program's immediate future, an interview has been scheduled for next week, so we'll keep you posted.
Rob Hermann Exits NMU
In a bit of a twist, the United States' foremost collegiate Greco-Roman program saw its head coach leave his post, as well, though this one involves several layers.
Northern Michigan University head coach Rob Hermann offered his resignation back in April prior to the US Open and was originally slated to formally step down this coming October. Then it changed to August. What wound up occurring is that last week actually represented the end of Hermann's tenure in Marquette.
Hermann took over at NMU in 2010 on the heels of Dennis Hall's single-season stint as head coach. Over the proceeding nine years, Hermann oversaw the gradual return of NMU's Olympic Training Site (formerly the US Olympic Education Center) to national prominence, aided in part by the addition of Aghasi Manukyan, who joined the staff in 2011. The pair formed a potent coaching tandem that kickstarted the careers of many well-known athletes, including Kendrick Sanders (82 kg, NYAC/OTS), Alex Sancho (67 kg, Army/WCAP), Dalton Roberts (60 kg, NYAC/OTS), Randon Miranda (60 kg, NYAC), and Austin Morrow (67 kg, NYAC/OTS), among others.
Prior to arriving at NMU, Hermann's resume was already stuffed with enormous credentials. He coached the All-Navy team beginning in 1983 and was eventually selected as the head coach of the 1993 US World Team. Three years later, he was the head coach of the 1996 US Olympic Team that won three silver medals. He was also an assistant coach on the 1994 and '97, and 2010 World Teams, and assisted on the staff for the 2000 Sydney Games.
Andy Bisek, who was hired as Hermann's assistant following Manukyan's departure from the program in the fall of 2016, now becomes the fifth head Greco coach at Northern in its 20-year-history.
The last Northern News with NMU head coach Rob Hermann will address his departure and other topics when it is released later in the week.
2019 European Games Results
Europe got its Continental Games out of the way over the weekend with Russia dominating the team race thanks to three champs and two bronze out of the six Olympic weight classes. 2018 World champs Stepan Maryanyan (60 kg) and Aleksandr Chekhirkin (77 kg, world no. 3) both took home gold, and Zaur Kabaloev (67 kg), who is #2 on the depth chart behind World gold/multi-time medalist Artem Surkov (world no. 1), got past Rio Olympic bronze Shmagi Bolkvadze (GEO, world no. 18 at 72 kg) 3-1 in the final. Reigning World Champion at heavyweight Sergey Semenov (RUS, world no. 1) was edged by eventual gold Kiryl Hryshchanka (BLR) in the semis but rebounded to take third.
Two-time World bronze Viktor Lorincz (87 kg, HUN, world no. 4) dropped his quarterfinal bout to Islam Abbasov (AZE), was pulled back in when Abbasov made the final, and then defeated Nikolaj Dobrev (SRB) and Ivan Huklek (CRO) to cap an impressive bronze-winning performance. 2015 World Champion Zhan Belenyuk (UKR, world no. 1) turned back Abbasov for gold.
2019 European Games
June 29-30 — Minsk, Belarus
60 kg
GOLD: Stepan Maryanyan (RUS)
SILVER: Erik Torba (HUN)
BRONZE: Dato Chkhartishvili (GEO)
BRONZE: Victor Ciobanu (ROU)
67 kg
GOLD: Zaur Kabaloev (RUS)
SILVER: Shmagi Bolkvadze (GEO)
BRONZE: Mate Nemes (SRB)
BRONZE: Soslan Daurov (BLR)
77 kg
GOLD: Aleksandr Chekhirkin (RUS)
SILVER: Karapet Chalyan (ARM)
BRONZE: Tamas Lorincz (HUN)
BRONZE: Alex Kessidis (SWE)
87 kg
GOLD: Zhan Belenyuk (UKR)
SILVER: Islam Abbasov (AZE)
BRONZE: Arkadiusz Kulyncyz (POL)
BRONZE: Viktor Lorincz (HUN)
97 kg
GOLD: Artur Aleksanyan (ARM)
SILVER: Aliaksandr Hrabovik (BLR)
BRONZE: Aleksandr Golovin (RUS)
BRONZE: Felix Baldauf (NOR)
130 kg
GOLD: Kiryl Hryshchanka (BLR)
SILVER: Iakobi Kajaia (GEO)
BRONZE: Sabah Shariati (AZE)
BRONZE: Sergey Semenov (RUS)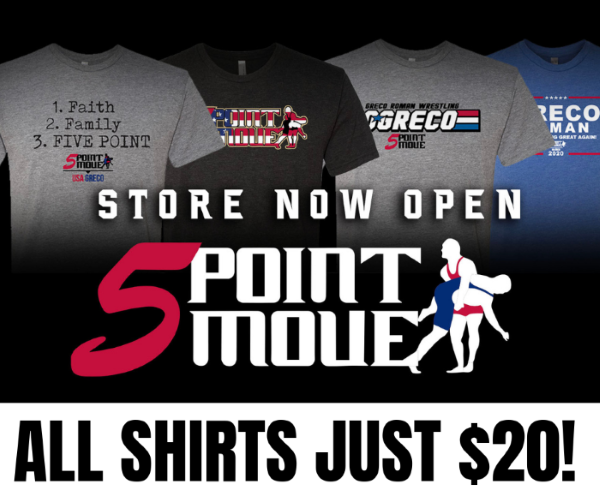 Listen to "5PM24: World Teamers Joe Rau, Pat Smith and Max Nowry discuss Final X" on Spreaker.
SUBSCRIBE TO THE FIVE POINT MOVE PODCAST
iTunes | Stitcher | Spreaker | Google Play Music | RSS
Notice
: Trying to get property 'term_id' of non-object in
/home/fivepointwp/webapps/fivepointwp/wp-content/themes/flex-mag/functions.php
on line
999