It all goes hand-in-hand. Cold weather for wrestlers means running in the cold. This isn't new. Wrestlers run practically just as much as track athletes and because the majority of wrestlers in the US participate in the sport during the winter, logging miles when the temperature drops is, in a word, custom.
Just take a look at the Greco Roman wrestlers who populate the Olympic Training Center in Colorado Springs. They are always "running during wrestling season" because for them, the season never ends. Snow, ice, mud, inclines, declines, all in an elevated climate, are pieces of the training puzzle in Colorado Springs. How about the talented and exceedingly tough wrestlers from places like Minnesota and Wisconsin? Think these guys didn't grow up putting one leg in front of the other in the midst of harsh weather conditions?
As everyone knows, wrestlers run for usually two main reasons — cardio and of course, weight-cutting. Even still, there is some debate regarding the general value of cold weather running during wrestling season. It's an annual conversation that pops up as soon as the mercury begins to plummet. Old wives' tales crying out "You'll get sick!" or "You won't even get warm enough!" are as common as the activity itself. So what's the deal? Is running outside in the deep freeze something to stay away from?
It turns out, not really.
The benefits
Since hoofing it during frigid weather is a time-honored tradition for wrestlers and also, since there really aren't any reliable stories about teenagers morphing into icicles in their track shoes, it is safe to say that any perceived drawbacks are slight (though there are a couple and we'll get to those in a minute). For now, it is all about the benefits. Coaches for decades have urged their wrestlers to make running outside a priority and despite the improved resources and innovative indoor training methods surrounding the sport, it is still an integral part of preparation.
1. Improve that mood
Chances are most wrestlers don't look forward to the prospect of a wintry run, but it might be just the thing to heighten an athlete's mood. That's because during the winter months people are stuck indoors and therefore, losing out on precious, natural vitamin D3. There has been enough data to suggest that a lack of D3 can be linked to depression, though there is still more evidence needed to determine if depression depletes D3, or if simply not getting enough of the vitamin is what causes depression in the first place. Either way, what is substantiated is that the presence of D3 enhances one's mood and that is never a bad thing, especially when it comes to training.
2. Water, you can drink it
You may still sweat when running in the cold, but that sweat has a tendency to evaporate quicker, giving you the impression that you're not sweating as much as you'd like. It's an illusion. If you are layered properly and maintaining a decent pace, you can sweat nearly as much as you would if it were warm out. In order to take on cool weather, you are going to need to be hydrated. You should be hydrated anyway, but having an adequate amount of water in your system for the cold is just as pressing. Athletes require peak performance to run in low temps and water is a key component in that equation.
Another takeaway you might find to be a little "off-color" is that the body produces more urine when it's cold. It does this to combat an increase in blood pressure. If you are not properly hydrated, not only will getting the most out of a run become more difficult, but you are also going to fall short of creating the requisite amount of moisture your lungs need to take in the cold air. So if you happen to like water and want more of it, running outside is technically the perfect excuse to drink up.
3. It's great weather to run in
Many athletes prefer running when it is nice and warm out, and who can blame them? But believe it or not, a chilly climate is where it's at. Noted exercise physiologist and marathon runner Tom Holland says that, "The colder the weather, the less heat stress on the body, which makes it significantly easier to run. Running in hot and humid weather is extremely taxing on the body — there is a reason why the majority of marathons are held in October and November."
"There is no such thing as bad weather, only bad clothes" — Norwegian proverb
Layers. Hats, gloves, thermal socks, depending on just how cold it is out, they're all a given. But an imperative garment that should never be cast aside is a good scarf. You can substitute a face-covering ski-hat or balaclava, if you'd like. Going back to number two on the list, one of the very few detriments to running outside during wrestling season is the fact that the dryer, less-humid air combined with a low temperature can make breathing a tad uncomfortable. You need moisture.  You also need a barrier against potential allergens. A scarf or any other breathable covering around the mouth should be plenty sufficient to do the trick, moistening the air and keeping your allergies in check.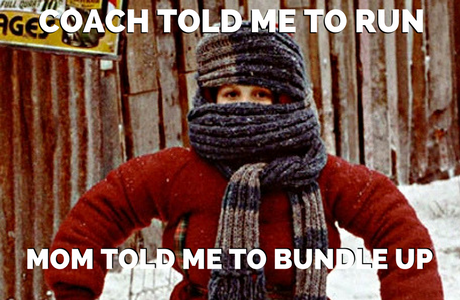 One area of concentration is the shoes. Regular running sneakers might cut it if there is no snow or ice to contend with but otherwise, you're going to need to upgrade. The two keywords to remember — weatherproof and waterproof. Another tip: if you do not have weatherproof shoes and happen to step in water or slush, throw some newspaper inside of them once you get home. The reason? Newspaper will absorb the wetness without compromising the structure of the sneakers. Putting them in the dryer instead is not recommended because doing so can shrink the interior material and harden rubber.
Get the body ready
A proper warm-up routine is important for every wrestling practice and that applies here (especially when it's freezing out). Light exercises such as arm and ankle rotations along with some stretches following the warm-up period will help prime you for the task as well as the elements. There is no set time limit on how long you should run in the cold but since it is wrestling season, you might want to adjust according to your training schedule. Once you are finished, a proper cool-down (no pun intended) phase is highly-recommended, even if you feel tempted to rush inside to get warm again.
Notice
: Trying to get property 'term_id' of non-object in
/home/fivepointwp/webapps/fivepointwp/wp-content/themes/flex-mag/functions.php
on line
999