At least once a year now, those in the US wrestling community who do not pay regular attention to Greco-Roman will dust off the bout between Andy Bisek and Roman Vlasov (RUS). That match-up, which took place in the round-of-16 at the 2014 World Championships in Tashkent, not only helped propel Bisek to his first of two consecutive World bronze medals, it also provided the Minnesotan with some nice "mainstream" wrestling exposure, something that is, even five-plus years later, rare for an American Greco athlete.
The casuals — and who could blame 'em? — skip right over the fact that Bisek still had a bit of a hill to climb following his victory over the great Vlasov. In the quarters, '11 World bronze Neven Zugaj (CRO) was gifted a second-period passive point en-route to a maddening 1-0 win, depositing Bisek into the repechage opposite Veli-Karri Suominen. This match is considered required viewing for serious US fans, but is often ignored due to the "Vlasov factor". Bisek was behind 5-2 in the second frame when he scored on a takedown and follow-up gut to pile up four quick points. And of course, in the bronze match itself, our Star Spangled hero blew the doors off of Hiroyuki Shimizu of Japan — a win that was likely doubly satisfying, since Shimizu had decisioned Bisek the year prior at the Schultz.


But those "other" matches from the '14 Worlds are not top of mind, if discussed at all.
Even stranger is Bisek's bronze from the '15 Worlds in Las Vegas.
The people stubbornly want to focus on the win against Vlasov, as if that was the career-maker. It, unquestionably, was not. Instead, it is much more productive to direct your attention to what transpired one year later in the desert. The man himself is here to begrudgingly help you out.
Bisek at the 2015 Worlds
It pays to remember that first and foremost, the '15 tournament was a "qualifying Worlds", the first opportunity for wrestlers to lock down weight categories for the (Rio) Olympics. That scenario on its own has a tendency to invite pressure, a pressure with which many have recently become familiar thanks to the plight of the '19 US squad whose qualifying journey began in Nur-Sultan last September.
The '15 group — a suitably strong cast of characters that also included the likes of Spenser Mango, Bryce Saddoris, and Robby Smith (130 kg, NYAC/Chicago RTC) — operated under the same directive. The most notable exception surrounding their participation on the World Team was that the event took place on home turf.
"I had a lot of experience doing all kinds of routes, things that people have brought up recently. Like acclimation camps. Living in Colorado Springs, that already provided the advantage of being home when it's the Schultz tournament. I was able to work out in the morning and come back to go take my dogs for a walk, go to weigh-ins after. I was still able to do all of that and stay connected with my family. Or, there was Kazakhstan and then Uzbekistan ('14) for weeks a time. It can go both ways. The fact that it was in Vegas meant we were able to stay in Colorado Springs for a much time as possible. We just went out there (to Vegas) two days before weigh-ins. We stayed at a hotel we had stayed in before. We kept things very familiar. It was pretty easy.
"I never felt any pressure qualifying the weight. I felt very confident throughout about the Pan Ams if I couldn't get it done at the Worlds. I didn't try to feel any of that. I remember telling some of my teammates that I didn't feel that kind of pressure. If you are say, climbing a ladder. Then it's, Okay, don't look down. You'll be scared. If it's Make sure you qualify the weight… I mean, sure, you acknowledge that the danger is there, the possibility is there, but it's not anything to focus on negatively."
Bisek vs. Yanakiev — Repechage
Bisek started his day in the round-of-32 with a 5-2 victory over Luis Avendano Rojas (VEN) and followed with another decision at the expense of India's Singh Gurpeet. A potential run to gold was cut short in the quarters against Mark Madsen (DEN), who would later advance to his fourth World final by toppling Saeid Abvevali (IRI) via criteria. Madsen's narrow triumph in the semifinal pulled Bisek into the repechage where he faced '07 World Champ/'08 Olympic bronze Yanor Yanakiev of Bulgaria, who wound up the first of two prior World champs he would stare down en-route to the medal stand.
They knew each other's names. In '08, Bisek got past Yanakiev two periods to one in the second round of the Schultz. Prior to that, they shared mat space on a couple occasions during training. It wasn't a prolonged history, but there was more than enough for Bisek to draw from heading into their reunion.
"I just wanted to go out and push the pace, and maintain strong position on the feet. Because, I know that especially when wrestling Europeans or foreigners, I could maybe get myself into trouble in the past. It had just always been a habit, a mindset, to still push the pace but don't sacrifice position. But I had wrestled him in the Schultz in 2008 and kind of wore him out, got him tired. I had that in my mind as the possible outcome, that he would wear out. I wanted to be able to keep going at him and really make him work. Make him take unnecessary steps or keep guessing.
"Seven years, yeah, it's a long time. But you know, I don't think he was too excited about having to wrestle me."
Although it did not turn out to be a pivotal sequence, there was a hint of excitement during Yanakiev's par terre chance in the second period. As the Bulgarian went to lift, Bisek fought back hard, twisting and contorting before eventually landing directly on top of Yanakiev, who had floundered to his back. It looked like points. It also looked like it could be legs. Either way, the near-miss incited a reaction from the crowd. After a review, the match remained scoreless. Bisek brushed it off quickly. If anything, he had at least made Yanakiev realize the seriousness of the situation.
"You don't have any points but you feel in control. Even though he knows he didn't give up any points, he's thinking, Whoa, this was a position where I was on top and should be working offense but I'm being put on my back. Regardless of how you look at it, you don't stop wrestling. Whether it was going to be scored nothing or I was going to keep him on his back, good wrestlers are going to fight off their back. They're not going to let that one get over. He just seemed to stay on his back, like he just kind of knew. Even though there were no points, he is in the mindset of, This guy is really coming for me. I still feel like points or no points, there was momentum in that."
More pushing and pulling. Yanakiev grew increasingly reluctant to settle into the pocket, primarily due to Bisek's insistence on framing his position in a way that left zero clearance while still holding the ability to keep Yanakiev's feet constantly shuffling. In boxing terms, it was "ring generalship" with a dose of "bodywork". Yanakiev was wilting to the onslaught of snaps and plunging, wedging underhooks. He started to lean on his heels. With that, a passivity point rang in for the American, who came up short from top par terre. But by the time they returned standing, it appeared much of the fight had been sapped from Yanakiev. These things are never a done deal until the final whistle, though the combination of Bisek's workrate and Yanakiev's body language told a different story.
"You're looking at 1:15 on the clock and there really aren't points on the board for anybody, but he has to make something happen. You know when you feel someone coming harder or charging after you like that it's just going to be frustrating for them. The writing's on the wall. It's a mental state of not wanting to do it. The opportunity presents itself, you're down 1-0 with 1:15. Are you going to score or not?"
Bisek vs. Abdevali — Bronze Medal Match
There was a nice break between the repechage and the medal rounds. Bisek collected himself, well-aware of the assignment standing in the way of another chunk of hardware. Only, the prospect of walking onto the medal stand in front of family and friends, or the idea that he had become the verifiable face of the United States program, were not solely occupying his thoughts.
"I had already accomplished that goal, I already took third the year before. I guess at that time, I didn't really feel any kind of pressure. Internationally, I'm not quite nobody, but I'm just a guy who beat Vlasov and was able to take third. Going into '15, I wanted our Team to do so well. I wanted to do my best for them knowing what I'm capable of. The year before had proven that. I just wanted to be able to have a good performance to support the Team."
As for his opponent in the bronze match, Abdevali, by then a World Champion ('11) after claiming two titles as a Junior, Bisek was respectful — but rather nonplussed.
"Going into it, I knew his accomplishments but hadn't watched him wrestle before. He was obviously a strong wrestler. It was fine."
Similar to his bout with Yanakiev, Bisek made a quick impression on the feet and dug in against the shorter-but-equally-fiery Abdevali.  Neither were willing to concede an inch; however, there was little question as to who controlled the ties. Bisek easily pivoted to angles and made Abdevali react to his advances. None of that made headway with the officials, of course. Abdevali was awarded the first par terre. It was inconsequential. Bisek hardly budged on the mat, essentially nullifying his opponent's biggest strength. He did not take it for granted. He also did not want to read too much into one defensive sequence that ended in his favor.
"I think of it in simple terms because there is a lot that can happen. I was just trying to perform my best and not have any mental lapses. I don't want to get extended out of position. I am trying to wrestle :10 at a time. I wasn't emboldened (by defending from par terre), because thinking that way might mean, Oh, well now I don't have to worry about it."
The first period was on its way to becoming a memory when Abdevali snapped his way into a front headlock. For more than :20, he held the position tightly, leaving Bisek to pry at the fingers and wrists while trying to avoid stepping out of bounds. It was a long time to have your head clamped despite that a multi-point score seemed out of the question.
"I was just inside the zone there trying to have my feet set. I wanted to feel his movement and pressure and see, Okay, is he going to try to rush over me? Is he going to try to get my head lower? I didn't feel threatened by the way he was holding it at all. I was trying to sense where he wanted to move it and best situate myself for that position. I was just trying to stay calm and know that it's okay. There were :20, :25 left. I can stay there and wrestle and still be fine. I don't want to panic and put anymore stress on my body. I had no problem with that. A lot of times I'd be in a similar situation and try to use it to my advantage."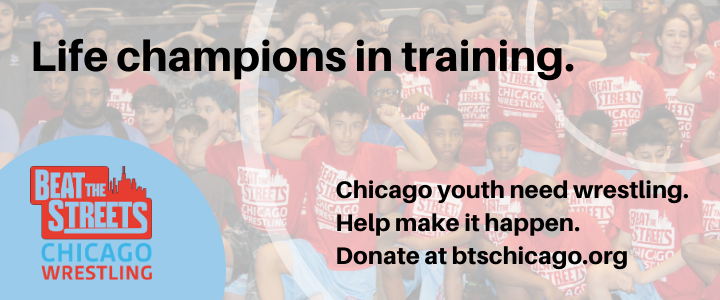 Keeping with a pattern that defined most of Bisek's international success throughout the latter stage of his career, the outcome hinged on the second period. Not because he would ramp up his intensity to the enth degree. Bisek's tempo was famously consistent from the first minute of each match to the last. It was more the residual effect of his forceful nature. There wasn't any particular go-to, position, or situation on which he relied. Simply put, he had a knack for compelling mistakes in the midst of crucial moments if offensive measures were being stymied — a common occurrence at the highest level of the sport amongst almost all competitors.
In this case, it was once again par terre. Bisek held firm on his lock and looked to lift. Abdevali must not have felt too confident or comfortable, because he, perhaps instinctively, jutted his leg up between Bisek's own legs. The attempt loosened, and Bisek collapsed back on top and hastily ran a high gut in search of precious points. But even before his follow-up try, the officials had already deemed Abdevali to be guilty of a defensive leg foul, resulting in two for Bisek and another shot from par terre.
"When we were on the mat, he kicked. I was setting up for the gutwrench and trying to place my foot in between his legs, and he was kicking. He was using his left foot to kick the foot that was splitting his legs out of there. Then when I went to step up for the lift, he raised his right leg and caught my leg once. He ended up flailing his right leg, too. Both legs were kind of involved. I'm able to maybe see it more watching on replay, but I laid there for a second thinking I don't know why I'm getting two points, because I didn't really feel anything there. It might have been a little dirty defense, but I was just expecting that. It didn't seem like too much out of the ordinary."
"Ordinary" or not, the lead was all his entering the last 1:20 of the contest. There was no deviation in the plan. Bisek saw the finish line but was mindful of staying completely engaged. Seconds tick-tocked off the scoreboard as the home crowd stirred, growing more and more eager to let loose a unified roar from the rafters. It was really just background noise. A blurry scene drenched in opaqueness compared to the task at hand. If there was going to be a moment worth celebrating, it could wait just a little longer. Abdevali certainly deserved every ounce of Bisek's attention.
"I know that I'm winning. There is short time left and I want to stay in control. I'm going to try to win every :10, be in control, and remain in strong position. Up 2-0 knowing that there is less than a minute left, it was, You don't have to go to him. Don't run away but don't pursue. Keep him working, keep him changing angles, keep him in this pursuit. I feel like for someone to mount a good comeback and good attack, they have to stay in the same spot. So what I wanted to do was change my position on the mat to where he couldn't really get a good attack."
Indeed, that very approach served to stifle Abdevali, whose output towards the end of the match was reduced to some relatively harmless pawing at Bisek's arms and shoulders. He could not set his feet or create enough static to where a meaningful attempt was even feasible. It was a two-man orchestra with Bisek as the conductor. When the whistle blew to signify the bout's conclusion, the normally-stoic American raised his arms and yelled. There wasn't a choice.
The entire scene was as authentic as the man who had triumphed. Bisek, revered for his leadership and utter lack of self-importance, allowed the moment to wash over him. He owed himself that much. Perhaps more importantly, he owed it to those in attendance who supported every move on this journey. There were others to consider. Filled with emotion, the best way he could intimate his appreciation was to acknowledge the scope of what had just been accomplished and cherish it accordingly.
"I remember thinking, This is a bit over-dramatic but you know what? I'm loving it right now. I'm super-excited and I want these people to know it. I wanted to be celebrating. There was a part when I calmed down and ended up locking eyes with Parker (Betts). I was pointing both fingers at him and yelling his name. My friendship with Chas, Parker's brother, is longer, and Chas wasn't there because he's doing his WWE thing. But his little bro was there. It just kind of hit me."
Epilogue
After all the hugs, handshakes, and photo ops, Bisek's mind went to a different place. He thought about the chaos that had shadowed the entire year leading up to Vegas. How following his breakthrough in '14, there were nagging injuries which disrupted his season, and even hung a question mark on his viability for the Trials. Not that there was ever any doubt regarding his candidacy. That was one item not up for discussion. But there was more adversity with which to account prior to engineering a second straight medal-winning performance.
He also reflected on his vast support system. Competing in front of a home audience is not the same thing as winning a World medal in front of one. The medals will always be there, and likely down the road will be responsible for an induction into the National Wrestling Hall of Fame. What mattered in September of '15 — and is the obvious reason the second bronze stands apart from the first — was that Bisek could share the experience in full. No hours-long time difference and an online stream. No need for phone calls, emails, or texts. Loved ones got to see it live and in the flesh. They were there. He remains ever thankful for it.
"After '14, I suffered a groin injury in October. There was a knee injury, too. It was a limpy knee injury. I just hit it really hard on the ice when (Matt) Lindland was having us play hockey (laughs). But it was very sensitive whenever I went down in par terre or anything. I also had hurt my rib that time at the Open in Vegas. I was looking at that like, Yeah, maybe I sit out until the finals, but maybe I'm not in the best condition. Maybe I just forfeit that match. I played through it and talked to the coaches about what would happen. Well, you'd be down a match going to Ithaca (World Team Trials finals). I thought about just rolling the dice to see who I would wrestle in the finals. Then go to Vegas and hope that where I was at would be okay.
"But coming around to September, that was plenty of time. I was feeling good. But you kind of go through that and see that whole year process, that year cycle, with all of those injuries where I was out for six, seven weeks at a time. Being able to repeat and knowing that my family was there, and all of these people were there to support me… In Tashkent, I obviously had the USA delegation, but I had my dad there. He flew halfway around the world to come and watch me, and that was awesome. But here in the US, I had a lot more family. Aunts and uncles, brothers, sisters, just so many people to support me in that goal. In that dream."


Listen to "5PM36: Talking Greco with Joe Betterman & Todd Allen" on Spreaker.
SUBSCRIBE TO THE FIVE POINT MOVE PODCAST
iTunes | Stitcher | Spreaker | Google Play Music
Notice
: Trying to get property 'term_id' of non-object in
/home/fivepointwp/webapps/fivepointwp/wp-content/themes/flex-mag/functions.php
on line
999