The Greco-Roman program at Northern Michigan University has its first Olympic Team member since 2008, a new National Team member, a surging middleweight who has rediscovered his groove, and a head coach who is proud but ever-pragmatic as this unusual wrestling season continues moving forward.
In this latest edition of Marquette Matters — and only the second installment of the 2020-21 campaign — NMU head coach Andrew Thomas Bisek has much more to discuss than he did during the fall. The opening item on the agenda shouldn't be a surprise, it's Jesse Porter (77 kg), who prevailed in the Olympic Trials final following a two-match sweep of Peyton Walsh (Marines). Porter's overall Trials performance is overviewed, as well as one particular detail pertaining involving the raucous ending to Match 2 of that series. Then it is onto "Mr. Fantastic" Benji Peak (67 kg). Peak finished third in Fort Worth, grabbing National Team honors, and also quickly became the talk of the tournament.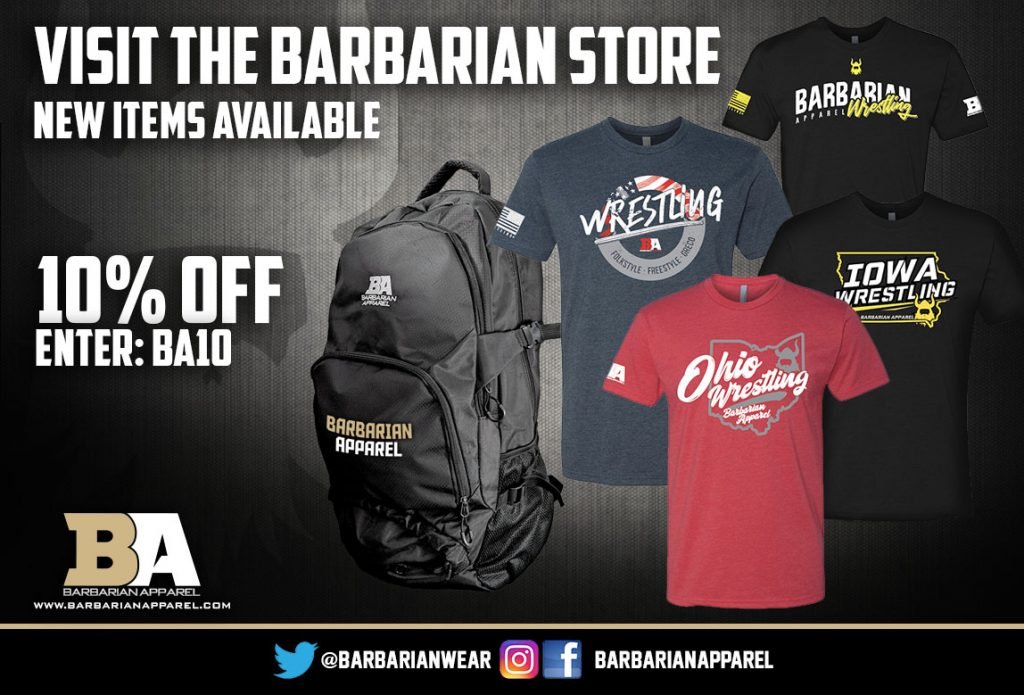 Up a a full Olympic weight category was Austin Morrow (77 kg), a decision that startled some outside of the Superior Dome. But, it paid off, with Morrow winning the Last Chance Trials Qualifier and acquitting himself impressively at the main event itself. The Olympic Trials represented '19 Junior World bronze Alston Nutter's (67 kg) first competition in 19-and-a-half months, as well, and Bisek explains what he found encouraging about Nutter's showing. The wrap-up is obvious — the upcoming string of domestic tournaments which now occupy everyone's focus in Marquette with the exception of Porter.
5PM: What did you think of the venue, Dickies Arena, as far as how the Olympic Trials were presented, just the general environment?
Coach Andy Bisek: I liked the arena. I thought it was great, a great location.
5PM: How has, how does, coordination with Jesse Porter work when it comes to training plans and the like given that he isn't on campus?
AB: He is doing what he feels he needs and what he is able to do. I saw him in Omaha in November and talked to him about his performance at U23's, where I thought he had really made some improvements. I thought what he was doing was paying off for him there, so I didn't give him much direction. It was more just him working remotely on the areas he felt he needed to address.
5PM: Was there any specific thing that happened during the Trials when you realized that Jesse had gathered some real momentum and would wind up having a big tournament? Some have pointed to his win over RaVaughn (Perkins) or even his very first match against Corey (Hope) before that. 
AB: I think both of those first two matches rather than a specific moment, where it was like, Jesse's on; he's wrestling solid and tight, and not giving up points where he has in the past. He wasn't overanxious or anything. He seemed calm and collected.
5PM: The end of Match 2 between Jesse and Walsh, with the criteria and all of the confusion. A few have said something about the matside score clocks. They were more for basketball and apparently didn't have lines to put under red or blue for criteria. Was that something you yourself noticed?
AB: Yeah, I noticed that the clocks on the corner of the mat weren't equipped to have lines underneath the scores, or a dot, or whatever. I also noticed that the jumbotron above, where they had the video display as well as the score, did not have an underline either, or at least I didn't see one. I was just recalling in my mind that Jesse had gotten a five, so I talked with Jesse's dad and the mat judge to confirm that Jesse had gotten the five.
5PM: How much of Benji's success in Fort Worth was attributed to his actual skill and ability, and how much of it was that he clearly had the right attitude?
Coach Andy Bisek: I think it's both. You kind of have to have both. One without the other wouldn't be the same. He is very skilled, very technical. He has a unique style that is pretty hard for other guys to wrestle on the feet. His positive attitude, the way he was loving it and having fun, is going to give him even more.
5PM: Austin Morrow had maybe the two best weekends of his career thus far, and definitely the most impressive outing of his career at Last Chance. Were you and him that confident that going up in weight was the right call?
AB: I was confident in that. I had pushed and pummeled with Austin a few times. I knew that he might be a little undersized; but with how easily he could get underneath guys and also his lifting ability, I felt that with him going up he'd be just fine. It was just him mentally understanding that, You could do this. There's nothing to be worried about.
5PM: Austin is on the podcast next, and in it he sort of flirts with the thought of going down to 72 for the Nationals. I'd reckon that is entirely up to him but do you think it makes sense for him to do that?
AB: Yes. He was only around 74, 75 kilograms for the Trials.
5PM: Alston Nutter wrestled pretty well at the Trials, and he did not have any matches for about 18 months before the tournament. His performance doesn't get as much attention as the other three, but what did like most about the way Nutter competed?
AB: That he was able to get to his scoring positions. I know that he didn't finish with Ellis (Coleman), but he got himself into those positions or put himself there. The way he wrestled that first match, too. That was the biggest one for me. He hadn't wrestled in a really long time in a tournament setting and going against Peyton (Omania) — who is also a Junior World medalist — we kind of knew that was going to be a good battle right away to start with. And I thought he wrestled awesome.
5PM: How many athletes from Northern who are already Senior Trials-qualified are going to the Senior Nationals?
AB: I don't know. Two? Maybe? Austin Morrow and Alston Nutter were looking at going. But other than that, I'm not sure who else is already qualified for the September (World Team) Trials.
5PM: Do you have a significant roster going to Junior and U23? Also, how have practices been the past couple of months in terms of schedule and sense of normalcy?
Coach Andy Bisek: For Juniors, I think we will have four or five guys. A smaller group, but we should have just about all of our team wrestling at U23's.
We've been practicing differently than at any time in the past — but it seems to be working well. We found a structure and schedule that will allow us to have six mat practices a week along with choosing our testing times and working with the university and sports medicine to do all that. I wouldn't say it's normal, but it feels normal for now.




Listen to "5PM47: Nate Engel and Xavier Johnson" on Spreaker.
Listen to "5PM46: Taylor LaMont and Jessy Williams" on Spreaker.
Listen to "5PM45: Chatting with Dennis Hall and Max Nowry" on Spreaker.
SUBSCRIBE TO THE FIVE POINT MOVE PODCAST
iTunes | Stitcher | Spreaker | Google Play Music
Notice
: Trying to get property 'term_id' of non-object in
/home/fivepointwp/webapps/fivepointwp/wp-content/themes/flex-mag/functions.php
on line
999