Here's what's interesting: Randon Miranda (NYAC) and Dalton Roberts (NYAC/OTS) on the same World Team.
It almost feels like a decade ago when the lightweight duo weren't constantly facing off in big domestic tournaments, and to be sure, they did it again most recently at the Senior Trials last month in Raleigh. But on Friday in Akron, Miranda and Roberts appeared in different Trials brackets for the first time since 2016, when both made the Junior squad.


Miranda, fresh off of advancing to the Senior Trials best-of-three opposite Ildar Hafizov (Army/WCAP), stayed put at 60 kilograms whereas Roberts bumped up to 63. It was not a full-out sprint to the finish line for either athlete. Miranda required all three matches to get past National Teamer Taylor LaMont (Sunkist) — and Roberts was tested in his semifinal versus Kyle Evans (Western Wyoming), and again by Dylan Gregerson (UVRTC) in the first bout of their finals series.
They both have a habit of winning Trials events. For Miranda, that achievement came as a Junior in 2016 and '17, and then at U23 last year. For Roberts, the list stretches a little further. He accomplished the feat at Junior in '15 and '16, at U23 in '17, and in '18 did it at the Senior level.
What it means is that the result from Friday did not arrive as a surprising development, though the paths they took, the opponents they faced, and their personal perspectives certainly have their differences.
Randon Miranda — 60 kg, NYAC
5PM: You had a really strong finish to your Senior domestic season, taking fourth at the Open and then you advanced to the Trials mini tournament final. Walking into Akron, you were also the returning U23 World Team member. That's a lot of stuff, and this was one more tournament. Did you enter Friday morning feeling really confident?
Randon Miranda: Yeah, I would say so. But I don't look at it like I made the (Senior) Trial finals. I think about it a lot and it's like, I took third, you know? Losing that match for true second where I was so close, there became more hunger for this tournament. It was big. I was training with (Army) WCAP up until this tournament and I looked at it like, I am here training with all the dudes who are in the Final X and they're killing the lower weights. I have the best partners in the country here, no doubt. 
I was hungry. And I also saw it like, These guys who I'm training with aren't even the same guys I have to be worried about in the tournament. So I was really, really confident. I was strong. I felt like I wrestled way, way better at Trials than I did at the Open — without a doubt. I don't know if it was a mental thing that clicked. But I just I felt like, I'm there. I am going to this thing and I'm going to win it. It didn't happen, but I was super hungry.
I lost to a dude (Hafizov) who is ten years older, has been to the Olympics, and then I lost to a Junior World bronze medalist (LaMont). And I'm there with that Junior World bronze medalist. I would say for the most part that Junior World medalists become Senior World medalists at some point.
So I went into Akron hungry. I wanted to make a statement, I wanted to win, and I didn't want to just win my matches, I wanted to show that I am hitting a very good time in my career where I am growing to that stage where I will peak. I came into the tournament super confident like, I am the guy. I should be the guy. At 23 and under, I am the guy. And sooner or later, Seniors will come.
5PM: Your primary motivation was to win the tournament, not beat Taylor LaMont. But did it feel good to go 2-0 in that final?
Miranda: For sure. I was thinking about that afterwards, I was counting up the matches. I beat him in Vegas, lost to him at Senior Trials, and beat him twice here, so I'm ahead 3-2 in our little series. But without a doubt — and I like Taylor a lot, we're really cool, but he knows and he'd probably do the same for me — I was coming. I looked at the pre-seeds and they had me at #2, which was fine, whatever. But it didn't matter because I wanted him. I want him in the finals, I need that match. And if Dalton was in the bracket, because I actually didn't know he was going up to 63, I was still like, I'm taking it one match at a time. If I have Dalton in the semis that's fine, that way we just have that one match. But I wanted LaMont best two out of three. I needed to show I could beat him twice.
I was ready. I was hungry for that match, that's what I wanted. I liked how everything played out. The motive was of course just winning (the tournament), but I needed redemption. I needed that head-to-head win.
5PM: Everyone knows your style, you are more of slick, technical counter guy, but in order to make that work has been to increase your assertiveness so people start biting bait more often. You were doing more of that here. You're creating more counter-pressure in spots, more push and pull. Did you play around with different ideas out at WCAP before this tournament?
Miranda: Yeah, it was more of like, Dude, I can't just get an arm throw anymore. They're not going to just post so I can do stuff. I was talking to (Max) Nowry, and it's like, at the Senior level the game changes. You're pummeling and it's a different pummel. You are really looking for opportunities.
Take my style in matches for example. I know if I get the lead, I can hold off someone to not score. I'm good at that. So my thing became, If I get the lead, they have to come to me, which is what I prefer. I prefer them coming after me. I can hit a counter or something, I can pummel them off, I can close out the match I feel fairly decently. That was a big thing out at WCAP. Wrestling Ildar? Dude, this guy knows how to pummel for what he wants. I was watching him wrestle some of the guys and picking stuff up.
It's different when people are watching you wrestle and they can give you advice on what people can see. Watching my matches, I have to step outside of myself as if I'm watching someone else so I can better critique my matches better. Going into this, I felt like I was a little too counter-inclined still, so I thought, I need to pick it up. I felt I was being too sluggish and not being enough like, This is mine, be it my arms or my underhooks, you know? But later on, when you're wrestling someone like Taylor? In the second match, I got the first passive point. Now he doesn't have to do anything, really. He just has to push me to get the one point, and it's not a good feeling. But when I am up on points and they're pushing to try and get a passive point, that's when my opportunities come. That's when I can get behind someone or whatever it is.
But for sure, I definitely picked up things for my own style and figuring out what I like more. And at Senior level rather than just Junior level. I am getting pretty good at this arm throw that I'm liking. I'm just getting more comfortable with myself, for sure.
5PM: Taylor is so tough, and a great hand-fighter. He also creates angles coming in and out of pummels, shifts his hips, he can brutalize people with underhooks and he's so fast. Did you feel him showing a tendency in any of these matches?
Miranda: I felt different when I was wrestling him at Senior Trials. I was going into the pummel with this dude and getting off-balanced every single time. I was aware of that.
When I wrestled him this time, my goal was for him to step out. If he got to my closer side, my right side, I wanted to control that wrist and get an elbow on the far side. And if he pushed towards me, I wanted to create an angle — with the pummel. I know that if I can get him to where he's stepping hard, not that he'd gas out, but maybe he starts getting a little more tired. That was the main thing I was focusing on, having him help create the move.
But I had to make sure that when I go into my pummel that I am confident in my pummel and in good position. Because a lot of times, if I am walking into him I am getting off-balanced. Just can't grab a hold of him. Then when he gets his underhook, it feels like I can't score. That happened a little bit in the second match, but in the first and third matches I had it down. I definitely felt a progression through the matches.
5PM: Last year when you made this Team and wrestled at the Worlds, that was a weird match. 
Miranda: Oh, that wasn't even me.
5PM: Well now that you're back on the U23 Team, is that something you want to wipe away?
Miranda: For sure. When I wrestled that dude, I don't know what it was. I don't know if it was a distraction going on off the mat, I don't know. Beforehand, I was just like, I am going to go after it, but then I didn't even go after it. I just went out there thinking… I don't even know. I haven't even watched the match, honestly. I was like, I don't even need to watch that, it's just trash.
But I look back at my mindset after talking to Andy (Bisek) and Matt (Lindland) and it was, What's going on? That was upsetting at that time. But I've learned from it and I know myself a lot better. I know where I like to be in my head when I go out for the match, and I think that's going to be the difference this time. My mindset is a lot stronger now. When I go out there this time… Let me say it like this: I know I can get a medal. I know it's possible. These guys are young, they're my age or one year older at most.
I know I'm in there and I am more confident. Taylor was a Junior bronze medalist and he almost medaled again, so he is definitely medal-worthy at the Junior level, and at 60 kilos. Now I am at 60 kilos, so for sure, I definitely feel way more confident this year. Last season, I was barely going 60. I went 55, then 60, cutting down… I was all over the place. Now I'm ready. I'm not going to let it happen again and I am not going to think about that past situation. I've learned from it and grown from it.
5PM: You have made a World Team every year since you've been a full-time athlete. You are too young to reflect on your career and the Olympic season is right around the corner, as well. But does it say something to you that you have been able to do what you have done thus far?
Randon Miranda: I looked at that, and yeah, I've made a World Team every year since I joined NMU. Well, there was that first year I took third (at Juniors) but I was like, I don't know how to wrestle Greco. So then I came to NMU, won that Junior Trials (2016), won the second one ('17), I have a U23 in there (last year), and now another U23. So I am definitely making a World Team at every age group possible at this point and it shows that I belong on that stage. I feel like I belong on that stage, and that was the main thing here.
I wanted this so bad because I really want a medal. I was talking to (Gary) Mayabb about this, I want a medal so bad, I need it. I need it. I need that medal. I need it. I need to win. I am going to train as hard as I possibly can. There's not enough time to fuck around. I want it this time. It's different than saying it at the Junior level, Oh yeah, I want a medal, I'm going to get a medal. No — I know what I need to do now. I've been here a lot of times. It's been a crazy adventure, but it has also been consistent progress.
Seniors is going to come eventually. I am going to make a (Senior World) Team. I know it, it's going to happen. But I have to take it one year at a time, one tournament at a time, one match at a time, one period at a time. If I can do something every single day to make myself better for the next match — anything I can do to make myself better for tomorrow — that's all I want to do.
That's what my mindset has been on. Staying positive, being around positive people, and staying away from negative people. Not to get off-topic, but that has brought me here today. I am ready for this tournament and I'm going to start training for it on Monday. I am going back to Colorado and WCAP until Wednesday to help those guys get ready for WCAP. But it's definitely humbling to know that I am going back to the World Championships for the fourth time.
Dalton Roberts — 63 kg, NYAC/OTS
5PM: Why'd you go up to 63?
Dalton Roberts: Just a change of pace. Different people to wrestle. Didn't have to cut any weight, so that felt good. I felt confident there, so I just figured Hey, why not?
5PM: Were you expecting it to feel differently up a weight, just in terms of strength? Like there might be a physical difference you notice?
Roberts: Yes, I was expecting a little difference and there was one, but it wasn't dramatic. It's only three kilos. But you do feel how some of those guys are stronger than at 60 kilos.
5PM: Someone I was impressed with in Las Vegas was Evans from Western Wyoming. What did get from competing against Evans, who is going to be really good if he becomes a full-time athlete?
Roberts: He's a tough dude. I did not expect him to be very strong and he was very comfortable in the over/under position. He scrambled well. He just kind of surprised me, and I think that was to my betterment because leading up to the semis I hadn't had a full match yet. I thought I wrestled pretty poorly. I still won, but it wasn't a great match. He pushed me. I got tired, I slowed down, and I think I needed that going into the finals. I felt really good going into the finals, but in that semis match felt super sluggish. He wrestled well, so a lot of props to him, because he took me the whole six minutes.
5PM: Gregerson had a great Trials tournament in Raleigh, just totally. He was good last year, made the Junior finals, but he is on a different level this season. 
Roberts: I watched him wrestle Sammy (Jones) in Raleigh and I was impressed because he took Sammy to the edge and that was to make National Team. He had a heckuva tournament in Raleigh with the way he wrestled, he was the #1 seed at this tournament, and he has just impressed me.
Our first match was a grind. He came out swinging at one point. In the beginning of the second, he really picked up the pace in his hand-fighting. I live for that, I love that, so I was like, Okay. But I don't think I had ever seen that side of him, so that was sweet. That was cool. I don't think I was expecting anything different. He gave me everything I thought he was capable of. I mean, we're all young, but he's got many more years of U23 level. His time will come.
5PM: That second period of Match 1 did see him come out really hard, but you adjusted. Did you carry that attitude into Match 2, or was there something in your head saying to try and get him out of there quickly?
Roberts: It's not easy to go six minutes with a guy at that pace, either, and I can end it early, why not? I think people who watch me or have seen me compete know I don't bodylock that often. I just threw caution to the wind on that last exchange in the second match. I thought, Okay, I'm up four. I could continue wrestling, hand-fighting. Or, I could end it right…NOW. Which was exciting, because it's not something I do often, but I want to do more often. I think it's just amazing that Kamal (Bey) and Tracy (G'Angelo Hancock) can do that, they throw caution to the wind all the time — or maybe it's because they are both just that confident from that position. But this tournament, I wanted to find a different side of myself.
5PM: Did you enter this tournament with any kind of different mindframe since you didn't make U23 last year and Raleigh didn't turn out how you hoped? Was there an underlying emphasis you wanted to put on your performance?
Dalton Roberts: No, I wouldn't say there was an underlying emphasis, just more that I am trying to be different and constantly grow. I didn't make the Team last year at U23's, and this year's Senior Trials certainly didn't go the way I hoped or planned. I put a lot of pressure on myself throughout the whole year with the up's and the down's. For this, it was, U23's isn't that big of a deal. I mean, it is, for a lot of people, but my goal was Senior Worlds again, and that didn't happen.
So not to say that I didn't care this, I did. But it was more like, I could go up a weight, eat more pizza these next couple of weeks, drink more beer than I usually do, and just enjoy myself, right? I'll still work hard, but I'll enjoy myself and put less pressure on myself, and see what happens. That was my approach.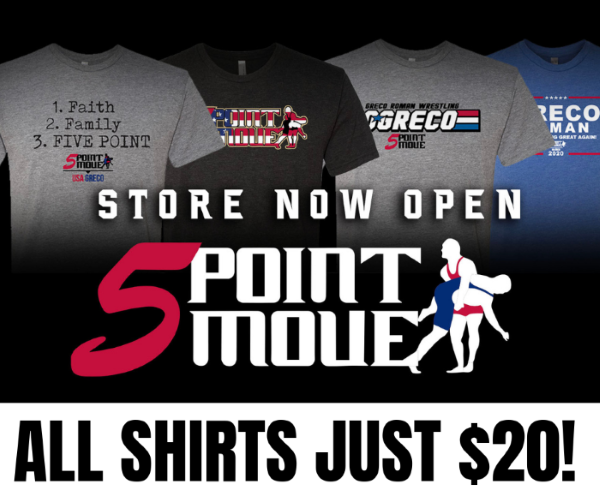 Listen to "5PM23: World Team Trials Challenge Tournament Preview" on Spreaker.
SUBSCRIBE TO THE FIVE POINT MOVE PODCAST
iTunes | Stitcher | Spreaker | Google Play Music | RSS
Notice
: Trying to get property 'term_id' of non-object in
/home/fivepointwp/webapps/fivepointwp/wp-content/themes/flex-mag/functions.php
on line
999