Although he wasn't included as one of the "Undercover Stars" in the latest edition of the Monday Roundup, Benji Peak (67 kg, Sunkist/OTS) certainly should have been. In his first Senior Trials, Peak not only went 4-2, he also gave eventual champ and Final X entrant Jamel Johnson (Marines) a hard run for his money in the quarterfinals. The Wisconsin product stayed busy throughout their battle, only yielding a takedown in the first period in what was a 2-0 decision loss. After that, Peak ripped through the consolation bracket and strung together three wins to make the 3rd/4th place match. That's when his run finally ended at the hands of the (young) man who was a furious ball of excitement in his own right all day, Nolan Baker (NIRTC).
Peak's second full year at Northern Michigan could be summed up in one word — hectic. He has competed a lot. Between getting overseas for a spell in the fall, entering the Dave Schultz Memorial, a U23 tournament in Bulgaria, the Junior World Team Trials, and his participation last week in Raleigh, his schedule has remained full. And it doesn't look to be trimming down, either. That's because in just over a week, he will attempt to make the 2019 U23 World Team at those Trials in Akron, Ohio.


But it was his presence at the big-time Senior event that led to this checkup. NMU head coach Rob Hermann had made it a point in the most recent Northern News to describe why he felt it important for his younger guys to mix it up with the Seniors, and Peak did that. And, he acquitted himself extremely well. With even more coming up on the horizon, "Mr. Fantastic" was his normal, affable, brutally honest self when we talked after the Greco portion of the tournament wrapped up this past Saturday.
Benji Peak — 67 kg, Sunkist/OTS
5PM: How'd you feel about jumping in the Senior Trials? Did it meet your expectations competitively?
Benji Peak: Oh yeah, for sure. It was good. I mean, I like that the young guys come in, but at the same, you've got to wait your turn. So you come in and get headlocked a few times, or thrown. But that's the point. It's good to come in here and wrestle some of those better guys. If you win, it's great, and if you lose it's no big deal. There's a lot less pressure in my eyes.
5PM: You had Schultz, the U23 tournament in Bulgaria, then you trained in Hungary after that, and then you had the Junior Trials in Vegas, now this…
Peak: It has been busy, yeah.
5PM: Then you have Akron next.
Peak: And the very next day I get on the plane to go to the Pan Ams.
5PM: Exactly. You were active last year but there is more going on this season. 
Peak: Yeah, mainly because I am splitting Seniors and Juniors, so there is a lot more for me to do. Last year, I wasn't really old enough. Sometimes I couldn't even get a waiver to wrestle some tournaments. I just turned 19 a couple of weeks ago, so it's cool to wrestle both sides and the coaches allow it to happen because they trust that you're going to win. It has definitely been a busier year this year, and it makes it a lot more fun, too. You're training for something constantly, which is cool.

5PM: I know you're young, but do you worry at all about it being too much?
Peak: No. Myself, I think the younger guys can wrestle all the tournaments in the world. We do it in high school. I'm used to making weight two times a week. You don't get burned out as a young guy. I think the older guys, if they had to do this more consistently they'd get hurt a little more and they wouldn't be able to make the weight as much. But us younger guys I think embrace that a lot better than the older guys. Myself, that's what I think.
5PM: There is the potential it could wind up becoming a busy summer, as well, depending on what happens in Akron. You have two weeks between now and then. Do you go hard another week and then taper, or do the coaches have a specific plan for you guys?
Benji Peak: I'm just going to do a normal two weeks of training. I'm not really peaking, and I'm not really not. Right now, I feel where I'm at is good, and I feel that where I'm at right now is perfect to go win that tournament. I'm not trying to get any better, and I'm not trying to get any worse. I am just going to work on what I need to in order to get ready for that tournament, and that's it.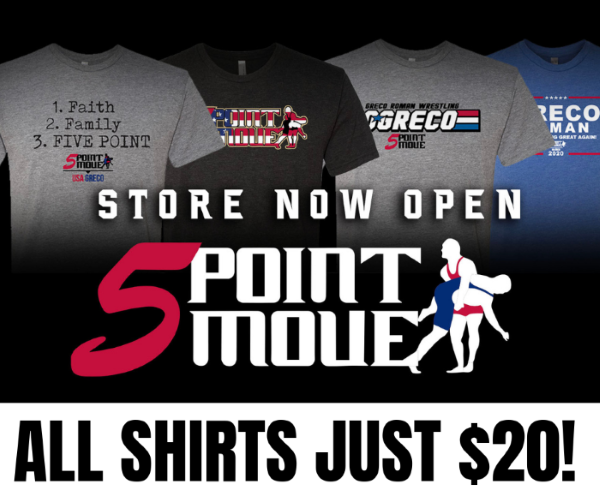 Listen to "5PM23: World Team Trials Challenge Tournament Preview" on Spreaker.
SUBSCRIBE TO THE FIVE POINT MOVE PODCAST
iTunes | Stitcher | Spreaker | Google Play Music | RSS
Notice
: Trying to get property 'term_id' of non-object in
/home/fivepointwp/webapps/fivepointwp/wp-content/themes/flex-mag/functions.php
on line
999