Listen to "5PM26: Princeton's Lenny Merkin and new USOTPC Greco-Roman athlete Nolan Baker" on Spreaker.
Two of the United States Greco-Roman program's top up-and-coming Seniors jump on for episode 26 of The Five Point Move Podcast — and guess what? The co-host is back for the second week in a row, as well.
The opening segment with Dennis Hall revolves around the Pan American Games next month. With the US Seniors having just arrived in Colorado Springs for their preparation camp, Hall speaks to the importance of the Pan Am Games and the event's potential implications regarding qualification for the Tokyo Olympics. In the World champ's opinion, if things don't go well for the Americans in August against the Cubans, at the very least it gives the athletes an idea of what they'll need to improve on ahead of the Pan Am Olympic Games Qualifier next year. Other talk about the training camp's workload, why Hall appreciates the Pan Am Games, and why he encourages a creative flair in his charges at home are also featured.


The first guest in this episode is Nolan Baker (67 kg), who announced this week that he will be leaving his home state of Illinois and moving to the US Olympic and Paralympic Training Center. An exciting, young Greco athlete known for his headlocks and ability to pile on points, Baker was a member of the 2018 U23 World Team and finished third at the World Team Trials Challenge Tournament this past May. Between Baker's decision to cut short his collegiate career at Northern Illinois in favor of full-time Greco competition — and his unerring enthusiasm and passion for the sport — there is a lot of interesting material fans will be interested in hearing.
Following Baker, it is Lenny Merkin (72 kg, NJRTC) in an engaging, wide-ranging discussion. Brooklyn-born Merkin is currently a civil engineering student at Princeton University and saw his share of action on the mat for the Tigers last season. But it is in Greco where he has really begun to stand out. After putting in admirable performances previously in his career, Merkin exploded through the bracket at June's U23 World Team Trials to come away with the tournament victory. As he now prepares for the World Championships later this fall, Merkin explains his training philosophy, how he uses Greco and folkstyle to benefit one another, what he likes (and doesn't like) about New Jersey, and his love for massages, of all things.
A few highlights
Hall on why he likes wrestlers to be creative
"When guys are creative, they work harder. When they're being spoon fed stuff, they don't think, they go through the motions, they get sloppy, and it drives me crazy. So I want to keep them as creative as I can keep them so long as they're working and trying to figure things out from good positions. I'll call bullshit bullshit if I see it and they ask me something, but I'll say, Nice thought process, though, I like the way you're thinking. And then I want to keep them thinking until we move onto the next thing."
Baker on his prolific use of headlocks
"Other than sagging your feet, keeping them in place, and ripping that arm, really it's just a mentality, as simple as that sounds. At all times almost, whether I am going to hit a headlock or not hit a headlock, there is a red light and a green light, to put it into words in my head. If the green light is on, it's, Oh, I can hit a headlock from here. And if the green light is off, you go, Okay, I can't hit it here, I have to hand-fight to a place where I can hit it. So whether I hit it or not, I'm always trying to hand-fight in a way to where that green light's on. If I want to hit it right now, I can hit it. I'm always trying to set that up."
Merkin on his "feel-first" training approach
"In the short time I get to train, I don't like to isolate myself to one thing. I like to kind of get my body to feel every position as much as possible. That's kind of where I'm at post-tournament. I like to gauge where I'm at overall as opposed to where I'm at position by position. I'm a huge 'feel-it' guy, feel for it, feel about it, and just get in there. You can talk about 'drill this' and 'drill that', but if you don't know when you're going to be hitting these moves at the exact moment or you haven't felt that exact position or that type of position, drilling the move won't do anything for you. You could be hitting an arm drag in the fricking air, or you could be hitting it on an arm, depending on if you've been in that position before or if you get lucky. When I wrestle, I don't want to get lucky. I want to get somewhere I feel comfortable and have been there before. I try to expose myself to as many unusual situations as possible; and from those unusual situations I learn the most."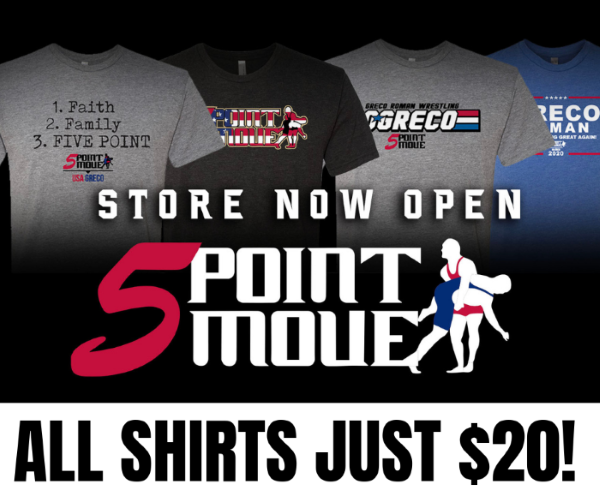 SUBSCRIBE TO THE FIVE POINT MOVE PODCAST
iTunes | Stitcher | Spreaker | Google Play Music | RSS
Notice
: Trying to get property 'term_id' of non-object in
/home/fivepointwp/webapps/fivepointwp/wp-content/themes/flex-mag/functions.php
on line
999