Listen to "5PM28: G'Angelo Hancock, Joe Rau and Max Nowry" on Spreaker.
A pre-World Championships episode featuring three actual World Team members deserves to be this packed…and off the wall.
Episode 28 sees G'Angelo Hancock (97 kg, Sunkist, world no. 3) make his long overdue first appearance on the program, and it is a good one. Hancock, whose preparation for the upcoming 2019 World Championships featured a hefty dose of overseas training, checked in from Sweden to discuss some of the most pressing items on the agenda. First was his decision to bypass the US World Team camp in favor of training abroad, and then the young star shared what he feels is responsible for his surge throughout this season, as well as how he has managed to stay focused despite an ever-growing spotlight.


The second segment includes two guests listeners are certainly familiar with — World Teamers Max Nowry (55 kg, Army/WCAP, world no. 13) and Joe Rau (87 kg, TMWC/Chicago RTC). In what is perhaps the most unique conversations in the show's history, the topics break from traditional wrestling talk and instead shift from one odd item to another. There are bulletpoints brought up having to do with the Worlds and competition in general. But sprinkled in is also banter about Rau's obsession with food, Nowry's turtles, music, movies, and a whole lot more.

A few highlights
Hancock on his high amount of overseas training
"What I will say is that I think there is a difference between training in the States and outside of the states. The fact of the matter is as far as Greco, if you're training in the States, all power to you. Are your training partners the ones who are getting medals? Are your training partners the ones who are performing up to their levels everytime they get on the mat? You have to ask yourself these questions. These are questions I ask myself and I want to be surrounded by greatness. A lion surrounds himself by a pride on the same mission, and that's exactly my goal."
Nowry on not looking ahead at opponents
"I don't like to focus on what my opponents are doing, I like to focus on what I can do. If I start watching too much video, I am thinking about them more than myself. I'm aware. At my weight, especially with those Asian countries, you know they are going to arm throw. There are certain things they do to be smart not to get caught up into. So, there's a game plan and I'm sticking to it without getting caught up in my opponents, or whoever I wrestle. I'm trying to focus on what me and my coaches back at WCAP have been working on for the last couple of months. That's my only game plan, just what I can do."
Rau on movies
"I also get mad when they try and make someone out to be attractive or not attractive. They do that all the time. They'll make the girl who's the star in the movie, it's like, Oh, she's hideous, but then she is miraculously beautiful. That makes me livid. I'm like, She was attractive the whole time! You know, stuff like that. They always do stuff like that, like, Oh, here's the girl who is totally under the radar but with the right man she is going to be beautiful. I'm like, Dude, she looked good the whole time. Don't try and tell me… But then it's the same thing the other way. I get infuriated sometimes when it's made out to be This guy, he's the cool guy. Shit like that annoys me. I don't know why."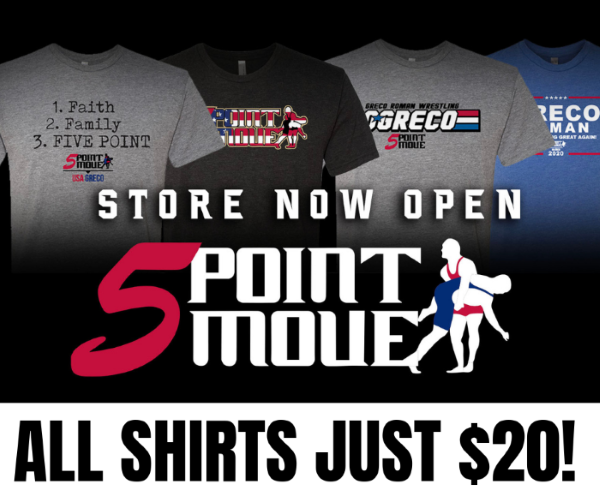 SUBSCRIBE TO THE FIVE POINT MOVE PODCAST
iTunes | Stitcher | Spreaker | Google Play Music | RSS
Notice
: Trying to get property 'term_id' of non-object in
/home/fivepointwp/webapps/fivepointwp/wp-content/themes/flex-mag/functions.php
on line
999