Listen to "5PM43: Christmas Time with Millersville's Kerry Regner" on Spreaker.
Episode 43, which arrives just in time for Christmas, offers a gift listeners will love: the passion and perspectives of Millerville University head coach and former US National Team member Kerry Regner.
Millersville University's season was shut down this past fall before it ever began, leaving a roster full of wrestlers with space on their calendars they would rather not have. Despite the adversity, Regner has managed to remain involved with how his athletes are doing and shares some of the ways they have chosen to stay motivated and in-shape. In addition, there might just be competitive concerns on the horizon should collegiate open tournaments become available, and Regner provides his insights on that possibility, as well.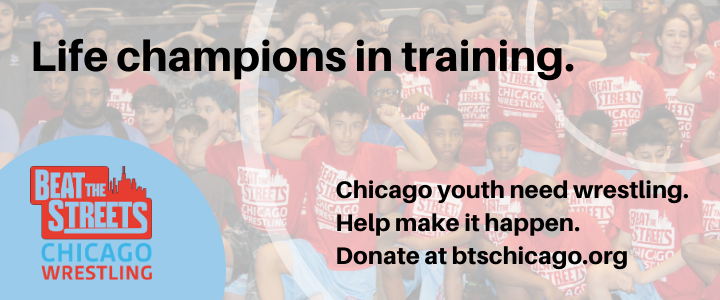 Following that round of catch-up, it is time to delve into Greco-Roman and, more specifically, Williams Baptist University. In 2016, Regner — then the head coach of WBU's NAIA folkstyle team — was the driving force behind the private college's decision to add a Greco program. As most are likely aware, WBU canceled the Greco team last spring despite having only been in existence for two-and-a-half years. Although Regner had left Arkansas for Millersville prior to Williams cutting the squad, he naturally paid very close attention to what transpired. The most important takeaway in Regner's mind (and he's not alone) is that despite the outcome at Williams, a Greco team can flourish at the right institution provided the administration is as invested as the coaches and athletes.
The final segment of the show brings forth a surprise guest who pops on to greet Regner. Dialogue from then on becomes a touch unpredictable.
A Few Highlights
Regner on what he is most proud of with regard to Millersville at the moment
"We just finished up our fall semester. Grades are in but they aren't necessarily posted yet. I know we did well grades-wise, so I am very proud of the guys. It may be our best semester ever, as far as I know. I am really happy with the guys as far as their academics. They were able to pivot and do that from multiple locations. Some of them got jobs during the time, some of them had jobs during the time. We trained for a portion of the semester. We kind of got shut down because of COVID, in some ways. Because of contact and things like that. We had to stop practice, but it was right around the time the season was canceled."
Regner on his frustration watching eSports (video gaming) receiving college scholarship opportunities
"It doesn't matter what sport it is, in a lot of ways, as long as they can go there. I mean, you look at eSports, for example, which is something I just want to get super fired-up about — and not in a good way. Colleges are adding gaming as a sport, and they are literally scholarshipping it. This is where I get kind of on the offense and say, Yo, where is our Greco body? Where are our leaders? Why? Schools are trying to add electronic sports to boost numbers and we can't even figure it out."
Regner to the special guest towards the end of the episode
"I invoke my opinion on a lot of things and I am going to invoke my opinion here. As a fricking athlete — you're an athlete, right? You should not be focused on any of this. The only thing that caught me off-guard was that you said you haven't been doing pull-ups lately. It's like, What the heck, man? Do fricking pull-ups, man. You're training to be an Olympic champ? You better be able to do 40 pull-ups. Like, what are we talking about? Stop it, stop it. No, you're not allowed to talk. Do fricking pull-ups, man."
UPDATE: at the conclusion of this episode it is mentioned that the Matteo Pellicone Memorial "Ranking Series" tournament in Rome, Italy is scheduled for March 14-17. Those dates are incorrect. The correct dates are March 4-7. 


SUBSCRIBE TO THE FIVE POINT MOVE PODCAST
iTunes | Stitcher | Spreaker | Google Play Music
Notice
: Trying to get property 'term_id' of non-object in
/home/fivepointwp/webapps/fivepointwp/wp-content/themes/flex-mag/functions.php
on line
999