The Klippan Cup is an important tournament for the United States Greco-Roman program. It tends to set the tone for the season by providing developing Seniors with an opportunity to gain international experience in the Nordic system format that guarantees each competitor multiple matches. But for Sean Sesnan (60 kg, NMU/OTS), it is even more special.
The 2019 Klippan Cup began at 10:00am local time from Klippan, Sweden (4:00am ET) with 11 US athletes suiting up for competition and combining to win the tournament's team title.


It was at this event a year ago when Sesnan earned his first foreign medal, a silver, and he improved on the result Saturday by coming away with his first Senior gold. 60 kilograms, admittedly, was not a highly-populated weight; but even with that, Sesnan's strong day at the office can't be ignored.
First was a defeat of US teammate and upcoming age-grouper Payton Jacobson (TWC) followed by a fall over Moshtaba Habibi (SWE). Sesnan was then actually decisioned by Jonatan Jednell (SWE) in his final match 13-12; but because of the Nordic system and the fact that Jacobson had taken care of Jednell earlier, former Williams Baptist student Sesnan takes the top spot at a competitive foreign tournament for the first time.
"I'm excited and extremely grateful to be able to compete overseas again this year," Sesan said after the day's slate of activity wrapped up. "I love being in Sweden. I have a ton of great, high-level partners and a fantastic coach in Andy Bisek. I've learned to trust in my training and that I have what it takes to compete with anyone. I'd say being at NMU has helped a lot with my confidence on the mat. On this trip I am looking forward to the training camp for sure. I love the training camp and can't wait to pick up a few techniques to bring back to the States."
Jacobson, who is a member of the Topper Wrestling Club hosted by Burlington Catholic Central High School in Wisconsin, only dropped the match to Sesnan on Saturday. He ran through Habibi, and as mentioned, edged Jednell prior. The name of the game is measuring one's progress, especially for a young athlete like Jacobson who was competing against Seniors. Afterwards, he indicated that his performance today provided a suitable baseline and that liked how he got stronger as the day wore on.
"I was pleased with how I finished up, but not how I started," Jacobson said. "I felt like I needed to open up more after my first two matches, and in the last match I feel I accomplished that. I felt I stood pretty well with Seniors. One thing I did feel though was almost being manhandled. But towards the end I felt just as strong as the competition."
Tommy Brackett (82 kg, NMU/OTS) remains one of the US' higher-profile prospects and he exited the Klippan Cup with a bronze medal after going 2-2. Brackett defeated both Arminas Lygnugaris (LTU) and Tommy Dantzler (Front Range Twisters) via tech, but those wins were bookended by losses to two experienced Seniors. The NMU athlete was clipped by '18 Nordic Championships runner-up Anton Olsson (SWE) in his first match and closed out his day on the wrong end of a tech loss to Bogdan Kourinnoi, who represented Sweden last month at the World Championships in Kazakhstan.
Brackett knows how to balance competitive results with his overall objectives. That's why he prefers to see performances from two angles. Brackett, a cerebral sort, appraised his showing at Klippan by acknowledging what he felt he did well, and by pointing to the progress he is looking forward to making throughout the rest of the trip.
"The #1 thing I liked about how I competed, was my pace," he explained. "Even in the first match I lost I kept the pressure on. In the past my pace is something I struggled with, but in this tournament I felt good. This tournament was great kickoff to the season. I got some good matches in, and now I get a week-long training camp and another shot at gold next week."
Also earning bronze on Saturday was Timothy Eubanks (87 kg). Eubanks, along with Sesnan and Duncan Nelson (77 kg), began his Greco career at Williams Baptist University before transferring to Northern ahead of this season. There wasn't a lot of competition to be had at 87 kilos today — Eubanks got three matches in and finished 1-2. The NMU competitor earned two silver medals in Spain last season, making today's bronze his third piece of overseas hardware inside of a calendar year.
One athlete who did not make the medal stand but competed very strongly all the same was 2019 US Open runner-up Spencer Woods (NYAC/OTS), who was down at 77 kilograms for this tournament. Similar to Brackett, Woods was forced to contend with a pair of skilled, established veterans. In his first match of the morning, Woods dropped a criteria decision to Daniel Soini (SWE). He then rebounded with a dominant 10-1 tech of Emil Svensson (SWE), but was felled by Andre Isberg (SWE) to end his run.
Two-time US Cadet World Team coach and Combat WC founder Lucas Steldt has been a part of the Sweden tour for several years in a row and is acting as the main voice this year. So, he understands the Klippan Cup's purpose and what its follow-up training represents in the eyes of the American program, as well as what it means to the athletes who have big goals entering the season.
"This was a good first competition of the year to knock the rust off," Steldt said on Saturday. "There's no better way to to evaluate progress than competition, especially when the level is as high as it is here. With camp coming up, it gives the perfect opportunity to work on specific areas of concern. Camp also provides us the chance to get our hands on the foreign continent and hyper-focus these concerns. After camp, we get one more chance to compete at another high-level event to build our athletes and our country's Greco program."
Notes:
The US won its third-straight team title at the Klippan Cup with Swedish clubs AIK Brottning and Varsberg BoIs finishing second and third, respectively.
As Steldt intimated, the US delegation will now participate in a training camp (with Team Skåne Brottning). A dual meet between the US and TSB is scheduled for Wednesday.
Counting US on US violence, five of the nation's ten wins on Saturday were earned via tech fall.
2019 Klippan Cup
October 26 — Klippan, Sweden
TEAM USA RESULTS
60 kg
Sean Sesnan (NMU/OTS) — gold
WON Payton Jacobson (TWC) 8-2
WON Moshtaba Habibi (SWE) via fall
LOSS Jonatan Jednell (SWE) 13-12
Payton Jacobson (TWC) — silver
LOSS Sean Sesnan (NMU/OTS) 8-2
WON Jonatan Jednell (SWE) 5-3
WON Moshtaba Habibi (SWE) 17-7, TF
67 kg
Nick Leonetti (EAP/OPTC) — 7th
WON Zacharias Gustavsson (SWE) 2-1
LOSS Alexander Jonerelv (SWE) 2-1
LOSS Mindaugas Venckaitis (LTU) 8-0, TF
Logan Hatch (EAP/OPTC) — 12th
LOSS Vilius Savickas (LTU) 9-0
LOSS Babar Ali (SWE) 8-0, TF
Brody Olson (NMU/OTS) — 12th
LOSS Babar Ali (SWE) 8-0, TF
LOSS Moneim Affane (SWE) 8-0, TF
77 kg
Spencer Woods (NYAC/OTS) — 5th
LOSS Daniel Soini (SWE) 1-1 (criteria)
WON Emil Svensson (SWE) 8-0, TF
LOSS Andre Isberg (SWE) 10-1, TF
Duncan Nelson (NMU/OTS) — 6th
LOSS Lukas Ahlgren (SWE) via fall
WON Nate Grimes (NMU/OTS) 4-3
LOSS Algot Kallman (SWE) 2-2 (criteria)
Nate Grimes (NMU/OTS) — 7th
LOSS Algot Kallman (SWE) 2-0
LOSS Duncan Nelson (NMU/OTS) 4-3
82 kg
Tommy Brackett (NMU/OTS) — bronze
LOSS Anton Olsson (SWE) 4-3
WON Arminas Lygnugaris (LTU) 12-4, TF
WON Tommy Dantzler (Front Range Twisters) 9-0, TF
LOSS Bogdan Kourinnoi (SWE) 8-0, TF
Tommy Dantzler (Front Range Twisters) — 4th
LOSS Anton Olsson (SWE) 9-1, TF
LOSS Tommy Brackett (NMU/OTS) 9-0, TF
LOSS Bogdan Kourinnoi (SWE) 11-1, TF
WON Bogdan Kourinnoi (SWE) 9-1, TF
87 kg
Timothy Eubanks (NMU/OTS) — bronze
WON Sebastian Karlsson (SWE) 8-0, TF
LOSS Oskar Johansson (SWE) 8-0, TF
LOSS Gustav Mansson (SWE) 4-4 (criteria)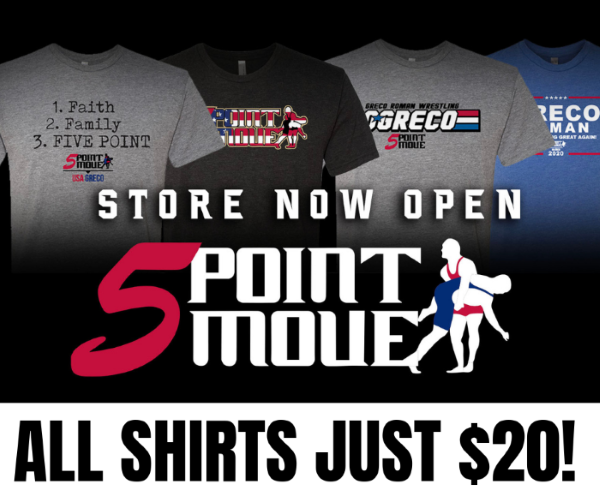 Listen to "5PM28: G'Angelo Hancock, Joe Rau and Max Nowry" on Spreaker.
SUBSCRIBE TO THE FIVE POINT MOVE PODCAST
iTunes | Stitcher | Spreaker | Google Play Music | RSS
Notice
: Trying to get property 'term_id' of non-object in
/home/fivepointwp/webapps/fivepointwp/wp-content/themes/flex-mag/functions.php
on line
999