Over the years, the United States Greco-Roman program became accustomed to sending groups of athletes to St. Petersburg each year who wound up producing big results. But at the SA Lavrikov Memorial this year (as well as a special accompanying dual meet), it wasn't so much about wins for the Americans. Rather, it was about progress, which though arrives in different forms, is vital for expediting the growing pains this next generation of developing Seniors have no choice but to endure.
Chris Anderson (67 kg), the native Texan who began his full-time career at Northern Michigan prior to becoming one of Williams Baptist University's founding Greco athletes, earned bronze to pick up his first foreign medal. The opportunity to just compete was Anderson's foremost objective, and he intimated afterwards that he wanted to use this trip as a benchmark showing to prepare for the domestic season.
"My mindset and attitude coming here from the start was looking for mat time with tough opponents and to make sure I'm still having fun with the sport," Anderson said. "Because, since this last U23 Trials,  I haven't had much of a chance to compete or train Greco due to a lack of partners back home in Houston. I'm using this as a way to blow my lungs out, and to get my mind and body awake for the US Open and (Olympic) Trials."


Anderson, who is mentored by 1996 Olympian Derek Waldroup, was the lone American to make the podium while four others came up short by placing fifth.
Highly-respected US coach Jay Antonelli, who presided over the Seniors in Russia last year as well, pointed to the primary goal of the tour after action wrapped on Saturday. "Although we always wish for better results, the main focus has been to get in some foreign matches, which we did." Of Anderson's performance, Antonelli came away impressed, particularly due to his charge's level of opposition. "He hung in there with Russian Olympic Team member Labazanov, and kept fighting the whole match," he said.
Several NMU athletes who have made significant strides the past two seasons had their hands full.
Riley Briggs (72 kg), the hardworking and talented upstart from California who has logged a significant amount of foreign experience since arriving in Marquette, placed fifth, going 1-2. But in those three bouts, Antonelli saw in Briggs what others have thus far — a hunger to create points. "Riley came out strong and surprised a couple of his opponents with his explosiveness," Antonelli noted.
Eric Spence (67 kg), DM Hallett (82 kg), 2018 U23 World Teamer George Sikes (87 kg), and Keaton Fanning (97 kg) — three Northern wrestlers who are growing into their skill-sets — all contended with tough assignments in their respective brackets and were unable to secure victories.
The only other American besides Anderson and Briggs to have his hand raised at Lavrikov was Conor Karwath (130 kg). Like Anderson, Karwath was part of Williams Baptist's inaugural season of 2017-18, but has since moved on and is piecing together his training while coaching at MacMurray College in Illinois. A heavyweight with some legitimate gifts, Karwath displayed flashes of his ability at the tournament and again in the dual meet on Saturday. "Conor at 130 executed two nice throws for four but couldn't hold his lead and ended up losing by a point," Antonelli explained.
From here on out, training camp is the main concern. The US guys will remain in St. Peteresburg throughout the week to work alongside their Russian contemporaries before heading home for the final push to the US Nationals/Olympic Trials Qualifier next month. "We still have a long way to go in par terre, but the guys did make some good adjustments which showed improvement," Antonelli said. "This week, we will continue training with our host club here and gain as much knowledge as we can."
2019 SA Lavirkov Memorial
November 23 — St. Petersburg, Russia
TEAM USA RESULTS
67 kg
Chris Anderson (UA) — bronze
WON Roman Kuhn (RUS) 9-4
LOSS Ibragim Labazanov (RUS) 7-0
WON Victor Koshelov (RUS) 2-0
Eric Spence (NMU/OTS) — 5th
LOSS Emil Zigranshin (RUS) 8-0
LOSS Dima Sagulaev (RUS) via fall
72 kg
Riley Briggs (NMU/OTS) — 5th
WON Ivan Litvenov (RUS) 8-0, TF
LOSS Anton Korobov (BLR) 8-0, TF
LOSS Aslan Tolov (RUS) 13-8
82 kg
DM Hallett (NMU/OTS) 
LOSS Shoi Mamedov (RUS) 11-0, TF
87 kg
Keaton Fanning (NMU/OTS) 
LOSS Anatoly Brazgin (RUS) 9-0, TF
George Sikes (NMU/OTS) — 5th
LOSS Dennis Bordanov (RUS) 10-0, TF
LOSS Igor Yarochavich (BLR) 8-0, TF
130 kg
Conor Karwath (UA) — 5th
WON Nikita Nikolev (RUS) via forfeit
LOSS Eric Bikulatov (RUS) 14-9
LOSS Ilya Yudachz (RUS) 9-0, TF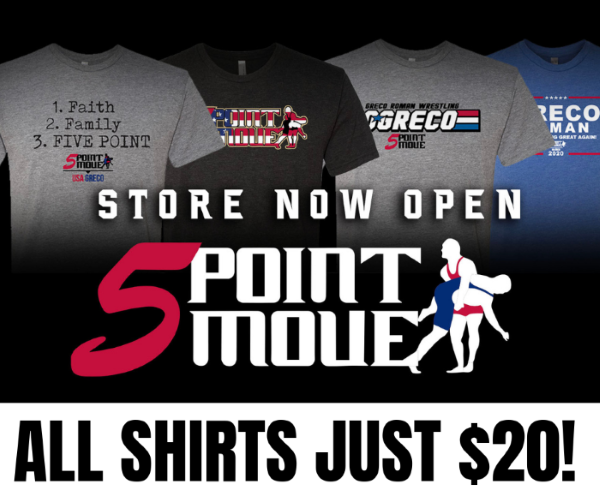 Listen to "5PM30: Jon Anderson returns at the Bill Farrell and Dennis Hall's always fiery position on U.S. Greco-Roman" on Spreaker.
SUBSCRIBE TO THE FIVE POINT MOVE PODCAST
iTunes | Stitcher | Spreaker | Google Play Music | RSS
Notice
: Trying to get property 'term_id' of non-object in
/home/fivepointwp/webapps/fivepointwp/wp-content/themes/flex-mag/functions.php
on line
999