The USA Greco-Roman program is still searching for answers in the age group many feel should be among its strongest.
Day 1 of the 2019 U23 World Championships from Budapest, Hungary began at 10:30am local time (5:30am ET) with five American athletes suiting up for competition. Three of the five — Brady Koontz (55 kg, TMWC/Ohio RTC), Dalton Roberts (63 kg, NYAC/OTS), and Jesse Porter (77 kg, NYAC/OTS) — entered action with prior World experience but were unable to secure first-round victories. Two World Championship newcomers joined the trio, Matt Finesilver (Blue Blood/USOPTC) and '19 Open runner-up David Tate Orndorff (130 kg, NYAC/UVRTC), and Orndorff exited Friday's slate of action as the only US rep to have his hand raised.


In a familiar theme for the USA at World events, challenging opening-round draws were the order of the day. Facing off against returning U23 World bronze/'15 Junior World silver Amangali Bekbolatov (KAZ), Koontz looked to fight his way to an underhook but found resistance prying inside. Bekbolatov urged and angled, and grabbed a point from a step-out. More hand-checking after the reset, there was palpable tension in the early going. It happened quickly. Bekbolatov pounced on an arm drag — assumed position — and lifted Koontz for four. A follow-up gut ended the bout right then and there via tech for Kazakhstan.
'19 Junior World silver Zaur Aliyev (AZE) downed reigning champ and Senior medalist Nugzari Tsurtsumia (GEO) and edged Bekbolatov in the quarterfinal, thus ending Koontz's chances of appearing in the repechage Saturday morning.
Roberts
Roberts, up a weight class for this tournament from his usual 60 kilos, greeted '14 Cadet World champ Yerner Fidakhmetov (KAZ). As could be expected, Roberts controlled the tempo and hawked Fidakhmetov around in the ties, though Fidakhmetov did not seem a willing participant. So, he needed a clearing, and got one, when Fidakhmetov reached for a headlock that Roberts easily countered to cover for a takedown. Back on the feet, and after trying to wrangle a two-on-one, Roberts deflected another Fidakhmetov attempt, this time a throw, and landed on top for two. No follow-up points from par terre were available and the Michigan native entered the break up 4-0.
Unfortunately for Roberts, Fidakhmetov did not remain dormant for the entirety. The second period observed much of the same energy as the first, with Roberts busying up the works and Fidakhmetov forced to play catch-up. But the American didn't score again, and it took until the last minute of the match for Fidakhmetov to get going. However, when he did, he made it count.
A takedown preceded a pair of guts that saw Roberts' lead evaporate. After the restart, Roberts came in hard — digging for a handle and lowering his level for a lane to the body. In his haste, Roberts wound up stepping out, netting Fidakhmetov another point. Then, with :05 to go, Roberts crashed forward at the edge and knocked Fidakhmetov out of bounds. A nonsensical caution-and-two was levied, giving Fidakhmetov two more points and the 9-4 victory.
Fidakhmetov was defeated by Levani Kavjaradze (GEO) in the quarterfinal to eliminate Roberts from the tournament.
Porter
The always-explosive Porter opened up with yet one more decorated opponent in his third-straight U23 World Championships. In both '17 and '18, Porter drew Fatih Cengiz of Turkey, who had earned a Senior World bronze just before Porter faced him the first time. Cengiz went on to win the '17 U23 tournament and last year took third. Today, it was one of India's rising stars Sajan Sajan, who over the past three years has medaled at the Junior Worlds.
Porter, more of a poker player in how he conducts business, patiently but ardently engaged. The pace was not exactly frenetic, but the officials seemed to like Sajan's output enough to reward him with the first passivity. From bottom, Porter held strong and defended. Later in the frame, Porter latched onto Sajan and went to cascade a throw. He didn't have it all the way, and Sajan landed on top for two.
In the second period, Porter was dinged again for passive — but the officials didn't put him down. And again, Sajan came up empty with his lock. Still, down 4-0, Porter needed some offense. Sajan had the advantage in that he could lay back just a little and bide his time. Run the clock out. Porter wasn't having it, so with time a factor, he looked for a throw. Just one big score could change everything. As he went back, Porter came loose and landed awkwardly. Sajan covered for two more, thus walking away the 6-0 winner.
Sajan is in the semifinal this afternoon opposite Kodei Sakuraba (JPN). If successful, he will pull Porter back in for tomorrow morning's repechage.
Finesilver
In the box score, Finesilver's first-ever World match is going to look underwhelming. He didn't make it out of the first period against Kiryl Maskevich (BLR), losing via tech. But save for the actual point-scoring blitz of Maskevich, Finesilver actually started off pretty strong. He naturally carried his hips into the fray and checked into the ties with a purpose. The problem was poise, experience, and Greco skill — all advantages for Maskevich. And when the end arrived, it arrived in a hurry. After a step-out, the Belarusian uncorked a nice arm throw and followed with a booming side lift. And that was definitely that.
Maskevich is still in this thing. Following his defeat of Finesilver, he knocked off Ali Cengiz (TUR). Should Maskevich prevail in the semis against Semen Novikov (UKR), Finesilver will have a second chance tomorrow.
Orndorff
Curiosity followed Orndorff's World debut. The versatile big man possess all of the tools that would suggest success in the future, and the Utah Valley grappler demonstrated as such in the round-of-32 opposite Deepak Poonia (IND). The first period was more of a grind. Orndorff smartly didn't want to extend himself too much, though he did push the pace on occasion. Poonie, on the other hand, did not threaten much at all, but received the first passivity point. Orndorff managed to defend and walked into the break trailing 1-0.
A takedown for Orndorff on the line soon into the second period served as a game-changer. Now operating with added confidence, Orndorff brought more of a commanding presence and stalked Poonia around the mat. It wasn't a done deal just yet. The right opportunity was required. For Orndorff, it happened in the trenches. Locked in an over/under with his head on Poonia's left side, he instead took the arm and reversed motion for a beautiful off-balance that deposited Poonia to his back for four. The sequence capped the scoring — and the match — providing Team USA with its first (and as mentioned, only) victory on Day 1.
In the round-of-16, '18 U23 /'16 Junior World runner-up Osman Yildirim (TUR) halted Orndorff's run. Yildirim was gifted the first passivity, ran back-to-back guts, and snared a lift to go up 7-0. The American made it into the second period, but shortly thereafter, stepped off the edge to end the bout prematurely.
Yildirim defeated Hungarian Robert Ersek in the quarterfinal and is set to battle Aliakbar Yousofiahmadcha (IRI) with a ticket to the finals on the line. If Yildirim advances, Orndorff enters repechage tomorrow morning.
The semifinals are scheduled for 5:15pm local time (12:15pm ET) and can be viewed live in the US on Trackwrestling. We will update the results of the semifinals and include the draws for Team USA's Day 2 representatives later today.
2019 U23 World Championships
November 1-3 — Budapest, Hungary
TEAM USA DAY 1 RESULTS
55 kg — Brady Koontz (TMWC/Ohio RTC)
LOSS Amangali Bekbolatov (KAZ) 8-0, TF

63 kg — Dalton Roberts (NYAC/OTS)
LOSS Yerner Fidakhmetov (KAZ) 9-4

77 kg — Jesse Porter (NYAC/OTS)
LOSS Sajan Sajan (IND) 6-0

87 kg — Matt Finesilver (Blue Blood WC)
LOSS Kiryl Maskevich (BLR) 9-0, TF

130 kg — David Tate Orndorff (NYAC/UVRTC)
WON Deepak Poonia (IND) 6-1
LOSS Osman Yildirim (TUR) 8-0, TF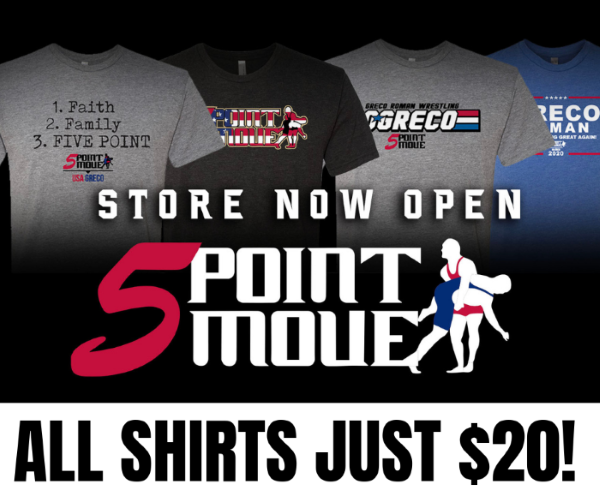 Listen to "5PM29: Junior world medalists Alston Nutter and Peyton Omania" on Spreaker.
SUBSCRIBE TO THE FIVE POINT MOVE PODCAST
iTunes | Stitcher | Spreaker | Google Play Music | RSS
Notice
: Trying to get property 'term_id' of non-object in
/home/fivepointwp/webapps/fivepointwp/wp-content/themes/flex-mag/functions.php
on line
999