Despite entering battle on Day 2 with three former Junior World medalists and a pair of skilled contenders, the United States might exit yet another U23 World tournament wondering what has gone wrong, and how to fix it.
Action on Saturday began at 10:30 am local time from Budapest, Hungary (5:30am ET) and was broadcast live in the US on Trackwrestling (subscription required).


The US was anticipating an improvement over Day 1's result and thrusting much of its hope upon the shoulders of Junior World medalists Taylor LaMont (60 kg, Sunkist; bronze, '16), Peyton Omania (67 kg, MSU/CYC; bronze, '19), and Andrew Berreyesa (82 kg, NYAC/FLWC; silver, '18). Backed by first-timer Lenny Merkin (72 kg, NJRTC) and Chad Porter (97 kg, Sunkist), confidence was high for the American program on Saturday for good reason. And to be sure, the effort was there — but for the third year in a row, the results were not. Although, there is still the chance for a bright spot as of press time.
LaMont
No one on this USA U23 squad is more accustomed to the setting at a World event than LaMont, who appeared on six straight Teams from Cadet to Junior, coming away with a Junior bronze in 2016. His counterpart on Saturday was hometowner Krisztian Kecskemeti (HUN), who would have seemed to enjoy some semblance of a built-in advantage. But, if there was one, it was indiscernible. LaMont dictated the tempo to start the proceedings by trying to pry Kecskemeti's right arm in hopes of isolating a two-on-one. The physicality in the early going was one-sided in LaMont's favor as he continuously banged inside the pummel to move Kecskemeti around. Eventually, that netted LaMont a passivity point. From top, he locked for a straight lift and hoisted Kecskemeti waist-high, yet the official(s) stopped the action near the line.
In the second, LaMont retained control on the feet, causing Kecskemeti to play back in or reset. But — it all went south on a dime when Kecskemeti level-changed. He had flashed that capability in the first period and gave it another try midway through the second. At impact, he lassoed LaMont's body and brought him to his back for four points. The US challenged the sequence — and lost — further expanding Kecskemeti's margin to 5-1.
LaMont furiously dug back inside — pushing, pulling, snapping, and level-changing himself. The windows were all closed. Kecskemeti would be penalized for a (rare) negative wrestling caution to trim LaMont's deficit to 5-3. The American desperately chased after a score, and a pair of front headlock attempts followed. But nothing was doing, and Kecskemeti wound up the victor of an odd 5-3 decision that continued the US' frustrating struggles at the now-annual year-end World event.
Potentially good news: Kecskemeti is in the semifinals where he will go up against Armen Melikyan (ARM). A win by Kecskemeti will put LaMont into the repechage round on Sunday with a chance to fight for bronze.
UPDATE: Melikyan defeated Kecskemeti in the semifinal, officially eliminating LaMont from the tournament.
Omania
Omania confidently jogged onto the mat ahead of his round-of-32 showdown with Giorgi Kurtanidze (GEO), portraying good energy ahead of what was pegged to deliver a grueling-but-potentially-entertaining tussle. Since Omania brings points — and Kurtanidze, stout par terre offense — this one had the makings of a thriller. Unfortunately for the US, the only thrills that were consumed went to Kurtanidze.
The contact on Omania's part was not tentative, but there wasn't a blitz of activity from the whistle. Both athletes deliberately prodded in the tie-ups. Kurtanidze, a little bigger and a little older, was keen to push and pull as Omania looked to set his feet. A quick snap for a front headlock by Omania at first appeared innocuous. But as he clutched, Kurtanidze level-changed and attacked the body before scampering behind for a takedown. He then immediately followed with a lift — and a gutwrench as soon as Omania landed — to sew up a startling 8-0 technical fall.
Khalmurat Ibragimov (KGZ) downed Kurtanidze in the next round to officially eliminate Omania from the tournament.
Merkin
The compact, explosive Lenny Merkin (72 kg, NJRTC) had a bye to the round-of-16 where he greeted Serbian Aleksander Erski. What Merkin likes is to use his squat stature to set up double overhooks or deep throws. In this particular match, he had a few decent opportunities, though Erski managed to hold firm. It almost felt like a waiting game. Erski found little trouble gaining underhooks but did not move to a position amenable enough to pull the trigger. So, Merkin went to work. First came a headlock that slipped, and next, an arm spin that slipped. Nevertheless, the officials somehow agreed that Merkin was passive, and in the proceeding par terre, Erski rotated on a gut before they were stood up again. Just as time was about to expire in the first, Merkin uncorked a pair of what looked to be solid throw attempts that fell just short of yielding scores.
A point went Erski's way to nudge his lead up to 4-0 in the second. The best shot Merkin now had was one of his throws, whichever, however. And he came very close soon enough. Merkin had latched double over's, popped his hips, and went for the launch and landed — but it was ruled legs. With time slipping away, Merkin upped the ante and began hunting for opportunities. A try at the body followed by another represented his final best attempts, and neither hit paydirt. Erski walked away the 4-0 victor but was defeated in the quarterfinal by Maksym Yevtushenko (UKR).
Berreyesa
Berreyesa faced a stiff test in the form of Aivengo Rikadze (GEO), a Cadet World champ four years ago and now a quickly-developing Senior who is starting to perform. A short feeling-out process unfolded at the outset with Berreyesa looking to find a workable position in the pocket. Rikadze was more the stalker, but also not in a rush. As the period began to settle in, Rikadze flung an arm spin try that Berreyesa defended. Still, the Georgian used the attempt to scamper around back for a takedown. Berreyesa resumed checking into the hand-fight for the remainder of the frame, seemingly coming to life just a bit more prior to the whistle.
Picking up where he left off in the first, Berreyesa's increased work rate appeared to be having an effect in the latter stanza. The trouble was one position. Locked in 50/50 over/under's at the hip, the duo jousted towards the line, with Rikadze having the overhook. He turned it into a takedown, and thus a 4-0 lead. Later in the period, and with Berreyesa searching for handles up top, the same sequence was initiated. They became entangled once again, and Rikadze hipped Berreyesa off the edge with that overhook. Time was now of the essence and there wasn't a lot of space available. Berreyesa's physicality helped result in a step-out just as the match was winding down but the score was by then out of reach.
Rikadze is currently waiting to compete in the semfiinal opposite Milad Alirzaev (RUS). If he prevails, Berreyesa will be pulled back in for tomorrow's repechage round.
UPDATE: Rikadze lost to Alirzaev, eliminating Berreyesa from returning via repechage.
Porter
2018 Junior World Team member Chad Porter (97 kg, Sunkist) got off to a promising start against Naoki Matsumoto (JPN), displaying a surge of aggression in the hand-fight that caused Matsumoto to have to reset and think about things for a moment. Passivity rang in, and in a little bit of a twist for the US this weekend, it was called on the other guy. From top par terre, Porter locked for a lift but was unable to elevate. The pace ebbed and flowed, with Matsumoto maybe a step behind Porter but coming away from exchanges in better position. Not that it mattered, because Porter ardently worked for his own tie-ups and entered the break up 1-0.
As has been the case in nearly every match for the US this Worlds season, the tables turned in the second period. Matsumoto didn't all of the sudden come on stronger, but did just enough to nab the second passive of the contest. In the ensuing par terre, he cranked Porter over with a gutwrench and went for another until Porter nearly stepped over. But that one sequence, at it so often does, changed the complexion of the match. Now operating with a two-point deficit, Porter went after Matsumoto, trying to engage flurries in an otherwise flurry-less contest. A passivity knock on Matsumoto brought Porter within a point near the end of the period, but no further scoring took place.
Matsumoto was defeated by Dzmitry Kaminski (BLR) in the quarterfinal to end Porter's run at the tournament.
Notes:
This page will be updated with official placings Sunday evening.
As of now, the USA individual combined record at the 2019 U23 Worlds is 1-10.
Three US athletes from Day 1 lost to opponents who will be going for bronze later this afternoon: Sajan Sajan (77 kg, IND), who defeated Jesse Porter (NYAC/OTS); Matt Finesilver's (87 kg, Blue Blood WC) vanquisher Kiryl Maskevich (BLR); and Osman Yildirim (130 kg, TUR), who got past David Tate Orndorff (NYAC/UVRTC).
2019 U23 World Championships
November 1-3 — Budapest, Hungary
TEAM USA DAY 2 RESULTS
60 kg — Taylor LaMont (Sunkist/UVRTC) — 12th
LOSS Krisztian Kecskemeti (HUN) 5-3
67 kg — Peyton Omania (MSU/CYC) — 21st
LOSS Giorgi Kurtanidze (GEO) 8-0, TF
72 kg — Lenny Merkin (NJRTC) — 20th
LOSS Aleksander Erski (SRB) 4-0
82 kg — Andrew Berreyesa (NYAC/FLWC) — 16th
LOSS Aivengo Rikadze (GEO) 6-1
97 kg — Chad Porter (Sunkist) — 15th
LOSS Naoki Matsumoto (JPN) 3-2
TEAM USA DAY 1 RESULTS
55 kg — Brady Koontz (TMWC/Ohio RTC) — 18th
LOSS Amangali Bekbolatov (KAZ) 8-0, TF

63 kg — Dalton Roberts (NYAC/OTS) — 13th
LOSS Yerner Fidakhmetov (KAZ) 9-4

77 kg — Jesse Porter (NYAC/OTS) — 24th
LOSS Sajan Sajan (IND) 6-0

87 kg — Matt Finesilver (Blue Blood WC) — 26th
LOSS Kiryl Maskevich (BLR) 9-0, TF

130 kg — David Tate Orndorff (NYAC/UVRTC) — 10th
WON Deepak Poonia (IND) 6-1
LOSS Osman Yildirim (TUR) 8-0, TF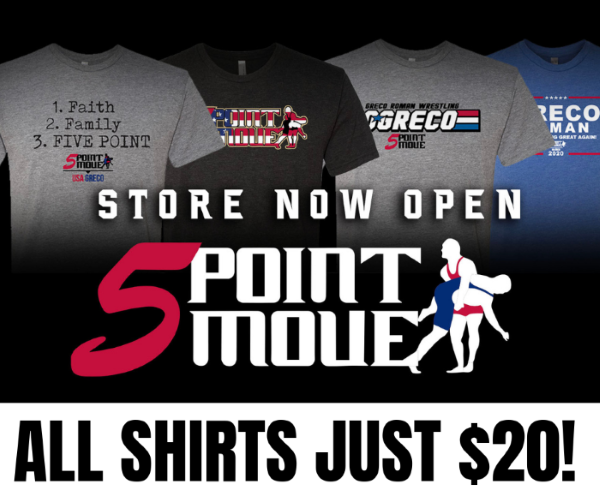 Listen to "5PM29: Junior world medalists Alston Nutter and Peyton Omania" on Spreaker.
SUBSCRIBE TO THE FIVE POINT MOVE PODCAST
iTunes | Stitcher | Spreaker | Google Play Music | RSS
Notice
: Trying to get property 'term_id' of non-object in
/home/fivepointwp/webapps/fivepointwp/wp-content/themes/flex-mag/functions.php
on line
999