Actual in-person attendance at the Armed Forces Championships is never large. It just isn't. The event is not set up (or promoted, if we're being honest) to draw in the casuals. Each year, one military installation or another gets to play host, usually in a space that falls between a middle school and high school gymnasium. Most of the folks in the bleachers live nearby, if not directly on base; or are parents, wives, girlfriends, or just plain friends of the combatants.
And they are the lucky ones.
Have you ever sat close to the mat during an Armed Forces bout? Forget the visual of two athletes breathlessly, feverishly attempting to pound one another into relative dust. It's what you hear that can't be ignored. Along with the grunts and guttural exertions common to wrestling, the ears also pick up vicious slaps and crunches of taught bodies angrily crashing together.


The sounds are those of a fistfight; and because the environment is much more intimate than the venues usually associated with national Senior wrestling competition, each audience member's eardrums become fully introduced to the audibility of violence.
They are military brethren first and foremost, and could be called upon to serve together during these times of seemingly perpetual geopolitical conflict. Service branch rivalries aside, this kinship automatically demands a mutual respect to which those of us civilians simply cannot relate.
But on this day they will fight each other with more ferocity than is even the norm in a sport that tends to pride itself on physicality. An annual ritual underscored by fellowship that should never be obscured despite its close-knit presentation, or disparity in resources.
2020 Armed Forces Greco-Roman
Three Key Army vs. Marines Matchups
The only unfortunate component of the Armed Forces Championships in this era is that the focus is placed on only two of the four teams — All-Army and All-Marine. Navy and Air Force both offer a handful of gifted, capable athletes. The problem is neither of those branches operate within the same scope of competition as their Army and Marine counterparts (though Air Force is making strides), or enjoy the same opportunities for Senior development. It wasn't always this way, but it is now. Hopefully, both programs will receive adequate future support so as to return to their prior degrees of prominence.
In the meantime, there are three superb potential bouts that require a closer look. Really four, if you count the pairing that is drawing so much attention it deserved an entire separate article.
63 kg: Ryan Mango (Army, world #13) vs. Xavier Johnson (Marines)
They first met just as Johnson was beginning to acquaint himself with Senior-level competition, and then again last summer in the Final X Series. Mango won in a two-match sweep to clinch his first Senior World Team spot, though Johnson did have his moments in both matches.
Regarding Olympic concerns, Mango and Johnson are in two different weight classes (Mango, 60 kg; Johnson, 67 kg). But 63 is in both athletes' wheelhouse, even with scratch weight required.
Both prefer body attacks on the feet but the difference is approach (and body types). Mango is more angular, and since he's so compact, is beholden to an explosive submarine level-change that he can employ from the side, as opposed to Johnson, whose level-change has to be respected — but often arrives from a more direct lane. Mango can also clear ties a little cleaner, though Johnson can force positions fairly easily provided he gets to his underhooks without abandoning his footwork.
Who is going to execute their lift? Par terre, cliché to note its influence but unavoidable, is likely to loom large. Johnson owns a dynamic side lift and has improved at pivoting off of his feet to bypass leg interference. He can lift anyone in the country within a decent weight range. Mango's lift requires more effort to clear the legs but is no less effective. However, if he has to, Mango can also rip a collapse gut and never look back. That is still a work-in-progress for Johnson.
Although Mango has taken charge of their series, there is no real distance between the two given the weight class. Everyone wants to see this match play out, and because what transpired last June was so entertaining, it would be an enormous upset if their contest on Saturday doesn't live up to its billing.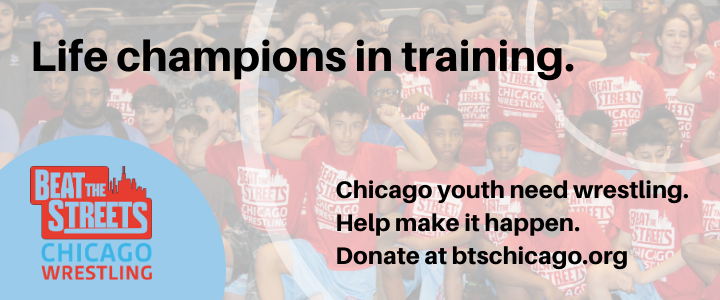 72 kg: Ray Bunker (Marines) vs. Michael Hooker (Army)
Some might argue Michael Hooker is when it all started for Bunker.
Although Bunker had nudged his way into the National argument by virtue of winning the '18 Bill Farrell and '19 Dave Schultz, it was his decision over Hooker at last year's Armed Forces that truly elevated his stock — and in the minds of many — ignited the momentum that led to his triumphant run at the US Open two months later.
In their Armed Forces bout a year ago, Hooker had the lead entering the second when Bunker used his par terre chance to crank his reverse gut for a critical pair of points. They banged heads again in the US Open semis, with Bunker scoring three of his four total points via first period PT — only that time it was a conventional gut.
Hooker represented a sizable obstacle for Bunker perception-wise. For as menacing and hard-charging as the Marine is, Hooker is the more complete natural wrestler who held a significant advantage when it came to Senior-level experience. But he could not rev up his offense in either match, largely because Bunker just has a way of minding a brutal pace while presenting a brick wall posture that deflects the majority of attacks.
One wrinkle surrounding their match on Saturday is Olympic Trials qualification. Because Bunker was on the '19 World Team, he's already in. Hooker, who fell in the 5th/6th bout at the US Nationals to Bunker's teammate Jamel Johnson, is not.
Since the top two placewinners at Armed Forces (not already qualified for the Trials) punches his ticket to State College, this is a prime opportunity for Hooker. Although he's likely to seal that deal at Kitsap one way or the other, solving the Bunker puzzle in the process would go a long way towards boosting his confidence level before April.
82 kg: John Stefanowicz (Marines) vs. Dillon Cowan (Army)
In 2017, Cowan defeated Stefanowicz in a brutal bout en-route to Army's eventual runaway team victory. Eight months later, they clashed in the Dave Schultz finals (at 87 kilos) in what was a tech win for Stefanowicz that was helped by some caution points and step-outs. Shortly after, Cowan went on a forced hiatus, but resumed his career this past December with a 1-2 performance at the Nationals.
Since '17, a lot has changed. Stefanowicz, finally a full-time athlete, now has a World Team appearance under his belt and is considered one of the US program's premier middleweights. Cowan, a former National finalist, once enjoyed similar status, and was for years an impressive technical competitor who brandished a jaw-droppingly beautiful arm spin (which is also one of Stefanowicz's preferred techniques).
They veered in different directions but are on a collision course this weekend. It is a good idea to dismiss Cowan's showing from December. He had recently returned to WCAP and was clearly nowhere near his apex. At his best, we are dealing with an exceptionally well-rounded American Greco athlete who can set traps for opponents on the feet and punish them mightily in par terre.
The biggest question hovering over this affair is actually relative to Stefanowicz's own viability. Has "STEF", over the past 27 months, created enough distance between he and Cowan heading into their next go-round? Or has Cowan, now back to basics and fully recharged, back to where he used to be?
We all know it's going to be physical. What we don't is how that physicality will translate into points. Given the talent level involved, combined experience, and intense environment, this one might be more chess match than blood bath. Either way, it is can't-miss stuff.
Greco-Roman at the 2020 Armed Forces Championships takes place on Saturday, February 22 and is available to watch FREE on Trackwrestling.


Listen to "5PM33: The Marine Corps' Jamel Johnson" on Spreaker.
SUBSCRIBE TO THE FIVE POINT MOVE PODCAST
iTunes | Stitcher | Spreaker | Google Play Music | RSS
Notice
: Trying to get property 'term_id' of non-object in
/home/fivepointwp/webapps/fivepointwp/wp-content/themes/flex-mag/functions.php
on line
999