Sometimes, a win isn't just a win. It's a moment in which everyone can take part and celebrate. Not out of fandom or personal affinities, or wrestling's version of tribalism. But rather, because the timing somehow aligned perfectly with the mood, and in such a way that the gravity of the situation compelled all those who witnessed it to join in on the triumph.
When Benji Peak (67 kg, Sunkist/NTS, 5PM #11) emerged victorious at the US Nationals in October, he played a vital role in helping declare wrestling's return to the spotlight. It had been over half a year since American Seniors were able to step on a mat in an actual meaningful live setting. Coralville, Iowa was the place, where Peak came to life and injected a dose of much-needed energy back into the consciousness. There were some fans in the brand new Xtream Arena scattered about the seats. Not a whole lot. Not enough, but maybe enough to jive with the circumstances. Coaches and officials donned masks or face shields whilst patrolling the battleground. A dystopic scene, in a sense.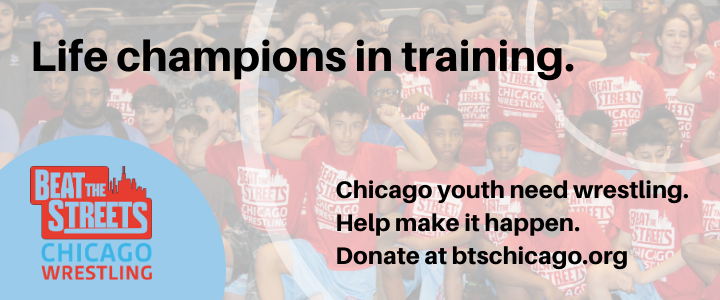 Didn't make a difference. We're all used to it by now. Wrestling had just awakened from a forced slumber. They could have all skipped around the arena in Haz-Mat suits, so long as it meant whistles would blow and points would be scored.
And in the middle of all this, Peak put in his best work to date. The training leading up to the event, as it had been for most competitors, was spotty. Northern Michigan had only resumed contact practices a few weeks prior. Yet, that didn't stop "Mr. Fantastic" from engineering a memorably fiery run. He had four opponents on that Friday. He tech'ed them all — quickly — outscoring the vanquished 37-0.
Of course, it was the final that captured everyone's attention the most. By quite a lot. That's the bout with which Peak is most associated. Facing off against former teammate and two-time National runner-up Calvin Germinaro (Minnesota Storm, 5PM #8), the lanky Wisconsinite took advantage of a second chance from par terre following a caution and bombed a side lift to end the match right then and there. Peak immediately sprang to his feet and joyously yelled at the top of his lungs. Germinaro, with whom Peak shares a close friendship, got caught up in the revelry, too. Everyone did. The entire squad of photographers all wound up snapping the same shots, with Peak and Germinaro arm-and-arm smiling as wide as their jaws would allow.
That did it.
When you parse the particulars, it is easy to see why the fan vote tallies for this year's award for Outstanding Individual Performance (say 'hello', Wisconsin) were lopsided in Peak's favor.
He didn't just win the Nationals. En-route to the prize, he had downed a string of excellent competitors, it was a potential career-making display of force, and he capped it all off with a sizzling lift. That Peak managed to then instinctively coerce his final opponent into enjoying the moment together served as a critical reminder to all of us: none of this can ever be taken for granted — nope, not ever; and competition is and has always been a communal affair. Both the athletes and the fans truly became one that evening, for the first time in a long time, and it happened in the best and most organic way possible thanks to Benji Peak.
2020 Outstanding Individual Performance
Benji Peak (Sunkist/NTS) — US Nationals
Peak on the massive amount of fan support he received
"I think it's kind of awesome, to be honest. I know that a lot of Wisconsin voted for me, so it's good to see that they're backing me up. But I also think that it shows people know my name in this sport, that I am starting to show people that this sport is not boring, and that I'm doing things that this sport needs. There are a bunch of people who won the Nationals at this tournament and there's a reason why mine stood out. That is what it says to me. I'm glad that I am doing the right things to help the sport out."
Peak on having a big Senior win under his belt at this stage of his career
"I beat some good guys in that tournament. I mean, Calvin (Germinaro) had just placed second (at the '19 Nationals) and I had taken him out. That means that I'm there and can wrestle with these people. At the same time, I do realize that there were a lot of guys who weren't there. I still need to stay focused and chip away at those bigger names.
"The reason why people may think that I am ahead of the game even though I'm younger is not from just being a natural-born wrestler. That has nothing to do with it. It is from being overseas and getting those real Greco wrestlers, the real feels, and the real technique that people here don't understand. Figuring that stuff out and bringing it into the United States helps me tremendously.
"My top game, very little of it was learned in the United States. It is all of what I learned in Sweden prior and I feel that it has changed my wrestling 100%. From that one trip to Sweden in March to now? I am a different wrestler because of that trip. Being there, learning those fundamentals and getting them finely-tuned with the foreigners just makes you ten times better. It's not even close. I have gone overseas more than a lot of the Senior guys who I'm wrestling, and have wrestled better guys while there. That is why I feel so much more confident wrestling these guys."
5PM Outstanding Individual Performance
2020: Benji Peak — US Nationals
2019: Nolan Baker — World Team Trials Challenge Tournament
2018: Dalton Roberts — Grand Prix of Germany


Listen to "5PM43: Christmas Time with Millersville's Kerry Regner" on Spreaker.
SUBSCRIBE TO THE FIVE POINT MOVE PODCAST
iTunes | Stitcher | Spreaker | Google Play Music
Notice
: Trying to get property 'term_id' of non-object in
/home/fivepointwp/webapps/fivepointwp/wp-content/themes/flex-mag/functions.php
on line
999