Entering this weekend, the United States Junior World Team had concluded each of the past four World Championships with at least two medals. That will not be the case in 2021. But the hardware streak itself is still alive thanks to a dual-style age-grouper who is also a Senior National Team member.
Day 2 of the 2021 Junior Greco-Roman World Championships began at 11:00am live from Ufa, Russia (2:00am ET) and aired in the US on FLOWrestling.
Young Mr. Braxton Amos (97 kg, Sunkist/Wisconsin RTC) bashed his way to the semifinal round on the strength of two one-sided victories a mere four days after storming to gold in freestyle. Amos' quest for two World titles in the same year was dashed by Russia's latest prized upper-weight prospect Aleksei Mileshin, though the semifinal loss deposits the West Virginian directly into tomorrow's bronze medal round.
Sizzling up-and-comer Nic Bouzakis (60 kg, PA) was able to rack up plenty of offense in his opener against Portugual's Miguel Loureiro Dos Santos but was felled in the proceeding round in a shootout with Arslanbek Salimov (POL).
Elsewhere for the Americans, it was another difficult day at the office. Dominic Damon (NMU/NTS) was downed by Russian Muslim Imadaev in the 67-kilogram qualification round; Justus Scott (LOG-LV) was defeated by Omer Dogan one weight class north; and Jonathon Fagen (Spartan Wrestling RTC) courageously dug in against Mikhail Khachaturau (BLR) to start off his second Worlds experience, but was ultimately on the losing end of a 7-2 decision.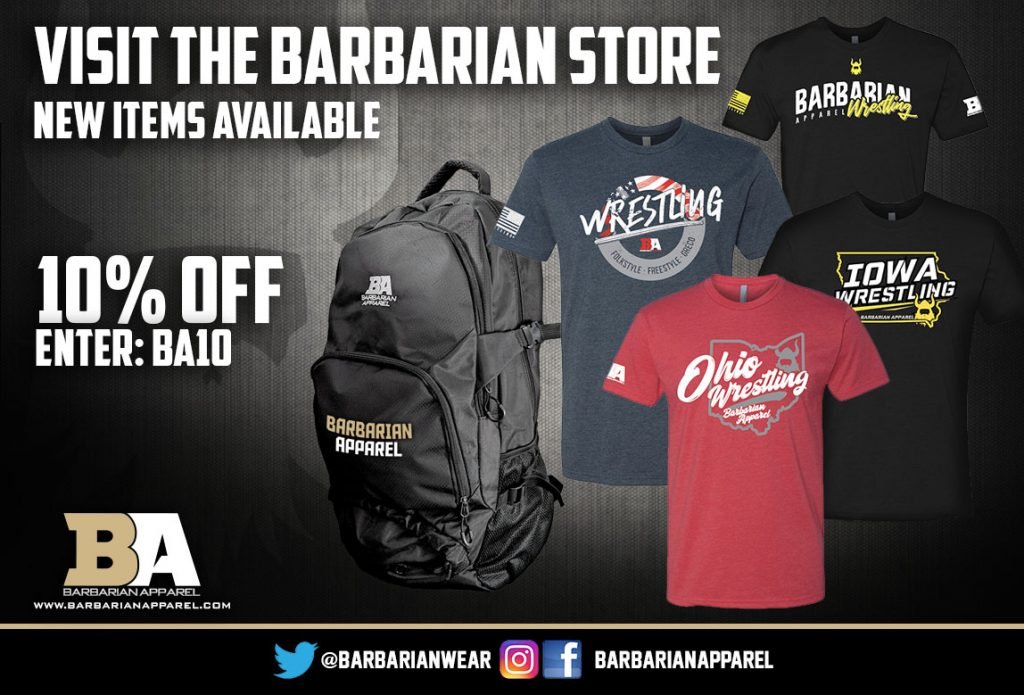 Amos
In a style of wrestling which features "touch falls", Amos must have had the officials confused as to what one indeed looks like, for he had headlocked Yerzat Yerlanov (KAZ) early in the first period — and Yerlanov appeared clearly and cleanly pinned soon after impact. The only call for Amos was four points. Back standing, and Amos resumed taking charge in the ties. He was the physically stronger wrestler of the two, of which he took advantage by bullying Yerlanov around the mat via snaps and fleeting two-on-ones.
The most critical component for Amos in this tournament was always going to be positioning. Yerlanov observed a looser, more adaptable posture, but was also constantly stymied by the pressure Amos brought to bear with his hips and footwork. Shortly before the break, passivity rang on Kazakhstan. Amos looked to wrap a front headlock from top par terre, and Yerlanov hardly budged.
Up 5-0 late in the second, Amos scored a takedown at the edge. He was only just warm, while Yerlanov had begun the fading process. One point was all that Amos needed to end the bout prematurely, which he did with :17 remaining by forcing Yerlanov off the line.
Mustafa Olgun (TUR) offered a stiffer test in the quarterfinal. He was more patient than Yerlanov from a pummeling perspective, more deliberate in checking Amos coming out of exchanges. Both came close to scoring in the first minute due to a sequence which saw Olgun snare Amos' arm for an inverted throw attempt, only to have Amos drag out and step over for an apparent takedown. The action was ruled a slip and they reset. When passivity arrived, the call was levied on Olgun to provide Amos with the bout's first point. A gutwrench was the decision this time. The American achieved his lock, rolling his wrist underneath in effort to crank over Olgun, who managed to stay pasted.
Up by a mere passivity knock, Amos kept the tempo in his favor to start the second. Although, Olgun was also beginning to assert himself more. Such is how it works internationally, with athletes anticipating passives reversing in second periods. Sure enough, Olgun received his chance from top :38 into the frame — and Amos defended with nary an issue.
Then, things starting getting different. 
A darting double-clutch body attack towards the line later in the period removed Olgun's criteria lead that was the result of the passivity. Turkey's insistence on staying in the fight, while admirable, was eventually being met with harder return fire from Amos. Because, the situation was still in doubt. 2-1 is hair thin, particularly at Junior; one off-balance or dodgy sequence could change a match's complexion in an instant. When it changed in Amos' quarterfinal, he was both the catalyst and the beneficiary. With under :20 to go, and with Olgun battle-weary, Amos swooped in for a takedown that put the score at 4-1. Desperation mode had naturally set in for Olgun on the reset. At the whistle, he bolted and bounded for an attempted "Flying Squirrel" — and Amos immediately reacted by wrapping the body and taking Olgun straight to his back. Only :02 were on the clock. Olgun did not bother to bridge or squirm, and the fall was called.
They do not seed the Junior World Championships. If they had in '21, Mileshin would have occupied the #1 slot. A Cadet World silver two years ago and a Junior European gold last month, Mileshin was thought to present the most complete package in the weight category, along with perhaps the most daunting challenge for Amos if they were to meet.
Amos, it should be said, was certainly not intimidated by Mileshin in any manner. The whistle blew, he squared his shoulders, and Mileshin had no choice but to acknowledge the initial contact. A tight left-side two-on-one was Amos' choice with wrestling firmly underway. He tried to wriggle the arm enough to create space, but Mileshin chopped through the brush to find an underhook. Rather than waste the position, Mileshin negotiated an attack around the body, using his right arm to complete a go-behind from which Amos could not escape. Back on the feet with more jousting. Amos seemed eager to busy up the works inside as Mileshin angularly divvied to different ties.
Passivity on Amos meant Mileshin's best opportunity to pile on points. He achieved his gut and raked three guts for a 7-0 lead. Upon standing, Amos found little trouble pummeling to a lefty underhook. But as a counter-measure, Mileshin pried his own left arm inside at Amo's hips, and pivoted with his right overhook to generate an off-balance on the line that led to another takedown, as well as the two points necessary to force the 9-0 stoppage.
Bouzakis & Fagen
In his zeal, Bouzakis over-reached on a headlock in the early going against Miguel Dos Santos (POR), promptly giving up a takedown since Dos Santos had shrugged it off and assumed control from the back. That one little fortuitous counter represented the sum of Dos Santos' offense. Bouzakis swiftly stepped over a reverse lock attempt to gain a point; and then from top, rotated three gutwrenches to surge ahead 7-2. The show would not go on much longer. Midway through the first, Bouzakis closed out Dos Santos with another takedown — and used a half-nelson to garner two exposure points for the 11-2 tech.
Salimov was a completely different type of threat for Bouzakis, as evidenced by a nasty headlock executed soon after the whistle. The fracas didn't end with Salimov's four; Bouzakis, as is his nature, fought and scrambled to reverse position, and came quite close to a trap-arm gut. After a reset, Bouzakis seized on a hip-to-hip 50/50 at the boundary for a step-out point to cut his deficit by one. Another flinging headlock from Salimov widened the gap to 8-3, but Bouzakis earned two more points following an exposure shortly before the period to stay within striking range.
Of the two, Bouzakis was expending more energy, though he also did not slow down once the second period commenced. He was cutting in on angles and easily reaching Salimov's body with favorable ties. The problem for Bouzakis was simply that Salimov's position availed appropriate counter measures. Another scramble near the line delivered a step-out point for Poland, and a takedown on the heels of a restart put him in the driver's seat at 11-5. Salimov tallied one more point in the waning stages of the contest via step-out.
Salimov was defeated in the semifinal by Saeid Esmaeili Leivesi (IRI), who had started his march to the gold-medal round by emerging victorious over Edmond Nazaryan (BUL) 2-2.
Operating against Khachaturau, Fagen demonstrated the right attitude by charging into the mix as soon as he was permitted to make contact. Khachaturau eased in and out of position, but the pace was even. Nevertheless, passivity was going to have its say, and Khachaturau received the first chance from top. A pair of guts made the score 5-0, though Fagen's initiative had not been dented. When action was brought back to the center, he continued to dig inside of Khachaturau's clutches in an effort to somehow break open a meaningful attempt.
Passivity flipped for Fagen in the second. It was his best chance to climb back into the argument. His lock looked solid, but Khachaturau would not be moved. Yet, there was no deviation in Fagen's resolve to be found. With time a factor, Khachaturau had likely thought he had heard the last of the eventual Cornell rep by scoring a takedown — except on the reset, Fagen compelled a step-out point. He wasn't going down without a fight, and he did not; but it was Khachaturau who advanced before falling to Mykyta Alieksieiev (UKR) in the round-of-eight.
Damon & Scott
Damon drew Imadaev, who had won the same Cadet World bracket of which Damon was part in '18. A questionable call transpired early in the first. The Northern Michigan student had a brief look at an arm spin, which saw Imadaev quickly shake off and cover. But — it was scored a takedown. Follow-up points were not earned, for Damon defended Imadaev's lock towards the edge. There was good movement on the US side, as Damon mustered his signature prodding, physical approach on the feet. Imadaev had only bare glances at potential attacks, and was more calculated by comparison. The officials got involved later than usual, which is to say with under a minute remaining in the period. Damon was dinged, Imadaev assumed top, and an elevated turn plus a conventional gut brought the score to 9-0. The US challenged on the four-pointer, but the call was upheld to give Imadaev another point to his total. Damon was eliminated from possible contention for bronze through the repechage bracket once Imadaev lost to Hasrat Jafarov (AZE) in the quarterfinal.
One question Scott will need not ask himself is, Did I give it my all? It was apparent to all who watched that Scott poured every ounce of desire and aggression into his showdown with Dogan. As is often the story, it came down to experience in prime positions and gaming tactics on the World level, something to which Scott will adjust going forward in his career.
Scott spit fire in the ties upon the bout's start, latching onto Dogan's forearms for two-on-ones and slapping inside the elbows for underhooks. The key for Dogan was bogging down the works long enough to create the illusion that he was the one advancing position. Neither were doing so, but passivity has to be hurled at someone, and that someone was Scott. Dogan capitalized with a gut — and as soon as he could, Scott hopped to his feet and hurriedly jogged back to the center.
Physicality is Scott's specialty, and head placement is part of that. He had also been, apparently, warned to keep his head up by the official. That is because with one minute on the clock before the intermission, Scott's head inadvertently clashed into Dogan's to elicit a caution. Two points went to Turkey for a 5-0 lead — and two more from a takedown were collected following the restart.
Despite his hustle, Scott was behind 7-0 as he walked onto the mat for the second period. Requiring one point to end the match, Dogan attempted an arm spin; Scott clasped head-and-arm for the yank-back, but as he went to arch, he had stepped out of bounds. Dogan received one point from the initial call. The US challenged, the on-the-mat ruling was upheld, and Dogan was credited with an 8-0 victory. Attila Toesmagi (HUN) decisioned Dogan in the quarterfinal to end Scott's tournament altogether.
As mentioned, Amos is automatically in the bronze-medal match and will square off against either Antti Haanpaeae (FIN) or Arkyt Orozbekov (KGZ). The medal round is slated to begin on Sunday at 6:00pm in Ufa (9:00am ET) and will air live on FLOWrestling (subscription required).
2021 JUNIOR WORLD CHAMPIONSHIPS
August 20-22 — Ufa, RUS
DAY 2 TEAM USA RESULTS
60 kg: Nic Bouzakis (PA)
WON Miguel Loureiro Dos Santos (POR) 11-2, TF
LOSS Arslanbek Salimov (POL) 12-5
67 kg: Dominic Damon (NMU/NTS)
LOSS Muslim Imadaev (RUS) 10-0, TF
72 kg: Justus Scott (LOG-LV)
LOSS Omer Dogan (TUR) 8-0, TF
82 kg: Jonathon Fagen (Spartan Wrestling RTC)
LOSS Mikhail Khachaturau (BLR) 7-2
97 kg: Braxton Amos (Sunkist/Wisconsin RTC)
WON Yerzat Yerlanov (KAZ) 8-0, TF
WON Mustafa Olgun (TUR) via fall
LOSS Aleksei Mileshin (RUS) 9-0, TF
DAY 1 TEAM USA RESULTS
55 kg: Billy Sullivan (LOG-LV)
LOSS Ishkar Kurbaev (KAZ) 11-2, TF
63 kg: Chayse LaJoie (Spartan Wrestling RTC)
LOSS Iman Mohammadi (IRI) 8-0, TF
77 kg: Matt Singleton (Compound)
LOSS Andreas Vasilakopoulos (GRE) 7-0
87 kg: Kodiak Stephens (Beaver Dam RTC)
LOSS Tyrone Sterkenburg (NED) 8-0, TF
LOSS Maksat Sailau (KAZ) 8-0, TF
130 kg: Luke Luffman (IRTC)
LOSS Razmik Kurdyan (ARM) 6-1





Listen to "5PM50: Mr. Fantastic Benji Peak" on Spreaker.
Listen to "5PM49: Robby Smith on coaching, fatherhood and mentors" on Spreaker.
Listen to "5PM48: Austin Morrow and Gary Mayabb" on Spreaker.
SUBSCRIBE TO THE FIVE POINT MOVE PODCAST
iTunes | Stitcher | Spreaker | Google Play Music