On the second day of 2021 (or 2020ne, if you prefer), realize that the most important upcoming event is not the US Olympic Trials in April.
Instead, it is the Last Chance Olympic Trials Qualifier.
Last year, Millersville University in Pennsylvania was set to host Last Chance (March 27-28) — but just two weeks prior, the pandemic came crashing down and everyone knows what happened next. As of now, it does not appear that Millersville will have the opportunity for a do-over, though it is worth noting that a new location for the tournament has yet to be announced by USA Wrestling.
An unusual amount of hype surrounded the 2020 Last Chance, and that has not changed one year later. The procedures for the Olympic Trials limited opportunities for athletes to qualify, resulting in a long list of capable wrestlers waiting on-deck for March.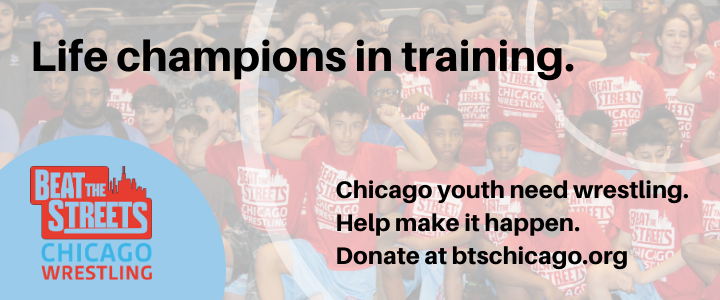 It was a process that began in November of '19.
The Bill Farrell Memorial provided a route for the highest-placing US wrestler not already qualified.
The December '19 US Nationals took the top-5 placewinners (who were not already qualified).
The '20 Armed Forces Championships followed suit with their top medalists and also included non-Olympic weight categories.
And because there was not a Dave Schultz Memorial in January, USA Wrestling stipulated that top-2 at the Last Chance Qualifier would receive Trials berths.
Once drafted and approved by the USOPC (US Olympic & Paralympic Committee), Olympic Trials procedures are not amendable. This is why the statuses of US National Champions (and All-Americans) from October who were left out previously have not changed. Currently, there are 58 Greco-Roman athletes who enjoy guaranteed bracket spots in April. Following Last Chance, 12 more will be added for a total of 70.
2021 Watchlist: US Last Chance Olympic Trials Qualifier
The most efficient mechanism available for generating this year's Watchlist is derived from the 5PM Rankings. But — rankings alone bring an incompleteness, primarily because there are wrestlers whom have only recently begun their full-time careers (or in one particular case, have not competed in a quite a while). Despite compressed sample sizes, these competitors are mentioned due either to recent performance or reputation.
60 kg
Travis Rice (NYAC/IRTC, 5PM #9)
'15 Junior World Team, '18 U23 World Team
Was prepared for a big performance at the most recent Nationals until being forced to leave Iowa due to contact tracing. Has consistently trained throughout the pandemic and, assuming weight isn't an issue, will be considered the most well-rounded threat in this bracket. 
Randon Miranda (NYAC/CYC, 5PM #10)
'16 Junior World Team, '17 Junior World Team, '18 U23 World Team, '18-19 US National Team, '19 U23 World Team Trials Champion
A little rusty at the Senior tournament, timing wasn't the same. However, he was hardly alone in that regard among full-time Seniors. Things clicked much better at U23 a month later, falling only to Taylor LaMont for gold. When operating at maximum capacity, few can deal with his movement, counters, and ability to chain-score.
Matt Schmitt (WV, 5PM #11)
Missing in action since the '19 Farrell, where his name came up in multiple conversations after the fact. If the interest is still there — along with a semblance of training — would challenge most of those who show up for this event. You'd hate to see his ability wind up becoming squandered.
Brady Koontz (TMWC/Ohio RTC, 5PM #12)
'18 Junior World Team, '19 U23 World Team, '19 Final X Runner-up, US National Team
Lost to twin Dylan in October, which was a fun match. Rebounded after that until taking a competitive loss to Miranda. That elbow-deep gut is real a moneymaker but Koontz needs to start asserting himself more on the feet so as to earn more opportunities to use it, which might prove critical in this event. 
Alex Thomsen (Nebraska Wrestling TC, 5PM #13)
'20 US National Champion
Ranked and mentioned due to his dazzling Nationals performance despite the widely-held belief he will take a pass on this next tournament. Shame if that's the case. All of the intuition and improvisation that were available during his younger years could translate to Senior success if applied in the right direction — immediately. 
Dylan Gregerson (UVRTC)
'20 U23 National Champion
Definitively in the argument. Did not have to take a prolonged break or pine for mat time over the course of what was an excruciating hiatus for the majority of his contemporaries. Pair that with what you knew about him already, the growing sample size plus a terrific training environment, and his candidacy becomes academic. 
David Stepanian (NYAC/NMU)
At the moment fueled by disdain for his most recent outing, which was a jarring loss in the Junior finals. But it pays to rewind a little bit. At the close of '19, Stepanian and Schmitt were the two wildcards everyone wanted to discuss. He had momentum. It got lost in the chaos temporarily, but could appear once again at the exact right time. 
Mason Hartshorn (CYC)
'20 U23 National Champion
Can compete now with Seniors, has already pushed or defeated others on the cusp. Because the schooling has been there since his youth, Hartshorn entered National-level competition with a very strong foundation. One of the next generation's most polished technicians who just might contend immediately. 
LilShawn Greedy (Army/WCAP)
Hindered by inconsistency, which obscures what he can actually do when zeroed in appropriately. Experience, or lack thereof, is not the problem. It has been a minute now. He knows what is expected, but sometimes finds himself caught in odd scrambles or falling short defensively — when he's really the one who should constantly be putting others on the defensive. 
Dalton Duffield (All-Army)
'18 U23 World Team, 2X US National Team
Very, very talented and Greco is lucky to have him. He has done nothing other than contend for Team spots and National titles over the past two years. But — those moments occurred at 55 kilos. While that weight cut was not a lot of fun for him, the landscape at 60 is different. If he can adjust accordingly, someone to follow closely. 
Dylan Koontz (TMWC/Ohio RTC)
Not exactly a carbon copy of Brady, although that's the misinformed narrative. Tools are similar; so is, obviously, the body type. The general approach deviates somewhat. More apt to finding alternative routes in tie-ups, little more willingness to gamble on an opening. Equally capable of advancing to the final. 
67 kg
Austin Morrow (NYAC/NTS, 5PM #10)
'16 University National Champion
The past is the past, and the past includes a frustrating history with shoulder injuries. The kind of wrestler who thrives on a steady diet of matches, so this whole waiting game must be unnerving for him. The most complete package here: on-the-feet toughness, clean lifts from PT, zeal for violence, superb conditioning, superb attitude. Even his antagonists can't help but admire him. 
Hayden Tuma (UA, 5PM #5)
'16 US National Champion, '17 World Team Trials runner-up, 3X US National Team
Is said to have considered trying the drop to 60. Anything is possible, though it seems unlikely. The one thing you do know is that whenever Tuma has been comfortable in a weight class, he is undoubtedly one of the most potent and explosive wrestlers in the nation. A laser beam lift, fantastic pummeler. If motivated and healthy, yikes. 
Benji Peak (Sunkist/NTS, 5PM #11)
'20 US National Champion, '18 Junior World Team Trials Champion
Might be a solid idea to dismiss the result from Juniors in November. In addition to his Senior breakthrough before that, had already generated massive attention thanks to a closet full of international medals. Admits to having worked ardently on his lift prior to the fall, and that thing could turn into quite the dependable weapon. 
Nick Tarpley (NYAC, 5PM #12)
You would have liked to see the progression through the winter and into the spring. He hasn't had to face the scale yet and then go out and compete, but that doesn't deter his prospects. Seemed like he was close to going on a tear at 72, likely his ideal weight. Well-traveled, well-rounded, and still improving. Most intriguing entrant if this is his bracket.
Lenny Merkin (NYAC/NJRTC, 5PM #13)
'19 U23 World Team
Third at Senior in October, third at U23 in November. His losses in each tournament were to fellow top young guns (Calvin Germinaro and Peak, respectively), meaning that he's right there in the thick of it. Loves the overhooks. Sees saltos and headlocks in his dreams. Fun to watch. Consistency starting to follow. 
Jessy Williams (NYAC/Spartan Combat WC, 5PM #14)
'18 US National runner-up, '15 University National Champion
Too good to be struggling as much as he has been. Confounding, as if there is a forcefield around his body and brain holding him back in matches. Would help to rediscover the viciousness that used to accompany his performances. No one here has more available skills or relevant experience. Almost want to see him pop someone in the mouth at the whistle. 
Anthony Abidin (West Point RTC, 5PM #15)
Can rely on his prior ability until Senior-level nuances catch up. Has had the privilege of working with several highly-established athletes on occasion, but that doesn't mean anything unless it translates into competition. It has so far. Dynamic and relentless. That's a more-than suitable baseline combination. 
Morgan Flaharty (NYAC)
On the same wavelength as the rest of this lot. You root for him to pull the trigger more often. There is explosiveness lying beneath the surface here, and he finds the right positions. But he reacts to others more than forcing them to react, which causes positional abandonment. Becoming the bully seems like a potential difference-maker. Underrated. 
Jasiah Williams (CSU-Pueblo RTC)
Was encouraging to see someone like Williams have an opportunity to show what he can do against a small collection of more-experienced competitors. He was playing with house money, that worked in his favor. But it's hard to ignore the transitional speed. A decisive Greco athlete in spite of the lack of logged miles. His development is something to look forward to.


Listen to "5PM43: Christmas Time with Millersville's Kerry Regner" on Spreaker.
SUBSCRIBE TO THE FIVE POINT MOVE PODCAST
iTunes | Stitcher | Spreaker | Google Play Music
Notice
: Trying to get property 'term_id' of non-object in
/home/fivepointwp/webapps/fivepointwp/wp-content/themes/flex-mag/functions.php
on line
999