Last week saw the premier of Five Point Move's official United States Greco-Roman rankings. The format of the first edition, which will continue until after the 2020ne US Olympic Trials, lists athletes according to the six Olympic weight categories using a variety of parameters, including: a point system based on tournament placings (foreign and domestic); "relevant head-to-head" results; recent performances; and in several cases, subjective reasoning.
For a deeper dive into how rankings are decided, please go here and here.


In an effort to demonstrate accountability, we went to a distinct group of competitors for their perspectives on our rankings system — '19 World Team member Ryan Mango (60 kg, Army/WCAP, world #14, 5PM #2), Sammy Jones (60 kg, NYAC/Utah RTC, 5PM #5), '19 World Teamer Ray Bunker (67 kg, Marines, world #11, 5PM #3), and Nolan Baker (67 kg, NYAC, 5PM #6).
The athletes were asked to share their general opinions, good or bad, regarding our methodology. Criticism was hard to come by, though unsurprisingly, the "rankings don't matter" theme took hold for three of the four wrestlers. Bunker was particularly hard-lined in his assessment of the situation, and his words ring out almost as a challenge to everyone in his weight division. Meanwhile, Baker enthusiastically embraced the process and dug into some good-natured details revolving around his appreciation for such bookkeeping.
Ryan Mango (60 kg, Army/WCAP, 5PM #2)
"First and foremost, I think we all know that rankings don't really matter. At the end of the day, you have to beat everyone. But I do think it is good for guys to be able to judge where they are and where they stand in their weight class. I like the 5PM rankings for a few reasons: firstly, they are based on numbers and competitions that matter, competitions that you need to be winning if you're going to win a World or Olympic medal, and based on the results from those competitions you earn points.
"Having a point system in place is good, but what I also like that is taken into account are proven track records. It's not playing favorites, really. If a guy has a proven track record and they were injured and didn't wrestle in whatever tournament, then that shouldn't affect their ranking because his ability is still there. I think there is a good job of balancing those things using data, statistics, point systems, and a little bit of common sense for the guys who have been hurt or out for a little while and didn't get the chance to compete at some of the tournaments. I don't have any criticisms, but that is not to say there aren't some things that can't be fixed going forward."
Sammy Jones (60 kg, NYAC/Utah RTC, 5PM #5)
"I read a brief overview of the system, looked at my ranking, and thought, Yeah, that makes sense. I looked at it like a record thing. Those guys have wins over me, so they're ahead of me. The way I look at rankings if that I don't care at all. They mean literally nothing. Nothing past is going to affect how I wrestle today; nothing in the future is going to affect how I wrestle today. You have to show up today, so that's how I look at rankings. I see them as they're awesome. My family reads them, they think it's cool. They get to look at statistics, so they geek out about it. In that regard, it's great to have. It also plays literally has no affect on myself or how I'm training. I know I have a goal to an Olympic Champion, a World Champion. That's what motivates me, not, Oh my gosh — this guy or that guy from the Army is ranked above me. I'm so mad they're ranked above me! (laughs)."
Ray Bunker (67 kg, Marines, 5PM #3)
"I checked them out because people were talking about them, so I was like, Yeah, okay. Obviously, you're taking all of the different athletes and crunching them down into the six Olympic weight classes. No one really knows what the rankings will be until we actually wrestle the Olympic Trials. Obviously, we have guys certain guys who actually qualified their weights, so technically they are ranked #1, but they're really not (#1). I mean, you have to rank them, but they still have to defend that. Personally, in my opinion, I expected to be ranked high, regardless. It doesn't matter to me because I plan on winning the whole thing. I think it really is interesting and important to put content out there like that because the average person doesn't really know. Some athletes might think they're the best, but they know who the actual best is. They know who the guy to beat is at each weight, they know who their competition is.
"I know some guys who are butt-hurt about it, but if they don't like it they should go out there and do something about it. A lot of guys, they get caught up in the rankings, the pictures, all of this sh*t, but none of it actually matters until you go to a tournament and we all know who the winner is, we all know who #1 is. You know who the top guys are at each weight class and you can arrange that in any way. You have World Team member, World Team member, Olympian, or whatever. If someone has been dominant at a weight class for a decade? Like I wouldn't say Spenser Mango shouldn't be ranked #1. How would you rank that differently?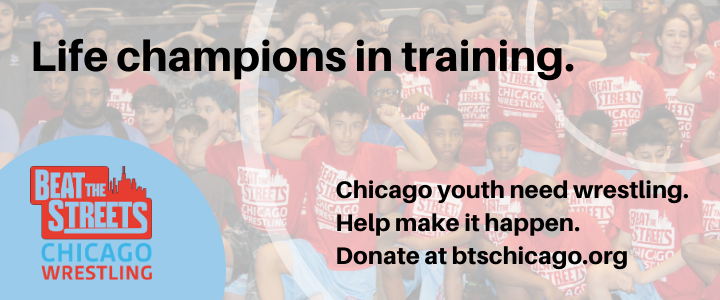 "I think it's good that there are people mentioned who are up-and-coming guys. There is like, an honorable mention section that basically says, Hey, they've got a shot, too. Everyone is kind of in there, which is cool. But for me personally, I can give two sh*ts what anyone else in the world thinks except for myself because I know when the time comes I'm going to get the job done. Everyone can get caught up in all of their other bullcrap because you just have to go get it. You have to put in the work everyday, and I know that a lot of these guys don't put the work. I go home and put in more work. You could not even rank me on there and I wouldn't give a sh*t. Someone could say something like, You're not ranked… And it's like, I don't give a f***k. I'm going to win the tournament.
"If anything, it should motivate them. If they're not where they want to be as far as being perceived by the public, and that's something they care about? Then they should make the public believe that. For example, I was one of those guys who no one knew who the f***k I was until 2019. Very few people saw me coming. You did, you wrote articles. But other people? They didn't give a sh*t about me and then out of the clear, blue sky I went and took everything. I didn't lose a Greco match in the US all of last year. You just have to go take it. If someone is caught up in the rankings then they are in this for the wrong reasons. You should be in it to win it, and it shouldn't affect them. And if it does affect them? Good, because I have to compete against those guys, and if they're soft about it then it makes me feel better they are sensitive in that area."
Nolan Baker (67 kg, NYAC, 5PM #6)
"Just a little side note to begin with, you know how people say 'rankings don't matter'? They're probably being true to themselves. But a guy like me, normal people? Rankings matter to us because when you see yourself in the rankings, it's, Hell yeah, or, Hell, no (laughs). I always get a little adrenaline boost seeing myself in the rankings. In high school, if I didn't see myself in the rankings I would be like, What the heck? I get a confidence boost from being in the rankings. I love looking at rankings, it keeps it exciting for me.
"As far as the Five Point Move system, I honestly loved it. I had no problem with it. For example, you might think I would have a problem with it, because — and I don't mean to dwell on this — I beat Jamel (Johnson) twice, two out of two times, and he's ranked above me. But I personally don't have a problem with that because in the grand scheme of rankings he has proven himself more consistently and successfully on the international and national level over the course of the years. You could throw a fuss and be like, Well, I should be one higher. But I mean, as long as you are in the mix, it is a nod to the fact that you've done X, Y, and Z to get on the rankings. And then the point system also gives a nod to the consistency and results people have acquired recently or throughout their whole careers. I have no qualms with the system."
"Everyone says rankings don't matter, but then during quarantine it was, You have to stay motivated. I feel like I'm kind of an 'average Joe' wrestler. I like getting praise from other people, and I like having competitions to work towards. There are reasons why I like things like that. In wrestling, it is very much 'only the competition matters'. It doesn't matter how bad you've been performing in practice, if you can string it together in a tournament you can be a National champion or an All-American at this tournament and get the respect you deserve. But the second that tournament is over, the outcome doesn't matter until we get to the next tournament. Which is fair, but in a system like jiu-jitsu, you can become a black belt whether you are competing or not. You can walk around the street with a strut saying, Well, I'm a black belt.
Competition takes supreme dominance over rankings in my opinion — but, if I see a ranking for USA Greco or whatever, I'm assuming the #1 guy can beat the #10 guy, but I'm also assuming everyone on that list is a 'black belt' in Greco-Roman wrestling. So, seeing my name on this list makes me walk around with a strut in my step thinking, Well, someone else thinks I'm a black belt in Greco. That's why I like rankings. Through the high school season, I was like, Everything comes down to what happens on the night of the state finals. But before then, I can get a little more motivation just knowing people perceive me as being that good. That's just what I think."


Listen to "5PM40: Sam Hazewinkel and Jesse Porter" on Spreaker.
SUBSCRIBE TO THE FIVE POINT MOVE PODCAST
iTunes | Stitcher | Spreaker | Google Play Music
Notice
: Trying to get property 'term_id' of non-object in
/home/fivepointwp/webapps/fivepointwp/wp-content/themes/flex-mag/functions.php
on line
999