Five Point Move is proud to host USA Greco-Roman National Team head coach Matt Lindland each week for Coach Lindland's Report. Here is where you will find detailed perspectives from Coach Lindland regarding results, training, upcoming events, and other Greco-related news that isn't available anywhere else. ALSO — if you would like to donate directly to the US Greco-Roman program, just click here. Your support is appreciated!
As you might expect, this week's Coach Lindland's Report focuses on the 2018 US Senior World Team Trials. What Lindland liked most — and conversely, liked least about the all-important domestic event kicks off the discussion. Of course, several individual performances are isolated, including those of Adam Coon (130 kg, Cliff Keen WC), Jon Jay Chavez (72 kg, NYAC/FLWC), Jesse Thielke (63 kg, NYAC/LOG), and Patrick Martinez (87 kg, NYAC). In addition, Lindland also answers questions pertaining to the tournament's scheduling, how it related to the Final X Series, and impending training plans for the Seniors. Finally, with the US Cadet World Team about to take off for Zagreb ahead of next week's World Championships, Lindland opines on that squad's quick turnaround and whether or not it might be an advantage.
5PM: What did you like most about the Trials, and what did you like least?
Coach Matt Lindland: I think what I liked most is that you saw a lot of guys fighting to get on this Team. We had four series go to a third match. We had some guys (win) who were maybe unexpected, but I think I had a pretty good pulse on guys who were capable, for sure, and I certainly wasn't surprised that the guys who won were able to step up. The one result that did surprise me just because I didn't expect him down at that weight class was Jon Jay Chavez. It was kind of a surprise he was going down to 72 (kilograms), I heard about that the day before weigh-ins. We've seen him as high as 82, but he was highly-competitive and maybe more mobile and explosive at that weight than any other.
So that was a little bit of a surprise, but overall, I think I enjoyed the competitiveness of all the matches throughout the tournament. Guys fought really hard to get out of that mini tournament and the athletes in the finals competed incredibly well. I was impressed. There were some good adjustments made by some of the athletes between the Open and the Trials. Especially a guy like Adam Coon, he made some really impressive adjustments to his style and put a plan together to beat a really savvy veteran.
What did I like least? I think we can still get better with our officiating. I think there were some iffy things that went on in the tournament. I didn't agree with all of the calls. But overall, it wasn't the worst I had ever seen. There is certainly room for improvement. What I do like is that officials are meeting a lot with Coach (Gary) Mayabb, taking our recommendations, and trying to implement them. So they are trying to get better, they have a desire to improve. They're not just doing their own thing. They are actually open to criticism and feedback, so I think even that's a positive.
But at the end of the day, I think we got the right guys on the Team. It wasn't so bad that we didn't get the right guys on the Team, to tell you the truth.
5PM: Part of that I would imagine is some of the more experienced officials were not available for the Senior Greco Trials because they were preparing for the freestyle event in Pennsylvania the next day. There were some newer officials who probably wouldn't have been assigned a Senior Trials tournament because of that, which played into some of this to a degree.
ML: I think that definitely played into it. I do think that they put a lot of emphasis on the Final X. They put a lot of promotion, a lot of marketing into it. I sent a message out on Twitter just to let people know we did actually have our Trials going on because from most of the media you wouldn't have really known that, since there was such an emphasis put on the Final X with the women's and the freestyle. I understand, and we could have probably participated in that, but my hope, as I said last time we recorded, was that we could recruit some of these freestyle guys over. Had we been there the same time as them we wouldn't have a new heavyweight on our Team. I think we did the right thing overall by separating ourselves. We still need to make some adjustments with our schedule and I was really happy that I have a lot of leeway and flexibility now from our upper leadership telling me, Hey, if you want to make more adjustments, go ahead, you have the freedom. 
So I do have the freedom to do that, and while we were there at the tournament we had all of the club coaches who are part of our program in a little meeting after the second day's weigh-ins. We discussed what next year's schedule might possibly look like. Should we get our Team selected a lot earlier? Is that the right thing to do? There are a lot of pros to it and there are also some cons to it, as well. What I have to do is send our best guys to the Pan Ams next year. Absolutely. We're going to have a camp, we're going to prepare, and we're going to take our best team. Now, is that the best Team from 2018, or 2019, and we select it in December or January? Or do we keep these guys hungry and wanting to fight all the way up until maybe June with the 2019 Worlds taking place in September?
There is a lot of scheduling that has to get done for next year that is going to result in the best performance possible for our Team. That's why I wanted to get some feedback from everybody. I don't want to just make these decisions unilaterally without discussing it with all of our stakeholders, to tell you the truth. There are a lot of great wrestling minds in our coaching pool who I want to hear from and what they think. But ultimately, it is always about putting your best guys on the mat overseas whether that's the Pan Americans or the World Championships. I learned a lot of lessons this year after taking our best team, but after a very high-profile event which was the US Open. We're not going to make that mistake again. We are going to take a prepared team that is ready to compete.
We are going to make some adjustments. I just don't know what they are going to look like yet.
5PM: How did you feel about the finals beginning in the early afternoon? Did you like that?
ML: I did, I think I did. I mean, I liked that we got in there, got things going, and got the tournament done. But I think you still want to consider the promotional aspect. Friday nights are the best nights to watch TV. We were a little earlier than Friday night. People work during the day. I don't know if we captured those numbers, and I don't know if I'll actually ever get those numbers, if they will share their analytics with us or anything.
You know, Saturday nights, people are doing things. There's a lot going on Saturday night. I promoted a lot of events in my lifetime and I know what TV wants, they want Friday nights. I know what a live crowd wants, which is a Saturday night event. You can't serve them both. I promoted fights on Friday nights and we had really great viewership on TV. But, it is hard to get home from work, get showered, get dressed, eat, and then go to an event. With Saturday night, you have all day to get ready for an event later that evening.
So I think people love going to an event on Saturdays, but I also think if it is going to be something like what we did, there isn't going to be a huge crowd in Tulsa. There will be some local fans and some friends and families who are there to support, but I want to get the most viewership, as well. I think Friday night might have been a little bit better for viewership. I know if I wasn't there at the event that I'd much rather watch on TV Friday night — but go to an event on Saturday night. But you have to be in the same city to attend those events.
5PM: Without knowing yet what is going to happen next year and when or where the Trials will be — and whether it's attached to the other thing or not, or if the Greco Trials are separated and its own entity again — has there ever been the thought to hold the event in a more Greco-friendly environment like Wisconsin or Minnesota?
Coach Matt Lindland: Oh, I think that's always a thought. This whole Final X, I mean, it isn't new. We did it in 2015. We got down to a final two, we promoted it and we showcased it in a sold-out arena at Cornell University — which started off as our first Greco-Roman regional training center that is turning out to be quite a success. They've got two Greco-Roman athletes on a World Team and they also have a freestyle World Team member. Putting an emphasis on Greco-Roman has allowed Cornell and the New York RTC to really accelerate what they are trying to do, and I think that's great.
I don't know, I think there has to be a balance. Do you want to grow an audience in a new environment? Or do you want to go to a place where you will probably get a big crowd? I would probably tend to go with somewhere that would draw a big crowd with big numbers because you want a lot of fan involvement. But you also want to start a new market, and I think at the time with Cornell, that was the right thing to do.
5PM: You're not exactly a contemporary to this man. You might have been if you kept competing just another couple of years because your careers would have overlapped. You have a 35-year-old World Team member this year. How does it feel to have someone who comes with such an impressive pedigree and for whom age apparently isn't a factor?
ML: Yeah, age is not a factor for that man. Like I said, the right guys made the Team. The guys who competed the best at that event are all excited about the chance to fight for a World medal, which is what we want. I don't think there is anyone who is just satisfied with being on the Team, and that includes Sam Hazewinkel (55 kg, Sunkist). He's looking to go get a medal at the World Championships or at least do everything he can to attempt that feat. Sam is a great man. We often talk about trying to develop leaders on our Team. Well, we've got one who is already a leader. He is the leader of his own college program, he is a head coach. If we want to help develop some leadership within our Team, I think we've got the right guy to help us do that.
When we go to this first camp, we are going to be putting our athletes into small groups and there will be a leader in each one of those groups. We are going to separate them according to which day they compete at the World Championships. The first small team will be 55, 63, 72, and 82. And out of that group, Sam will be the leader. The second group will be the Day 2 athletes — 60, 87, and 130. Adam Coon will be the leader of that group. And then we have some young guys on Day 3 — 67, 77, and 97 — and Kamal Bey (Sunkist) will be the leader in that group. What we are going to do is that the leaders of all those groups will also be meeting together, and those two guys (Hazewinkel and Coon) will have the opportunity to mentor Kamal, because Kamal is a young leader. He is a newly-developing leader in our program. He is someone who has the desire to be a leader within our program and someone who is working on his leadership skills. I think it will be a great opportunity.
It is kind of a paradox when you talk about bringing the Team together but then I am going to split them up into groups (laughs). It's really a paradox, because you'd think we want to bring everyone together. Well, you have ten athletes. Ten athletes is too big of a group. You look at most small groups like the Navy Seals, they are small three or six-man teams. I think we do need to break our guys down into groups in order to bring them together. I think that is what is going to allow that team cohesiveness and unity to build, by breaking us down into smaller groups, and within each of those smaller groups they will be holding the other group accountable. They will be leading and then coming together as a council and talk about some of those pressing issues we've been discussing for several years now.
5PM: Will the upcoming Senior camp in Eagle Creek differ in curriculum compared to last year? Or will it be the same combination of conditioning/cross-training and then team-building activities later on in the day?
ML: There is definitely going to be some team-building but I think we learned some lessons from last year. One of the biggest lessons we learned is that maybe we weren't focused enough on recovery during our time off. We had way too many activities going on. We had a lot of fun — I mean, you saw the pictures and heard all of the different  stories from the activities we had lined up. It's hard, because when I come to my hometown everyone wants to take the guys rafting, take them fishing, take them shooting, take them out on the jet boats. I think we are going to limit those activities and focus more within the small groups around the house. We have some stand-up paddleboards at the house with a small creek right near us. It's July, we'll be able to do some hiking and get up to the hot springs on recovery days. We'll definitely incorporate a lot of those activities, but it is also definitely going to be more focused on the work and the recovery.
5PM: 63 kilograms was one of the more highly-anticipated finals on Friday. There was a lot of synergy between Jesse Thielke and Ryan Mango. They met in the Trials final for the 2013 Budapest Worlds. Five years later, it's the exact same thing, just different weight class. Same World Championships location and everything. Who they are matters a lot, too. Mango had been on a surge, beat Thielke quickly at the Open, and seemed to have figured out a missing piece to his approach. But then again, Jesse is just a brilliant big-game performer. How did you see all of this as it happened?
Coach Matt Lindland: I think you said it well, Jesse is a brilliant big-game competitor and he is certainly capable. We saw what he did at the Trials in two-straight matches. He handled both matches very well. But we have also seen what Ryan Mango is capable of, too. It really comes down to who imposes their will in that match. Who gets to their ties, to their positions, and scores their points. We saw it at the US Open. Ryan Mango was able to get to his position on top and he was able to execute and finish that match. He made it look easy. He made it look like Jesse wasn't a threat, and I think it would be a mistake for anyone to overlook Jesse Thielke. He is one of the most talented and experienced guys on on our Team.
I just think it comes down to who is mentally prepared that day, who can impose their will, and who can get to their tie-ups, attacks, and score from positions. You can't wait for the match to come to you. No, you have to go and take the match. The guys who won here, including Jesse, all took the match to their opponents. Whether it was in two straight or throughout all three bouts, they really took the matches to their opponents.
I think that's what happened. But — we are getting better as a Team. That's why we saw what Ryan Mango was capable of doing at the US Open, it's because our program is getting better and we have more depth now. These are great things. This is a good, positive direction that our program is headed in. I'm thrilled with the guys we have. I remember when I was wrestling there was a gentleman named Filiberto Azcuy who I could not beat for the life of me. I beat him once but he kept winning, and then I figured out how to beat him. But when I did, I beat him at the Pan Am Games in 1999, he dropped down a weight class but their (Cuba's) backup was a World Champion.
I want to have those problems, where you can't make a Team because there is a two-time Olympic Champion in front of you, and if you drop down a weight class, well don't worry, because I have a World Champion who had been riding the pine for a couple of years now and we'll just bring him out of retirement. I don't think we're quite there yet, but we're heading in that direction. We are gaining a lot of depth and there are some really good guys who won't be going to a World Championships this year because the US Team can only take one representative. That's a good problem to have.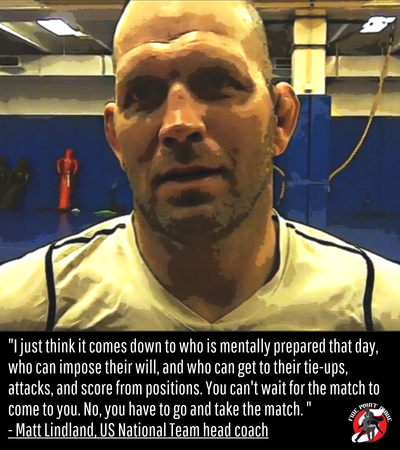 5PM: On one hand, I don't see this Team as being the result of "turnover" just because of the experience available in certain spots and even if it's their first Senior Worlds, it's not their first Team by any means. On the other, there is a lot of hunger here. It's not to take anything away from the guys who lost in the finals, but there are several athletes here who are practically dying for a chance to fight for a World medal. They don't see making the Team as a means to an end, and I think that is a narrative that kind of gets lost following a Trials like this. 
ML: I hope that's in an article because you explained it better than I could. That is what I was trying to say, because you have a lot of young, hungry guys who want the chance to prove what they are capable of doing at the World Championships. They didn't look at the Team and say, Wow, there is a bunch of weak wrestlers at this weight and I want to take them out just so I can make it on the Team. No, they looked around and said, There are some really good wrestlers and they haven't gotten it done at the World Championships and I want my chance at doing this, so what do I have to do to make that happen? I have to get on the Team. And they did everything in their power to put themselves in a position to go to the World Championships so they can prove what they are capable of doing, and they are going to have that chance in October. They are going to have the opportunity to prepare for the next four months and they are going to go out and do something.
It isn't like first-timers don't win medals. I remember there was a first-timer at the 1996 Olympics. In fact, it was the first time he wrestled a Senior match, and that was Hamza Yerlikaya, who won the Olympic Games. There are a lot of examples of guys who get that opportunity — and maybe it's their only opportunity — and they take advantage of that. I think these are the type of athletes we have on this Team. They have that kind of hunger, that desire, and that intensity to go take that opportunity and say, I might not make a Team next year because of the depth we have in our program and I better take advantage of this opportunity. I am really thrilled and excited about what these guys are capable of doing and helping them get to the point where they are going to be able to do that at the Worlds.
5PM: Fans like to see a lot of scoring and there definitely wasn't that in the 87-kilogram final. But it was probably the most physical, hard-hitting final we've had the past couple of years. What does it say for a guy like Patrick Martinez to be able to take a pair of bouts from two-time Olympian Ben Provisor, especially considering that Martinez had never beaten Ben before Friday afternoon?
ML: You know, Patrick didn't compete at the Open because he was injured. He tweaked his elbow in Denmark and wasn't healthy enough to go out there (to Vegas). Well, he probably could have, but he made the smart decision. He looked at it and said, I'm already qualified at this weight for this tournament so I am going to focus on getting healthy and I'm going to prepare for what really matters, which is making the Team. And he did a great job of that.
Patrick is a very disciplined guy and a very hard worker. If you walk into the room just as practice is ending, Patrick will probably be the last guy on the mat everyday. You see him doing something extra every day, and that is a really great narrative for what champions do. They do extra. They put in extra time, extra work, and he isn't one of the only guys on the Team like that. If you went up to Northern Michigan's room, you'd see Dalton Roberts (60 kg), he is the last guy in the room every single day. Those are the guys who are going to have success. Those are two guys on the Team who are absolute workhorses. They are going to find a way. They are going to outwork guys, they are going to out-condition them, and they are going to push the pace because they have put in the time and the effort beforehand. When you put all of that time and energy into something, it is pretty hard to just go out and cash it in during a match. You have to fight tooth-and-nail for every point and do everything in your power to make that Team.
I think that's really what this is about. Patrick did a lot of things right, and he's a had lot of bad luck the past year. He's had a few injuries, and like I said, he had to sit out certain events. So for him to come back and put that kind of performance together was really impressive.
5PM: Okay, so what's the training schedule look like as of now? Eagle Creek is first and that's two weeks long. A trip to Germany is in there somewhere, too. 
ML: August 5th-11th, we couldn't get beds here at the (Olympic) Training Center, so we are going to relocate our camp to Las Vegas at a venue we're very familiar with, the South Point Hotel. We will come back from that camp and the Junior World Team will enter a second camp in Colorado Springs. The Seniors will take off on the 15th (of August) for Germany and compete in the German Grand Prix in Dortmund (the 18th and 19th). We will then do a camp with I think around ten nations and over 120-something athletes.
We come back on the 26th and we will give the guys a little downtime until the end of the month. Then we will bring them back here for Senior World Team Camp, which will also be a National Team camp here at the Training Center, and that will run from the 9th to the 22nd of September.
And then what I am most excited about is that after that camp, our final push is actually going to be in Hungary. We are getting over to Hungary on the 2nd of October. We are going to have a camp in Tata with a number of nations. Then we'll pull away, they'll pull away, and we'll finish our acclimation in Budapest starting on the 20th.
5PM: There is a US World Team that is competing extremely soon and that is the Cadets. Not a lot of time between Trials and the Worlds for them but they've been getting some important training in over the past week. I'm sure that you'd like every US Team to have more time to prepare, but is there any possible advantage to having such a short turnaround considering the age group?
Coach Matt Lindland: I would love to have these guys in our program year-round. Something like that would be the ideal situation, where these guys wouldn't be switching between freestyle, folkstyle, and Greco-Roman and they were pure Greco-Roman athletes. And maybe one or two of these guys may wind up becoming full-time Greco-Roman athletes. (Cale) Anderson, he is out of (Lucas) Steldt's camp, and there are a couple of guys from his program training up at Northern Michigan on a full-time basis. I could see Hunter Lewis matriculating up to a program like Northern Michigan but I think there are a lot of NCAA programs after him, as well. I've been talking to Jon Fagen about what his plans are and if he is going to stay in the Greco-Roman program, and he said that he is definitely looking at Cornell University. I think that is another big win for what we're doing, getting World Team members who if they are going to wrestle in college, at least they are going to a program that will support and guide them down a Greco-Roman path.
I think the big advantage is that these are young men. They are growing, some of them are barely hitting puberty. I remember last year we had a guy who didn't make weight. We had to pull another guy out, he was like, I just keep growing all summer. I think that is a huge advantage, that they are coming right off of their preparation and we're just tuning these guys up and trying to get them to understand the concepts involved with winning at the international level.
It was great, because I got back from Tulsa where I did a little bow-fishing for a day with one of my college teammates, made it back, and was able to jump right into the Cadet World Team camp with Steldt and Mark Rial has been here for a couple of days now. I mean, they were here before I got back. Coach Mayabb is back in the room, Coach Ike Anderson is hanging around. It's just awesome. We have a lot of great coaches in the room and a bunch of really, really talented athletes. I think the advantage is that these guys were ready to make a World Team. They have a very quick turnaround but we've got a great plan in place to help them prepare, and they are going to compete right away. So I think there is some advantage to that because we don't always have access to our Cadets throughout the summer scheduling-wise, anyway. At the Olympic Training Center, their priority is the Olympics, not the Cadet World Championships, so they are going to give us one week or something at the Training Center, and then we're going to have to camps off-site. That means finding locations, bringing them in-and-out, what have you. So in a sense, you do get a little more time with your guys, but not really that much more because these athletes are coming from all over the country.
We have two Nebraska guys, two Wisconsin guys on the Team, and I think it shows which states and which clubs are putting a lot of emphasis on Greco-Roman, and look at what kind of success they are having. It's not a path like the other paths available in our country. When you got to other parts of the world, it is the opposite. In our country, the guys who are focusing on Greco and putting the time, energy, and effort into it are getting the results. They are having a lot of success and I think that says a lot for the programs that are focusing on all styles of wrestling, but especially Greco-Roman.
Be sure to follow Coach Matt Lindland on Facebook, Twitter, and his official blog for updates on the US Greco-Roman Wrestling program.
Listen to "5PM17: Williams Baptist Greco coach Jonathan Drendel and past World Teamer Cheney Haight" on Spreaker.
SUBSCRIBE TO THE FIVE POINT MOVE PODCAST
iTunes | Stitcher | Spreaker | Google Play Music | RSS
Notice
: Trying to get property 'term_id' of non-object in
/home/fivepointwp/webapps/fivepointwp/wp-content/themes/flex-mag/functions.php
on line
999