Back in the winter, Cohlton Schultz (130 kg, Sunkist) had decided the time had come to enter a Senior tournament. It was a newsworthy item, but not because the former Cadet World champ and reigning Junior World bronze is still, technically, just a teenager. Plenty of other high school-aged athletes have jumped levels before in effort to test the waters. No, the reason why it was a story worth sharing had much more to do with the fact that the tournament was in Denmark. With the USA Greco-Roman program constantly pushing overseas experience for younger wrestlers, the participation of Schultz and '18 Cadet World Teamer Dominic Damon (63 kg, WA) at a top-tier foreign event added a nice wrinkle to a roster that was already stuffed with high profile Senior stars.
There weren't lofty expectations following either wrestler at Thor Masters this past March, and both finished the weekend with 0-2 records. But it was nice that they went since doing so tacked viable experience onto their resumes to further supplement their respective standings as elite prospects. And just over six weeks and some change later, Schultz earned his third straight spot on the US Junior World Team, relegating his Thor Masters appearance to background fodder you were prepared to bring up the next time he dared to mix it up with the big boys, which at the time most figured wouldn't be until maybe the winter of 2020, at the earliest.
But no, he had to wreck that whole idea. Just can't sit still, the kid.


The 2019 World Team Trials Challenge Tournament this past weekend was not supposed to feature Schultz as the story of the heavyweight bracket. That distinction belonged to 2016 Olympian Robby Smith (NYAC/Chicago RTC), who had been diligently preparing to setup another showdown with '18 World silver Adam Coon (NYAC/Cliff Keen) at the upcoming Final X Series. That was what everyone wanted to see. Or so they thought.
The way it was to play out had Smith somehow or another getting past whoever advanced to the best-of-three final, take some photos and answer a few questions, and then all of us were to be called upon to build hype around a Smith/Coon showdown next month in Nebraska. And even when Schultz's name popped up in the entry list, that dynamic wasn't going to change. Again, just like Thor Masters, he was to put up a tough effort, look pretty good, but ultimately finish out of the money.
But no, he had to wreck that whole idea. Just can't sit still, the kid.
After surprising '16 Open champ and fellow former Junior World bronze Toby Erickson (Army/WCAP) via decision and decking '18 Open champ Jacob Mitchell (Army/WCAP), it was Schultz and Robby in the final. Within the first :90 of their first match of the series, it was easy to forget the 14 years of distance and experience between the two.
What wasn't easy to forget is their bond. Smith had tutored Schultz dating back to when the frizzy-haired wunderkind first started hopping by the Olympic Training Center in Colorado Springs. Along with most in the sport, Smith felt — and likely still feels — that Schultz is the future of the heavyweight division. Now add in the personal affinity they hold for one another, and it all made Saturday's "stuff" pretty fricking surreal.
Big action for the big men was scarce to be found in their three matches from Saturday. But those matches didn't need it. Just the thought that this whole thing was reality more than sufficed. By midway through their third bout, the question of Schultz winning ceased in its importance. It was no longer the point. He had already arrived, and when he countered Smith's front headlock late in the finale, all it did was emphasize the uniqueness of his opportunistic skills and competitive maturity to use them in the most crucial moments available.
Just after the noise died down Saturday afternoon, and Schultz had fully caught his breath long enough to actually breathe out, he reflected on this latest achievement with the same confident brand of humility that has accompanied his rise as much as his talent.
Cohlton Schultz — 130 kg, Sunkist
5PM: We talked yesterday. There was a lot of familiarity, you might say.
Cohlton Schultz: Oh yeah.
5PM: How soon into Match 1 did you feel comfortable?
Schultz: I came out and I was feeling strong at the start of Match 1. I was pushing the pace and ended up getting the passivity. Going into the second period I was kind of going the same speed and he was bringing a whole lot more. I think he kept me on the defensive for most of that second period. But I was doing everything I could — pulling him, trying to get him to move more. I have some great coaches who recognized that if I can get his feet moving, I can control the pace of the match. I think just making sure I stayed in the fight on every one opened up a lot of doors. Even if it didn't work in that match, it might in the next two matches.
5PM: Obviously one of Robby's calling cards from top is that front headlock. I am sure you have been on the receiving end of that front headlock before in your life.
Schultz: A few times, yeah, for sure.
5PM: What was the difference? Bigger, more experienced guys than you have gone over, how come you were able to not only defend, but eventually counter and reverse?
Schultz: That's one big thing, Coach Mohamed (Abdelfatah), he kept wanting me to make sure that I cleared the hand and got up to my feet right away. Honestly, it felt like there was a bit of space. I was keeping my hand in there, and it felt like there was a little bit of space. It ended up working in the third match, I was hoping it would work in the first two matches so I could get him to still try to send it with that little bit of space in there, that way I could end up on top and cover. I didn't panic, even though I know it's a dangerous position, especially with a guy like him. I made sure I kept my cool, didn't panic, and just felt the position out. I just stayed comfortable in there.

5PM: What was your mindset going into the third match? You got a pretty big education in those first two.
Schultz: Oh yeah, oh yeah. It's a good thing I do, I am always making sure I'm learning from each match. Focusing on what I need to do to improve. I'm comfortable in these third matches (of a series). I think it's the third Trial in a row now I end up dropping that first one with having to bounce back and get two in a row. I made sure I didn't let it get to me. The third match, I'm treating it like the other matches, except now I'm probably even more ready. I'm in a zone. I'm moving, I'm comfortable. And I'm not panicking. I'm staying cool the whole time. I'm looking over at my coaches, and whenever I can, I give them a smile or something. It keeps me calm. Having Herb (House) in my corner, he's the dude. I've known him forever, he keeps me calm and it works out pretty well going into those high-pressure matches.
5PM: We talked about this in terms of level of enjoyment. There wasn't a lot of pressure on you, at least in my estimation. Well, here we are, but this was a different tournament than Denmark. This is a different gig. Did you still have fun?
Schultz: Yeah, yeah. I love wrestling. That's why I'm here, that's why I'm doing it. I just love it. I feel like when you are passionate about something and you truly love it, pressure doesn't really mean anything. There's a lot of pressure people try to put on you, saying this and that, but ultimately it's up to your mindset whether it gets to you or not. I think I did a good job. I have my own expectations and that's what I hold myself to.
5PM: You're going against Adam next. You've banged around with him before. You also have the Juniors. Now that you're going to Final X, do you start zeroing in on one guy?
Cohlton Schultz: I'm sure the coaches will throw something in there pertaining to Coon, because, that is one opponent I've got to look forward to now. I personally have never been in a situation like this where I have to look forward to one guy. I'm just going to trust the coaches 100%. Whatever the coaches want me to do I am going to do. I'm just going to do my best to train hard and try to put on a show out there.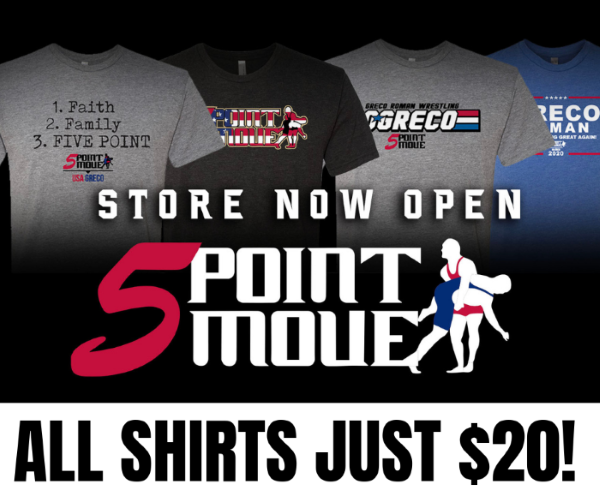 Listen to "5PM23: World Team Trials Challenge Tournament Preview" on Spreaker.
SUBSCRIBE TO THE FIVE POINT MOVE PODCAST
iTunes | Stitcher | Spreaker | Google Play Music | RSS
Notice
: Trying to get property 'term_id' of non-object in
/home/fivepointwp/webapps/fivepointwp/wp-content/themes/flex-mag/functions.php
on line
999