This coming Friday represents the first day of the 2019 Thor Masters Invitational in Nykøbing Falster, Denmark. For hardcore Greco-Roman fans, this event is pretty much as good as it gets. Held inside of an environment that is spacious enough to accommodate three mats — but also intimate enough to where the crowd is right on top of the action, Thor Masters offers a vibe that is unlike just about anything else found in international competition.
But while the venue and its associated atmosphere are nice selling points, even for those watching via Livestream, the brand of Greco is decidedly more important. The Scandinavian style is front and center at Thor Masters, with a majority of the region's most accomplished athletes all showing up to bang heads against one another. These are highly-skilled, fluid technicians who also mix in a balanced blend of tenacious brawling. The Nordic countries don't play around when it comes to figuring out who's the best after six minutes are up; but then again, that's where the format comes into play, too. Thor Masters (like the Haavisto and Haparanda Cups, respectively) abides by the Nordic system pool format. Each athlete is (practically) guaranteed at least two matches so as to try and avoid fluke results.
Add in other nations like Germany, Lithuania, Czech Republic, and a few Russians for good measure, and you have the foundation for one of Europe's most coveted and competitive tournaments on the schedule.
Over the past several years, the United States has also entered the Thor Masters picture. A group mainly consisting of Northern Michigan University athletes checked in for the 2016 event, but it wasn't until a year later when the Americans first tasted the podium. Ildar Hafizov (60 kg, Army/WCAP) and Robby Smith (130 kg, NYAC/Chicago RTC) both earned golds, and Patrick Smith (72 kg, Minnesota Storm) grinded his way to a bronze.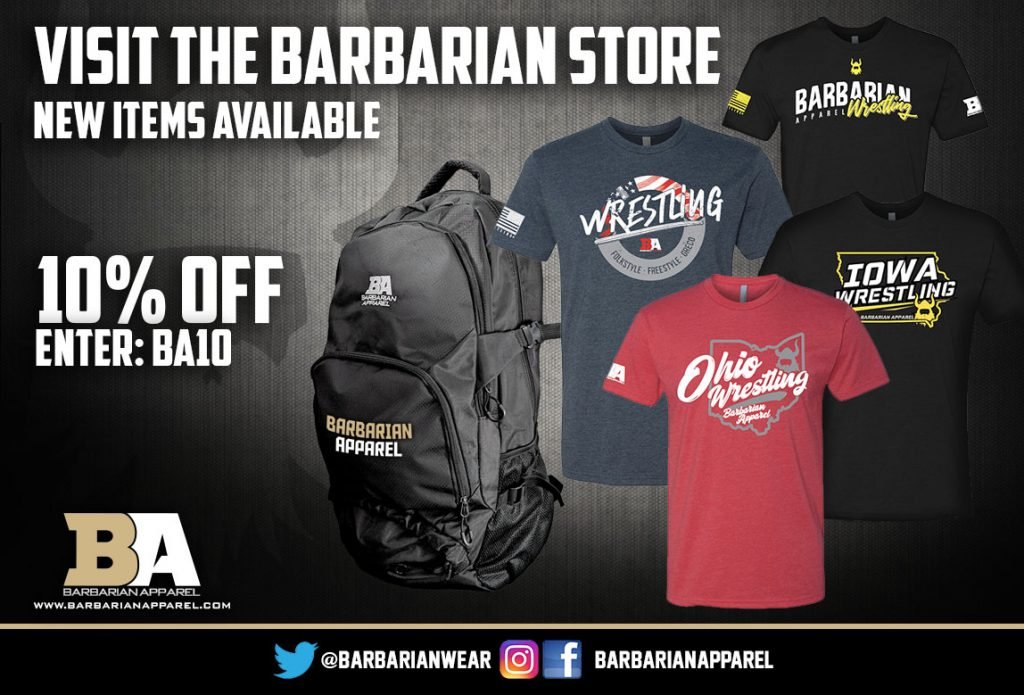 In 2018, the US had two finalists — Randon Miranda (NYAC/OTS) at 55 kilograms and 2016 Olympian Jesse Thielke (NYAC/LOG) at 63. Miranda gave it all he could but was shut down by Ilya Tsaruyk (ISR) 7-0. As for Thielke, he met up with Romania's Mihai Mihut in an exhilarating contest that was highlighted by a whirlwind of points in the bout's opening seconds. Thielke wound up dropping a 7-6 decision, though it helped set the table for the rest of his domestic season. 2018 World Team member RaVaughn Perkins (72 kg, NYAC) barely missed out on the medal stand in '17. Last year, he barely missed out on making the final. He did the next best thing: in the bronze medal round opposite Toni Ojala (FIN), Perkins used a high-leg bodylock to set up a resounding win via fall.
An eclectic mix of US athletes is on the docket for next week. There are several who have been to Thor Masters previously and even more for whom it will be a first-time experience. Let's examine.
Been there before
63 kg
Sammy Jones (NYAC/OTS; 2017) — Jones was on the 2017 winter tour for the US, competing in both Thor Masters and the Zagreb Grand Prix on back-to-back weekends. But — he went up to 66 for Thor Masters. He came out hot, did Jones, beating out multi-time World Teamer and former Thor Masters champ Erik Weiss (GER) before falling in his next two bouts, the second coming at the hands of Polish star and that year's World silver, Mateusz Bernatek.
Jesse Thielke (NYAC/LOG; 2018) — As mentioned above, Thielke's first time wrestling at Thor arrived just a year ago. The Wisconsinite faced three athletes leading to the final, including a tough 4-0 victory over Mate Krasznai (HUN).
67 kg
Jessy Williams (NYAC/FLWC; 2018) — Williams' went 0-2 at this event last year, but what it led to was significant. A skillful, tough customer, the former NMU student made some contacts while over in Denmark and wound up training in Sweden prior to the US Open — where he advanced to the finals for the first time in his career.
72 kg
Nick Tarpley (NYAC; 2017) — Like Jones, Tarpley delivered a victory in his first bout of the 2017 Thor Masters but lost two in a row after that. Things may be different this time around. Tarpley has traveled extensively and improved in every area, potentially setting the table for his first medal from this event.
77 kg
Jesse Porter (NYAC/OTS; 2018) — Although he didn't medal, the now-two-time U23 World Team member certainly acquitted himself well in Nykøbing Falster. Porter put up a 2-2 ledger in the tournament with a startling tech win against Oldrich Varga (CZE) standing out the most. Well-traveled vet Dominik Etlinger (CRO) halted Porter's chance for bronze with a 6-1 decision. Still, a solid showing.
Patrick Smith (Minnesota Storm; 2017, 2018) — Smith is the only US athlete on the cusp of making his third Thor Masters appearance. The bronze in 2017 was part of an overall entertaining run. Last February's tournament was not as kind to the popular Storm rep, as he went two and out. Thing is, that Smith is gone. He is much more like the '17 version these days, if not better (regardless of weight class).
87 kg
Patrick Martinez (NYAC; 2017) — Nothing is guaranteed, but it sure seemed like Martinez was well on his way to a medal in '17 until a laceration on his chin combined with a concussion put him on the sidelines. He has been active lately; Martinez competed at the pair of "Ranking Series" tournaments last month. He has also continued to train overseas, going from Croatia to Hungary to Germany. At this stage of his career, the three-time World Team member uses events like this one more as a litmus test than anything else. That being said, he's also going to want to come back home with some hardware.
First-timers' club
60 kg
Justin Feldman (Camarillo) — From the All-Navy Team to the big-time. Feldman is altogether new to the ways of foreign competition, making Thor Masters an appropriate introduction to how business is done overseas. Will only help him.
63 kg
Dominic Damon (WA) — One of the United States' biggest Greco hopes for the future, Damon, a Cadet World Team member in 2018, is jumping up to the major leagues here. He'll be at Northern Michigan come the fall, sure. But he has a lot of important goals set for the summer, so this tournament and its accompanying camp are to serve as a springboard.
67 kg
Morgan Flaharty (NYAC) — Flaharty is one wrestler who you like to see get out there more often against foreigners, not only because he could use the added seasoning, but also, hey, he performs pretty well against them when given the chance.
Austin Morrow (NYAC/OTS) — It is hard to believe that Morrow hasn't been to Thor Masters yet, but here we are. Legitimately healthy for the first time in three years, Morrow is banking on another step up the ladder in the spring. More matches and more training opportunities are the key to making that happen.
72 kg
Eleazar DeLuca (SERTC) — A no-doubt-about-it wrestling talent, DeLuca's style has the potential to be both crowd-pleasing and effective. Since the domestic landscape is currently barren pertaining to competitive development, he's doing the smart thing by attending this tour.
82 kg
Corey Fitzgerald (NMU/OTS) — No one works harder than Fitzgerald (in or out of the classroom), but success at the Senior level has eluded him thus far. Because his foundation is so strong by now, it figures to be a matter of time before everything finally clicks. With the amount of looks he'll see in Denmark, that process has a chance to be fast-forwarded.
Carter Nielsen (Minnesota Storm/OTS) — It is hard to forget about Nielsen's inspirational second match of the U23 Worlds, and the fact that he put in a valiant effort against Kamal Bey (77 kg, Sunkist, world no. 7) was also encouraging. If he is going to morph into a consistent threat at the elite level, trips like this one are mandatory for further education.
Spencer Woods (NMU/OTS) — Woods is starting to bring it and that is something everyone needs to be aware of. His jumping aboard the Thor Masters tour should elevate both his skill and his confidence.
87 kg
Tommy Brackett (NMU/OTS) — Brackett, still just a freshman at Northern, added even more overseas experience to his resume with the '18 fall tour. As is the case for he and several of his contemporaries who are also going to Denmark, this is as much about the camp as it is the event. That doesn't mean you want to miss watching what he might pull off against a big-name foreigner, however.
Trey Hardy (NMU/OTS) — Powerful but still in need of some polish, Hardy is a young, passionate wrestler who is doing all he can to get brought up to speed. This is his first major tour anywhere, so it'll be interesting to witness what kind of effect it has going forward.
Alan Vera (Florida Jets) — The highly-touted ex-Cuban National Team member is not lacking in terms of technique; but at the same time, he has also been unable to keep an active competitive profile. Now that he is a US citizen and free to jump in an assortment of events, Vera choosing to attend this one tells you all you need to know about what it has to offer.
97 kg
Orry Elor (NYAC) — Once a fixture on the scene, Elor had backed off a bit more recently. That he is flying to Scandinavia suggests he is ready to toss his hat back into the proverbial ring. Though Elor is certainly more than solid in every facet of the sport, it's also fair to wonder how much rust will play a factor next weekend. Better to knock it off there rather than Vegas.
G'Angelo Hancock (Sunkist, world no. 3) — You're reading it correctly: Hancock has yet to compete in Thor Masters. He was on the same tour everyone else was in '17, but skipped this one. He is obviously riding high, coming off of two "Ranking Series" medals punctuated by the gold from Hungary. If he's entering this thing, you can bet he knows there are no laurels upon which to rest. Hancock is very clearly on a mission, evidenced by another lengthy stay in Europe.
130 kg
Cohlton Schultz (Sunkist) — The 2017 Cadet World champ has now vanquished his goal of becoming a four-time state titlist. That means the folkstyle leash is off until the end of the summer, allowing the wunderkind to focus on adding more World hardware to his mantle. Schultz knows what he's up against — the heavyweight field at Thor Masters is significant. That's exactly what he wants, and if you're like most US fans, you can't wait to see what happens next.
2019 Thor Masters
March 15th-16th — Nykøbing Falster, Denmark
Schedule 
All times local (+5 hours EST)
Friday, March 15th
4:00pm-8:00pm — Preliminary rounds
Saturday, March 16th
10:30am-3:30pm — Preliminary rounds
3:30pm-6:00pm — Medal matches/finals
TEAM USA ROSTER
60 kg
Justin Feldman (Camarillo)
63 kg
Dominic Damon (WA)
Sammy Jones (NYAC/OTS)
Jesse Thielke (NYAC/LOG)
67 kg
Morgan Flaharty (NYAC)
Austin Morrow (NYAC/OTS)
Jessy Williams (NYAC/FLWC)
72 kg
Eleazar DeLuca (SERTC)
Nick Tarpley (NYAC)
77 kg
Jesse Porter (NYAC/OTS)
Patrick Smith (Minnesota Storm)
82 kg
Corey Fitzgerald (NMU/OTS)
Carter Nielsen (Minnesota Storm/OTS)
Spencer Woods (NMU/OTS)
87 kg
Tommy Brackett (NMU/OTS)
Patrick Martinez (NYAC)
Trey Hardy (NMU/OTS)
Alan Vera (Florida Jets)
97 kg
Orry Elor (NYAC)
G'Angelo Hancock (Sunkist)
130 kg
Cohlton Schultz (Sunkist)
CLICK HERE TO DONATE TO THE USA GRECO-ROMAN PROGRAM
Listen to "5PM21: Paul Tellgren, Ellis Coleman and Alec Ortiz stop by the Five Point Move Podcast" on Spreaker.
SUBSCRIBE TO THE FIVE POINT MOVE PODCAST
iTunes | Stitcher | Spreaker | Google Play Music | RSS
Notice
: Trying to get property 'term_id' of non-object in
/home/fivepointwp/webapps/fivepointwp/wp-content/themes/flex-mag/functions.php
on line
999