It has been three years since a United States Greco-Roman athlete advanced to a World semifinal. It has also been that long since a US Greco athlete walked on the mat with a chance to medal. On Saturday, Adam Coon (130 kg, Cliff Keen WC) already achieved the former and is in position to do the latter in his first-ever Senior World Championships appearance.
The action unfolded live earlier this morning from inside the loud Papp Laszlo Sports Arena in Budapest, Hungary and aired live in the US on Trackwrestling.
Coon was not by himself on Saturday. 2017 Junior World Champion Kamal Bey (77 kg, Sunkist), G'Angelo Hancock (97 kg, Sunkist), and Ellis Coleman (67 kg, Army/WCAP) were also primed for Day 3 of Greco-Roman competition — with Coleman on the hunt for a potential bronze. But it is Coon who is the newsmaker right now, and for very good reason.
Coon's big morning
2018 Pytlasinski bronze Rafal Krajewski (POL) was thought to provide Coon with a nice test for his first time on the World stage.
Coon passed with flying colors.
Krajewski was able to engage in a 50/50 clinch around Coon early in the first, and that might not have been the best course of action for the Polish wrestler, but one Coon benefited from. Coon instinctively dropped his hips and adjusted, landing on top at the line for two points. Such was the pattern.
Back up, Krajewski tried again, even with a little hip rotation. This time, Coon dug into position and deposited Krajewski to the mat and was rewarded with four. One more time: they returned to the feet and Krajewski, not having learned from his previous two attempts, looped around Coon, who reciprocated with his own lock. The former Wolverine heavyweight had zero difficulty collapsing on top and plastered Krajewski to his back, in the process earning a pin that seemed to offer some momentum.
The round-of-16 provided Coon with an interesting opponent — Lingshe Meng (CHN). Meng is a young, compact heavy who was a runner-up at the '18 Hungarian Grand Prix. He was also decked by Cadet World champ/Junior World bronze Cohlton Schultz (Sunkist) in Slovakia last month.
Coon wanted some of that.
A shrewd, effective tactic on Coon's part would also check in as the most basic. He used his long arms to wrap around Meng. This is comfort for him, as evidenced countless times before domestically. Meng reacted with an arm spin attempt that Coon easily stuffed and covered. He didn't receive any points, but it showed he was working with confidence.
The first passivity went to the American and Meng hardly budged from bottom par terre. The restart didn't offer much in the way of action, though Coon did begin to move his counterpart around even more assuredly than he had already.
One thing to expect entering the second: obviously, a passive on Coon. They don't let 1-0 leads slide very long in this game. And sure enough, the signal was just about to arrive, but then Coon was forced off the line. He understood full well where this could go if the initiative wasn't seized.
On the next exchange, Coon lassoed around Meng and hipped him to the mat. Meng had nowhere to go. Coon squeezed and held on firmly, coming away with his second fall of the morning and a ticket to the quarterfinals.
Similarly, Eduard Popp (GER) never knew what hit him.
A former Junior World medalist, Popp has been around on the Senior level for some years now and checked in as just the type of opponent Coon is supposed to struggle with. This quarterfinal struggle, as it were, did not last very long.
Coon garnered the bout's first passivity point, only to have Popp reverse and score on a gutwrench. But when they returned to the feet, Coon wrapped around Popp with what is today his unquestionably most potent weapon, that cobra-like bodylock. From there, Coon plowed Popp to the tarp — and it was over virtually immediately. The fall came, and perhaps surprisingly, Coon is a semifinalist at his first Senior World Championships.
In the semifinal, Coon will face Kim Min-Seok (KOR), who defeated Stepan David (CZE), Oskar Marvik (NOR), and Alin Alexuc Ciurariu (ROU) earlier on Saturday. The semifinals are scheduled to begin at 5:00pm local time (11:00am EST) and can be viewed live on Trackwrestling.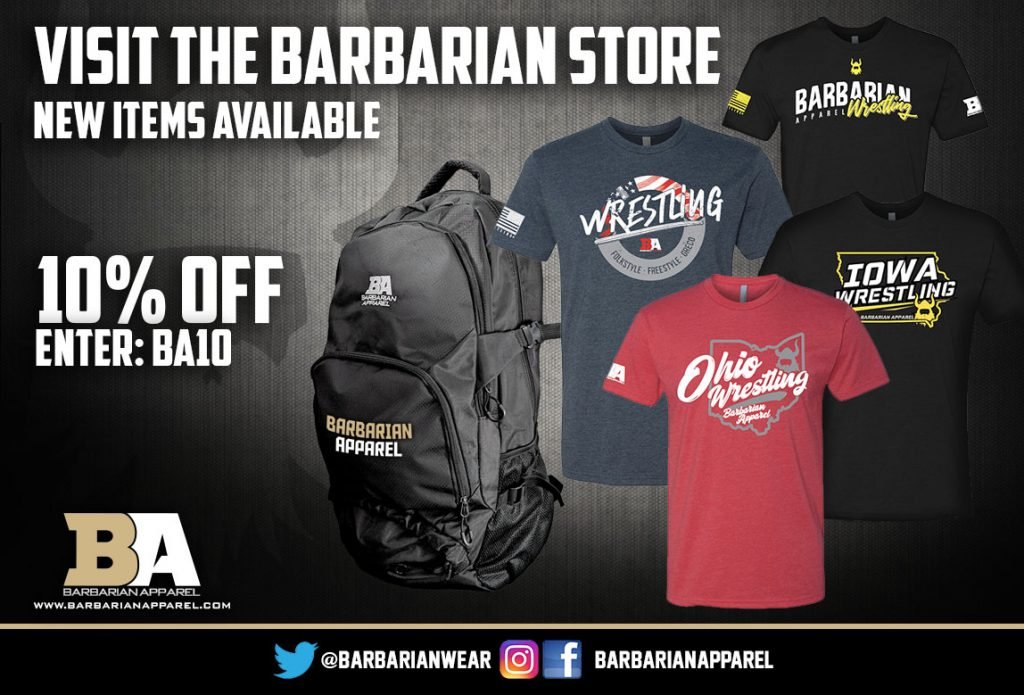 Bey Deserved Better
Bey made his Senior World debut one of the most unforgettable from a US athlete in recent years. At the whistle, the fireplug dashed inside on Asian Championships bronze Ridong Zhang (CHN) and locked, loaded, and bombed a bodylock for five. Zhang, understandably, was a deer in the headlights after that. Back on the feet and there Bey was again, shucking off of Zhang and hustling around for a takedown. 7-0 and the match had barely just begun. Moments later, Zhang roped an underhook and remained static, with Bey freezing in position and wiggling his arm to demonstrate that he was being stalled. Zhang had to do something with the hold. And when he tried to hurl it over with his back to the edge, Bey easily landed on top to pick up the match-winning points.
It was a very different situation in the round-of-16. Guam's Reiner Jimenez Terry constantly refused to properly engage with Bey throughout much of the proceedings. Hand-holding, wrist-grabbing, and other general machinations of a wrestler afraid to let his opponent open up defined the majority of this battle. But Bey dealt with all of it.
Bey was given the first passive/par terre chance of the bout and reverse-locked. He stepped up and Jimenez did a good job of squirming his way back to the surface on the first two attempts. On the third, Bey was finally able to pull Jimenez over, yielding two and a 3-0 cushion.
In the second, Jimenez got his shot from top. He did not deserve it. Although a customary procedure to give both athletes an opportunity from par terre (in spite of what it states in the rulebook), in this case, Jimenez had done nothing in the match to suggest he was trying to be offensive.
After the whistle, Bey effortlessly exploded up and out — again, this is another situation outlined in the United World Wrestling rulebook. The bottom wrestler is allowed to stand up from bottom par terre once the whistle blows. But the mat judge insisted otherwise and the officials, wrongly, put Bey back down. He dealt with that, too. Bey bounded over Jimenez for a reversal point.
With under a minute to go, Bey sealed the match with a takedown and an 8-1 victory. The fact that he was able to maintain his composure in light of the circumstances serves as another facet of the competitive maturity he has embraced over the past year.
The biggest hurdle of the morning introduced itself to Bey next: two-time World bronze Elvin Mursaliyev (AZE, world no. 8), who earned his second bronze in Paris last year following a triumph over Russian superstar Roman Vlasov (world no. 4).
Whether it's because Mursaliyev is a seasoned, successful veteran of the sport, or because he and his team had become acquainted with the general problems someone like Bey proposes, one thing is for sure — he wasn't going to let Bey open up. Mursaliyev briefly abandoned his reservations towards Bey early in the first period when he used an underhook to force the American off the boundary. That was the most engagement Mursaliyev offered for the duration of the contest. For after the restart, Bey lasered in on a sensational duck-under and scored a takedown. That was enough for Mursaliyev to realize that a safety-first approach was necessary for him to survive.
Whatever wrist-holding Bey contended with versus Jimenez was drummed up against Mursaliyev. The difference? Mursaliyev operates at a higher level than Jimenez, and because of that fact, he was able to neutralize Bey consistently through the opening period.
A Bey step-out gave Mursaliyev a point, but not the advantage — Bey still held criteria by virtue of his first-period takedown. That was until passivity entered the equation. Mursaliyev got his lock. He lifted and arched — but Bey impressively adjusted to avoid a multi-point score, although he did careen off the line.
The scoreboard read 4-2 in favor of Mursaliyev as the match began to wind down. Bey whizzed inside with an arm spin attempt and nearly scrambled around back. But Mursaliyev held fast, and countered, pouring over the top for two and a 6-2 lead he would not relinquish in the waning seconds.
Mursaliyev lost in the quarterfinal 3-0 to Russia's Aleksander Checkhirkin, eliminating Bey from potentially contending for bronze on Sunday.
Hancock not himself
G'Angelo Hancock (Sunkist) might not have entered the 2018 World Championships holding a top-4 seed, but he certainly had to have been considered one of 97 kilograms' most dangerous competitors. Not just due to the illustrated trajectory of his career thus far, but also for what he has accomplished recently. Less than two months ago, Hancock took the wrestling world by storm when he downed multi-time World/Olympic champ Artur Aleksanyan (ARM, world no. 5) en-route to a spectacular tournament victory at Poland's Wladyslaw Pytlasinski Memorial.
Unfortunately for Hancock, he did not appear to carry the same steam that was available in Poland. Peter Oehler (GER) brought the heat from the outset, resulting in clashing exchanges geared more towards a feeling out process than anything else. Oehler did have some tricks up his sleeve, though. He snatched an arm drag and turned Hancock around, who had no choice but to step out of bounds. Another step-out soon after was followed by a passivity against Hancock, who defended well.
Back up and Oehler nabbed a takedown and entered the break coasting on a 5-0 lead. Hancock, for what it's worth, looked off his game and visibly fatigued entering the conclusive frame.
But he was still in it. And when Oehler got put down in par terre, you couldn't help but feel a rush coming on. Hancock, with one lift, could take command of this thing. That was the thought, anyway. Hancock did manage to turn Oehler once, but follow-ups proved unsuccessful.
The restart showcased the disparity. Hancock — regardless of how he's feeling, how tired he may be — very rarely, if ever, betrays such signs. That wasn't the case in the latter portions of this match. Oehler might have been fading, as well, but he still summoned the juice to negotiate one more step-out prior to the final whistle, delivering a difficult and unexpected 6-3 decision victory over one of America's most coveted medal prospects prior to the start of the tournament.
Unfortunately, Oehler was defeated in the very next round by Luillys Perez Mora (VEN). That means Hancock is ineligible to re-enter the tournament in tomorrow's repechage round.
Coleman misses out on bronze opportunity
The morning began with Ellis Coleman (67 kg, Army/WCAP) in the repechage round. Coleman performed impressively on Friday, earning a startling pin (and a measure of revenge) over 2014 World bronze Edgaras Venckaitis (LTU) before falling to two-time World bronze Artem Surkov (RUS) 3-1. Because Surkov advanced to the weight class final, Coleman remained alive for a possible medal.
Working against 2018 Military World bronze Mamadassa Sylla (FRA), Coleman assertively chipped inside from the outset and looked to gain position. He flung off of Sylla's arms and used his feet to angle towards the body, but he wasn't ready to explode just yet. Sylla played back energetically, he wasn't bailing in the tie-ups. Passivity entered the equation midway through the first — and when Coleman assumed his lock — Sylla finger-walked himself to the boundary and was justifiably knocked for a fleeing caution, giving Coleman two more points and a 3-0 lead. When they resumed action from par terre, the American couldn't capitalize any further.
In Period 2, Coleman proceeded to target Sylla for an underhook, pummeling feverishly as he weaved in his arms. He wasn't making attempts but neither was Sylla. Even still, it was Sylla's turn for a passive point. After cinching his gut, Sylla rolled Coleman twice with a gutwrench to collect four.
The race to the finish saw Coleman maintain a vigilant pace, while Sylla, firmly implanted in the driver's seat by now, was able to fend off any discernible advancements on the part of his opponent. Ultimately, it was a 5-3 decision loss and one that put an early end to Coleman's bid for a bronze this morning.
Notes:
Coincidentally, Coon is the first US athlete to reach the World semis since Robby Smith (NYAC/Chicago RTC), the very man he defeated to win the World Team Trials this past June.
Although he won't be competing for a medal and lost his third match, Bey still showed he knows how to perform. In his three bouts on Saturday, Bey put up a combined 19 points.
2018 World Championships
October 25th-28th — Budapest, Hungary
TEAM USA DAY 3 RESULTS
67 kg — Ellis Coleman (Army/WCAP)
LOSS Mamadassa Sylla (FRA) 5-3
77 kg — Kamal Bey (Sunkist)
WIN Ridong Zhang (CHN) 9-0, TF
WIN Reiner Jimenez Terry (GUA) 8-1
LOSS Elvin Mursaliyev (AZE) 6-2
97 kg — G'Angelo Hancock (Sunkist)
LOSS Peter Oehler (GER) 6-3
130 kg — Adam Coon (Cliff Keen WC)
WIN Rafal Krajewski (POL) via fall
WIN Lingshe Meng (CHN) via fall
WIN Eduard Popp (GER) via fall
vs. Kim Min-Seok (KOR)
CLICK HERE TO DONATE TO THE USA GRECO-ROMAN PROGRAM
Listen to "5PM20: Spenser Mango's Germany report while Jesse Thielke & Dennis Hall battle on Wisconsin trivia" on Spreaker.
SUBSCRIBE TO THE FIVE POINT MOVE PODCAST
iTunes | Stitcher | Spreaker | Google Play Music | RSS
Notice
: Trying to get property 'term_id' of non-object in
/home/fivepointwp/webapps/fivepointwp/wp-content/themes/flex-mag/functions.php
on line
999