The United States is exiting the first day of action at the Matteo Pellicone Memorial with two medalists, a few athletes having earned some "Ranking Series" points, and a halfway feeling that there could have been so much more.
Max Nowry (55 kg, Army/WCAP) led the way for the US with a silver, and G'Angelo Hancock (97 kg, Sunkist) followed closely behind by storming a skilled antagonist en-route to bronze. Three other wrestlers had opportunities in the bronze round, and all three fell short with one in decidedly cruel fashion.
The medal rounds for Day 1 of the 2020 Matteo Pellicone Memorial from Rome, Italy began at 6:00pm local time (12:00pm ET) and streamed live on FLOWrestling.


Because both he and opponent Serif Kilic had lost to eventual champ Dogus Ayazci (TUR) — and defeated Andrii Semenchuk (UKR) — Nowry's third and final match on Wednesday was for either silver or bronze.
Nowry turned it into a silver.
The first period saw Nowry dart, dash, and drag in the ties as he worked Kilic up close. His output was acknolwedged with a passivity point and subsequent par terre chance. From top, Nowry locked and torqued, but Kilic seemed to be defending well. Just when it appeared a standup was in order, the gutwrench came and Nowry tacked on two points for a 3-0 advantage.
The second period didn't go the distance. Nowry prowled for a lane, got one, and threw Kilic. It was four immediately, but that wasn't enough. Nowry kept Kilic on his back, adjusted, and collected the fall — along with the aforementioned silver and 12 "Ranking Series" points.
Hancock Wows
US fans expecting a thrilling, competitive matchup featuring Hancock against two-time U23 World Champion Semyon Novikov (UKR), were likely disappointed. But in a good way.
Hancock never let Novikov even talk himself into this one. Mere seconds after the opening whistle, Hancock was already in on Novikov and forcing him out of bounds. A reset, and then the '19 World Teamer unleashed an arm drag and gut combo before landing a lift. Novikov had rolled firmly to his back, so Hancock briefly looked for the pin. But it wasn't there, and it didn't matter. Hancock with a dominant tech win for bronze and 14 new "Ranking Series" points.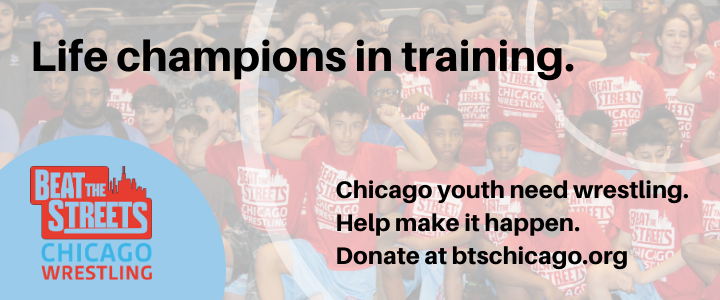 Martinez & Rau
There was a side narrative for the US entering the pair of 87-kilogram bronze matches: if Joe Rau (TMWC/Chicago RTC) were to prevail over '15 Junior World Champion Ali Cengiz (TUR) — and if Patrick Martinez (NYAC/FLWC) were to defeat Pan American obstacle Luis Avendano Rojas (VEN), then Rau would have the upperhand over Avendano going into the Pan Am Championships, and more importantly, the Pan Am Olympic Qualifier. Since March's Olympic Qualifier will observe seeding for the top-2 athletes based on "Ranking Series" points, today's bronze matches at 87 carried extra significance not present for other US athletes. An odd scenario.
And it was an odd scenario that did not work out in the US' favor.
Rau stepped in quicksand against Cengiz from the very beginning. A step-out for Cengiz, followed by a curious sequence in which Rau had a front headlock but gave up two off the edge started the ball rolling in the wrong direction. Later in the first period, Rau clamped a front headlock, and when he went to pull Cengiz over, Cengiz landed on top. The officials then penalized Rau for a caution, giving Turkey two more points. It was a mess. The bout ended with :40 remaining in the first when Cengiz used a reverse lock to net two exposure points.
Martinez and Avendano engaged in a hard-fought battle where offense was at a premium. As expected, they clashed in the tie-ups and brisk pummeling ensued. No advantages were evident, but Avendano was gifted the first passive and took advantage by gutting Martinez, and then tacked on another point.
Down 4-0 in the second, Martinez pressed the action. He'd get his chance soon enough. The passive arrived, and Martinez went to lift though he struggled to elevate. So, he crashed back down and tried a gutwrench, only Avendano didn't budge. The American pursed in the waning stages, digging and dipping for opportunities, but none would be availed. Avendano, victorious via 4-1 decision, earned the bronze and 12 United World Wrestling ranking points. Rau and Martinez both finished fifth, taking with them 10 points.
Coon
2018 World silver Adam Coon (130 kg, NYAC/Cliff Keen) drew an interesting opponent for his bronze match — China's Lingzhe Meng. Meng was Coon's second victim via fall during that magical run to the World final, but Meng got him back in the first round at the Nur-Sultan Worlds this past September.
This rubber match, as it were, was a seesaw kind of affair. Coon received the first passive but was unable to net a turn. Meng answered back with a pair of step-out points and the lead was still his with a minute remaining in the contest. Coon, he was snapping and pummeling, working to get his hands locked. While that didn't happen, something else did: a rare second passive chance.
Coon instantly took a 2-2 lead on criteria, but could not negotiate a score from top par terre. Back up, and Coon — holding on by the thinnest of margins — resumed the fight. But as had happened prior in the bout, Coon did his bidding perilously close to the edge. Disaster struck in the form of an off-balance; he lost his feet, Meng pounced and covered, and there went the lead. Coon didn't just cower. Even with such little time left, he still hunted for an opening. There wasn't one. Meng comes out on top for the second time in a row, resulting in a fifth-place finish for Coon that is accompanied by 10 UWW ranking points.
Day 2
Tomorrow, the US sends out another batch of top Seniors — Ray Bunker (72 kg, Marines), Patrick Smith (77 kg, Minnesota Storm), Kamal Bey (77 kg, Sunkist), RaVaughn Perkins (77 kg, NYAC), and John Stefanowicz (82 kg, Marines). The action once again begins bright and early (10:30am in Rome, 4:30am ET) and can be viewed live in the US on FLOWrestling.
2020 Matteo Pellicone Memorial
January 15-16 — Rome, Italy
DAY 1 TEAM USA RESULTS
55 kg
Max Nowry (Army/WCAP) — silver
WON Andrii Semenchuk (UKR) 6-0
LOSS Dogus Ayazci (TUR) 9-0, TF
WON Serif Kilic (TUR) via fall
60 kg
Ildar Hafizov (Army/WCAP) — 8th
LOSS Sailike Walihan (CHN) 9-1, TF
LOSS Erbatu Tuo (CHN) 6-3
67 kg
Calvin Germinaro (Minnesota Storm) — 9th
LOSS Quiye Tian (CHN) 7-2
Jamel Johnson (Marines) — 10th
LOSS Anthony Palencia Puentes (VEN) 5-1
Xavier Johnson (Marines) — 8th
LOSS Quiye Tian (CHN) 2-2
87 kg
Patrick Martinez (NYAC/FLWC) — 5th
WON Mirco Minguzzi (ITA) 3-2
LOSS Kumar Sunil (IND) 2-1
LOSS Luis Avendano Rojas (VEN) 4-1
Joe Rau (TMWC/Chicago RTC) — 5th
LOSS Viktor Lorincz (HUN) 7-0
WON Junje Na (CHN) 3-1
LOSS Ali Cengiz (TUR) 9-0, TF
97 kg
G'Angelo Hancock (Sunkist) — bronze
WON Hardeep Hardeep (IND) 8-0, TF
WON Ramsin Azizsir (GER) 5-0
LOSS Felix Baldauf (NOR) 7-2
WON Semen Novikov (UKR) 9-0, TF
Daniel Miller (Marines) — 8th
WON Yanan Chen (CHN) via fall
LOSS Nikoloz Kakhelashvili (ITA) 3-1
LOSS Luillys Perez Mora (VEN) 6-3
130 kg
Adam Coon (NYAC/Cliff Keen) — 5th
LOSS Moises Perez Hellburg (VEN) 6-4
WON Tuomas Lahti (FIN) 5-2
LOSS Lingzhe Meng (CHN) 4-2


Listen to "5PM33: The Marine Corps' Jamel Johnson" on Spreaker.
SUBSCRIBE TO THE FIVE POINT MOVE PODCAST
iTunes | Stitcher | Spreaker | Google Play Music | RSS
Notice
: Trying to get property 'term_id' of non-object in
/home/fivepointwp/webapps/fivepointwp/wp-content/themes/flex-mag/functions.php
on line
999