The United States enjoyed an explosive first day of action at the 2020 Pan-American Championships and the momentum has carried over into Day 2.
Patrick Smith (77 kg, Minnesota Storm) is in line to earn his fourth Pan Am Championships gold; Joe Rau (87 kg, TMWC/Chicago RTC), his second; and if successful, it will be John Stefanowicz's (82 kg, Marines) first.
Wrestling began at 11:00am ET from Ottawa, Canada and aired live in the US on Trackwrestling.


Smith 3-0 Thus Far
Smith trailed '19 Pan Am Championships gold Yosvanys Pena Flores (CUB) 1-0 late in the second period when the tide (literally) turned. From top par terre, Smith cobra-locked a gutwrench and cranked the hold over for two points and a 3-1 advantage he held till the end.
In the next round stood Angelo Marques Moreira (BRA), and there were a few odd moments to start. Smith assumed the initiative and bullied Marques around, but Marques reacted with a headlock try that netted a step-out point. After the reset, it was a similar situation. Smith pressing the issue near the line and Marques opting to pull a last-second throw attempt, only Smith saw it coming and stayed in-bounds, earning his own step-out. He added a takedown shortly after to enter the break up 5-3.
A series of gutwrenches is what sealed the deal. Marques was dinged after the first minute of the second period, and Smith kept gutting and gutting until they told him it was okay to stop.
The semifinal round offered a stiff test for Smith in the form of Jair Curero Munoz (COL). Smith got past Cuero Munoz in the quarterfinals of the '19 Pan Am Games. That match was competitive.
This one was tight.
Smith took advantage of the first par terre by gutting for two points. But at the completion of the gut, Cuero Munoz scampered up and out, and pounced on top of Smith. The officials only awarded a reversal point, though Cuero Munoz would duck-under for a takedown later in the period.
It was 4-3 for Colombia with a minute remaining when the bout's most pivotal sequence transpired. Smith was chipping Cuero Munoz near the edge, and both wrestlers soon became entangled in a 50/50 position — and both stepped out. Cuero Munoz was awarded another step-out point and the US side quickly challenged. The call was reversed, giving Smith a 4-4 lead that he would hold on to the rest of the way.
Pena won his next two bouts, and given the pool format, will be Smith's opponent in the finals later today.
Smith previously won Pan Am Championship titles in '15, '16, and '17, along with his Pan Am Games gold last summer.
Rau Gets Past Venezuela
One of Rau's biggest perceived threats next week is Luis Avendano Rojas (VEN). Avendano not only has a couple of Pan Am golds to his credit, he also defeated Rau at the aforementioned Games back in August. Therefore, this was a bout that presented more than one reason to watch.
A takedown helped the American find his groove. Once on top, Rau locked high. A tilt more than a turn. Avendano tried to remain planted but there was no choice in the matter. The back-end of the exposure provided Rau with a 4-0 lead and they were back on the feet. Although Avendano tried pouring inside, Rau confidently navigated to his two-on-one, in between snapping and hunting for angles.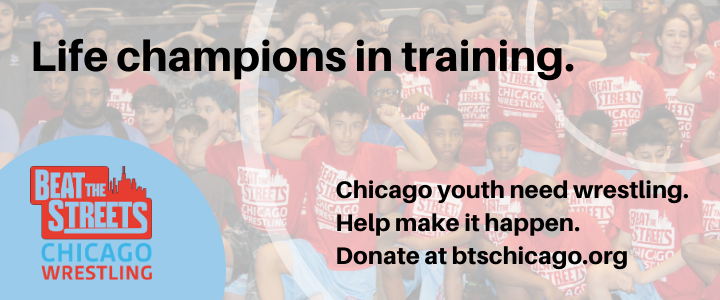 A little more heat was in the air as the second period got underway. It was obvious Avendano had to increase his output, and would, if only to receive a passivity/par terre opportunity. Unfortunately for the Venezuelan, it wasn't coming. Rau broke to the body, nearly gaining a step-out before pivoting back towards the center as Avendano advanced. They clashed in exchanges, both athletes careening to the entire opposite side of the tarp. Rau wasn't going to be denied this time. He roped a takedown and quickly converted a gutwrench to wrap up the statement-making tech.
Lesylan Cousin Otomu (JAM) tried making it a match against Rau in the semis. He also tried to avoid troublesome contact at all costs. Rau got on the board early and owned a 3-0 cushion, and added a takedown to put Otomu in a perilous spot. However, the Jamaican angled off of Rau and grabbed himself a takedown to make things (temporarily) interesting. The second period saw Rau pounce on Otomu following a brief flurry, scoring four. He subsequently iced the bout with a clean crashing takedown.
STEF With One Bout
Stefanowicz was mired in a physical, if not frustrating battle with Jose Vargas Rueda (MEX). They were deadlocked at 1-1 (USA had criteria) in the second period, despite Stefanowicz's dutiful work-rate. Par terre is how this match reached its conclusion. Stefanowicz, the recipient of a passive point, clamped around Vargas and ran a string of guts to put him away.
The final round for Day 2 of the Pan Am Championships begins at 5:00pm and can be streamed live on Trackwrestling (subscription required).
2020 Pan-American Championships
March 6-7 — Ottawa, Canada
TEAM USA DAY 2 RESULTS
77 kg
Patrick Smith (Minnesota Storm)
WON Yosvanys Pena Flores (CUB) 3-1
WON Angelo Marques Moreira (BRA) 12-3, TF
WON Jair Cuero Munoz (COL) 4-4 (criteria)
vs. Yosvanys Pena Flores
82 kg
John Stefanowicz (Marines)
WON Jose Vargas Rueda (MEX) 10-1, TF
vs. Marciano Ali (PUR)
87 kg
Joe Rau (TMWC/Chicago RTC)
WON Luis Avendano Rojas (VEN) 8-0, TF
WON Lesylan Cousin Otomu (JAM) 11-2, TF
vs. Carlos Munoz Jaramillo (COL)


Listen to "5PM33: The Marine Corps' Jamel Johnson" on Spreaker.
SUBSCRIBE TO THE FIVE POINT MOVE PODCAST
iTunes | Stitcher | Spreaker | Google Play Music
Notice
: Trying to get property 'term_id' of non-object in
/home/fivepointwp/webapps/fivepointwp/wp-content/themes/flex-mag/functions.php
on line
999