Things are going pretty well for Taylor LaMont these days.
The 2016 Junior bronze medalist and 18-year old bundle of talent is currently a redshirt freshman at Utah Valley. It's a natural step for an American athlete, especially one who possesses the kind of wrestling gifts LaMont does. After all, NCAA national titles are important business around these parts. But despite choosing the surroundings of a folkstyle collegiate program, LaMont is quick to point out that Greco Roman is where his ultimate goals lie, evidenced in no small part by his participation at 59 kilograms in this upcoming weekend's US Nationals in Las Vegas.
"The coaches at Utah Valley are very supportive of my Greco goals, that's where my long-term goals are," LaMont asserts. "For this first part of the season I've been 75% folkstyle and 25% Greco. I'll do the folkstyle practice and then go off for a half hour at the end to do Greco, or I'll skip one folkstyle practice during the week and do all Greco. But that changed a few weeks ago after the Harold Nichols Open. Since then, I've been doing Greco every day."
If it sounds like a unique situation that's because it is. While college coaches have long allowed redshirt athletes the freedom to pursue freestyle training, especially during Olympic years, LaMont enjoying the space necessary to persist honing his Greco skills is somewhat of a departure from the normally stringent folkstyle methodology. In fact, LaMont, at least for this year, can even alter his training to include more Greco, not less, depending on his needs.
"It's been interesting to see how I can balance it out, but I've had success in folkstyle so far this season," notes LaMont. "That part has been good and hopefully I have success in Greco this weekend. If not, I'll make some adjustments and spend a little more time on Greco. I've been training for this for a month"
The topic has been confounding to many in the US Greco community. Traditionally, the most prized age-group Greco Roman wrestlers opt for the collegiate folkstyle route rather than continue on their perceived Greco Roman trajectories. They then reappear on a full-time basis four years later and although in certain cases some of these athletes have been able to carve out dynamic careers, many others wind up falling by the wayside, their development having been stifled. Only, LaMont doesn't see this as a potential pitfall, certainly not yet. He reconciles the path by placing a caveat on his decision — what's good now might not be good later and if that happens, he will approach it accordingly.
"Probably the biggest thing is that since I was little, I always had the goal to be an NCAA champion, I've always had the goal to be an Olympic champion, which would obviously be in Greco," LaMont assures. "If I had to give up one for the other, I'd obviously give up an NCAA championship for an Olympic gold medal. I'm still young. I look at some of the Greco guys on our Senior team and they are a lot older than me. Even Justin Ruiz, one of my coaches, mentors, and role models. He started wrestling super late, I think in eighth grade and didn't start doing Greco until later. He went on to make Senior World teams and be successful. I just haven't decided at this point I need to stop doing folkstyle to compete in Greco. With that said, I still have two more years on the Junior level and if somehow I get passed up by another kid my age, or if I start falling down the ladder on the Senior level, I will adjust things."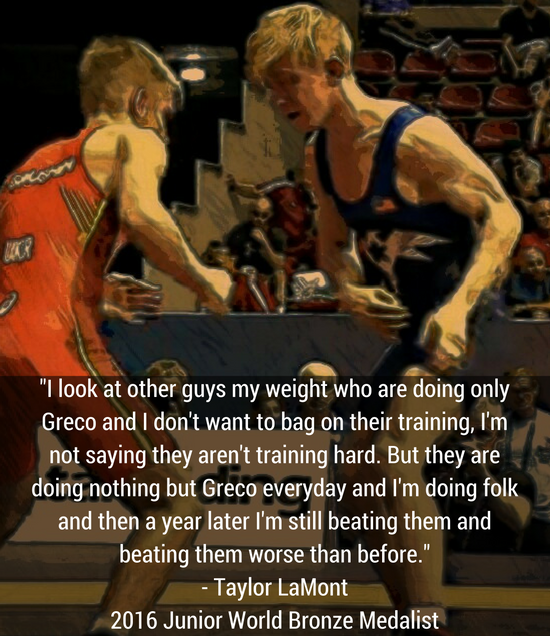 Gearing up for the Senior level is a different beast compared to the Juniors. The most successful Greco Roman wrestlers embrace the style on a full-time, all-encompassing basis, something LaMont is not doing currently. However, call it moxie, call it the luxury of ideal circumstances, but this is not something he is concerned about. LaMont is as pragmatic as could be reasonably expected and believes he understands the needs of a Senior Greco wrestler who is simultaneously attempting to chase down NCAA dreams.
"I remember last year I always followed Kyle Snyder because he almost took an Olympic redshirt but didn't," says LaMont. "He trained freestyle and traveled the world wrestling freestyle. But when he was home he wrestled folkstyle.  That was one of the deals I had with my coaches at Utah Valley, and that is whenever I want to do Greco, train or compete, that's part of the deal. That is the way it is set up. If I'm not happy down the road with that then I'll probably be done with folkstyle, but I don't see that happening."
But there is a difference. Folkstyle has a whole lot more in common with freestyle than it does Greco. LaMont may be granted the independence to mix his training up, but partners who comprehend the positional intricacies of the upper-body style are in short order. He is making the most of what he has available at the present, though a complete fix is being bandied about between he and his coaches.
"We have a few Uzbek partners, they're freestyle, but they have good front headlocks, good guts "LaMont adds. "We're looking to pull in some more guys. I've been talking to one of my assistant coaches to get some more Uzbek guys out here my weight who are Greco, not freestyle. It's super-cool having these guys here and they help me, for sure, but they are not Greco, so we're looking to get more partners in. Other than partners I have everything I need."
He sounds confident. Hard to blame him. LaMont has been impressive going back to his stint on the Cadet World Team last year. In 2016, he took second at the Olympic Trials Last Chance Qualifier in Iowa to Justin LaValle (Minnesota Storm) before taking out sometimes-rival Mitch McKee in two straight matches at the Junior World Team Trials, both times dominantly. The next thing you know, he's standing on the podium in France holding a World bronze medal. It has already been quite a ride. LaMont sees a course in front of him and despite its deviation into folkstyle territory, he is still convinced his is a name worth chasing.
"I look at other guys my weight who are doing only Greco and I don't want to bag on their training, I'm not saying they aren't training hard. But they are doing nothing but Greco everyday and I'm doing folk and then a year later I'm still beating them and beating them worse than before. Right now, I'm happy with my situation and if that changes, I'll just change my situation."
Greco fans can't ask for much more than that.
Notice
: Trying to get property 'term_id' of non-object in
/home/fivepointwp/webapps/fivepointwp/wp-content/themes/flex-mag/functions.php
on line
999