To say that a wrestler is "right there" is intended as a compliment, and it's something Ellis Coleman (67 kg, Army/WCAP) has both heard and said about himself on occasion.
But that is only because it's true. Over the course of his career and especially throughout the past three seasons, Coleman has competed against several of the top competitors in his weight class the planet has to offer. He has won a few of these bouts. He has lost a few of them, too. Even in those losses — and even in the losses that have ended with lopsided scores — he has never appeared overmatched. Points happen quick, after all. One slight adjustment and a counter here, or an attack there, and the results could be different.
That's why Coleman, perhaps the United States program's best Senior Greco-Roman athlete currently, is often referred to as "right there" — i.e.,  just an inch away from finally, at long last, attaining World success.


Unfortunately for Coleman, he will have to wait a little while for the next opportunity to further prove his supporters correct. On Sunday at the 2019 World Championships in Nur-Sultan, Kazakhstan, the 27-year-old went 1-1 and was eliminated prior to the medal rounds after his vanquisher Deyvid Dimitrov (BUL) fell to Denmark's Fredrik Bjerrehuus. Bjerrehuus, an experienced but underrated competitor not unlike Coleman, decisioned Dimitrov in the quarterfinal, simultaneously eliminating Coleman and qualifying 67 kilograms at the 2020 Tokyo Olympics for Denmark (spoiler alert: Bjerrehuus already owns the spot — Ed.).
The bitter taste doesn't actually reside with Coleman's defeat to Dimitrov. It is instead attached to Coleman's lone victory at the tournament, a spectacular opening-round starching of returning World bronze and #4 seed Meirzan Shermakhanbet.
It was really quite a victory. Forgetting for a moment Shermakhanbet's credentials and viability as an athlete, he is from Kazakhstan, the tournament's host country. With the perception surrounding international competition being what it is, the thought entering the bout was that Shermakhanbet would get all the close calls and that the only way for Coleman to triumph would be if he left absolutely zero doubt when it came to scoring sequences.
And that's precisely what he did. Coleman walloped a big headlock for four points early on, countered a throw for an additional pair, and, save for one messy scramble, neatly closed the show with a takedown. The Illinois native had bulldozed one of the bracket's biggest contenders via technical fall.
Just one more win following the Shermakhanbet bout would have propelled Coleman into the semifinals opposite 2018 World Champion Artem Surkov (RUS), the #1 seed. Aside from delivering a rematch from last year's Worlds, where Surkov edged Coleman 3-1, it would have also qualified the weight class for the US. But as mentioned, this advancement in the bracket belonged to Bjerrehuus.
The fallout from the tournament is all still very fresh. Coleman is going to move on quickly, though. He doesn't have much of a choice, not with the Military World Championships scheduled to begin next month in Wuhan, China.
But there is an interesting note that has come to pass in the wake of Nur-Sultan that deserves acknowledgment before Coleman steps on a mat again.
When Coleman tech'ed Shermakhanbet on Sunday, he became the first US Greco wrestler since Andy Bisek to defeat a prior Senior World medalist in back-to-back World Championships. Bisek, now the head coach at Northern Michigan University, stands out a little more if only because a) in both cases he earned bronze, and b) the athletes he beat were all champs.  In '14, Bisek downed future Hall of Famer Roman Vlasov (RUS) in the second round. A year later in Vegas, Bisek actually took out two previous World golds: first it was Yavor Yankiev (BUL, '07) in the repechage and then Saeid Abdevali (IRI, '11) in the proceeding round for bronze.
Nevertheless, you get the picture. It's one thing for an American athlete to take out a World medalist at an event midway through the season, not that we don't highlight such occurrences. But it is entirely different when it's a prior World (or Olympic) medalist at the Worlds. And Coleman has now done it twice in a row.
Last year, Coleman pinned pseudo-rival and '14 World bronze Edgaras Venckaitis (LTU) in his first bout. This year, it was Shermakhanbet. Throw in that he more than held his own against Surkov, and by now, it would seem every major contender in this weight class knows exactly who and what it is they're dealing with when Coleman is limbering up across from them.
Of course, a lot still remains to unpack, such as the potential threat posed by a variety of domestic obstacles, like Jamel Johnson (Marines), Hayden Tuma (Army/WCAP) and Alex Sancho (Army/WCAP). The schedule will be busy, health has to stay in check, and so on. But if Coleman is tasked with qualifying the weight class and later ends up as the US representative in Tokyo, you at least know he's in position for a breakout. At this stage, it just feels like his time is coming.
He's right there.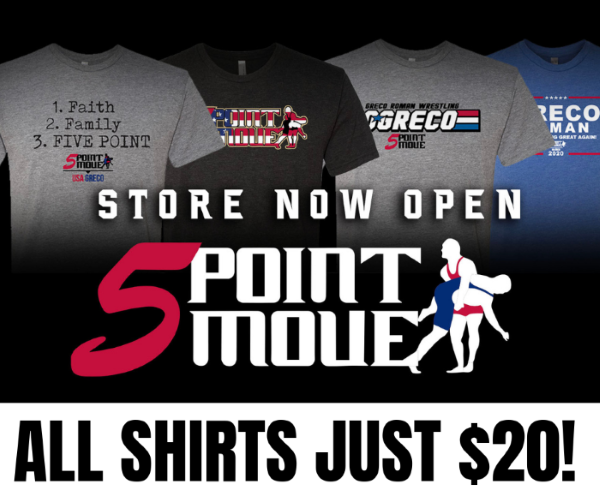 Listen to "5PM28: G'Angelo Hancock, Joe Rau and Max Nowry" on Spreaker.
SUBSCRIBE TO THE FIVE POINT MOVE PODCAST
iTunes | Stitcher | Spreaker | Google Play Music | RSS
Notice
: Trying to get property 'term_id' of non-object in
/home/fivepointwp/webapps/fivepointwp/wp-content/themes/flex-mag/functions.php
on line
999