Four more 2019 US World Team members were unveiled earlier today at Final X: Lincoln. 
Ildar Hafizov (60 kg, Army/WCAP) added one more chapter to his growing legacy by overcoming teammate Mike Fuenffinger in two straight bouts. Perhaps the bigger story was the addition of two first-timers, Ryan Mango (63 kg, Army/WCAP) and Ray Bunker (72 kg Marines). Both athletes originate from vastly different athletic backgrounds and have seen their struggles on and off, but none of that mattered on Saturday as they each plowed through their significant domestic obstacles to reign supreme. Last but not least was G'Angelo Hancock (97 kg, Sunkist, world no. 3), whose remarkable season continues after a pair of crisp wins at the expense of a game Lucas Sheridan (Army/WCAP).
Action began at 12:00pm (CT) and aired live on FLOWrestling.


Match 1 saw Hafizov race out to a 7-0 first-period lead following a passive and six points from par terre. But instead of being able to close Fuenffinger out with just one more score, he wound up having to fight to survive. That's because later in the second, Hafizov held a high front headlock that allowed Fuenffinger to grab a bodylock that he dumped over for four. The sequence narrowed the gap and made for some contentious moments in the waning stages of the bout, but it was a 7-5 Hafizov victory nonetheless.
The second bout didn't offer much in the way of uncertainty. Hafizov locked double overhooks immediately after the whistle but came up short. Par terre, once again, is how the points were piled on, only this time, Fuenffinger didn't make it to the second period. From top, Hafizov took a tumble gut for two, and then proceeded to re-lock and re-roll his teammate three more times to come away with a snappy 9-0 tech.
With the Final X victory, Hafizov makes his sixth World-level Team. He was a three-time World Team representative for Uzbekistan prior to his arrival in the US, and also made an Olympic appearance for his native country in 2008. '17 is when Hafizov first broke through in America by defeating another WCAP teammate Hayden Tuma at 59 kilograms. In addition, the 31-year-old has advanced to the finals of every US Trials since 2016.
The series at 72 kilograms was originally thought to offer three potentially exhilarating rounds of action, but Ray Bunker (Marines) continued his shutdown of the weight class by sweeping Alex Mossing (Air Force RTC) in two straight. In the first bout, Bunker chugged along to a passive in the opening period and Mossing shrewdly ambled up and out to avoid follow-up points for Bunker from par terre. A step-out provided Bunker another notch on the scoreboard leading into the second. Mossing got his chance soon enough but was unable to capitalize, and the Marine collected one more step-out to walk away the 3-1 winner.
There was more action to be had in Match 3. A big attempt from Mossing early on saw Bunker land on top near the line and resulted in a 2-0 advantage. The pressure began to accumulate. Mossing zipped a few attacks to stay in the game but the opposition didn't stop coming. Bunker checked in with two more step-outs and piled on for a 7-0 series win that, at the time, ensured at least two US Marines on the 2019 World Team.
Mango Steps Forward; Hancock's Mission Stays On Track
For Mango, Final X: Lincoln delivered his crowning Senior-level achievement. Bunker/Mossing was expected to present the most compelling matchup, though Mango's series opposite Xavier Johnson (Marines) was chosen as the series most likely to reveal a points-scoring bonanza. That it did, especially in Match 1.
The first par terre kicked it off. Johnson didn't waste any time, immediately going to his lift. He did get Mango up, but there was almost a step-over and no exposure. However, it was still good for a step-out and the Marine held a 2-0 lead entering the second.
That's when Mango took over.
Johnson did a good job of wrangling double-underhooks. He went to hoist up the hold; but as he did, Mango scrambled and reversed all the way around to pick up a takedown. He then quickly collected a trap-arm gut and rolled Johnson right out en-route to an emphatic 12-2 tech.
It was Johnson with the first par terre shot once again in Match 2, and this time, he got what he was looking for, lifting Mango for four points. Mango coaxed a step-out to reduce his deficit to 5-1 — and just like Match 1 — the second period is when he sprung to life. Mango was awarded his passive, locked, and hurled Johnson over to surge ahead 6-5, and that's where the score remained at the conclusive whistle.
Having the third seed at the Worlds locked down is nice, but it wouldn't have meant anything for Hancock if Sheridan emerged victorious on Saturday. Alas, that didn't happen. After finding success with an arm throw at the Challenge Tournament last month, Sheridan went back to the technique again today, only to have Hancock hold on and re-direct for a takedown/gut combo that yielded four. Back on the feet, and Hancock nabbed a takedown from a bodylock for two more, sailing into the second with a 6-0 lead. The bout was over shortly thereafter, as Hancock wrapped one more bodylock for two and the 8-0 win.
Sheridan showed up with some added vigor in Match 2, along with a few adjustments. He bullied forward from the outset and went to his go-to, a headlock, and cranked Hancock down to the surface near the edge. It didn't net exposure, but a step-out point meant it was he who got on the board first. Following the reset, Sheridan returned to the headlock and Hancock was ready, catching Sheridan in the act before covering for a takedown. The pace was even, though Sheridan was pressing in. He tried an arm spin, and again, Hancock covered to pick up two. Neither Sheridan or the Army corner were comfortable with the call, so they challenged. Upon review, the call was upheld, and Sheridan trailed 5-1. He fought forward through the remainder, and hustled a step-out to close the gap to 5-2. But that would be the end of the scoring. Hancock, at only 21 years of age, seals a spot on his third-straight Senior World Team.
Coon vs. Schultz Still to Come
Later tonight, 2018 World silver Adam Coon (130 kg, NYAC/Cliff Keen) takes on 2017 Cadet World Champion Cohlton Schultz (Sunkist) in what is essentially Greco's "main event" at Final X: Lincoln. Action starts at 6:00pm (CT) and airs live on FLOWrestling.
Final X: Lincoln
June 15th — Lincoln, Nebraska
60 kg
Ildar Hafizov (Army/WCAP) def. Mike Fuenffinger (Army/WCAP) two matches to none
Match 1: Hafizov def. Fuenffinger 7-5
Match 2: Hafizov def. Fuenffinger 9-0, TF
63 kg
Ryan Mango (Army/WCAP) def. Xavier Johnson (Marines) two matches to none
Match 1: Mango def. Johnson 13-2, TF
Match 2: Mango def. Johnson 6-5
72 kg
Ray Bunker (Marines) def. Alex Mossing (Air Force OTC) two matches to none
Match 1: Bunker def. Mossing 3-1
Match 2: Bunker def. Mossing 7-0
97 kg
G'Angelo Hancock (Sunkist, world no. 3) def. Lucas Sheridan (Army/WCAP) two matches to none
Match 1: Hancock def. Sheridan 8-0, TF
Match 2: Hancock def. Sheridan 5-2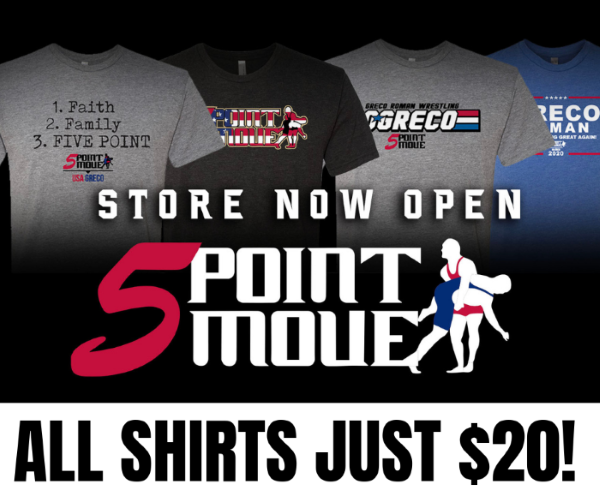 Listen to "5PM23: World Team Trials Challenge Tournament Preview" on Spreaker.
SUBSCRIBE TO THE FIVE POINT MOVE PODCAST
iTunes | Stitcher | Spreaker | Google Play Music | RSS
Notice
: Trying to get property 'term_id' of non-object in
/home/fivepointwp/webapps/fivepointwp/wp-content/themes/flex-mag/functions.php
on line
999