The first half of 2019 is complete, which also means that the wrestling season for international Greco-Roman is on its last legs.
With the Senior Worlds now less than three months away and only a handful of tournaments remaining (including of course the '19 World Championships in Nur-Sultan, Kazakhstan), it is an appropriate time to take stock of what has transpired thus far for American athletes who have competed overseas.
Regardless of age group, United States Greco-Roman wrestlers are measured most by two parameters: how they perform at World events — and how successful they are against foreigners, period. What happens on domestic soil certainly matters, as well, especially when it comes to the Nationals and/or World Team selection. But the best and most accurate measuring stick for progress can be found in the throes of international competition.


There have been plenty of uplifting moments and matches thus far in 2019 worth a second look. Some were exhilarating, some were gritty, and some even brought forth expected outcomes, but all were meaningful for a program that is beginning to fully rediscover itself.
2019 First Half Top 10 US Wins Overseas
10. Boykin blasts Korea. (Grand Prix Zagreb Open: 97 kg round of 16; February 9)
One of three matches on this list from the Grand Prix Zagreb Open in Croatia, Nick Boykin (Sunkist) earned his most impressive Senior win to date by taking out 2017 Asian Championships silver Kim-Seung-Jun (KOR). Boykin was down 3-0 late in the first when he basically tackled Kim to the tarp. The momentum was just starting to build. In the second, Boykin collected a takedown to surge ahead 6-3. Now feeling the heat, Kim desperately locked for a throw only to have "Big Nick" easily land on top and hold on for the fall.
9. Nowry's clutch counter against Khachatryan. (Pan Am Championships: 55 kg semifinal; April 18)
It was setting up eerily similar to their meetup a year ago. Max Nowry (Army/WCAP, world no. 12) fell to Brazil's Sargis Khachatryan (world no. 17, formerly of Armenia) in the '18 Pan Am gold-medal match, thanks of course in large part to wonky officiating. Sure enough, when they met in the second round of the 55 kilogram round-robin, Nowry held a 1-0 lead entering the second and eventually being dinged for a passivity point and assumed bottom par terre. Khachatryan did manage to get a gutwrench; however, Nowry wasn't about to let history repeat itself. As soon as he exposed, Nowry stepped over to reverse Khachatryan before coming up with his own turn to lock down the victory.
8. He didn't even know who he was. (Grand Prix Zagreb Open 82 kg round of 16; February 9)
Part of John Stefanowicz's (Marines) charm is that he is kind of aloof when it comes to the opposition. He's just not that aware of who else is out there, or what their credentials are. He also doesn't care. Stefanowicz had himself quite the first-round draw in Zagreb in the form of 2017 U23 World silver Rajbek Bistultanov (DEN, world no. 6) and it was one helluva match. The Marine scored first on a takedown and then countered an arm spin by essentially barrel-rolling Bisultanov for another two points. Fast-forwarding all the way towards the end of the bout, Bisultanov, down 4-3, checked in with a step-out but was still behind on criteria. The race was on from there, although Stefanowicz more than held his ground the rest of the way.
7. Coon returns for the Pan Ams, flattens three guys. (Pan Am Championships: April 18)
Adam Coon (130 kg, world no. 2) hadn't been in a Greco match since the 2018 World final, and if he had more Senior experience, no one would have thought anything of it. But the near six-month layoff combined with his dual-style aspirations invited some question marks prior to the Pan Am Championships — and apparently for no reason. Coon found zero trouble pounding out Diego Alemendras Rodriguez (CHI); was forced to get in a rhythm in order to dispose of Angel Pacheco Romero (CUB); and then after getting called for passive in the final opposite Luciano Del Rio (ARG, world no. 20), he stood up, collected himself, and proceeded to steamroll Del Rio with a bodylock. Three matches, three pins, as if we've never seen this before.
6. The entire 2019 U15 World Team. (U15 World Combat Games: June 19)
Immediately after it was announced that there would be some semblance of a World-level event for "U15" this year (FKA Schoolboy) and that the US planned to field a team, most in and around the country's program were extraordinarily confident. Since the consensus is that the younger the age group the more potent are the Americans, a big performance was expected. But this big? Five champs and two bronze medals later, even the most ardent skeptics have to wonder: what would happen to American Greco if folkstyle held less of an influence?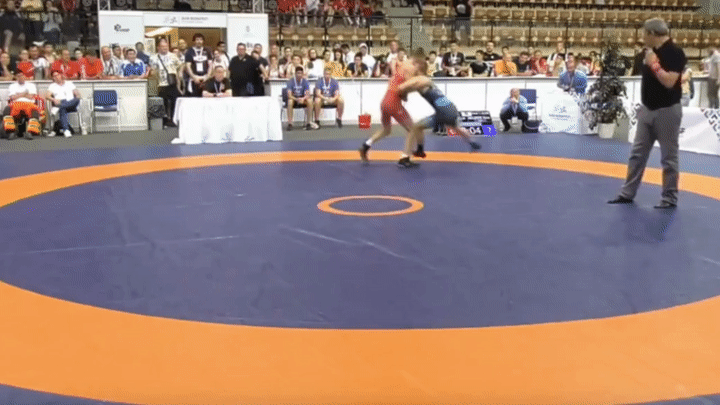 5. Respect your elders. But not too much. (Sassari City International: 97 kg semifinal; May 23)
2009 World Champion (and multi-time medalist) Balazs Kiss (HUN, world no. 8) is still going strong into his mid-30's, and also happens to know G'Angelo Hancock (Sunkist, world no. 3) quite well thanks to the litany of training camps the US enjoys in Hungary. And Kiss had, by and large, always beaten the hell out of Hancock during these joint practice sessions. But Hancock was gradually smartening up. He was logging files into his database the whole time. They finally met in an actual match this past May and the result was surprisingly one-sided. Hancock originally countered a throw and landed on top for four early in the first, but those points were nullified after a challenge. That didn't matter. Later in the period, Hancock dumped Kiss to get those four points back and emphatically closed the door once and for all with a forceful takedown in the waning stages of the bout.
4. What a Perkins shutdown looks like. (Hungarian Grand Prix: 77 kg round of 16; February 24)
Up a weight class for the Hungarian Grand Prix, RaVaughn Perkins (NYAC, world no. 14) drew 2016 World bronze Ilie Cocojari (ROU) in the first round. It was a solid matchup stylistically. Cocojari is versatile and active, though it is from par terre where he is strongest. And sure enough, Perkins was knocked for passive in the opening period. Any failure to defend likely would have lost him the match right then and there. But Perkins stayed heavy on the tarp — and when he returned standing — began to assert himself in the ties whilst repeatedly moving Cocojari off his spot. In one crucial sequence near the edge, Perkins' back was to the zone but he reversed his footing and hustled a retreating Cocojari out of bounds. The call was a caution-and-two for fleeing, giving Perkins a 3-1 lead. For the next three and a half minutes, Perkins gave Cocojari the business, outworking and out-positioning him through each exchange.
3. X-Man takes a step up in Croatia. (Grand Prix Zagreb Open: 63 kg semifinal; February 9)
Now that he is a two-time National Team member, folks may have forgotten that Xavier Johnson's (Marines) first legit medal-winning performance came in Zagreb in the winter of 2018. Johnson was tech'ed by two-time Junior World champ Kerem Kamal (TUR, world no. 7 at 60 kg) in the opening round but wound up throwing-and-pinning Kamal later on for bronze. A lot can change in a year. Instead of backing into the medal hunt at Zagreb in February, Johnson dominated. He began the day by starching Irakli Dzimistarishvili (GEO); received a forfeit; and then in the semis drew Poland's Dawid Ersetic, a physical, experienced athlete who likes to brawl. He never got the chance. Johnson used the first passive to crank a high gut before bombing a straddle lift for four more. Back on the feet and Ersetic went for a throw that Johnson easily countered to land on top, and it was all over just…like…that.
2. "Wildman Sam" torches a legend. (Thor Masters: 63 kg round 2; March 16)
Sammy Jones (NYAC/OTS), despite his high IQ and articulate manner of speaking, is not a very calculated competitor. In fact, Jones keeps it rather simple: fight for position and launch. Tis an approach that most figure should be reserved for lower-tier opposition (and it is that exact attitude why the sport needs to constantly be rescued — Ed.). But Jones doesn't agree. He's here to throw no matter who is standing across, as 2014 World/'16 Olympic bronze Stig-Andre Berge (NOR, world no. 6) discovered firsthand. In his second match at Thor Masters, Jones darted to Berge's body off of a high dive and bombed a four-pointer. After the reset and with Berge bearing down on a front headlock, Jones submarined and nailed a cascading bodylock to yield four more, wrapping up the most impressive win of his career.
Sammy Jones with two four-point BOMBS to score a big win via tech over '14 World/'16 Olympic bronze Stig-Andre Berge at #ThorMasters2019! #gogreco pic.twitter.com/uTNxPbg6M1

— 5PointMove (@5PtMove) March 16, 2019
1. The dawn of Hancock's ascendance. (Hungarian Grand Prix; 97 kg final; February 24)
United World Wrestling's "Ranking Series" has done a wonderful job of elevating the importance of certain tournaments — even tournaments that are already considered elite level, like the Hungarian Grand Prix. The points earned from advancement and their relationship to world rankings (and potential seeding at the World Championships) have drummed up a requisite amount of interest the past two seasons. When you add Hancock into that mix along with a finals appearance against a stout competitor with whom he shared a brief history, the result is the best match of the year as of this writing.
Hancock first defeated Fatih Baskoy (TUR, world no. 7) in the qualification round of the '17 Worlds. That was a rough but effective performance for the American. With both athletes improved, the smart money dictated that their return bout would offer even more drama.
It did.
Hancock received the first passive point but was unable to garner a turn. In the second period, Baskoy got his point and went for a lift that saw Hancock scramble out but nearly expose. Turkey complained. They wanted two points — and the officials acquiesced. Thankfully, Hancock challenged the officiating gaffe and won. Even still, Baskoy held the advantage and soon worked Hancock off the edge to go up 3-1 with time becoming a factor. But like Nowry and Stefanowicz elsewhere on this list, Hancock wasn't going to let this one slip away. It was as if he flipped a switch and just decided to win the match and end the argument.
Here's what happened. Not a lot of nuance or detail necessary. Hancock forced an arm drag, reached and wrapped around Baskoy, and bullied him down for two points. That was it. By the time they returned standing only :47 remained and Baskoy was cooked. The tournament win represented a notable achievement for Hancock, for it propelled him to #3 in UWW's rankings, a spot he has since locked down entering Kazakhstan this coming September.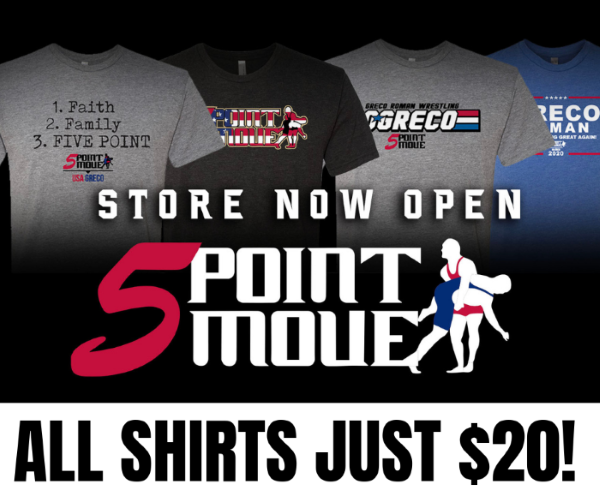 Listen to "5PM25: Just Dennis Hall" on Spreaker.
SUBSCRIBE TO THE FIVE POINT MOVE PODCAST
iTunes | Stitcher | Spreaker | Google Play Music | RSS
Notice
: Trying to get property 'term_id' of non-object in
/home/fivepointwp/webapps/fivepointwp/wp-content/themes/flex-mag/functions.php
on line
999