It's late Monday morning, nearly afternoon, and Fritz Schierl (77 kg, TMWC/Ohio RTC) has plenty to say. Natural, really. He's excited. He gets to wrestle in a big match on a special pay-per-view-style card against an active icon from his home state; and already this fall, has competed in a pair of National events despite the pandemic. Schierl is talking fast, laughing easily, and loves wrestling so much that the sheer thought of having the chance to keep doing it (for that reason alone, love) is more than enough to sustain what appears to be an extraordinary amount of energy.
The question for the moment, the catalyst for the conversation in the first place, is a simple one — or at least it was simple until Schierl delivered an answer that provided a treasure trove of context: what does his bout Tuesday night opposite two-time Olympian Ben Provisor (NYAC/BVRTC, 5PM #3) as part of Underground 1 mean to him?
You already knew going in that both Schierl and Provisor shared, lack of a better term, Dennis Hall in their lives. This synergy is realized in Wisconsin and the USA Greco-Roman community as a whole.
Most understand that Provisor has been tutored by Hall since grammar school and is seen as his protégé. But Schierl is intertwined in this dynamic to a large degree, as well. Hall — who functions as the co-host of the Five Point Move Podcast when his schedule allows — coached Schierl during his youth days and still does at National events under the banner of the Ohio RTC. And of course, Hall has sat in Provisor's corner during plenty of big moments throughout the years. Unfortunately, Hall will not be coaching either wrestler Tuesday night, which doesn't actually matter so much outside of the idea that his presence would have made for a little added banter before and after the match, perhaps.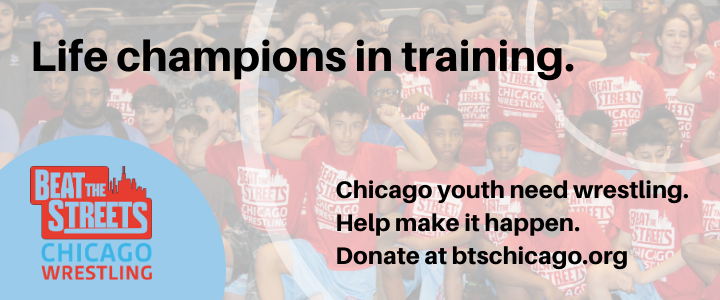 Schierl himself is quite the story. After finishing finishing high school as a state runner-up, he enrolled at the Ohio State University. Most of his appearances for the Buckeyes since the 2016-17 season have occurred in collegiate open tournaments, though he has cracked the starting lineup on occasion throughout, which isn't easy to do considering that program's enormous depth of talent. Well, Schierl is pretty talented, too. The difference is that his skill has rendered itself much more fully in Greco competition. Schierl, who just can't seem to get away from seeing Jesse Porter (NYAC/NTS, 5PM #14) standing on the other side of the mat, advanced to the U23 Trials finals in '18 and '19 and has since checked in at several Senior events, collecting some impressive victories which have garnered notice.
His activity level is high, because it has to be this way. Schierl has long-term goals wrestling but hearing his name called on-deck never ceases as the top priority. In between, he is a very serious student and was named All-Academic Big Ten three years in a row.
He has already completed his undergrad degree in Consumer and Family Financial Services (that came with a minor in Integrative Approaches to Health and Wellness); is now focusing on his Masters in, wouldn't you believe it, Masters of Sport; and still has eligibility at OSU thanks to the mess that the pandemic wreaked on wrestling and everything else.
With all of this, you'd think sleep and some days off would be a fine option to consider. Just not how he does it. Schierl craves involvement, striving to do extra work. Because it's hard. Because he cannot bear to accept something if he hasn't actually earned it.
Tuesday night he has earned a shot at lumping up one of few legitimate stars American Greco has to offer. And when that's over with, something else will immediately occupy Schierl's attention. Downtime isn't a thing in his world. He smiles thinking about what he will pour his energy into next.
It has to be this way.
Fritz Schierl — 77 kg, TMWC/Ohio RTC
5PM: It would have been something if Hall was involved in this match somehow. Even Provisor wondered about that for a second. 
Fritz Schierl: I guess I'll probably have my dad coach me and be in my corner. I haven't talked to Dennis about it. The cool thing about that is when I was in high school, my dad trained Ben for a period of time. Not wrestling, they would do cardio and strength workouts. I was in elementary school, maybe sixth grade or so, and I would watch them do the workouts together and join in sometimes. It was like a series of exercises that they did. One was a core workout, one was a shoulder endurance workout. They would do pool workouts. And I would do these workouts with them, either in elementary school or junior high. When I got into high school we were doing a similar thing where my dad would put me through workouts like that. When I was young, I was able to see what they did as a model training-wise. I saw how hard Ben worked when he was in high school.
So, my dad will probably be in my corner. But yeah, Ben used to come to my house and work out with him. That's still pretty cool. I have been thinking about that.
Ben was like, "the guy", the stud wrestler when I was a little kid. We went to the same high school. Me, Ben, and obviously, the Koontz brothers (Dylan and Brady) were down there, and now we're at Ohio State together. It would have been cool if they had four SPASH (Stevens Point Area High School) on the (Underground 1) card. It's cool, the history with Ben and my dad. It was actually a pretty cool story. At one point, Ben got hurt, I think his junior or senior year of high school. It might have been his ankle and he was out for a little bit. His fitness level dipped a little bit because he wasn't able to wrestle, and he realized that. So my dad helped him out as far as maintaining his fitness level to come back and get in better shape. Because when Ben did come back his senior year, he came back like a monster.
I hurt my ankle during my junior year, too, and went through a similar process. I asked my dad if he would work with me how he did with Ben because I remembered watching them and how hard my dad would push Ben.
5PM: I didn't know this, so your dad is a coach as well?
FS: He runs his own business with his brothers and does all of his coaching as a hobby, but he was more serious about it than just that. He coached all of us kids growing up. I have five other siblings, and my dad did a lot of coaching in a lot other sports. But as far as working out and stuff, he grinds. He grinds on that stationary bike and with the core workouts. It is more of a discipline, the fact that it was hard. That was the principle behind the workouts, that you have to dig really deep and be disciplined. He takes the same approach to business, as well. Working hard, working smart, and having fun with it, too.
He was coaching at the time he was working with Ben because he was coaching us, whether that was in wrestling, football, or coaching my sister in softball. But full-time, he runs his business. He did all of this as extra and he just wanted to help Ben out. As kids, we all looked up to someone like Ben who was always stellar in the dual meets and stuff. Maybe he thought it was a good way to not only help out a local wrestler, but to also show his own kids what it looked like to train really hard.
It had a really good impact on me, I think. My dad and his brothers have been in business for 30 years and they've come a long way. I think seeing that, too, how my dad worked really hard and applied that towards training was useful for Ben when he was working with him; and then obviously it was great for me to get some hard-training in. Those principles of, Yeah, life is hard. Wrestling is hard. You have to step in and give it your all. 
5PM: You finished runner-up at two U23 Trial finals in a row, and you're doing this without being a full-time Greco athlete yet. Did this at least prove you could be consistent and that this style would eventually be where you land after college?
FS: I think making the finals and slowly wrestling at these Greco tournaments, I feel like at first it was, Oh, I don't train full-time Greco. You're not sure how far you can go into the Greco space without full-time Greco training, really. But I and the people around me underestimated my ability. I am still at Ohio State and training with one of the best programs in the country. From a hand-fighting perspective, my folkstyle hand-fighting at Ohio State has helped me a lot in Greco. I might not be as Greco-specific in how I wrestle, but just being able to hand-fight in that room — and fight, in general — has helped me transition over.
I think it was Nate Engel, who I see at some of these tournaments, who made a couple of comments about how I wrestle and it got me thinking. He emphasized that I was training folkstyle, and really it is folkstyle, freestyle and Greco at Ohio State, but he commented on how I have a third lung and how I am in great shape during these matches. I thought about that, and it is like, Even though I am not training Greco specifically, I am still getting a benefit from Ohio State for Greco. I mean, I go in and hand-fight with Bo Jordan, one of the most grueling hand-fighters at Ohio State; or even training with (Nick) Boykin or one of the Koontz brothers, I am still able to get in these moves and whatnot over there. Overall, I am still training at a great program with great people. Even that will translate to some success in Greco. I have been looking back on it and I am fortunate having been able to train with all of these great wrestlers and receive a good, overall wrestling feel.
5PM: You're speaking to a topic that we discuss on here often, which is that the collegians bring a lot of heat when they enter Greco tournaments at Senior, whether they have prior experience in the style or not. They aren't worried about rule differences or positions, they just want to tear the other guy up. 
Fritz Schierl: I think that's a great point. I had a great Greco environment growing up. I have a great foundation for Greco between Dennis and Aghasi Manukyan. Aghasi used to pick me up in the morning to do park workouts when I was in junior high. Between him and Dennis and watching them go through it, and then obviously with the entire Wisconsin Greco culture, it was a great foundation for me.
But being at Ohio State, it's just a tough environment. You need to learn how to fight or you're not going to last. Those principles of fighting and being tough, loving the process, loving wrestling, and loving the grind of it has helped me a lot with Greco.
5PM: How has it been for you the past few years when it comes to competing following the college season?
FS: Ohio State is an elite program. We have a great team with great wrestlers. I have been able to step in on varsity a few times and I have gotten in a lot of matches at open tournaments around Ohio. That has been great because I have loved my development in folkstyle. My favorite style is Greco but developing as an overall wrestler has been cool.
But for me, when the season does end and we get a little break as the focus shifts from folkstyle to Greco and freestyle, I can start doing par terre. For freestyle, I can do chest-locking or I'll ask guys if they want to go Greco. It is always fun for me. In high school, folkstyle was a lot of pressure at times because it is for your school, your peers, everyone around you is kind of watching you… The folkstyle season for me is great, but I have always done a good job of having fun with Greco and freestyle. Especially having the Koontz's out there with me at Ohio State. It is cool being able to share that love for Greco with other people, and I think it has flourished with them being there and Boykin now being there.
Plus, there is the competitiveness of the Ohio RTC. A folkstyle season is long and you can become burned out by the end of that — but I think we have a good break and re-igniting that excitement at the Ohio RTC and in general happens quick. It's a great program and we have a great environment for wrestling — no matter the style. The point at the Ohio RTC is that we're going to wrestle hard, scrap hard, fight each other, and hold each other accountable.
Then with COVID and not being able to wrestle, I think a lot of guys are just hungry to compete again. After not having wrestled in nine or ten months and being away, there is a new appreciation for competition. Just realizing, Hey, I'm not going to be able to do this my entire life and there is a window of competitive opportunity within wrestling. No matter where I'm at as far technique — or how many reps I've had in a certain style, or my fitness level at any given moment — when you fight everyday, it is easy to step up for opportunities that come along and be able to step in and put it on the line. I see the match with Ben like that. I've been wrestling folkstyle the past few months, though I did get some Greco practices leading up (to the fall).
But the important lesson is to step in and compete when you can. Competition is not guaranteed. We saw that last year with everything being canceled and then being unable to compete for all of this time. It isn't guaranteed. Life isn't guaranteed. For me, this is an opportunity to express myself and express my love through wrestling, training, and being a good role model. All of these little things contribute to not being worn out, I guess. I take it as a new environment. It's so different from a folkstyle season and I have been fortunate to be around enough great people to make that happen.
5PM: Is your main objective this year to make the Olympic Trials? Or is it more macro, like, 'I'm going to wrestle in as many tournaments as I can and just see what happens'?
FS: I think it is more the second one. For folkstyle, I want to be ready. I want to be a good teammate and be ready to step in if I have to. I want to be a good team member who is going to fight in practice. I don't have too much focus on what this next season is going to look like, but what I have been doing lately is maintaining a certain level of fitness for wrestling — and if there are opportunities that come my way, take them.
Come March, depending on my role with the team, I would definitely take that opportunity (at the Last Chance Olympic Trial Qualifier). I want to stay ready and be ready for any opportunities as well as a good teammate at Ohio State. I don't know. To stay ready (laughs). I haven't thought too much ahead, but on a daily basis I live up to a certain standard that way if an opportunity does come along I am able to take advantage of it.
5PM: For the time being, I am sure you want to defeat Ben. With that obvious concept out of the way, what else are you hoping to take away from your match at Underground 1?
Fritz Schierl: I would say to keep developing my love for the sport. Competition was taken away from me for nine or ten months and I have the opportunity to wrestle. I'm not doing it because I want to prove that I am this great wrestler, but to really enjoy it and have fun with it. To enjoy the fight of it, to love how hard wrestling is. I want to operate from a place of love, not fear.
Look, there is fear. You're always putting something on the line. That is just the nature of wrestling. You don't want to go out there and not wrestle up to your potential. I'm not saying that I ever operated from that place, like. Oh, you need to live up to this or that. But there have definitely been times in my career when I wrestled from a place of fear or nervousness, and in not the best way.
It's more about falling in love with competing and stepping up to a challenge, which obviously, Ben is a huge challenge for me. He is one of the toughest guys I am going to wrestle. It's cool, too, because I want to have fun with it. Our history is really cool. Just to have two SPASH wrestlers representing Greco-Roman and representing Wisconsin, just fighting and having a good scrap… For me, this is stepping up to a challenge, loving it, and making it more about wrestling than anything else.
UNDERGROUND 1
November 24, 6:00pm ET — WI
Streaming live on Rokfin (subscription required)
Ben Provisor (NYAC/BVRTC, 5PM#3) vs. Fritz Schierl (TMWC/Ohio RTC)


Listen to "5PM41: Calvin Germinaro and Alec Ortiz of the Minnesota Storm" on Spreaker.
SUBSCRIBE TO THE FIVE POINT MOVE PODCAST
iTunes | Stitcher | Spreaker | Google Play Music
Notice
: Trying to get property 'term_id' of non-object in
/home/fivepointwp/webapps/fivepointwp/wp-content/themes/flex-mag/functions.php
on line
999