Monday kicked off training camp for a collection of US Senior athletes at the Suples Wrestling Club in Boise, Idaho. As one might expect, Suples founder and former NMU head coach Ivan Ivanov is taking charge of the workouts, with athletes on Day 1 already raving about the types of drills and perspectives Ivanov brings to the table.
NYAC and National Team staffer Herb House intimated two weeks ago that this gathering in Boise — along with other proposed SR camps to follow in Utah and Nebraska — were open to National Team-level athletes, which would indicate between 30 and 40 wrestlers being eligible. Less than a dozen Seniors showed up for training in Boise, but the room was far from barren thanks to the presence of several full-time Suples athletes.


Among those in attendance this week are three-time World Teamer G'Angelo Hancock (97 kg, Sunkist, world #8), National Team member Sammy Jones (60 kg, NYAC/NTS), and 2018 U23 World Team member Nolan Baker (67 kg, NYAC). For Hancock, Boise is Camp #2, as he was part of the group that occupied mat space in Oklahoma last month. But for Jones and Baker, Monday represented their first time in a high-speed environment dating back to early-March. Given the unique parameters involved, as well as the general curiosity surrounding the start of Boise camp, we touched base with Hancock, Jones, and Baker Monday night and aim to provide additional insights from they and others later in the week.
Sammy Jones — 60 kg, NYAC/NTS
5PM: What did you have to do prior? Did you get tested for COVID-19?
Jones: Here's the thing: that was something we tried to get done, and if you could, great. But I was unable to, unfortunately. I kind of found out we were going on this trip like, right before, the week before, and it just didn't line up as far as getting in. Which, I wasn't excited about. I really would have preferred to do that. I'm going to get one when I get back through Northern (Michigan University). That's how it's going to work.
5PM: Were you at all nervous or apprehensive about showing up?
Jones: No, I wasn't. I've been pretty quarantined in Marquette so I felt safe as far as my well-being. I kind of felt like there was a risk with traveling but it was an opportunity to get on the mat and that was something I had a really good feeling about, coming on this trip and starting the process of training. That was worth it to me.
5PM: First impressions of actually getting to practice again?
Jones: It felt great to be on a mat again. I'm really excited to be here. I mean, the wrestling, you don't lose that. There is a little different type of cardio between running and moving another human. So, I had a little lung push this morning. That felt good. I feel great to be on a mat again, honestly. I miss it. I missed it more than I realize I missed it.
5PM: What do you like the most about working with Ivan?
Jones: I really like how Coach Ivan runs his practices. He is very good at explaining what the process is. Through this camp he'll explain what we're doing, and then afterwards, he does a Q&A breakdown of, Hey, this is what we did; this is the reason behind what we were doing; this is what I was thinking; and how did you feel doing that? And as a 26-year-old athlete kind of later in my career, I really appreciate that, just the open line of communication as far a how your body is feeling.
I feel like this is the ideal situation, the ideal camp to get back into tip-top shape. I also feel like all of the guys here are in shape and have done a great job on their own. But it's really hard to be in wrestling condition when you can't get on the mat. Running and lifting weights is not wrestling. I do have to dust off a couple of cobwebs as far as how the body feels and moving your opponent around. So, this is the perfect spot for me.
Nolan Baker — 67 kg, NYAC
5PM: What did you have to do prior? Did you get tested for COVID-19?
Baker: Yes, I got tested. Herb (House) sent me a text a week before we flew out saying, Go get yourself tested and send me the results so we can confirm everything. So I went and got tested a week before we flew out I received my results three or four days after that. After I got tested, I just hunkered down at home until we went to the airport. But I did get tested and it came back negative.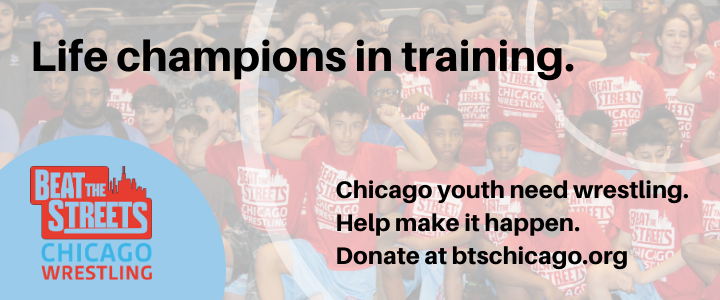 5PM: Were you at all nervous or apprehensive about showing up?
Baker: Well, I mean, given the times I'd say apprehensive is to be expected. I'm not paranoid by any means, but it's definitely a factor you have to weigh — is this worth the possible risk versus the possible benefit? Obviously, I was looking at the news and aware of the situation, but knowing that everyone was going to get tested, we're in an Airbnb and everyone has their own rooms, they're cleaning the mats and keeping everything as clean as possible, I did the little calculation in my head and figured it was a worthy thing to go out for.
5PM: How did it feel to get moving again as far as participating in structured workouts?
Baker: It was good. I've been hand-fighting some, just with local wrestlers and coaches. So it wasn't like I had completely lost the feel of what it feels like to wrestle. But what I haven't done is be part of a structured workout where someone is telling you what to do and someone else is working to get you tired.
So more than anything, it just feels good to be part of a practice again. More than the wrestling itself, just being a part of a practice again, a wrestling workout, is great. As great as it was to actually get to wrestle, what I actually forgot about is how good it feels after wrestling when you go back and take a nap or something like that. Where you just sit down and go, Ah, practice is over. I did it (laughs). There's something worthy about that in and of itself.
5PM: What do you like the most about working with Ivan?
Baker: He is not afraid to tell me that I'm not good at something. We did a bunch of basic techniques. I mean, we also did a lot of live today. But we also did a bunch of basic technique because we were just coming back and he wanted to get some of the rust off. And it was stuff that I would have been rusty with even if I had still been wrestling full-swing (laughs). I'd do like, two reps, and he would just be like, Hmmm, no, that's not it at all. We were just doing like, arm drags, no-resistance arm drags, and he says, No, that one was not good. Here's how you do it. I'm just like, Great. That is stuff I need to hear. I just like how honest he is and he obviously has great insights to give me.
G'Angelo Hancock — 97 kg, Sunkist
5PM: You were already in Oklahoma before this. Have you had to get tested for COVID?
Hancock: Yes, for this camp specifically we were required to get COVID tested, so I did that. It was a nostril swab deep down near my brain. Everyone had to do that beforehand, so that was a good thing.
5PM: How did your body start responding in Oklahoma? Did you come into this situation with any sort of baseline?
Hancock: It takes more than a single camp for me to begin to feel a baseline. A base is usually established over a month, you build a base over an entire month. You want to have at least a period of three weeks building your base. So, no way, shape, or form. I feel like it was a refresher for my body. A healthy shock. And that is 100% based off of Day 1, which is entirely different than what we had been doing and will be doing out here. Because, it is different related to what he (Ivan) is having us do. The bags and equipment, the movements… There is nothing similar, it's not just wrestling.
We're working for a purpose now, to build the body and high cardio. So that base is starting now through Ivan's training. This is my base. And after this, I'm looking forward to camps in Scandinavia, specifically Sweden, and I want to stay out there for quite some time that way I don't have to worry about traveling amongst COVID.
5PM: With how many coaches you've encountered, and how many rooms you've been in at this juncture of your career, what do you like the most about the way Ivan does things?
Hancock: My absolute favorite thing I would have to say is that working with Ivan, he can sense how practice is going in the moment. He did it during our morning practice, in the middle of practice, after practice. And what he did was stop everything and say, Guys, I need you to pay attention to this part and this part. This part is what I want to put an emphasis on today. He would then break down the purpose of our training.
For instance, this morning we had similar movements with the dummy. It then progressed in the afternoon to where we were doing the exact same movements from the morning but on our partners. I do that all the time during training camps, but I've never had it where a coach would stop the practice and tell you the purpose for why we're exploring it and how it is used for simulation. I think that is hugely appreciated.
Most practices, you show up and you work hard. As an athlete, you're saying, Of course, let's drill this so I can attack him and take him down. But Coach Ivan is telling you the exact point in the match why you're using this, where you're throwing, and why he is teaching us in this way. I like that a lot. It's a huge thing to respect about a coach, when he isn't just showing you how to do it. He's teaching you how to do it.


Listen to "5PM37: The wildman Sammy Jones" on Spreaker.
SUBSCRIBE TO THE FIVE POINT MOVE PODCAST
iTunes | Stitcher | Spreaker | Google Play Music
Notice
: Trying to get property 'term_id' of non-object in
/home/fivepointwp/webapps/fivepointwp/wp-content/themes/flex-mag/functions.php
on line
999