Joe Rau (87 kg, TMWC/Chicago RTC) took a mighty step forward in what many believe is the most crowded weight class the US has to offer. It started on Thursday when Rau, 28, advanced to the semifinals of the 2019 US Open where he defeated two-time Olympian and oft rival Ben Provisor (NYAC/NLWC) in a tight battle decided by criteria. The next night saw the Chicago native take on three-time World Team member Patrick Martinez (NYAC) and use a first-period gutwrench to eventually prevail via 3-1 decision.
Like all of the winners from the 2019 Open with the exception of heavyweight Jacob Mitchell (Army/WCAP), Rau now gets to enjoy a bye to the Final X Series held at Rutgers University in early June. It is at that event where he along with four other US Greco-Roman athletes will participate in the best-of-three series designed to select members of the World Team headed to Kazakhstan this coming fall.


But before that happens, we reached out to the now-two-time National champ Rau to talk about his performance at the US Open and what his approach was in those two crucial matches that were responsible for his triumph.
Joe Rau — 87 kg, TMWC/Chicago RTC
5PM: Against Martinez in the final it was you who drew first blood, and he has really improved with par terre defense going by his recent run overseas. Did that gut bring with it a swell of confidence in the first period? 
Rau: I thought the war was going to be completely on the feet. The deciding factor was that turn. I know that I can turn him, I know that I can turn anyone in the world, and I have confidence on top. I know that my gut is great, I know that I have other scoring opportunities I've been working on, and I know that I can turn Martinez if I get that lock. I knew that he would try to do a quick stand-up and I was ready to capitalize on that. That's how I actually got that lock, I caught him trying to evade the position instead of a traditional defense and I caught him.  When I take my time on top and get my gutwrench, I can turn anybody. I know it. I know it. I've done it. I've done it to everyone in the world in the practice room and to some of the greatest wrestlers in the world in tournaments. Whether I win or lose, I have a lot of confidence in that position on top and I'm glad I got my chance. I have a lot of confidence on bottom, too.
But I don't really focus on Martinez or Ben as far as what have they've done success-wise. Of course I am going to see it through the grapevine on social media and things like that if they have a good tournament. But ultimately, I'm not watching those guys or scouting those guys. All I am focused on is getting myself to be the best wrestler I can be. I've wrestled those guys so many times over the years that I know what positions I can score from against them. I know my game plan against Pat or Ben and I think I can score more and build on leads in those positions. This tournament was a lot about getting the "W" and both of those matches included winning the ugly way, but I did what I had to do.
5PM: Given the rules, what was the first thing that went through your mind when Ben got the first passivity point in your semifinal match?
Rau: Given the rules now, when Ben got the first passivity point I just told myself to be cool, calm, and collected. That's not something I normally am. Usually I want to come out guns blazing. I want to score fast, score early, and make the other guy look passive. I want to dominate. I want to let the refs know, I want the audience to know, and make my opponent know that I'm the aggressor, that I am always pushing forward and that I am going to be that guy to make first contact. That's something Dan Chandler, my former coach, always harps on, Make first contact. It's a way of life for me, making first contact. But at the same time, I've been influenced by Robby Smith now and he's teaching me more position. He's teaching me wrestling, teaching me more poise. Like, yeah, make first contact and be the aggressor; but also know that Hey, you've got this and it doesn't matter. So when Ben came out guns blazing, I think he pictured me to come out the same I way I did last Nationals. Instead, I was like, I'm good; I'm going to stay in good position and make adjustments 
At the start of the match, he was getting his underhooks and he kind of shocked me at first by pushing me around. But then I made adjustments, like Hey, don't reach; hey, arms in; use your legs; pummel the right way. And then I started getting to my positions. Me getting put down first…The whole match in my head I was saying, Believe in yourself, believe in yourself, believe in yourself. I had to remind myself to believe. I didn't know whether I was going to win or lose so I just kept telling myself to believe, to Believe in this match, believe in yourself. And it happened.
I think I need to wrestle better than the way I did, and I think that maybe with another ref, I could have gotten hit for passivity again, thus giving away the match. Ben is shorter than me, lower than me, and that makes it harder to control the center. You saw Ben's frustration with the calls. I almost had him turned, but you don't want to ever win a match on what is almost a referee's decision, you know? I got hit for passivity and then he got hit for passivity. 1-1, he was called last. But at the same time, I feel like I almost scored on him from top and he didn't come close to scoring on me from top, so I deserve the win. But either way, a win's a win and I got it done.
My game plan was to stay calm, stay in good position, and find a way to win. With the new rules, I hate passivity, I hate the ref's having that much control. I believe only in absolute scores and I'll say that till the day I die. I think we should only score absolute scores — someone getting a takedown, someone getting a turn, someone getting a throw. I don't think there should be passivity, but hey, you've got to adapt or die. All I did was focus on believing, staying in good position and trying to score without taking too big of a risk, because, Ben capitalizes on people taking dumb risks. He's short, he's stout, and his defense is good in every position. I had him in a position from par terre where I stood up with a front headlock and I was going to throw him — but I didn't. I wanted to throw him, but at the same I know that he's banking on people taking chances and catching them on their backs or reversing them. Our last match was high-scoring and I came out the loser. This time around I wanted to focus on position and I did that.
5PM: Now you've got a little time before Rutgers and the Final X. Will it be spent by shaping its own specific training block, and also, are you going to be paying very close attention to the Trials, or not as much simply due to the degree of familiarity you already have with the premier candidates at that event?
Joe Rau: Yeah, I've got a little time before Final X and it feels good, but I know in my heart and from drawing on experience with winning Trials during the Olympic Year that it's still go-time and the work isn't done. It's time to put in training and get the work done. At the same time, have confidence in myself and don't put pressure. Whoever comes out of this thing (the Trials), believe in yourself and know that you can win, and that you will win. That's what I'm focusing on. I am focusing on my training.
Robby Smith has been unbelievable with coaching me. He has taken on a player/coach role at Northwestern. It's like I have a personal coach the way an MMA fighter does, or like Aaron Pico had during his previous freestyle campaign. He didn't have the traditional training partner environment that most guys enjoy the privilege of having. But he had the privilege of personal coaching and a whole team behind him geared to serve him. That's what I have had the privilege of experiencing at the Chicago RTC. Training partner-wise, I have to figure it out sometimes and call on some of my buddies from back home, like Charles Lewis who used to be up at the Northern Michigan USOEC (United States Olympic Education Center) before it was the OTS (Olympic Training Site); my friend Danny Balderas, who was a college wrestler with me at Elmhurst; the college guys at Northwestern like Jack Jessen and Luke Davidson; and the guys at the Illinois RTC like Zach Braunagel and the help of Coach (Bryan) Medlin.
I've been really lucky to figure it out with training partners and to have coaches like Medlin and Robby to put in a lot of individual time with me and work on exactly what I need to work on to get me ready for this tournament. Robby has a lot of notes he's taking on how we could score more and do a lot better, and build on these leads so we can get on this World Team, get a medal, and then onward. I am not focusing on any candidates. If I am taking care of my business and maxing out everything I can as far as my training goes, there's nothing else to worry about. I know that Ben is tough as nails, I know that Pat is tough as nails. I know that there are other premier candidates but it doesn't serve me at all in my wrestling philosophy to focus on them or worry about them. It only serves me to get to the place where I'm at my best, and that's all I am focusing on.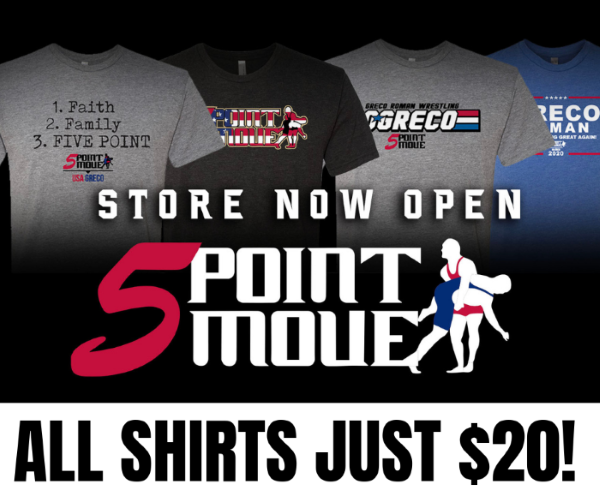 Listen to "5PM22: Sammy Jones guest co-hosts as Five Point Move visits with Lucas Sheridan and Sam Hazewinkel" on Spreaker.
SUBSCRIBE TO THE FIVE POINT MOVE PODCAST
iTunes | Stitcher | Spreaker | Google Play Music | RSS
Notice
: Trying to get property 'term_id' of non-object in
/home/fivepointwp/webapps/fivepointwp/wp-content/themes/flex-mag/functions.php
on line
999