Two-time US World Team member and '16 Olympic Trials champion Joe Rau (87 kg, world #7) will soon be upgrading his training environment, as it has been announced that the 29-year-old is set to become the latest member of the Illinois Regional Training Center.
It is the second time in two years that Rau (sponsored by club Titan Mercury) is making a change. In '18, he, along with four-time World Teamer Robby Smith (130 kg, NYAC), signed on with the Chicago RTC hosted by Northwestern University. However, the Northwestern staff recently informed both athletes that they will not be brought back for the upcoming season, essentially making them "free agents". Prior to heading home to Chicago, Rau competed for the Minnesota Storm under legendary coach Dan Chandler.
Rau's move south from Chicago to Champaign facilitates an official reunion with Illinois RTC head coach Bryan Medlin. The duo of Medlin and Coach Mike Powell played a highly influential role in Rau's development as an age-group athlete. Medlin has also cornered Rau on occasion in various important tournaments over the years, further strengthening their bond.


Rau — who is perhaps in the midst of his best stretch as a Senior competitor — qualified 87 kilograms for Team USA at the Pan-American Olympic Qualifier in March. With the postponement of the 2020 Trials responsible for creating a spacious gap in the calendar leading to next spring, Rau will now enjoy a full slate of tutelage under Medlin that he feels will make a definitive impact on his goal to become an Olympic Champion.
"With a little over a year till Tokyo, I know that the IRTC is going to be the perfect place for me to make my Olympic dreams come true," he says. "Coach Medlin is an awesome Greco coach and I always seem to win when he's in my corner, whether it be freestyle or Greco. Also,  I'll have several great training partners. A lot of these training partners I consider great friends and I have known them since I started Greco, or even before that. On top of that, I am extremely excited to work with Zac Braunagel as he actively pursues Greco in between his NCAA career."
Despite holding a status as one of the top all-around wrestling coaches in the country, Medlin instantly points to what the athlete has to offer, not the other way around. This has served as the primary component to Medlin's methodology. He wants wrestlers who are not only talented, but also self-motivated and demonstrate quality character inside and outside of the wrestling room. Given the scope of their relationship and Rau's reputation as a force of positivity to those around him, Medlin is convinced that he got the right guy.
"It's a great fit and we are beyond excited to have Joe join the IRTC," says Medlin. "He is a great person and his passion for the sport of wrestling is contagious and it elevates everyone around him. We look forward to helping him realize his dream of winning an Olympic gold medal in 2021."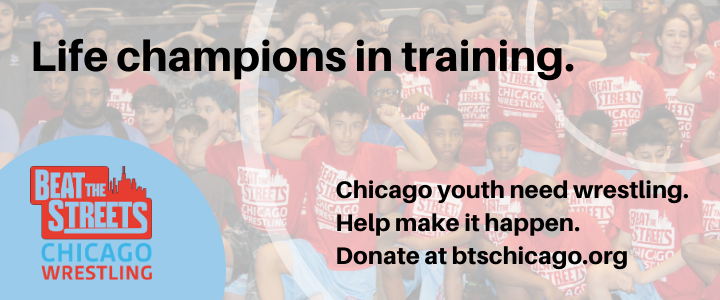 One step to Tokyo is already cleared. Because Rau qualified 87 kilos on behalf of the US program, he already owns a spot in the best-of-three Olympic Trials finals. But regardless of who emerges to face him, a stiff test is expected. 87 is one of American Greco's most competitive weight categories, giving Rau all the more reason to ensure he is ready to answer the call.
"For me, the weight is now qualified and I am in the finals of the Trials," Rau begins. "I know what I have to do right now and it won't be easy. However, I have a ton of confidence that Coach Medlin will get me there. I will have a personalized lifting program and mat practices, and I'm going to get overseas as much as possible to get the most competitive looks. We are making a plan and we are going to work that plan. Its time to make another jump. I want an Olympic medal, a gold one. And for me, this is the place to do it — right in my backyard of Illinois."
And he's not alone. When it comes to elite athletes with ties to Illinois, Rau finds himself in excellent company at the IRTC.
Shortly after Medlin became the training center's first-ever head coach in '18, former Northern Michigan standout and U23 World Teamer Travis Rice (60 kg) was added to the roster in conjunction with freestyle star Isaiah Martinez. The next year, '12 University World champ/three-time Pan-Am Championships gold Max Nowry (55 kg, Army/WCAP, world #3) and '12 Olympian/four-time US World Teamer Ellis Coleman (67 kg, Army/WCAP) hopped on-board, as well. With Rau, West Cathcart (130 kg), '19 Junior World Team member Braunagel — plus Rice, Nowry, and Coleman, among others — the Illinois RTC continues to garner interest as a destination for World-caliber wrestlers who trust Medlin to put the finishing touches on their skill-sets.


Listen to "5PM37: The wildman Sammy Jones" on Spreaker.
SUBSCRIBE TO THE FIVE POINT MOVE PODCAST
iTunes | Stitcher | Spreaker | Google Play Music
Notice
: Trying to get property 'term_id' of non-object in
/home/fivepointwp/webapps/fivepointwp/wp-content/themes/flex-mag/functions.php
on line
999