You give what you get. You harvest what you plant. So on, so on, and…so on. 
Nate Engel has heard all of this before. So have you.
What likely serves as the point of separation between Engel and most is that he sincerely believes in the potential return on investment that is the result of giving one's self to the process. Set to lead the Team USA Juniors at the World Championships beginning this coming Friday from Tallinn, Estonia (live on Trackwrestling, subscription required), the 36-year-old coach has taken his responsibilities up another notch. In his second straight season presiding over the Juniors, Engel has not only tried to involve more voices into the mix, he was also instrumental in booking a trip to Finland for four of his charges so they could become more familiar with the type of opposition that awaits in what are now mere hours.


Each year's World Team has its own road to navigate en-route to the big show. There are schedules to coordinate, training plans to confirm, and personalities to coalesce. And in the US, this all has to be accomplished during a compressed time period. Most other nations are without this issue. They're usually all set well in advance. That's why it takes significant leaders to volunteer their talents and services to the American cause, and it's also why Engel keeps finding himself in this position.
Earlier today, Engel checked in from Tallinn to provide a brief overview of how everything has lined up for both he and the 2019 Junior squad.
Nate Engel — 2019 US JR World Team Coach
5PM: In regards to training and the timing, how do you feel about the lead-up for this year's Junior world Team compared to 2018?
Coach Nate Engel: I feel really good. I think we have a young Team. We have a few guys who have been on a World Team before, with Cohlton (Schultz) having a medal already and also having a Cadet World Championship. He has been a leader on the Team. We also have a few older guys who've made their first World Team.
These guys have been putting in a lot of time between Finland and Colorado Springs, plus Peyton (Omania) and Mason (Hartshorn) were over in Norway the last week. So I feel really good. Those guys went home after camp for two and a half weeks and worked on everything we talked about. I mean, it's the World Championships. Anything can happen, right? So we've got to get rolling on the first day, in the first match. Just get a "w" and roll from there.
5PM: This is your third time coaching a World Team, and you have also been a full-time coach now for five years. What do you bring each subsequent year, especially when it's the summer and you're coaching a World Team?
Engel: First and foremost, every year you have to grow as a coach and the sport is changing daily. You have to stay current with it. Also, surrounding yourself with the right co-workers, the other coaches I work with on a daily basis and growing with them, as well. Being at Navy and now at Stanford, these are some of the brightest people I've ever been around, like Jason (Borelli), Ray (Blake), and Alex (Tirapelle). Just learning from them, and then learning from Matt (Lindland), Gary (Mayabb), Herb House, Coach (Mark) Halvorson, Coach (Bryan) Medlin, Chris Williams, Lucas Steldt.. Surrounding myself with these guys at camps throughout the year has allowed me to learn a lot from them. And also from the guys, too. We've had some success. They are all bright guys. Just growing every single year as a coach helps out a lot.
5PM: How important was the Finland trip? Outside of Dylan Ragusin, there wasn't a whole lot of international experience to be found among the group you brought over there. How much of a priority was it for you to take a group overseas prior this year to the Worlds?
Engel: At the US Open, Coach Mayabb and I talked and he really stressed doing this camp. We got six duals in the first two days and then we had a week-long training camp with seven or eight teams. That was really important to some of the guys. Tyler (Eischens), Jack (Ervien), and Zac (Braunagel) had never been overseas before. Zach had wrestled at the Pan Ams this year in freestyle, but as far as Greco went, it was very important because it's a different feel. You have to get that foreign feel in because it's different than wrestling at Fargo or the US Open against other Americans.
That was one of my big, main goals this year, to get these guys overseas to train. Jarkko (Ala-Huikku), the Junior coach from Finland, he's a two-time Olympian, did an amazing job with the camp. I recommend it for next year, they'll be doing it after Fargo. If there are any Greco coaches out there, it's cheap and a great camp. I could see where they needed to get better and we worked on those things in Colorado. Then they went back to their club coaches and college coaches to keep working on those things. So it was great.
5PM: You've been in-country a little over a day. How was travel and getting situated in Estonia for you and the guys?
Engel: It was good. We all met in Chicago and flew over to Stockholm. We had about a six and a half hour layover there, and the guys did great. They're close. They're all really close with each other and I think it's really important to have that Team unity and bonding because, it's not like they wrestle with each other. It's not like your college team or high school team. They were great. The travel was fine. We had two great practices today run by Coach Mayabb, and it was good. Everyone's weight was really good and these guys are ready.
5PM: We kind of alluded to this last year, but is there going to be a moment or two where before Friday's group goes and Saturday's group goes where you talk to them? Just pull everyone together and discuss  what to expect and so on, and maybe even with a motivational tone?
Coach Nate Engel: Yeah, we've been doing Team talks last night and tonight, just kind of going over what the day is going to look like and everything. After talking with Kevin Jackson, because hey, their first day was rough. They got one in the finals which was great, but it was a rough day. The next day they won I think 12 straight matches. So tonight, I told them, It starts at the bottom and we work our way to the top. It takes every single person to get behind each guy and each coach. And when you win that first match, guys get motivated and keep rolling.
They also have to take care of their own jobs. They can't get caught up in, Oh, this is the World Championships, and get caught up in that moment. They trained hard and they're ready to go. But yeah, definitely tomorrow night we'll talk a little bit more about what's going to happen. Maybe give a little motivational speech. There's this quote from Lyndon B. Johnson that says "Yesterday is not ours to recover, but tomorrow is ours to either win or lose." I was watching a movie on the way over here and I'm a big quote guy. And that quote just shows you that it doesn't matter what happened yesterday. Tomorrow, when we wake up — and it's Friday, Saturday, and Sunday — it's our day to win or lose. We just have to go out there, put out our best effort, and fight like our backs are against the wall to get our hands raised. Whether it's gritty, whether it's a tech fall, whatever it may be — we have to be in every single match and give ourselves a chance to win.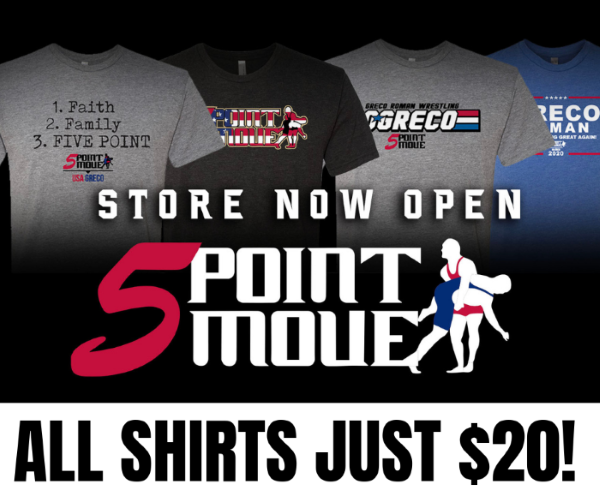 Listen to "5PM26: Princeton's Lenny Merkin and new USOTPC Greco-Roman athlete Nolan Baker" on Spreaker.
SUBSCRIBE TO THE FIVE POINT MOVE PODCAST
iTunes | Stitcher | Spreaker | Google Play Music | RSS
Notice
: Trying to get property 'term_id' of non-object in
/home/fivepointwp/webapps/fivepointwp/wp-content/themes/flex-mag/functions.php
on line
999