Next week begins the second United States Greco-Roman camp so far this summer geared specifically towards bringing top-tier Seniors together in the wake of the coronvirus shutdown. Set to take place at MWC in Papillion, Nebraska, this upcoming gathering is very similar to the previous one held last week in Boise: not officially sanctioned by USA Wrestling; but still intended to attract National Team-level talent.
And that is indeed how it is going to shake out over at multi-time World Team coach Zac Dominguez's homestead starting on Wednesday morning. Already on-board are a slew of familiar high-caliber names, including Sammy Jones (60 kg, NYAC/NTS), RaVaughn Perkins (77 kg, NYAC), Patrick Martinez (87 kg, NYAC/FLWC), Joe Rau (87 kg, TMWC/IRTC, world #7), and G'Angelo Hancock (97 kg, Sunkist, world #8), among others.
All of the athletes mentioned above with the exception of Vera have participated in at least one of the prior summer pop-up camps, most of them at Suples. A few other hardened wrestlers will also be on hand for their first legit team-oriented Greco practices since pre-lockdown — and two in particular will be coming in adequately prepared for the experience: '16 Junior World bronze/current National Team member Taylor LaMont (60 kg, Sunkist/UVRTC) and three-time U23 World Teamer Jesse Porter (77 kg, NYAC/NTS).


LaMont (also a U23 World Team rep in '19) was in the throes of the college season at Utah Valley when he entered the US Nationals last December. Despite an early loss that disrupted his pathway to the final, he regrouped an fought all the way back for third, thereby punching his ticket to the Olympic Trials. He then proceeded to pursue his NCAA goals through the winter, but like virtually everyone else, saw his season become swallowed up in a near-instant.
As for Porter, one of the country's most skilled and experienced young middleweights, the shortened campaign offered a bit of a roller-coaster ride. After the U23 Worlds wrapped in October, he was back at it again just a few weeks later in New York at the Bill Farrell Memorial. Though he did not get on the medal stand, he scored the biggest win of the tournament by a US athlete when he starched World/Olympic champ Davor Stefanek (SRB). Porter got back out there for the Nationals and came up short of securing his spot in the Trials. One tournament still separates Porter from Penn State 2020ne, the "Last Chance Qualifier". That was the event Porter was eyeballing when, as it happened for LaMont and everyone else, he found out that he would have to wait another 12 months to see it through.
The wait is not over. But at least when it comes to training alongside others, lockdown is.
Taylor LaMont — 60 kg, Sunkist/UVRTC
5PM: How have you been keeping busy throughout this interim as far as staying in shape?
LaMont: It's kind of funny. Obviously, I was wrestling in college and this all happened right after Big 12's, and right before NCAA's, which was a big bummer. But the day the NCAA's got canceled was my birthday. That was probably about the worst birthday I could possibly imagine (laughs). But the one good thing is that we got a really sweet hookup on a house in my hometown. That was awesome.
The biggest bright side that I found — and there were a lot of them — but the biggest bright side was that I got this house, and if not for the pandemic I wouldn't have had the time to renovate the house like I did. I mean, I was putting in like, ten hours a day for three weeks.
5PM: How long did it take you to pivot and come up with some kind of routine when the bottom fell out in March?
LaMont: At the very beginning when this all happened I just took a month off. I was pretty down, obviously, and I had to distract myself. I had a good distraction, I worked on my house. After that, Dylan Gregerson was in town and we had been with each other every day. I have access to two gyms courtesy of my dad and his company. Since Dylan and I were around each other every day, we felt it was safe to wrestle at our home gym. About a month after this all began, I started training with Dylan and we'd get some good drilling in, some good matches in. We'd hit the sauna, hit the bands. That's how it kind of started and then about five weeks ago our RTC started having practices again.
We are very thankful to be able to use my dad's gym in Orem, Utah. We're not allowed in the UVU wrestling room, which is where we usually do our RTC. It's actually just a three-minute drive from there to my dad's gym, and that is actually a nicer room, anyway. We have our RTC practices and we've pretty much been going two-a-days the last five weeks. We've been staying busy and I consider myself very lucky to be able to have this opportunity. I'm sure my training situation is a lot better than almost everyone right now I can imagine.
5PM: There was already the camp in Boise, before that some of the guys were able to train in Oklahoma. Have you paid attention to what has been going on?
LaMont: Yeah, I got invited to those other camps and I wanted to go to them. But like I said, as of right now we're in a really good training environment down in Utah. I was talking to Herb (House) about whether I was going to go to the Nebraska camp or not, asking if I would sure have a partner. Because right now, I have a good situation and I don't want to mess it up. If I were to go out there and someone tested positive around me, then I'd have to quarantine. If one person gets it in an RTC it shut down the whole system for a month, you know?
So I haven't gone to any of those camps but I could have. I had a great situation and it wasn't really worth the risk to me. But this one, I mean, they are requiring everyone to get tested beforehand. I know that Sammy Jones is committed and we actually have Dylan coming out with me, too. So, that'll be fun. I mean, I'm not scared of the virus itself. I'm a healthy guy. If I get it, I'm sure I'd be asymptomatic or have low symptoms. What I am scared of is me getting it and having to protect those around me. My wife works in the hospital and I have to take it seriously because if she has any symptoms she is responsible. She works with virus patients everyday, including 80 and 90-year-olds. That's who she's around, so I have to take it seriously because of that.
That is why I haven't branched out to those other camps. I have it good right now. But this camp, I'm excited to work with Sammy and get around the other guys and have some good Greco-specific training.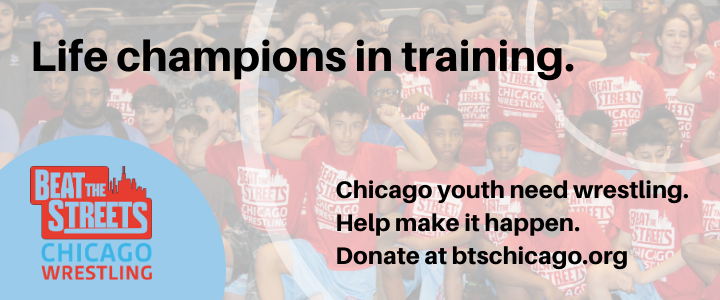 5PM: What are you hoping for the most out of getting to participate in a National Team-level camp right now?
LaMont: My biggest hope for this camp, and I know I'll get this with Sammy, is just par terre. If you watched my matches in December (at the Nationals), honestly, I hadn't been training hardly any Greco. I would do some hand-fighting at the end of practice or hit my arm throws, hit my lifts and stuff. But I was focused on my college season for the most part. Then I went into Texas with probably less Greco practices than anyone in that tournament. If you watch my matches, I think it was my second match, and LilShawn Coleman actually tech-falled me because I got lifted. I was on bottom, he had a great lift, and he lifted me for four twice. Then I came back and wrestled all the way back for third.
But if you watch my matches, I wasn't behind. I considered myself ahead on my feet. I was taking guys down, and even on top I was turning guys. I have to work on bottom. If I want to make the Olympic Team and the World Team on the Senior level, and get on top of the podium at the World and Olympic level, then I can't let anyone turn me. If you watch my matches, the guys I lose to consistently in the US… Like Ildar (Hafizov). When he gets on top, he is so savvy and technical that my only hope right now at this point is to get out of bounds and give up one turn (laughs). That's what I need to work on, bottom. For the most part, I can defend nine out of ten guys, but it's that one guy. That is why I'm on the National Team and not sitting at the top yet. That is my hope for this camp. I want to get thrown around by Sammy, and I want to get better on bottom that way when it's time for the matches I am prepared for that.
5PM: Since everything is up in the air as far as when a Trials tournament might be, and just the season getting restarted as a whole, what do you have with regards to a general plan outline for when Nebraska camp breaks?
LaMont: At our RTC, we have scheduled practices through this month and then we were going to take August off. After Nebraska camp, I will probably pick up what I was doing before this started. Dylan and I will do our own thing. Right now we are doing our practices and I will go through a mixture of our college and freestyle practices, and then Dylan and I will get a good 30 minutes everyday, or get a Greco match in at least three or four times a week.
But once these practices end and we have the month of August off, I am going to kind of tone it down a little bit and stay sharp. I'll probably cut it down to three or four times a week instead of five two-a-days a week. And I will probably focus more on my diet because that is one area I am lacking on. I am going to focus on my diet and just stay sharp and stay healthy after this camp. That is my plan right now.
Jesse Porter — 77 kg, NYAC/NTS
5PM: How have you been keeping busy throughout this interim as far as staying in shape?
Porter: Well, as far as conditioning goes, since there aren't any for-sure tournaments coming up in these next couple of weeks here I haven't really been solely focusing on my conditioning too much. I have been doing mostly technique and really honing in on that every day, as well as getting stronger. I have mostly been doing those two things. For me, I am lucky enough to have a good amount of resources in my house. I have my dad going over things with me every single day. I obviously have other resources outside of that. I have the internet, so I can look up techniques and other videos. I have my dummies downstairs on my mat, and I can utilize those things every single day and continue to get better that way.
At the same time, I have dipped my finger in the water looking for any opportunities that may arise and seeing if they have those safety measures in place so that I am not taking too much of a risk.
5PM: How long did it take you to pivot and come up with some kind of routine when the bottom fell out in March?
Porter: I'm not going to lie, it took a while. It did, it took a while. First of all, it was a huge switch because we were gearing up for the Olympics. I was full-fledged training, fully engaged going balls to the wall every day trying to get ready for the Olympic Trials. And then all of the sudden, I had to go back home, the Olympic Trials were canceled, Fargo… And not only that, I had another tournament to do even to get to get into the Olympic Trials. All of that was canceled so I didn't really know. My training was kind of ripped right from underneath me. Like a rug, just pulled out from underneath my feet.
I had to give myself a chance to mentally digest what had happened. I think at first I had just been so used to being like, I have to get back at it so I don't lose any progress. I think that's one of the reasons why it took longer than it should have. If I just gave myself a chance to mentally digest what happened I would have been able to recover faster. But I did eventually recover after I figured out that, Hey, you need a chance to digest this first. Take a tiny break; digest it; and then figure out what your plan is going to be from there. And that's exactly what I did.
I was looking at, Is it smart to stay here at Northern? Or should I go back home? I figured that I had more resources at home, my parents are here, this is where I grew up and I know a lot more people here. I also figured since everyone was leaving at Northern anyways and there would be no facilities open, it was a lot smarter for me to come back home and continue my training here. So that's what I did. I figured out a plan and said, Okay, these are the things I'm going to do every single day, these are the things I'm going to be working on, and these are the things I'm going to get the most out of, all of these different training aspects right here.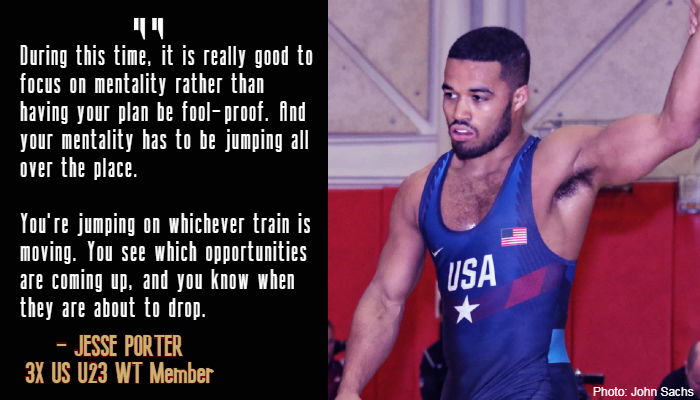 5PM: There was already the camp in Boise, before that some of the guys were able to train in Oklahoma. Have you paid attention to what has been going on?
Porter: Yes, I have been sticking my finger in as much as I can. For me, I focused more on being independent of that. I do like to know what's going on, but I felt that independence was more important during a time like this with everything changing so quickly. I hedged my bets on the fact that those camps are going to be coming and going like nothing. Because, they're going to open up — and then they're going to close. Then all of the sudden, we don't have those camps. So, those camps are really not a guarantee. I knew that, so I figured it was a lot smarter to be autonomous and to try to do these things on your own. I am confident that I can still make progress even if I'm not at those camps, right? It's not easy, but there is definitely a way to do it. That's what I've been focusing on.
That said, you still need to keep your finger in the water when it comes to these camps and where the opportunities are. I had still been doing that and my parents have been helping, as well, and I am grateful for them. They help me keep track of what's happening, plus you look at Five Point Move and you guys keep putting that information out and I look at your guys' page all the time. So, yeah, I still keep my finger in the water.
5PM: What are you hoping for the most out of getting to participate in a National Team-level camp right now?
Porter: Getting people to wrestle with is a big enough positive in itself, and getting some different instruction will also help me. Oh, and one of the biggest positives is a change of space. Obviously, I haven't been able to get a change of space with the stay-at-home orders. I've been training in the same place over and over and over again. After a while, you do have to get a change in scenery because it helps. That would be one of the positives. Change of setting, change of instruction, change of technique. Different technique from different coaches. We get partners. When I get my partners, there are certain things I can practice that I can't practice with only a dummy. So I'll be getting that different dimension of technique with the partners when I go there.
5PM: Since everything is up in the air as far as when a Trials tournament might be, and just the season getting restarted as a whole, what do you have with regards to a general plan outline for when Nebraska camp breaks?
Porter: Obviously, my plan has to be up in the air if everything else is up in the air. During this time, it is really good to focus on mentality rather than having your plan be fool-proof. And your mentality has to be jumping all over the place. You're jumping on whichever train is moving. You see which opportunities are coming up, and you know when they are about to drop. That is kind of how you  have to approach things, especially when you have so much change happening. I have kind of been focusing on making sure I keep that same mentality. I am aware of what opportunities are around me and I'm actively looking. Not even just actively looking, I am actively trying to create other opportunities for me. And then when I am in those other opportunities, I am trying to see it with my eyes when another opportunity is going to drop. That is the mentality that I keep. I work on that a lot.
As far as my plan goes, that changes all the time as I am taking up other opportunities and switching things around. If I told you my plan it wouldn't really matter because it could change tomorrow.


Listen to "5PM37: The wildman Sammy Jones" on Spreaker.
SUBSCRIBE TO THE FIVE POINT MOVE PODCAST
iTunes | Stitcher | Spreaker | Google Play Music
Notice
: Trying to get property 'term_id' of non-object in
/home/fivepointwp/webapps/fivepointwp/wp-content/themes/flex-mag/functions.php
on line
999