On Friday, G'Angelo Hancock (97 kg, Sunkist, world no. 3) had another strong overseas outing with his silver medal at the 2019 Matteo Pellicone Memorial in Sassari City Italy. The tournament, the third of United World Wrestling's "Ranking Series" four events this season, provided Hancock with 14 more points, bringing his total up to 62.
More importantly, Hancock's performance marked the fifth straight overseas tournament in which he earned a medal. February saw the 21-year-old make the podium at the first two ranking events of the year, the Grand Prix Zagreb Open (bronze) and the Hungarian Grand Prix (gold), respectively. In March, he took third at Thor Masters after defeating 2018 U23 World silver Zsolt Toeroek (HUN), and last April he was the runner-up in the 97-kilogram bracket at the Pan Am Championships. It was at Zagreb, the Hungarian GP, Pan Ams, and Matteo Pellicone where all of Hancock's "Ranking Series" points were accumulated.


Following Friday's result, United States Greco-Roman National Team head coach Matt Lindland weighed in on Hancock's performance from Italy with this assessment:
"I'm super pumped about Tracy's performance. It was a big step beating (Balazs) Kiss. Unfortunately, he lost to the Italian (Nikoloz Kakhelashvili), but he's a great wrestler. We did get a couple of homer calls but we're not going to even discuss that. We're just going to continue to focus on getting better. I don't see him losing to that guy ever again, to tell you the truth. We're going to make some adjustments from that match, correct some things, and get back on track.
"It was really cool seeing him beat Kiss. That was the first time those two ever wrestled. He (Hancock) has had many training camps in Hungary and taken quite a few beatings from Kiss. But the kid is getting better, he's becoming more mature — and not just in his athletic ability and his wrestling. He's becoming more mature as a young man and developing into a consistent athlete with six tournaments and six medals this year, so I am very pleased with the way he has been performing.
"He doesn't just put together a plan, he thinks out a plan. He is very thoughtful and deliberate in the way he is approaching the sport. He asked for some help getting over to a camp in Norway with six of the Nordic nations over there and had some incredible training in preparation for this. Tracy's physical condition looks great, the way his body is looking, the way his lungs were. He outpushed and outpaced everyone in the tournament. That was really nice to see, so I was very happy and pleased with his performance.

"We've talked a lot about consistency before and that continues to improve. I have always said that wrestling is harder than MMA in the fact that in MMA, you have one fight. And the hardest part about our sport is the mental game. It is the total preparation. It's not just the training, the workouts, and the consistent habits you have to develop with nutrition and recovery; it is also just getting ready for that match, getting ready for that bout and getting yourself in that zone where you're ready to compete. He has really been honing that in. It's the way he does it, but it is such an individualized deal.
"Everybody is different. Tracy needs to pull away from people. He's a very social guy, everyone likes him, he's a charismatic kid. People want to be around him and spend time with him. But — he starts pulling himself away after his warm-up and starts focusing on the battle, focusing on the fight. He gets himself prepared, gets himself in the right state of mind, and goes out there to compete up to his abilities.
"The finals match, we kind of got homered on a few of those deals. Like I talked about earlier, I think the first one was the stand-up. They should have let that go. The gutwrench was on him. He was defending well, he was defending well, he gave up that quick two and was a little late on the scramble where he could have at least got out out or got on top. Winding up on top puts you in a different position. You get the one (point) and then you have a chance to score on that guy. Even with a gutwrench, you're right back in the match and winning.
"So we were a little late on that and it's something we worked a lot on, but we're going to continue to work on it because it's such a critical area for us in par terre defense. It's part of the defense. Defend, defend, defend — and then once you get turned, okay, he gets one turn. Well, the Italian did get only one turn, but we didn't get our chance on top. Although, we were outpacing him. We were controlling better ties. The Italian had his head down and was blocking most of the match. But you've got to expect that when you're wrestling in someone else's country, even though he's a Georgian who wrestles for Italy."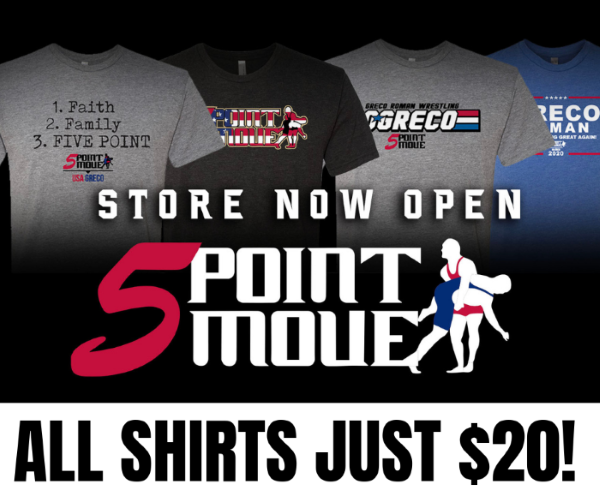 Listen to "5PM23: World Team Trials Challenge Tournament Preview" on Spreaker.
SUBSCRIBE TO THE FIVE POINT MOVE PODCAST
iTunes | Stitcher | Spreaker | Google Play Music | RSS
Notice
: Trying to get property 'term_id' of non-object in
/home/fivepointwp/webapps/fivepointwp/wp-content/themes/flex-mag/functions.php
on line
999